Graceland! No wait: it's too small. Yes, this is a replica of Elvis's house. It's at the end of a street in the Pine Hills neighborhood of Orlando. This was my first visit to the feared "Crime" Hills. I didn't mind.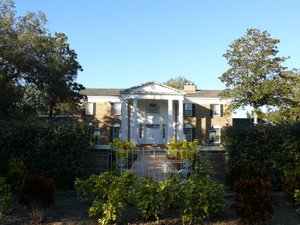 It is not a bad reproduction.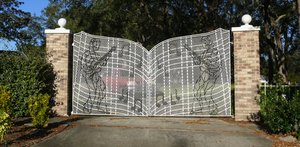 It's a private residence, too. Here's a shot of one of the two gates.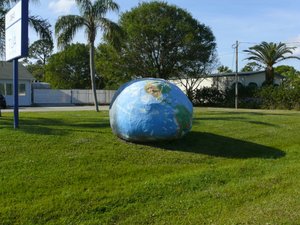 On Merritt Island, along the "Space Coast", is this curious, painted object. It's a tribute to the space program. Just don't expect to drive anywhere within photographing distance of anything "space-y".
I drove all over the Island looking for an opportunity to photograph a launch site or anything. No luck.
I did see a few cruise ships up close and personal. Their immense size--well--they frightened me. I can't explain it in any other way.
Back to space travel, which is less upsetting... Unless I wanted to spend $50 plus parking to visit the Kennedy Space Center, this large reproduction of the globe would be as far I would get above Florida.
The farside is true to the actual planet, because it's dark! Good touch!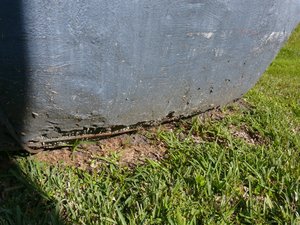 It's actually reinforced concrete. See the rebar in the above photo? It was silly of me to think it was a boulder. Florida doesn't have stones!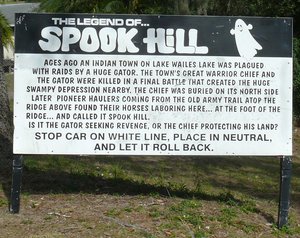 Now for something supposed out-of-this-world. Spook Hill in Lakes Wales is proclaimed a gravity-defying hill. I read about this place in a book, and I read the sign when I turned up.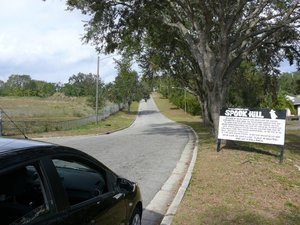 I got out and took a photo. You can see the white line ahead across the roadway. I drove up to the line and the car rolled backwards and then stopped next to the sign. I wasn't impressed. I thought, no wonder the car stops. Maybe I shouldn't have gotten out of the car?
Don't get it? Take a look at
this photo
. There's a rise at the sign. Don't see it? Look at the fence on the left.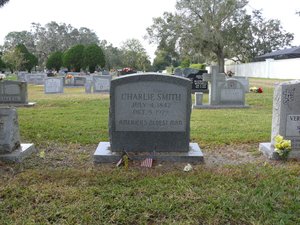 Then, I was disappointed by the long line to pay to get into the Bok Singing Tower. Screw that! I've a few months left to wait in that queue, if I want.
Instead, I visited the grave of America's oldest man. Yup, Charlie Smith was born on Independence Day and lived to be 137 years "young"!
[Update 29 Dec 2017] Without going into details,
America's oldest man
may not be American or genuine. Read a transcript from an interview and make your own assessment. It's available
here
. Thank you, frequent visitor! Still, this gravestone remembers the life of a cool man!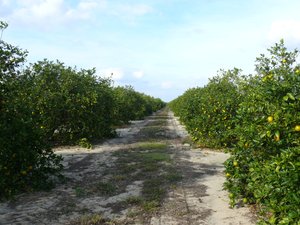 Then, I drove around some strip mines. I also found a wonderful classic rock station serving Bartow, Florida. (Pronounced
BAR-tall
.)
I began my return trip through Fort Meade. On the east side of town, I found an unsealed road that wasn't private. I'd just washed the car, and it was too clean. So, I sped along the graded, clay roads playing the traction-control-light game. (Unfamiliar? The goal is to keep the traction control light flashing as long as possible without crashing.)
I then realized that my playground was actually an orange grove! Finally, finally, I found oranges in Florida! And they go on forever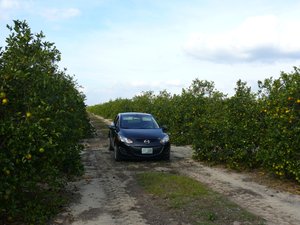 Not having anyone to photograph, the car posed in the grove.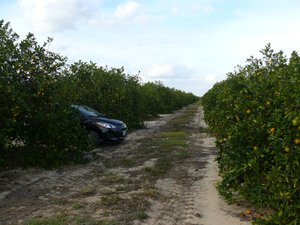 I even tried an artistic shot. It's not too good, I know. Hey, I have to try and make Florida look exciting. In reality, the state's really only good for escaping the harsh temperatures of winter. Or remarking just how flat some place is. Florida's the flattest place that I've ever lived!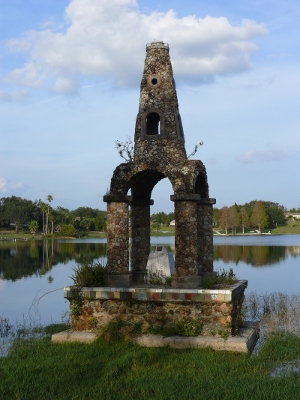 I backtracked to the city of Lake Wales. I forgot to visit the ruins of the shrine to Saint Anne. Down a road off of Route 60 is a lake. Today, houses are clustered around the rather pleasant lake. (Some Floridian "lakes" look disgusting and/or smell like swamps.)
The story goes that the Catholics destroyed the shrine to St. Anne. "Our god is better than yours." I tend to believe the story because, on the way out, I drove by a more modern monument with inscriptions in French, Spanish, and Portugese (?).
A kind visitor found a web site explaining the ruins' history. Click
here
to visit that site. Thanks!
Want more? Switch to desktop version

Copyright © 2018 Billsuniverse.com