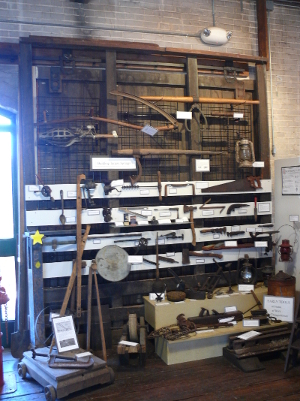 My first stop in Tarpon Springs was the old train depot. This building is a 1909 reconstruction. (The original burned down the year before.) The building now serves as the
Tarpon Springs Area Historical Society
museum. Got tools?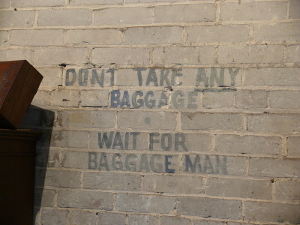 Here's a reminder that this building served as a train station until the mid '80s.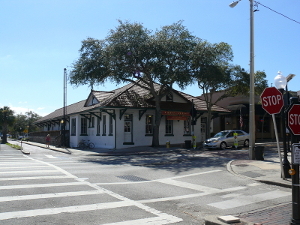 I had a lengthy conversation with the kind ladies running the museum. At least one of them had moved down from the North.
Outside, it was obvious that the building is an old train station.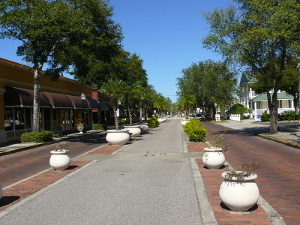 Yes, the tracks have been removed and paved over. That's progress, I guess. At least, it's well done and not ugly!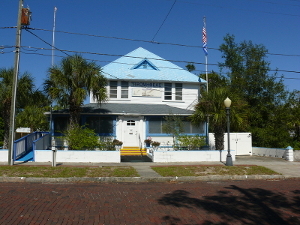 Tarpon Springs is known for its concentration of Greek immigrants. I believe it has the highest number of Greek descendents in the Union. This private residence is now something else. What it is, I don't know. I can't read Greek!
I walked from the downtown area to the Sponge Docks. Unfortunately, I didn't have much time to spend near the waterfront. Tarpon Springs was, at one time, a large producer of sponges for America. The advent of synthetic sponges reduced the demand. Though, the industry still exists, fueled by tourism. I purchased a local sponge for a friend at the unusual
Spongeorama
.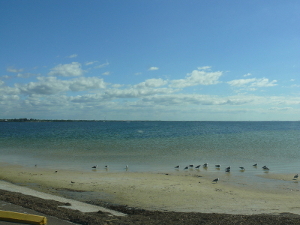 I then drove towards the Gulf of Mexico. It's been a long time since I saw the Gulf. Above is a shot taken from the Howard Park Causeway near the Fred Howard Park.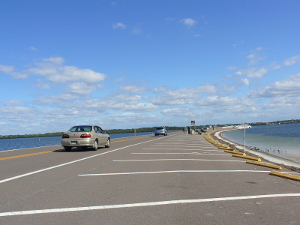 Here's a shot of Causeway itself. Neat huh?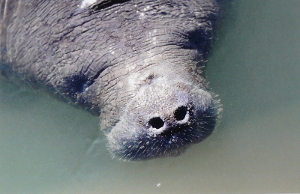 I drove around the Golden Crescent, which many manatees call home during the winter. I didn't see any. I'll have to come back later when they're home!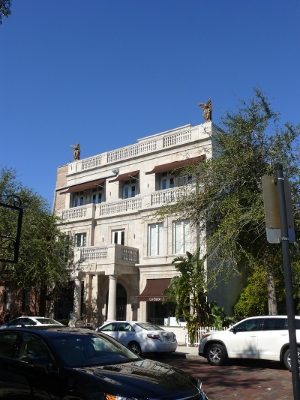 I spent even less time in Winter Park. This rich area got its seed wealth from wealthy Northerners.
After driving up and down the streets looking for a parking spot, I managed to find one in a free lot on New England Ave. Next door is the SunRail, a reminant of the railroad that brought money to this planned community. Between the fancy rail station (I forgot to take a photo!) and the main drag (Park Ave) is Central Park. This scaled-down version of New York City's park is, no doubt, a lot safer.
Park Ave seemed to house just boutique shops and restaurants. I'm not interested in either. I did find
the Winter Park Historical Museum
. This one-room museum was running an exhibit on Winter Park and Florida during the second World War. Good exhibit!
I spoke with Lori, who was monitoring this free museum, for quite some time. Her daughter was working for one of the other defense contractors.
I didn't have much time left, so I set out for an oddity that most residents would probably like to forget. Along the way, as I passed through a hipster area, I snapped the above photo of a building. I wonder if they notice the gargoyles.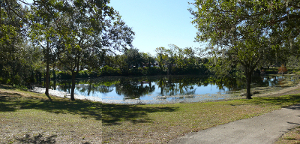 About twenty minutes walk from the museum is this "park". But, despite appearances, this is no ordinary body of water.
A house and car dealership used to exist where this slightly smelly body of water is! Yes, this is the top of a sinkhole!
As the story goes, in the '70s an official warned about this area being particularly prone to cave-ins because of excessive pumping of groundwater. In 1981, a sinkhole opened up in a woman's front yard. She had plenty of time to evacuate her belongings from the house before it was swallowed up! Also, several Porsches still languish at the bottom of 'hole. Will this satisfy the hungry earth?
You can read the entire story
here
. Please excuse the poor job stitching two photos together. I couldn't fit the entire sinkhole into one frame!
Want more? Switch to desktop version

Copyright © 2018 Billsuniverse.com