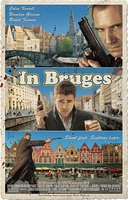 Title (Year):
In Bruges (2008)
GRS Rating:
2 of 5
Notable Cast:
Colin Farrell, Brendan Gleeson, Ralph Fiennes, Clémence Poésy
Duration:
1 hr, 47 min
Infractions:
Blood.
Comments:
A hitman who accidentally kills an innocent boy is sent to Bruges, Belgium to hide out. His boss plans to have him killed. But his plans don't go as expected.
This movie is not only exciting but hilarious. A black comedy fueled by experiences with the Belgian accent, a faux skinhead, beer in stemmed glasses, an American dwarf actor, and a PC Canadian tourist make this flick worth seeing again and again.
Want more? Switch to desktop version

Copyright © 2018 Billsuniverse.com