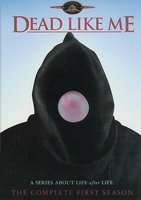 Title (Year):
Dead Like Me (2003, 2004)
GRS Rating:
4 of 5
Notable Cast:
Ellen Muth, Laura Harris
Duration:
Each episode approximately 1 hr
Infractions:
Unnecessarily graphic at parts, periodically.
Comments:
Brillantly unique. The main character, George (Ellen Muth), is killed and becomes a reaper. The first season grows from darkly funny to sensitive as George becomes accustomed to being dead and taking souls. Highly recommended for anyone who likes dark comedies.
Want more? Switch to desktop version

Copyright © 2018 Billsuniverse.com