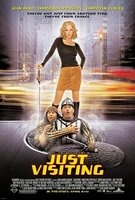 Title (Year):
Just Visiting (2001)
GRS Rating:
5 of 5
Notable Cast:
Jean Reno, Christian Clavier, Christina Applegate, Malcolm McDowell, Tara Reid, Bridgitte Wilson
Duration:
1 hr, 37 min
Infractions:
None.
Comments:
Similar to the original movie
(The Visitors)
but with American scenes and customs. Very funny at parts and a worthy remake.
Want more? Switch to desktop version

Copyright © 2018 Billsuniverse.com