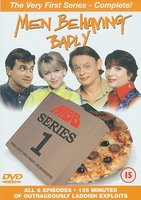 Title (Year):
Men Behaving Badly (1992, 1994, 1995, 1996, 1997, 1998)
GRS Rating:
5 of 5
Notable Cast:
Martin Clunes, Neil Morrissey, Caroline Quentin, Leslie Ash, Ian Lindsay, Valerie Minifie
Duration:
Each episode approximately 1 hr
Infractions:
None.
Comments:
A cookbook for male bachelor life. Very funny and never disgusting even though crude behavior is abundant!
Want more? Switch to desktop version

Copyright © 2018 Billsuniverse.com