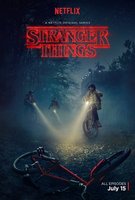 Title (Year):
Stranger Things (2016, 2017, present)
GRS Rating:
4 of 5
Notable Cast:
None.
Duration:
Each episode approximately 60 min
Infractions:
Alien goo
Comments:
A middle school boy in a small Indiana town goes missing. It's the 1980s so finding him is not so easy. Meanwhile, a girl of a similar age appears mysteriously. Also, a monster is on the loose.
This Netflix show is pretty good. It's mostly worth watching to recall the world of the 1980s.
Want more? Switch to desktop version

Copyright © 2018 Billsuniverse.com