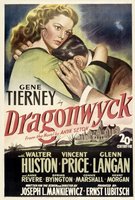 Title (Year):
Dragonwyck (1946)
GRS Rating:
5 of 5
Notable Cast:
Vincent Price, Gene Tierney
Duration:
1 hr, 43 min
Infractions:
None.
Comments:
A Connecticut country girl is invited to a grand Hudson River estate called Dragonwyck by a second cousin. She's anxious to go, to get away from the farm life. However, she finds that a former mistress of the estate lived a short and turbulent life. What will happen when she falls in love with the owner?
This film calls into question the class system that was prevalent in the Northeast in the 1840s, specifically the anti-rent war. It takes a bit to get going; however, this is an exciting film. The acting is some of the best that I've seen from these two actors. It's based on a novel. A clear copy of this film is available on Youtube.
Want more? Switch to desktop version

Copyright © 2018 Billsuniverse.com