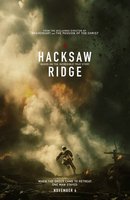 Title (Year):
Hacksaw Ridge (2016)
GRS Rating:
0 of 5
Notable Cast:
Andrew Garfield, Hugo Weaving
Duration:
2 hr, 19 min
Infractions:
Blood & gore
Comments:
This film relates the life of Desmond Doss. It describes his childhood, which made him the courageous Conscientious Observer during the Battle at Hacksaw Ridge, Okinawa. But this almost didn't come to pass, due to the problem of not being able to handle a rifle during boot camp. Excellent film that shows there is some humanity even during battle! Not terribly accurate but fun.
Want more? Switch to desktop version

Copyright © 2018 Billsuniverse.com