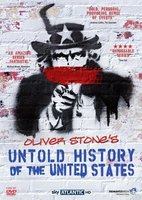 Title (Year):
The Untold History of the United States (2012)
GRS Rating:
5 of 5
Notable Cast:
None.
Duration:
Each episode approximately 1 hr
Infractions:
None.
Comments:
Oliver Stone does a good job presenting the causes and effects that shaped the United States. Many will hate it, claiming that he is shaping history for his own purpose. Though, I doubt it. Mr. Stone often cites and presents period films to display the contemporary American opinion. Give this TV program a chance and, you will probably learn something new!
Want more? Switch to desktop version

Copyright © 2018 Billsuniverse.com