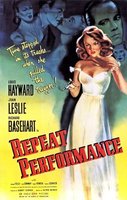 Title (Year):
Repeat Performance (1947)
GRS Rating:
5 of 5
Notable Cast:
Joan Leslie
Duration:
1 hr, 32 min
Infractions:
None.
Comments:
A woman shoots her husband dead on New Year's Eve. She wishes it never happened and then lives the year over again. She tries to right wrongs, but finds that time won't let her change it.
This classic film is based on novel. It's more about the main characters than time travel. Still, it's worth viewing. Youtube has a copy.
Want more? Switch to desktop version

Copyright © 2018 Billsuniverse.com