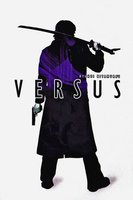 Title (Year):
Versus (2000)
GRS Rating:
0 of 5
Notable Cast:
None.
Duration:
2 hr
Infractions:
Blood & gore
Comments:
Two prisoners escape and are waiting for a ride out of the mountains. The Yakuza, who are supposed to give them a lift, have also kidnapped a young woman. One of the prisoners is angry about her poor treatment and a fight breaks out. They all know something's different when a fallen colleague rises from the dead.
This dubbed Japanese film is more than a zombie flick. It's really a battle of good versus evil. The fighting style and costume are heavily influenced by
The Matrix
. However, the dialog and antics of the characters are unique. Hilarious may be a better word! Finally, there's also a Japanese "feel" with costume and mysticism. If you like martial arts and zombies, this is a film for you! The final fight scene is entertaining, too!
Want more? Switch to desktop version

Copyright © 2018 Billsuniverse.com