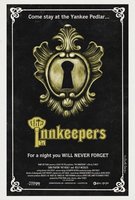 Title (Year):
The Innkeepers (2011)
GRS Rating:
3 of 5
Notable Cast:
None.
Duration:
1 hr, 41 min
Infractions:
Blood.
Comments:
Two young employees are all that remains of the staff of a once-great New England hotel. Both are determined to record a resident ghost. Since the final weekend of the inn is upon them, they decide to stay overnight and record anything out of the ordinary.
I only watched this film because Sara Paxton is in it. Truth be told, her part could have been played by a boy. Incidentally, the outside shots are of an actual hotel in Connecticut. There a few good quotes. Aside from the problems, this ghost film isn't all bad. It's not great either because it left me disappointed.
Want more? Switch to desktop version

Copyright © 2018 Billsuniverse.com