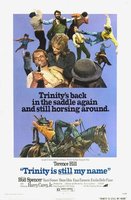 Title (Year):
Trinity is Still My Name - ...continuavano a chiamarlo Trinità (1972)
GRS Rating:
5 of 5
Notable Cast:
Terence Hill, Bud Spencer
Duration:
1 hr, 48 min
Infractions:
None.
Comments:
More of
Trinity and Bambino
... This time they save some monks and a farming family heading out west. There are also plenty of good one-liners. The fight scene near the end is a bit too long, in my opinion.
Want more? Switch to desktop version

Copyright © 2018 Billsuniverse.com