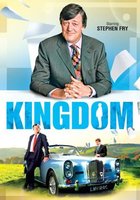 Title (Year):
Kingdom (2007, 2008, 2009)
GRS Rating:
5 of 5
Notable Cast:
Stephen Fry
Duration:
Each episode approximately 45 min
Infractions:
None.
Comments:
A lawyer in an English country town has just lost his brother. It seems that the brother walked into the sea. As the main character deals with law suits, wills, etc., he learns more about his brother's disappearance. He also has to cope with his batty sister.
This is an interesting program. The style follows
Doc Martin
. The characters are fleshed out and entertaining.
Want more? Switch to desktop version

Copyright © 2018 Billsuniverse.com