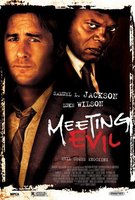 Title (Year):
Meeting Evil (2012)
GRS Rating:
5 of 5
Notable Cast:
Samuel Jackson, Luke Wilson
Duration:
1 hr, 29 min
Infractions:
None.
Comments:
A real estate agent working and living somewhere in the middle of the country is hit hard by the economic downturn. He loses his job and debt is stacking up. A stranger comes to his door, who encourages him to stop being so kind to people.
This film was made from a novel and it wears the transition well. There are a few plot holes, however it's a good film. Samuel Jackson is hilarious. Recommended.
Want more? Switch to desktop version

Copyright © 2018 Billsuniverse.com