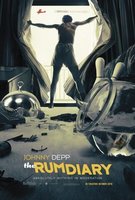 Title (Year):
The Rum Diary (2011)
GRS Rating:
5 of 5
Notable Cast:
Johnny Depp, Amber Heard
Duration:
2 hr
Infractions:
None.
Comments:
A drunkard reporter leaves New York City for Puerto Rico during the '50s. He lands a job with a hated local newspaper and learns about the corruption on the island.
I have to admit I wasn't going to rent this flick but it's tough to turn down Amber Heard. I really enjoyed the film, and not just for her. It combines the dysfunction of writers with a Caribbean island. It's witty and fun. Clearly, it delivers a poignant image from a certain political point of view, but I didn't care. Oh, and Amber Heard is still the hottest blonde lesbian from Texas!
Want more? Switch to desktop version

Copyright © 2018 Billsuniverse.com