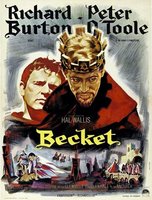 Title (Year):
Becket (1964)
GRS Rating:
5 of 5
Notable Cast:
Peter O'Toole, Richard Burton
Duration:
2 hr, 30 min
Infractions:
None.
Comments:
King Henry of England, a Norman, appoints his friend, a native Saxon, to the post of Archbishop of Canterbury expecting nothing to change. Becket takes his new job very seriously and that puts him out of favor with the king.
This is an excellent film.
Want more? Switch to desktop version

Copyright © 2018 Billsuniverse.com