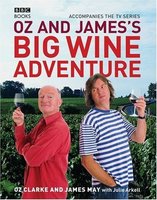 Title (Year):
Oz and James's Big Wine Adventure (2006, 2007)
GRS Rating:
5 of 5
Notable Cast:
James May, Oz Clarke
Duration:
Each episode approximately 30 min
Infractions:
None.
Comments:
Wine critic Oz Clarke takes James May (of Top Gear fame) on a road trip around wine country to educate him on the intricacies of wine. It sounds rather dry (excuse the pun!) but the two make it really fun. I even learned a lot about wine. I highly recommend this program.
Want more? Switch to desktop version

Copyright © 2018 Billsuniverse.com