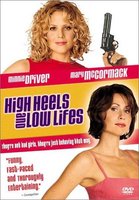 Title (Year):
High Heels and Low Lifes (2001)
GRS Rating:
5 of 5
Notable Cast:
Minnie Driver, Mary McCormack
Duration:
1 hr, 26 min
Infractions:
None.
Comments:
Two drunk women in London overhear a conversation about a bank heist. Since they're having financial troubles, they decide to blackmail one of the thieves. The movie develops into quite a funny girl-power flick without being obnoxous.
Want more? Switch to desktop version

Copyright © 2018 Billsuniverse.com