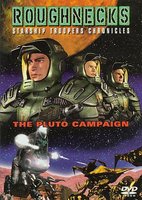 Title (Year):
Roughnecks: Starship Trooper Chronicles (1999, 2000)
GRS Rating:
5 of 5
Notable Cast:
Computer Generated
Duration:
Each episode approximately 30 min
Infractions:
None.
Comments:
This animated science fiction series, though designed with children in mind, has an exciting plot, dynamic characters, and is much less graphic than the
Starship Troopers
movie, despite being also based on Robert Heinlein's novel
Starship Troopers
. I feel this animated series is more true to the novel, too.
Want more? Switch to desktop version

Copyright © 2018 Billsuniverse.com