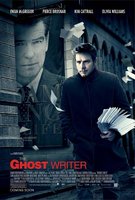 Title (Year):
The Ghost Writer (2010)
GRS Rating:
5 of 5
Notable Cast:
Ewan McGregor, Pierce Brosnan, Kim Cattrall
Duration:
2 hr, 8 min
Infractions:
None.
Comments:
A ghost writer is hired to pen the memoirs of an ex-British Prime Minister. As is expected, secrecy and intrigue envelope the story, and its subject. The "ghost" discovers more than just this.
There is a political message in this movie. The loose references to Halliburton (Hatherton) and its connections with the CIA may be a bit over-the-top. Regardless of the political connotations, this is a very enjoyable film of intrigue.
Want more? Switch to desktop version

Copyright © 2018 Billsuniverse.com