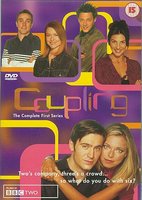 Title (Year):
Coupling (2000, 2001, 2002, 2004)
GRS Rating:
5 of 5
Notable Cast:
Jack Davenport, Gina Bellman, Sarah Alexander, Kate Isitt, Ben Miles, Richard Coyle
Duration:
Each episode approximately 30 min
Infractions:
None.
Comments:
Comedic interpretation of daily life of 30-
somethings
in England.
Second season was just as good as the first, and that's a true accomplishment.
Want more? Switch to desktop version

Copyright © 2018 Billsuniverse.com