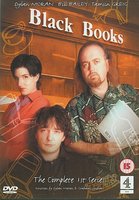 Title (Year):
Black Books (2000, 2002, 2004)
GRS Rating:
5 of 5
Notable Cast:
Dylan Moran, Bill Bailey, Tamsin Greig
Duration:
Each episode approximately 30 min
Infractions:
None.
Comments:
'Meet Bernard Black a foul tempered, drink-fuelled and eccentric bookshop owner who loves his books and hates his customers.'
This sitcom is incredibly funny and very English.
Second, and Third, Series:
I am very disappointed because they attempted to change the program into an American sitcom complete with violence, and silly humor. I think there's even an episode where Bernard doesn't drink!
Want more? Switch to desktop version

Copyright © 2018 Billsuniverse.com