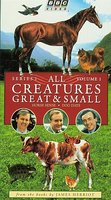 Title (Year):
All Creatures Great & Small (1978, 1979, 1980, 1983, 1985, 1988, 1989, 1990)
GRS Rating:
5 of 5
Notable Cast:
Peter Davison, Robert Hardy, Christopher Timothy, Carol Drinkwater
Duration:
Each episode approximately 1 hr
Infractions:
None.
Comments:
This is the BBC TV program that is based on the same autobiography(s) immortalized by
the earlier film
.
This is an excellent series depicting the life of Yorkshire vets during the early 1930s and 1940s. The series has a perfect mix of comedy and drama while also being educational.
Want more? Switch to desktop version

Copyright © 2018 Billsuniverse.com