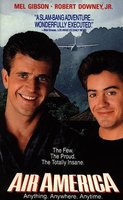 Title (Year):
Air America (1990)
GRS Rating:
5 of 5
Notable Cast:
Robert Downey Jr., Mel Gibson
Duration:
1 hr, 53 min
Infractions:
None.
Comments:
A recently-banned, hotheaded West-Coast pilot is recruited by a man whose company flys cargo in the far East. Oh, and there's no war in Laos. That's Vietnam!
The language only adds to the realism of the story. The soundtrack is awesome!
Want more? Switch to desktop version

Copyright © 2018 Billsuniverse.com