Domestic flights
You probably know that I love flying domestically. It allows me to encounter choice people, which I would otherwise avoid. On the first leg of my journey, a sunglasses-clad--remember this is a flight out of the North in October--woman collapsed in the aisle as the plane was landing. She told the stewardess that she was going to throw-up. Nice. Classy. Was she a drug mule smuggling into Chicago from a New England backwater? Or was she just a blonde who drank a bit too much the night before the flight? OK, now I feel her pain.
Phoenix
In Phoenix, I was greeted by the warm smiles of Mike and Carley. And it was also hot! This morning I had to scrape the ice off my windshield and I land in high 80s in the Sun Valley!
Their new place is a quality abode: painted wooden floors and plenty of space in a gated cluster of apartments.
Restaurants
During the next couple of days, they introduced me to their new home. We supped at
Gadzooks
and
Taco Guild
. Both are very good Mexican restaurants, even though I wondered if I would have to take up an apprenticeship to visit the second. I was also introduced to
FroYo
at
zoyo
. This self-service dessert place allows the consumer to choose a frozen yogurt and add toppings at will, cafeteria-style. I tried a couple of yogurts and topped them with blueberries. My favorite fruit is out-of-season at home, so I was elated to see them beckoning me. I would have been happy to just pay for their weight and skip the yogurt!
Board games
Back in the apartment, Carley had purchased two new board games for the three of us to enjoy. I really enjoy board games so I always look forward to her selection. She chose one that's based on a TV program and the other was named Dumb Ass. The TV game promoted charades, which Carley was impressively very good at performing. Unfortunately, I won Dumb Ass too frequently. What did you expect?! Still, both games were great fun!
Movies
We took in two movies, too. Both theaters were excellent. The AMC cinema featured reclining leather seats! I warned my companions that I may fall asleep. Fortunately,
Crimson Peak
was so terrible that I stayed awake hoping for it to get better, before we walked out. The
second Maze Runner film
was much better.
Tea?
Normally, Carley is a respectable woman. When she said she wanted to go to Bikini Beans Espresso for coffee, I was a bit taken aback. In fact, she lost me at
bikini
. It turns out that
Bikini Beans Espresso
is a drive-thru coffee shop.
Upon arrival, I'll admit that I was stunned by the barista. Taking Carley's order was a cute college girl in a bikini. And I knew she was fully
uniformed
because this particular drive-thru featured a low window to showcase the ladies's figures.
(Yes, she may have had a bit of a tummy. But despite being cute, she seemed personable and OK with her job.)
Then, it was my turn to order. Not being a frequent coffee drinker was only part of my problem so I said that I was from the East Coast, and typically drank tea. (It's good to harness stereotypes!) Fortunately, there were choices for me, as she described to me. I then selected a tea, which prompted a query of drink size. Drink sizes are in keeping with the name of the business, so I could choose between B-cup and DD-cup for tea. Not being a pig, I asked for a B-cup. She responded with jubilation: "that's me!"
Vehicle tinting is a necessity in the sun-drenched southern parts of Arizona. So this cute, be-speckled, B-cup, attendant then encouraged Mike to lower the backseat glass that obscured him. Fortunately, I thought, Mike must have been here before because he was right on the coffee options, or maybe he is just cooler than me?
Why aren't there bikini coffee houses in New England? These establishments would sell coffee like hotcakes! Yes, winter would be a bit cold, but that's a good thing.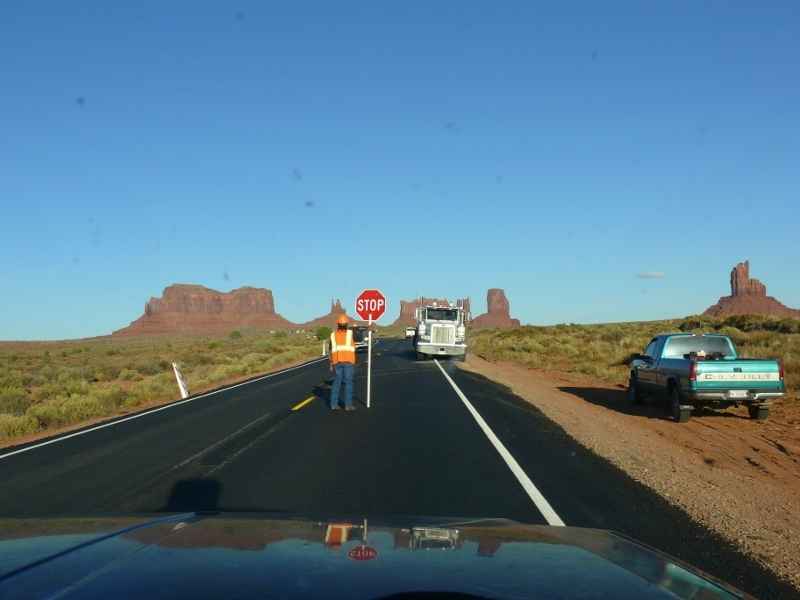 Late Monday morning we set out for Canyonlands. Arizona Highway was doing something just after we rolled past Monument Valley. There are worse places to be stopped. Don't believe me? See
here
.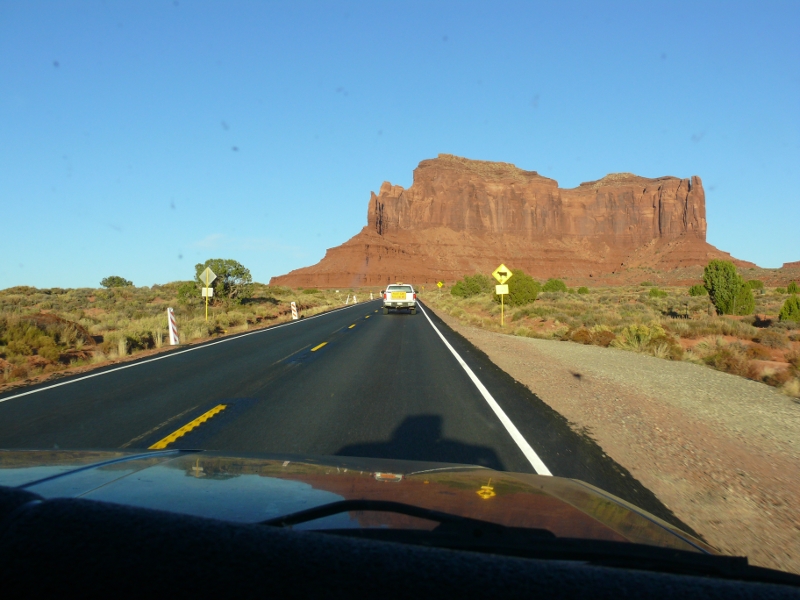 Eventually, we set out. There was a pilot truck leading the, now, long train of automobiles. We'd never seen this before. Click for a close-up.
We passed through Mexican Hat, Utah. Evidently, this small community is named for a nearby stone formation. I don't see it. Do you? Click for a detailed view.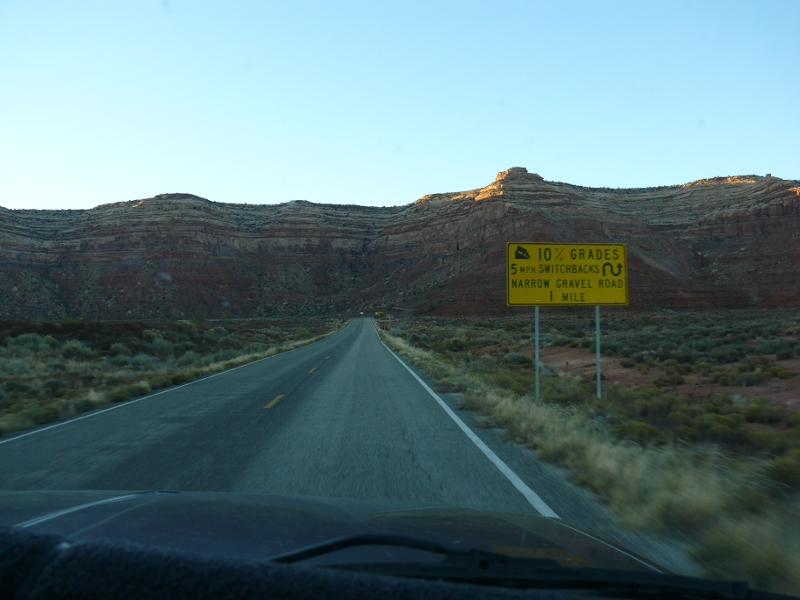 Route 261, the only direct route, becomes a switch-backed dirt trail. This happens just past the Valley of the Gods.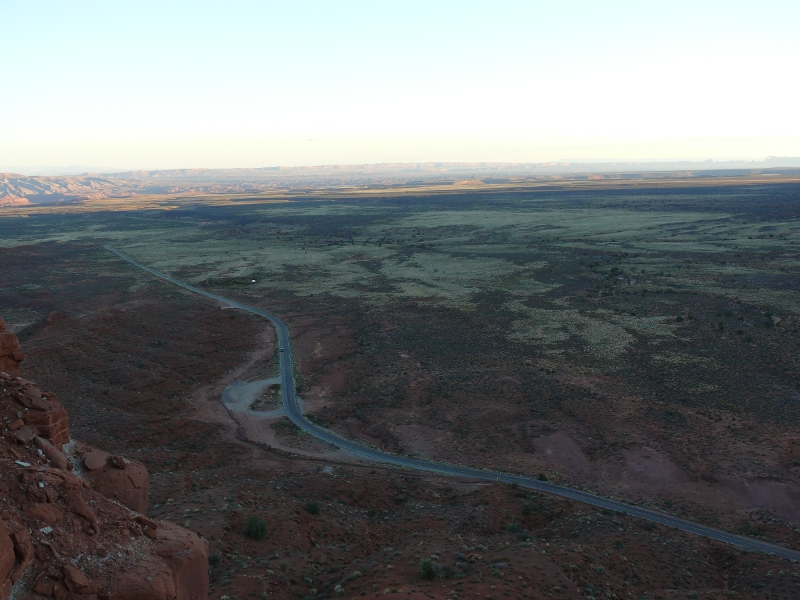 The view from near the top is impressive. Click for a larger image.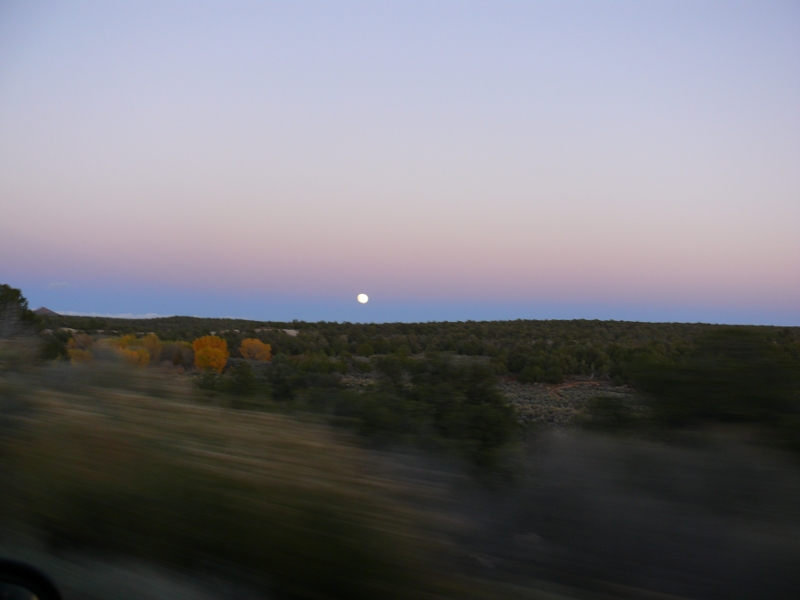 It had long been dark before we rolled into Hanksville. We checked-in at the Whispering Sands Hotel, which is run by a grumpy middle-aged woman. Then, we ate at the local diner. Hanksville is a small town of three gas stations, two hotels, a general store, and a diner.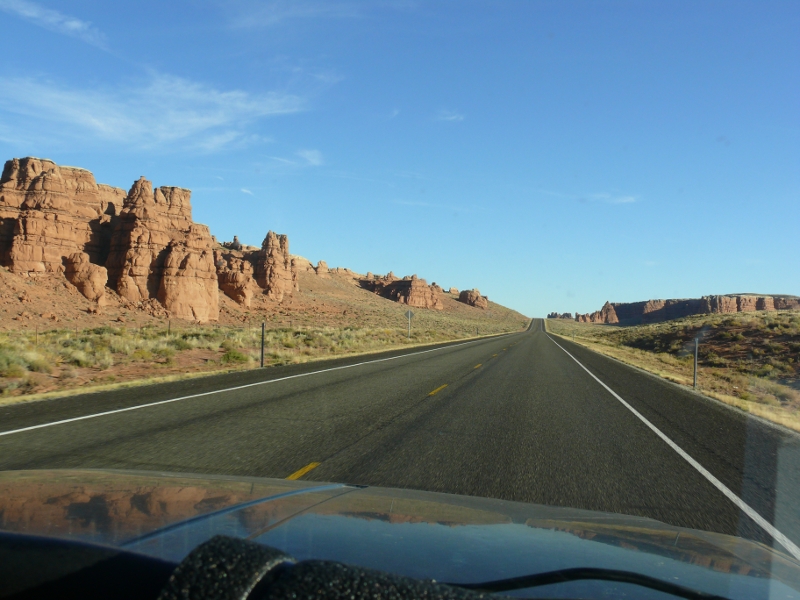 The next day we set out past Goblin Valley State Park for the northern trail to The Maze district!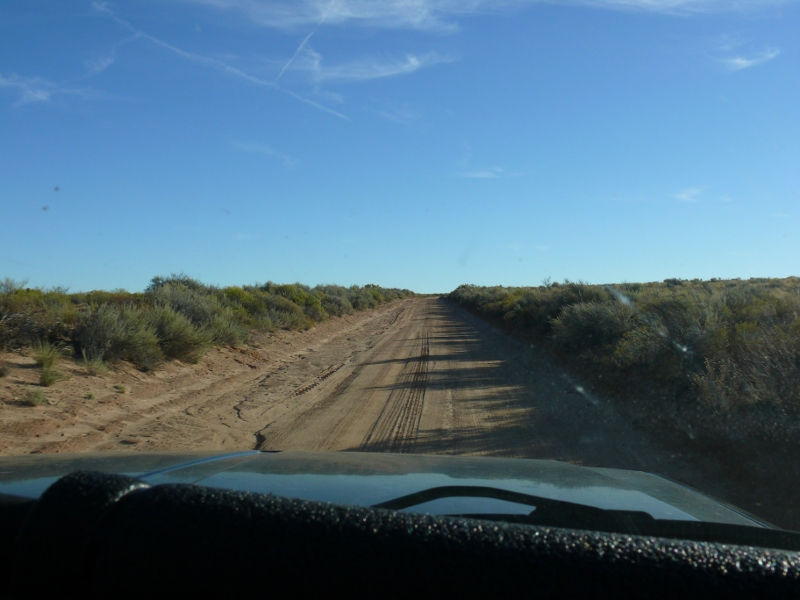 The surface of the Hans Flat road was exceptional, except for a few wash-outs from last week's rain. We made good time.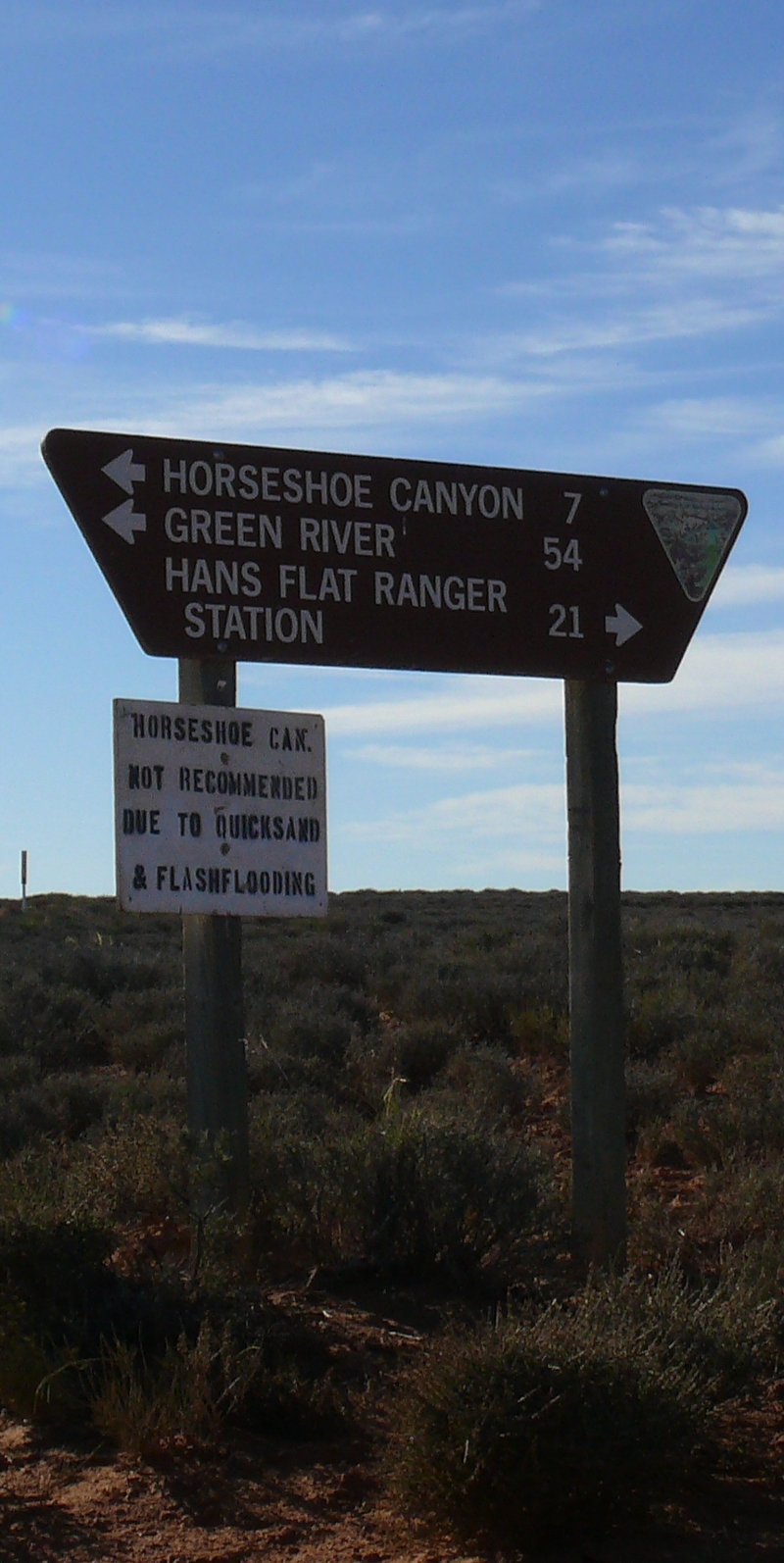 At this junction, we turned north towards the western entrance to Horseshoe Canyon. Quicksand?!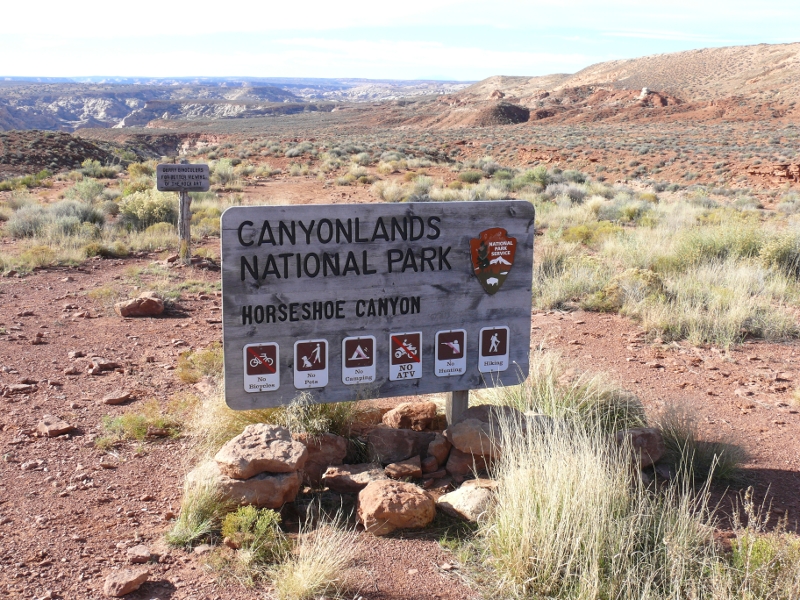 Unfortunately, we didn't have six hours to hike into Horseshoe Canyon. There is also a primitive camground near this trail head.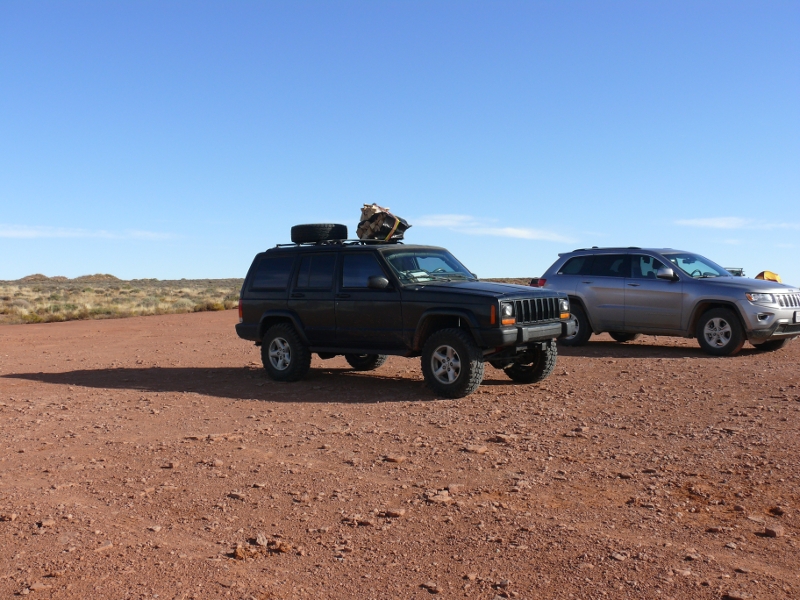 We had some four-wheeling to do!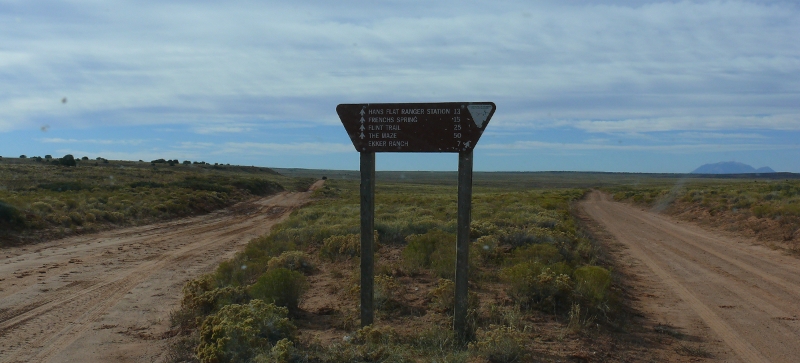 We took
the path less traveled
(right) and headed deeper into Robbers Roost. Click for a larger image.
In the distance, green seems to explode from the red sand. I believe this is an elevated view of our next destination.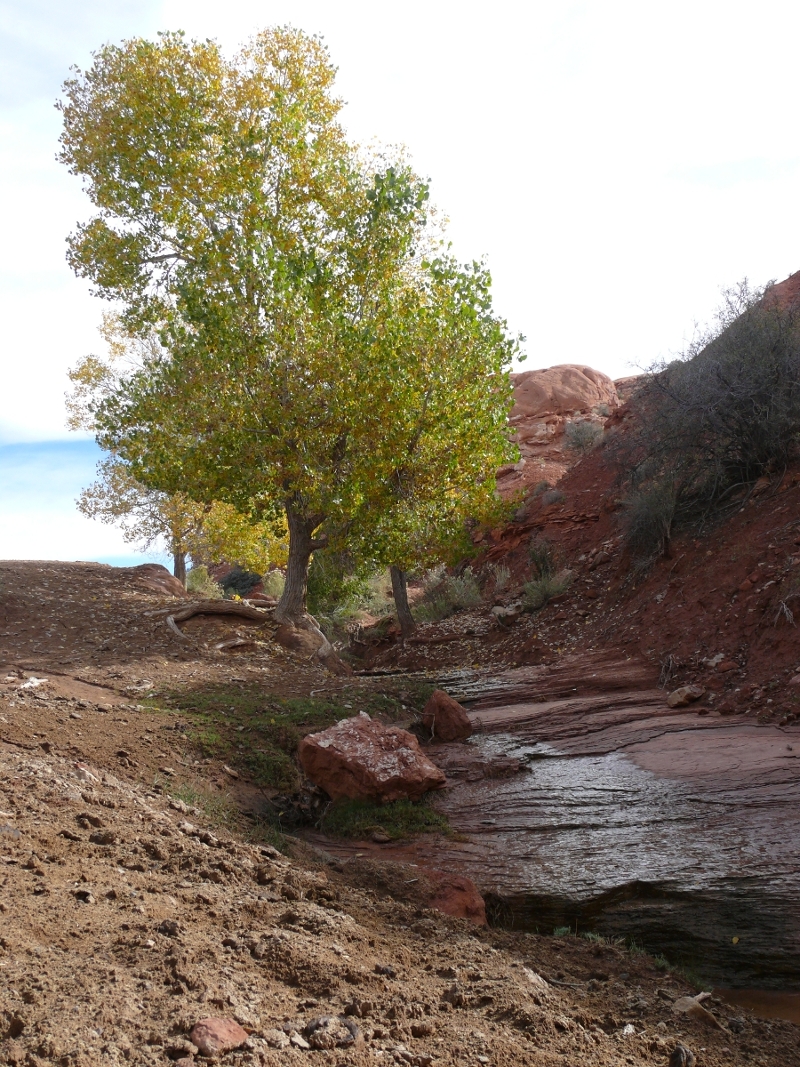 This is an old camping spot. It's in an easily defended & secluded canyon. Butch Cassidy and the Wild Bunch hid out here after robbing banks, trains, and stagecoaches. Click for a larger view.
This appears to be the remains of a horse corral beside the spring-fed stream.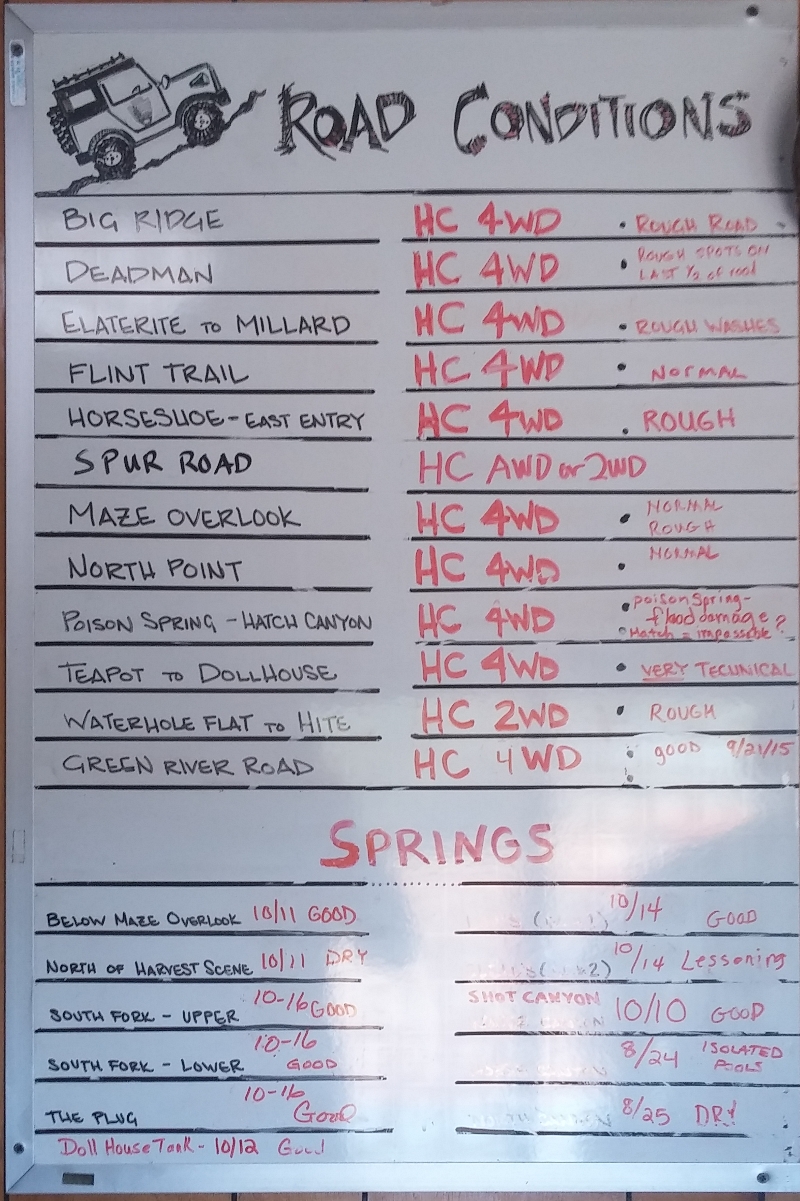 We stopped at the Hans Flat ranger station to learn about the trail conditions. Mike took a photo, which was useful later on. We also saw several bicyclists. "I'm sorry, ranger. We honestly didn't see them stopped, panting, at the crest of the steep hill."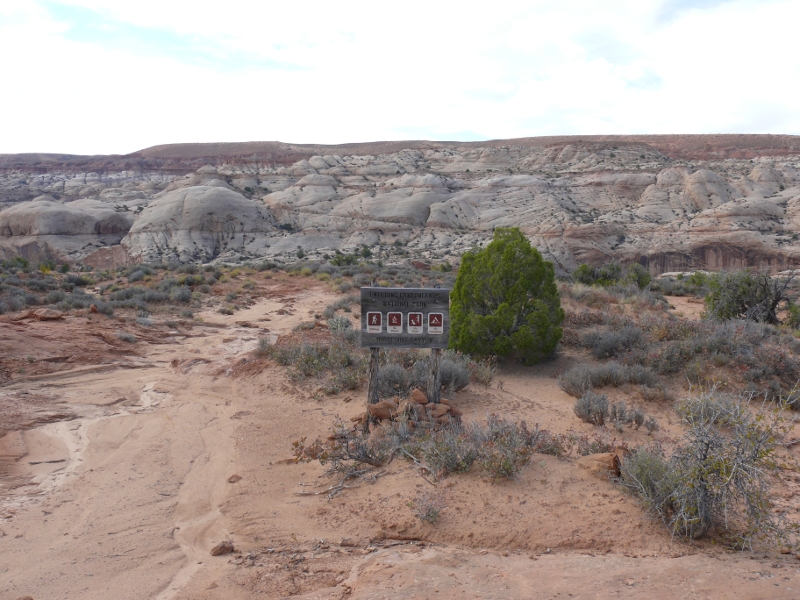 Since it was along the way to our first campsite, we took the trail down to the eastern Horseshoe Canyon trail head. Click the image for a zoomed view of the campground across the canyon!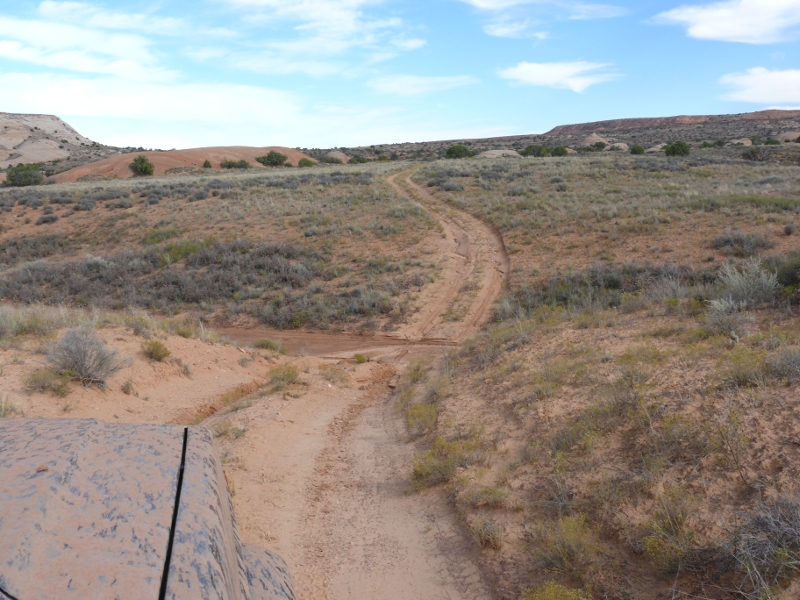 We continued up The Spur and the favorable road conditions diminished.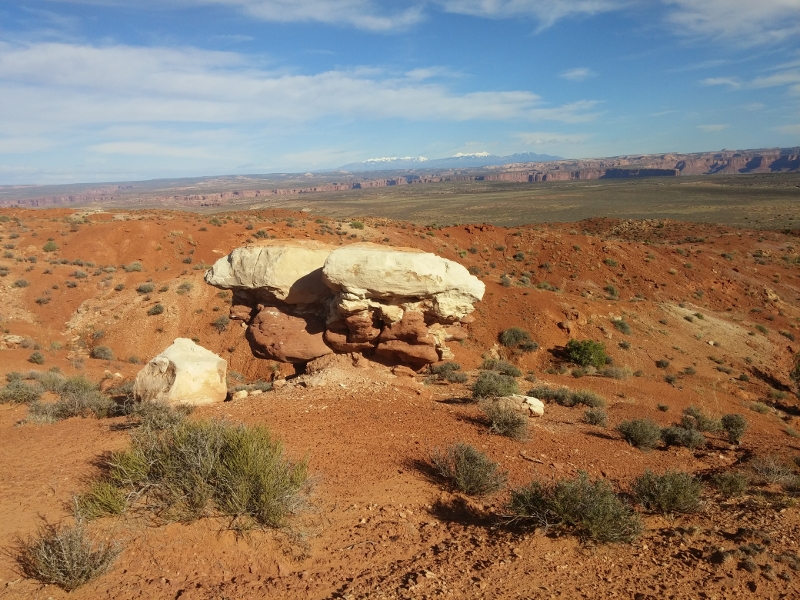 We did see a "goblin" along the way.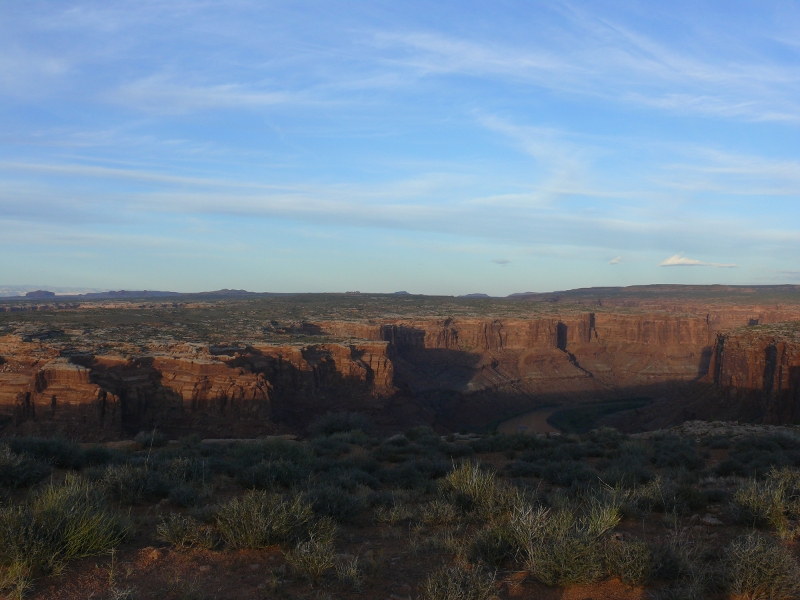 We arrived at the end of the road (literally) and decided to camp there. Above is the view from our campsite. It was beautiful!
Last year
, we camped across the Green River somewhere in the right of the photo. Below are more shots of the camp:
The next morning, after a windy night, the scenery was still spectacular. This is the view looking out the Jeep's tailgate.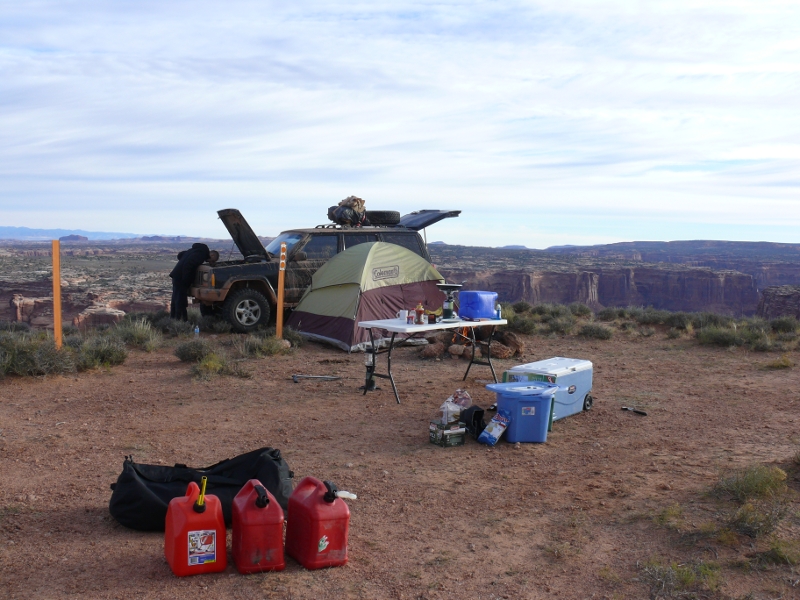 Yup, radiator's still there!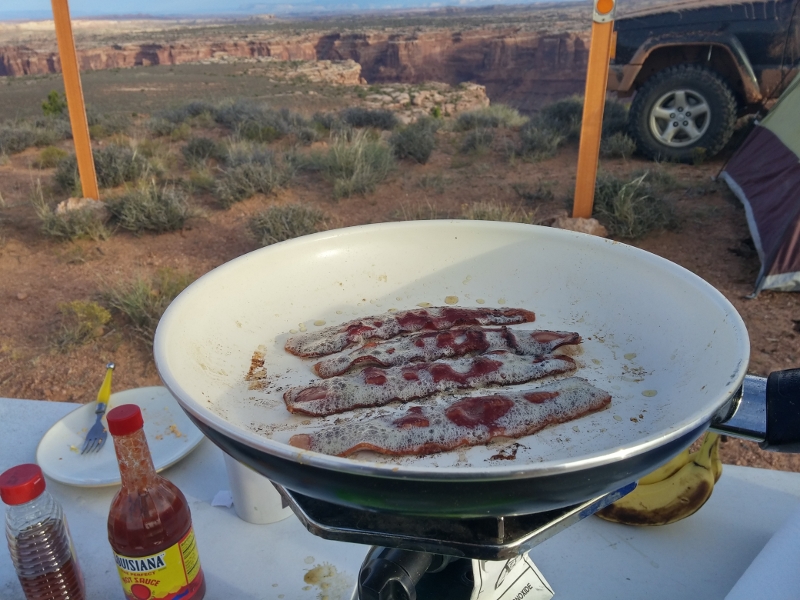 Yummy, turkey bacon!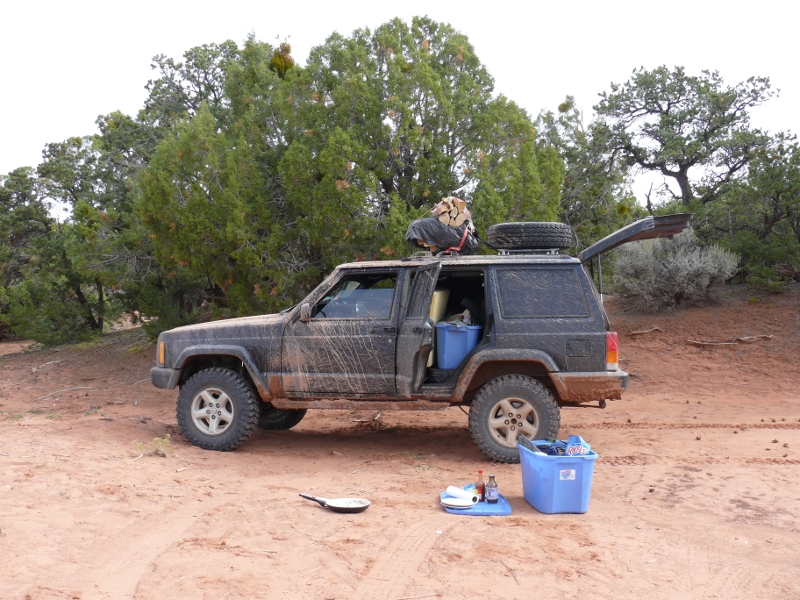 We set out towards the Maze today. We passed the ranger station without stopping. We did stop for a quick lunch at the Flint Seep campground.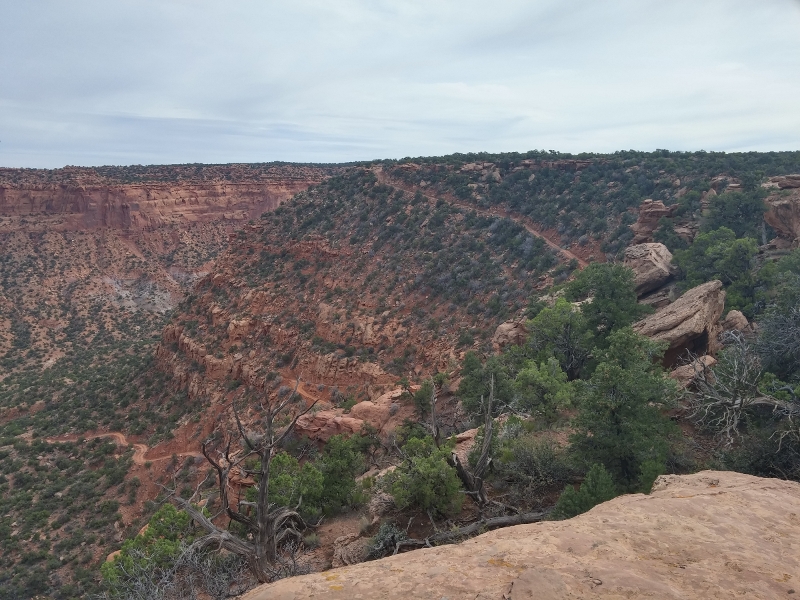 A half hour before we arrived at the switchbacks leading down the Flint Trail (pictured above), we stopped to speak with the driver of a white Wrangler. He had lost his four-wheel-drive and was coming from the distant Dollhouse campground.
The Flint Trail reminded me of the Shafer Trail, which allows communication between the White Rim Trail and the Island in the Sky. Remember we saw this
last year
?
The ride down wasn't too bad. Mike was getting used to driving on slick rock and through puddles. Above was a more challenging section. Click for a larger image.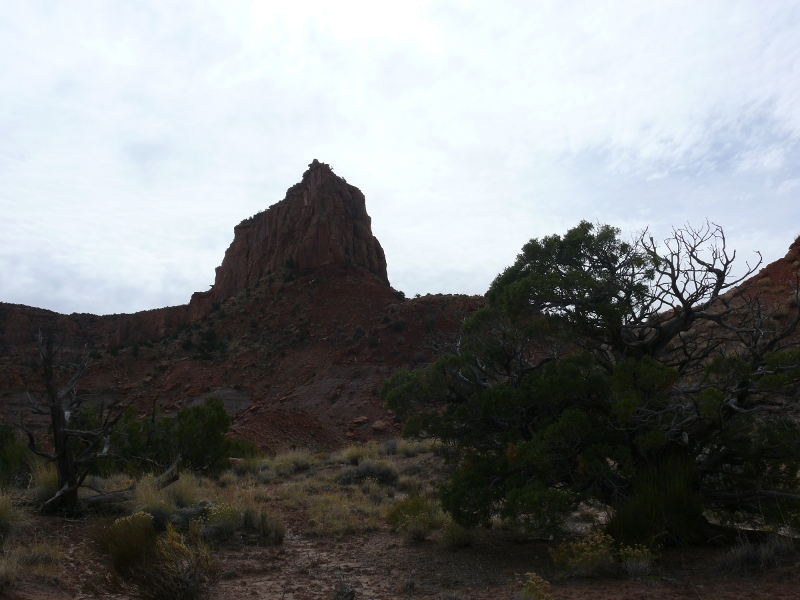 I don't know if we ever knew the name of this butte. Click for a larger view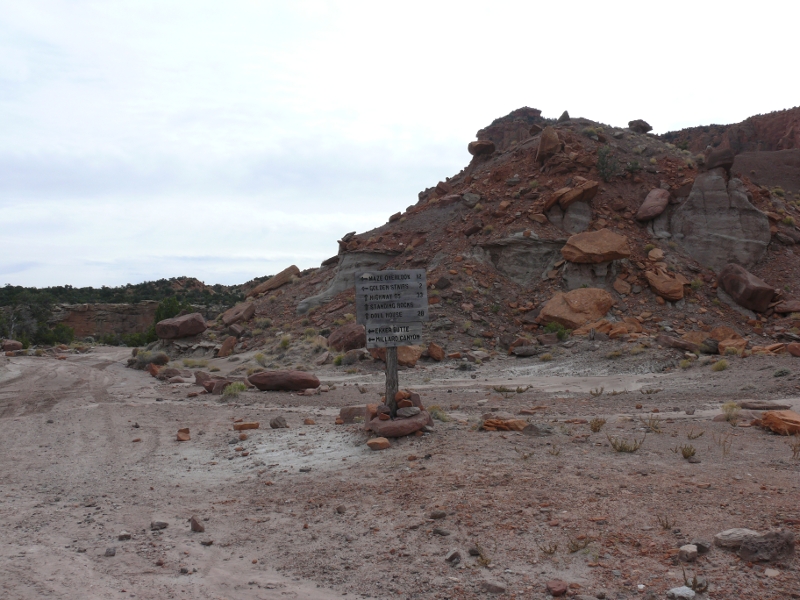 At the crossroads we continued on towards the Maze Overlook. The normally blue skies are rather threateningly cloudy. Hmm.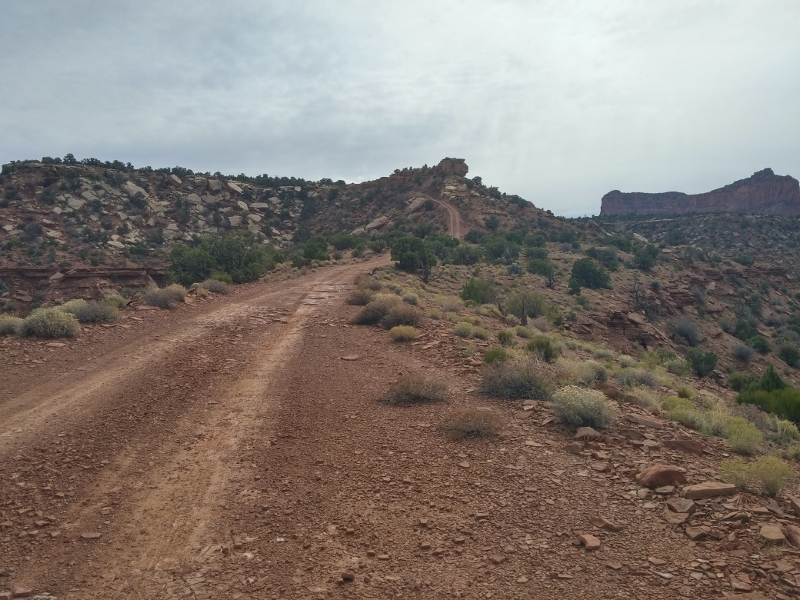 After a particularly unnerving section of trail (shown in the background traversing the hill), Mike stopped and took an excellent panorama. I'm pretty sure the rock formation shown in the panorama is Elaterite Butte. Click to see it.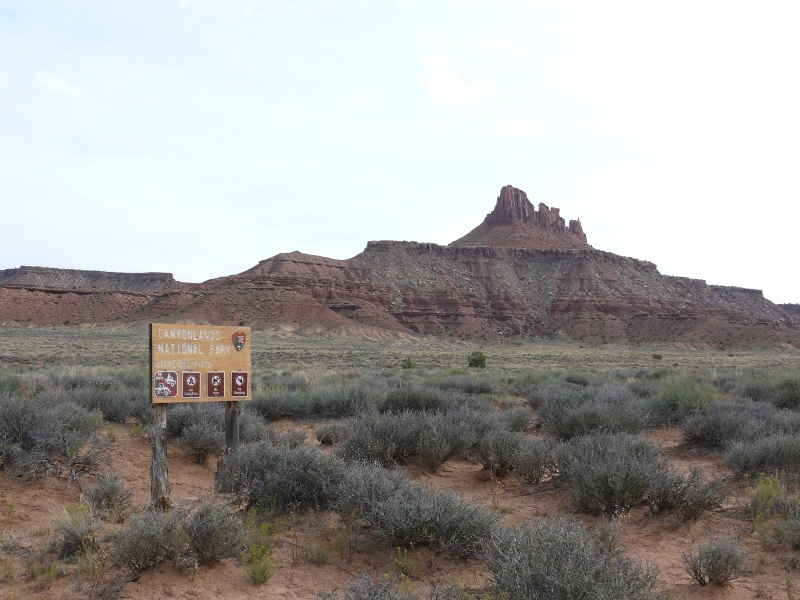 You may notice that we keep crossing the frontier into Canyonlands National Park, as we have just done in the above photo.
The Maze District is only accessible via Glen Canyon National Recreational Area. So we have to drive through Glen Canyon to get to the Maze. That's not the end of the annoyance.
In this section of Glen Canyon, we cannot backcountry camp without a permit from the National Park Service. Still, it does make for bragging rights. Where else can one enter/exit a national park several times a day? And it is still beautiful, despite a cloudy sky.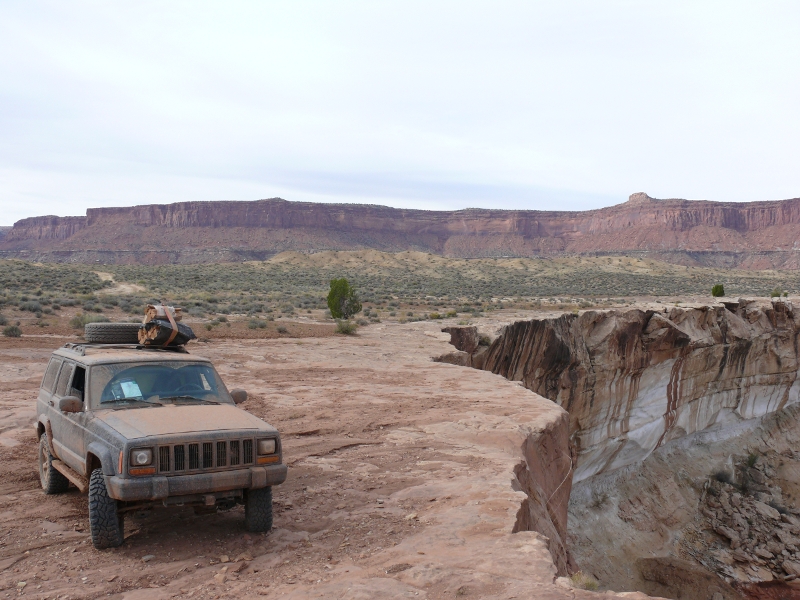 Not much later we stopped again to take in a picturesque scene. Got cliffs?
And, for scale, see Mike taking a photo against the background
here
.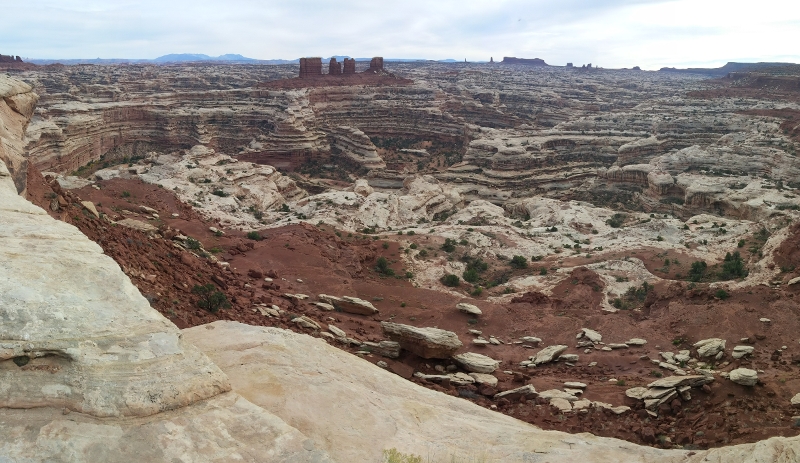 The Maze Overlook. Feel lost yet? Mike took
a great panorama
, too. Wow! Here are some other images:
Maybe you want to see some zoomed-in shots? Humor me, it took us a long time to get here!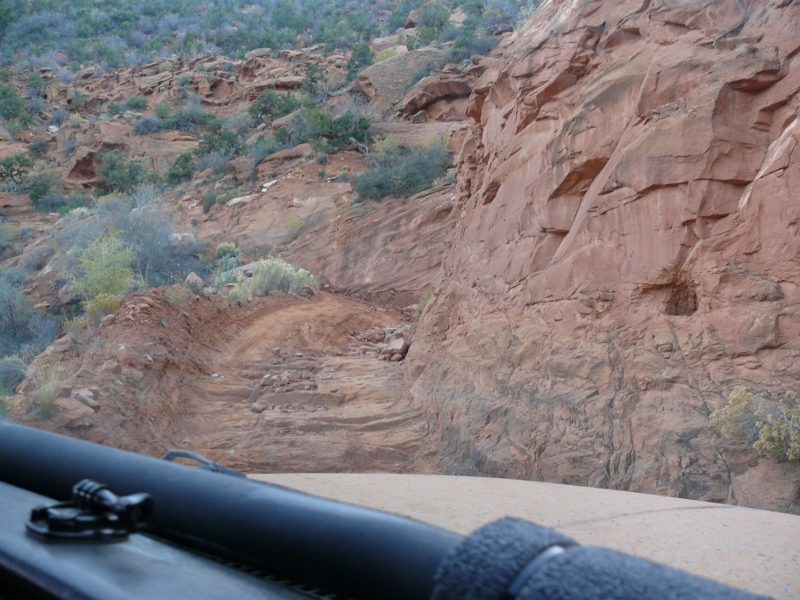 Going up the switchbacks--while not as dangerous as descending--seemed more stressful to me. It must have been fatigue, because I know of no one more capable than Mike on such paths.
My faith in my esteemed companion was not ill-founded. Not long after we made the summit of the Flint Trail, we were stopped by a truck blocking the road. We thought it was some sort of bizarre camp. WTF? Mike cautiously parked, and we walked to make contact. It turned out that a Nissan 4Runner had stopped to try and pull out a Ford pick-up that was stuck in the rutted mud.
The 4Runner had driven off the trail--a very big
no-no
in a national park--to get around the stricken Ford truck. The passengers recommended that we take their path. Initially, I got a strong sense of chaos from these people. That's probably why Mike stopped short, and we were "carrying". One never knows? But these people were just amateurs. The guy in the disabled Ford admitted to me that he had the wrong vehicle. The pretty panicked lady in the Nissan, with whom I conversed quite a bit, explained that she had just met the man in the foreign truck and they were heading for the Maze Overlook campground. The Nissan guy said that a warning light had fired up after their "rough" ride in.
After the Nissan failed to pull out the pick-up, Mike hooked up our Jeep and pulled the foolish Ford to solid ground. It was nothing for either the man or the machine. This is why I am selective when it comes to off-roading. I could have been accompanying an old guy in a two-wheel-drive Ford or observing a faltering relationship from a Nissan with no four-wheel-drive.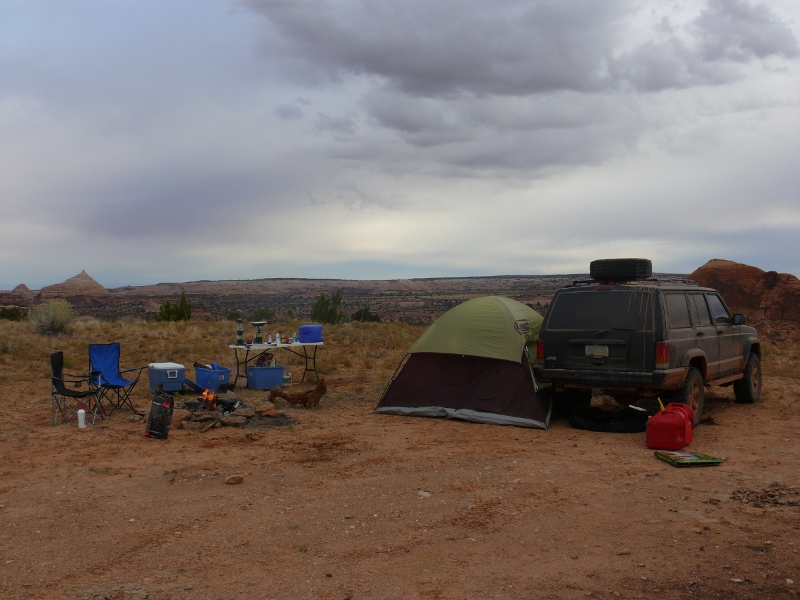 Despite our rescue, we made the campsite at the end of the road. Yes, like last night it was at the end of a road. This time we didn't have a nearby cliff. And the wind was much less fierce. Nonetheless, I pitched my tent as close as possible to the Jeep "windbreaker".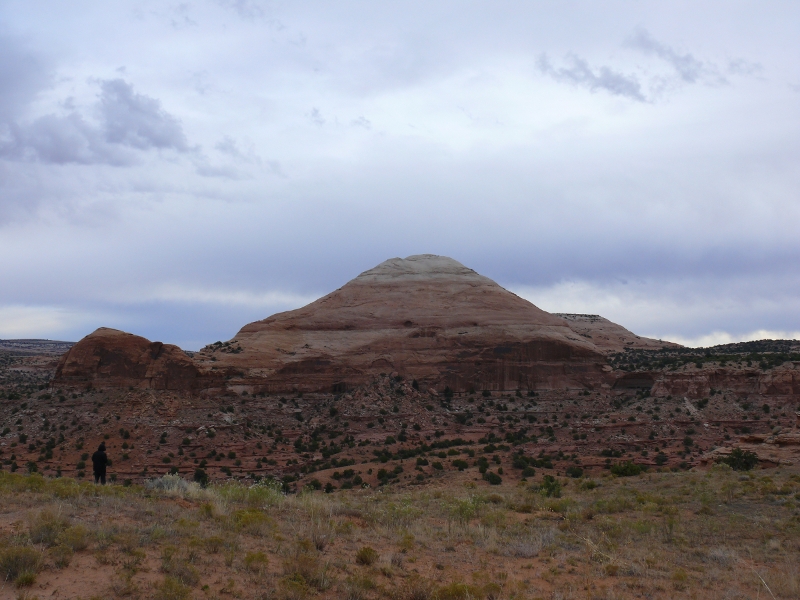 The view from this camp wasn't at all bad. We were just a bit spoiled!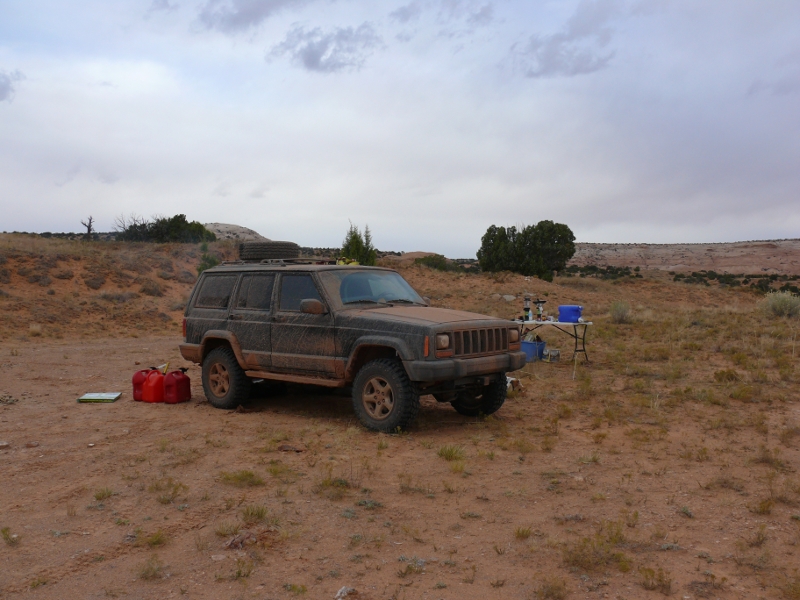 Tell me that the Jeep doesn't look like a shark in this shot? The cloudy, beady eyes must be probing the vast seas that used to be?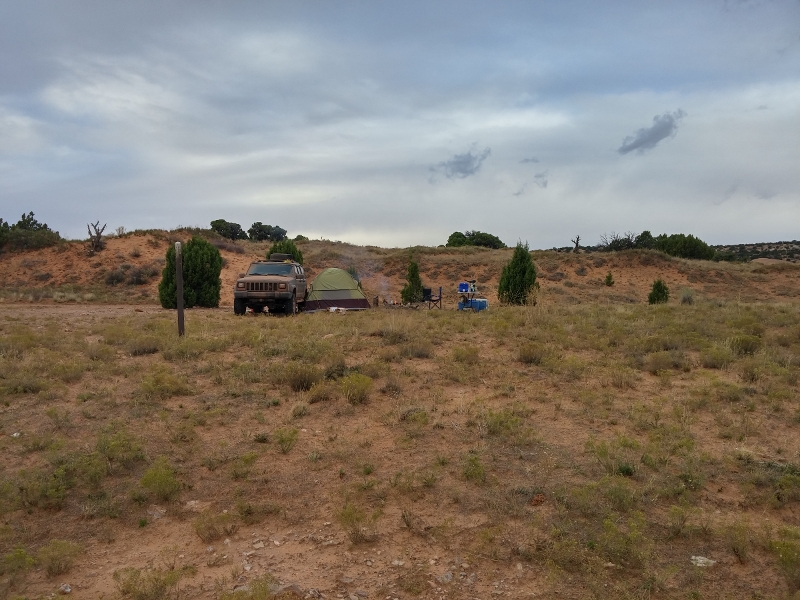 Our second camp was warm, visitor-less, and beautiful. The scenery, though not as treacherous, was excellent.
Nearby Sinclair Oil Corporation had sponsored a steel stake because it listed the county name and basic coordinates.
We re-traced our path, only this time during daylight hours. We had missed a lot!
We had to stop for gas in Hanksville. The first station was closed, but the pumps worked. I washed all the windows. Fortunately, the second, of three, stations was open and we got some supplies.
I'm now glad that we had to backtrack down Highway 95 towards the Hite entrance trail!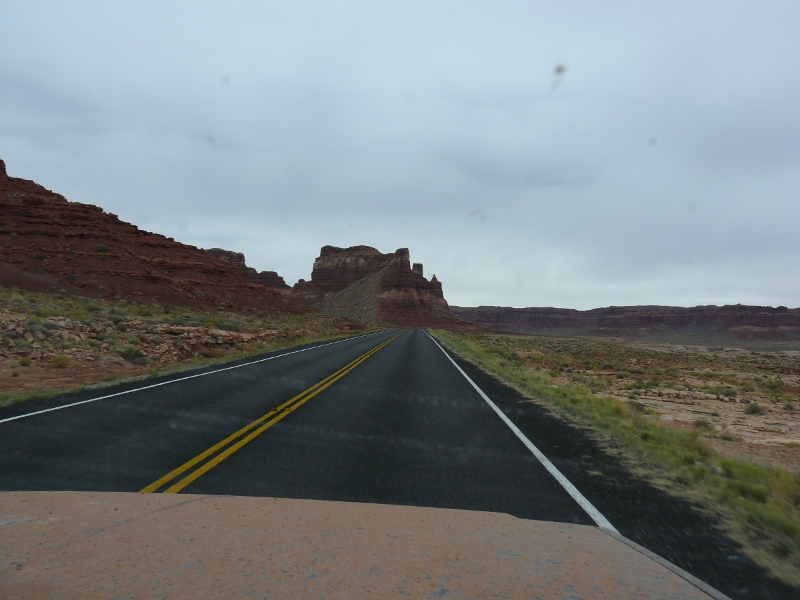 Raw, beautiful. Why are we seeing this from a paved road? Click for a larger view.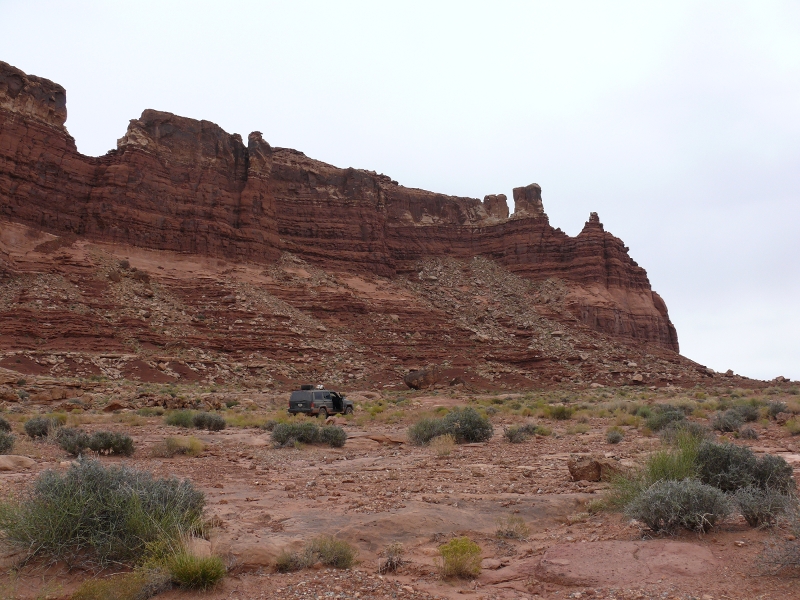 Just on the Hite trail, we had to stop. I even forgot to close my car door. Stunning.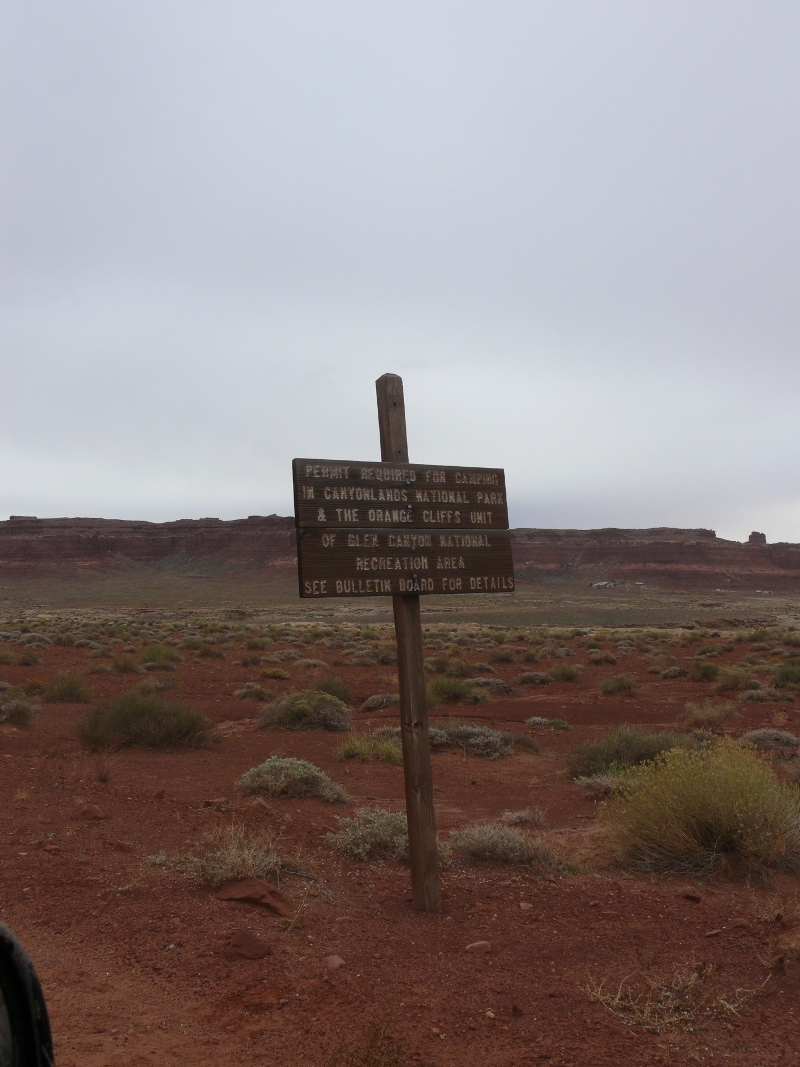 Welcome to Glen Canyon. Oh shit! Not again?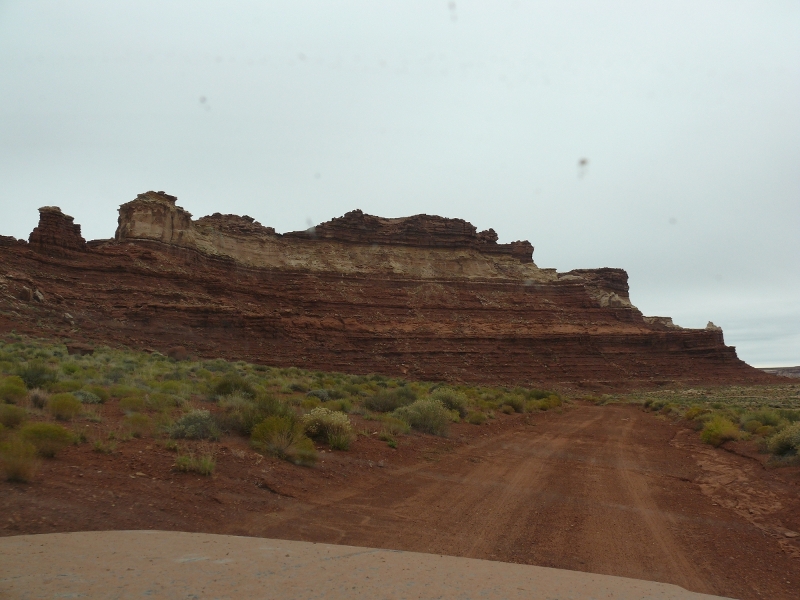 Initially, the trails from Hite in Glen Canyon weren't that bad.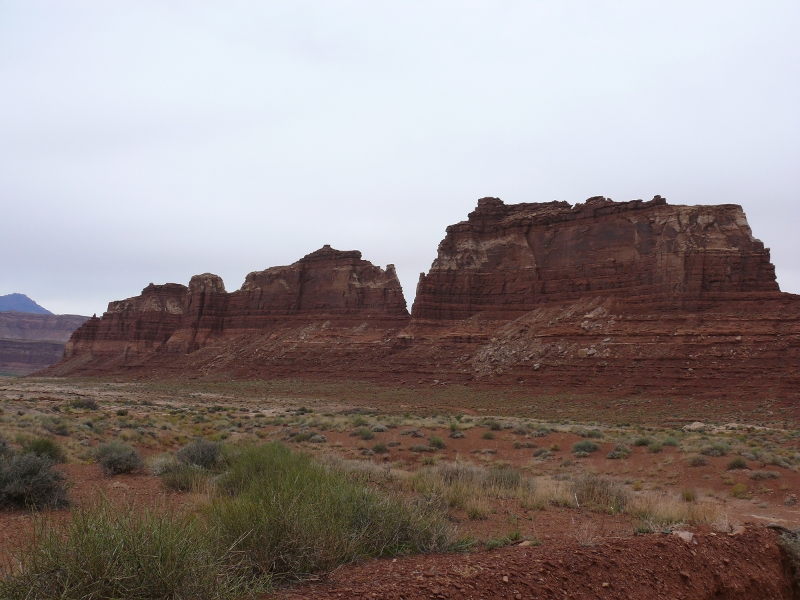 My camera numbered this photo with "666". I just don't see the demon. I see only a natural beauty. Maybe I'm wrong? Left click to examine the photo.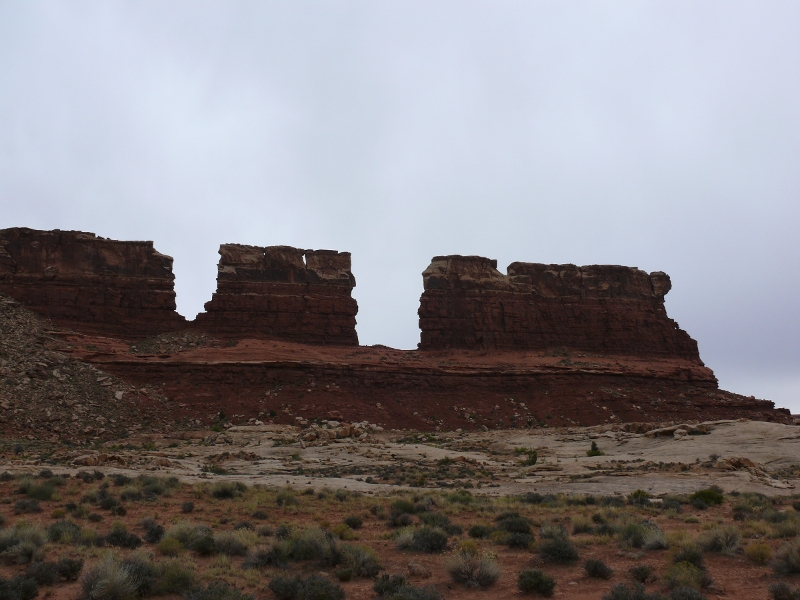 Interesting stone formation.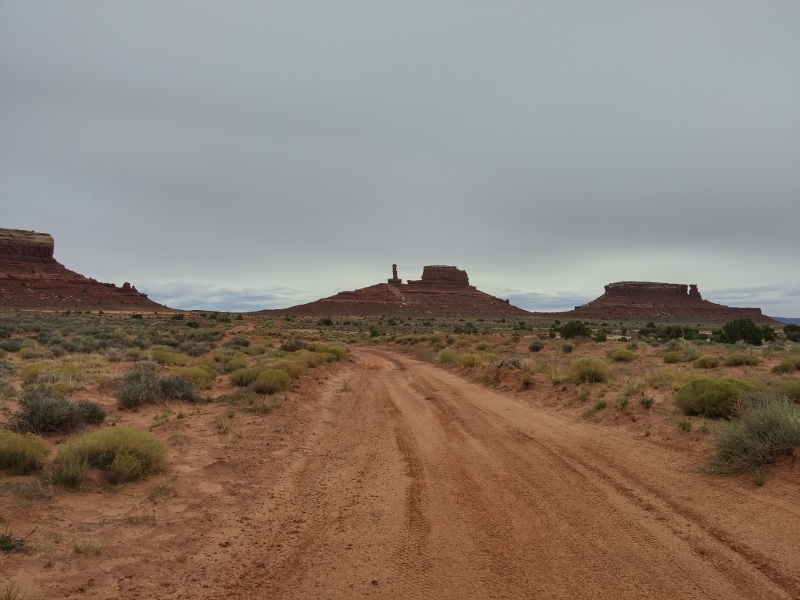 Glen Canyon welcomes you... with the middle finger!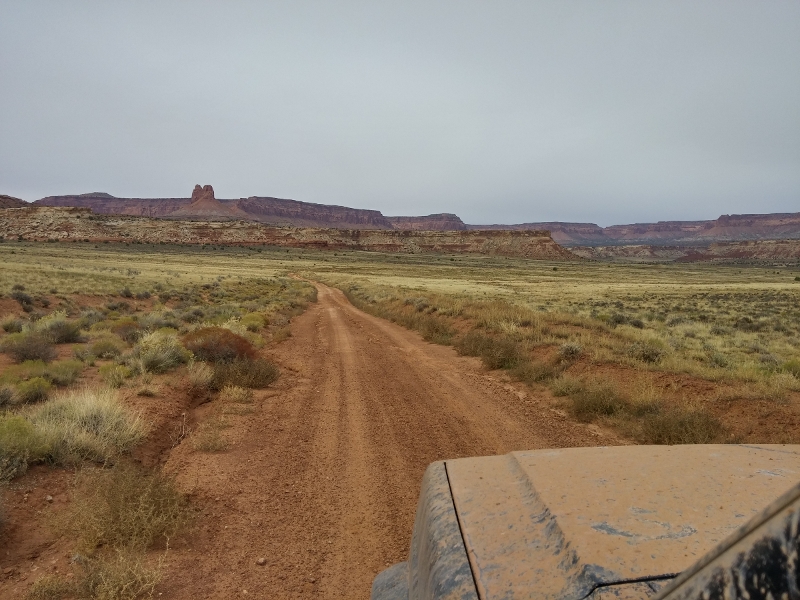 There was a variety of landscape along the 70-odd-mile ride to our third campsite. Trail conditions weren't too bad.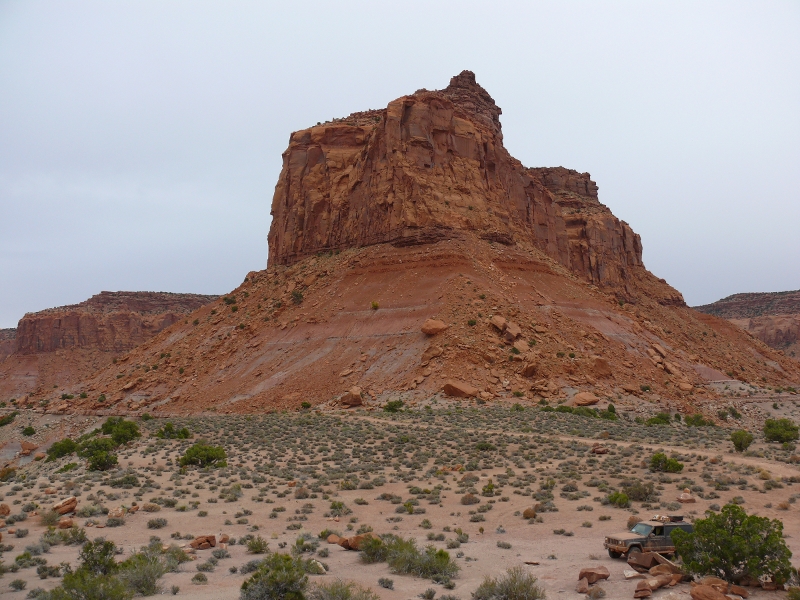 We made camp in a pass just off Poison Spring Canyon Road. It was dominated by two mesas. One is pictured above. The view was breathtaking, as you can see in
this panorama
.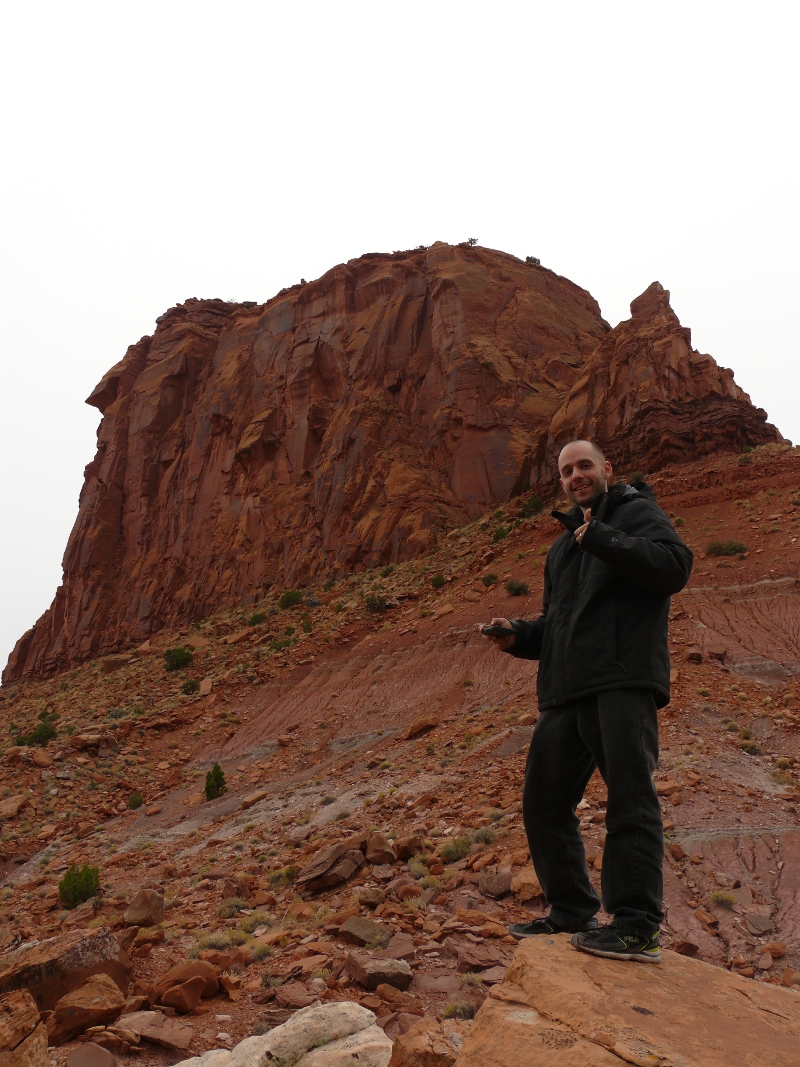 Mike approved!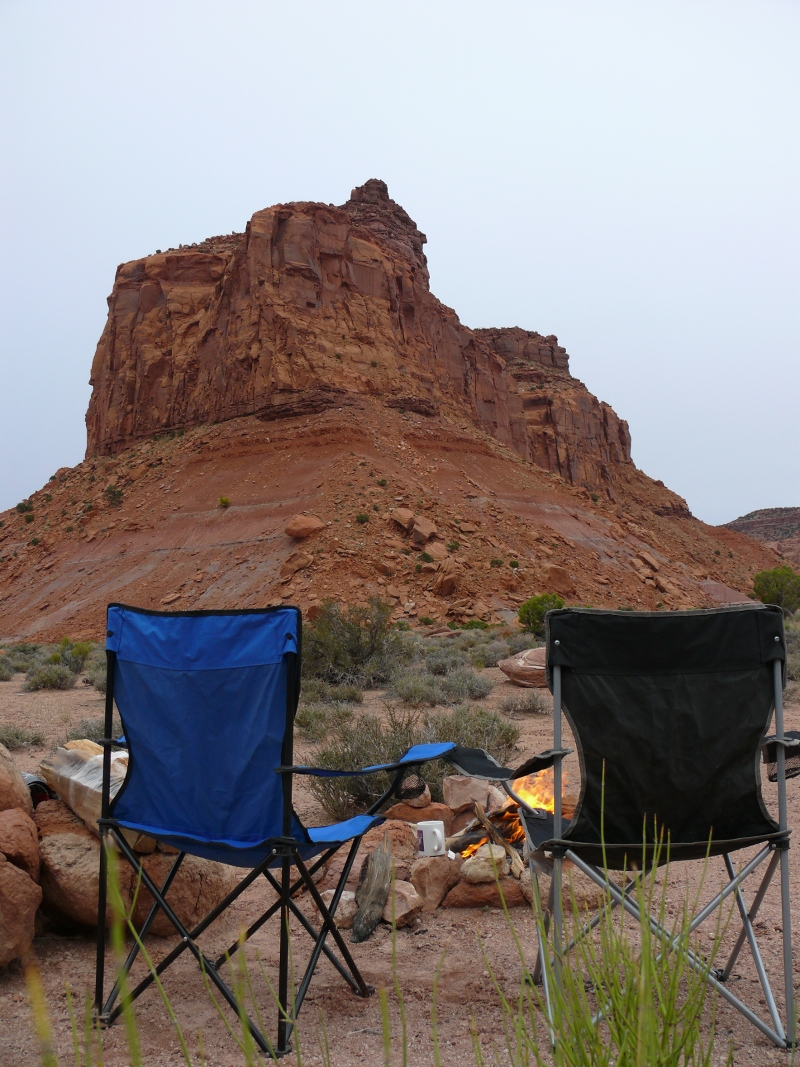 The view from our chairs was probably one of the best. Click for a larger view!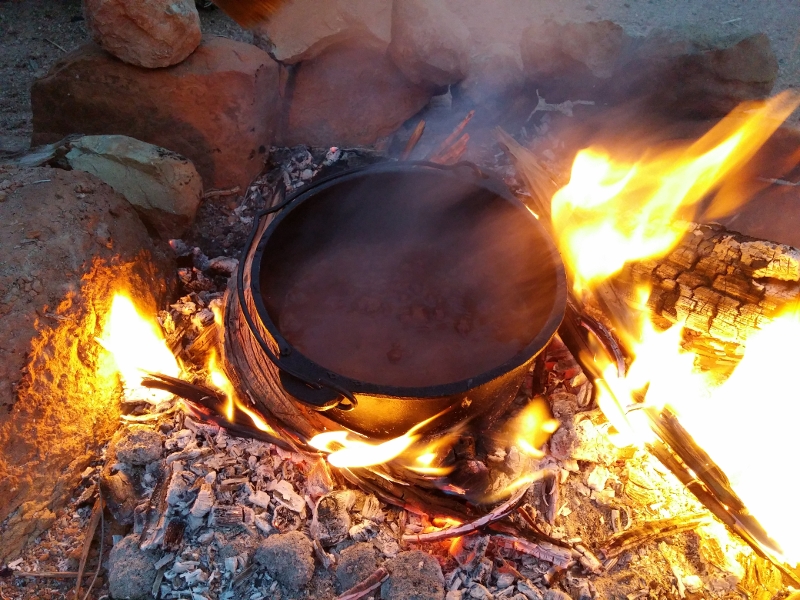 Chili is best cooked in a Dutch oven on coals!
That night it rained lightly. The wind made it a lot worse because it came into the tent a bit. The next morning the wind nearly took the tent away a few times. But now the skies are clear!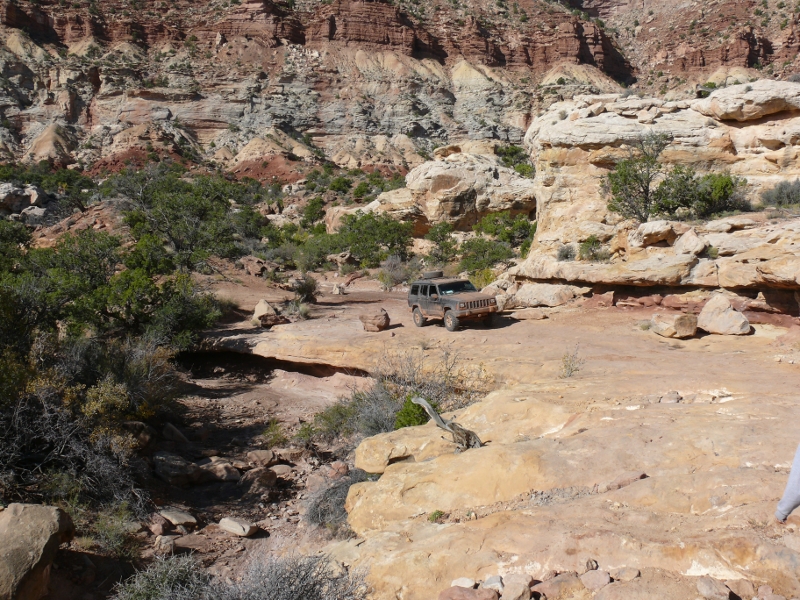 After wringing water out our stuff, we set out. We encountered the worst conditions yet. You can see that above. The Jeep is on the "trail". And it wasn't in the national park, but in Glen Canyon. Someone needs to do something about the trail conditions in that Recreational Area!
Here's
a video
(37.9 MB) showing Mike driving up.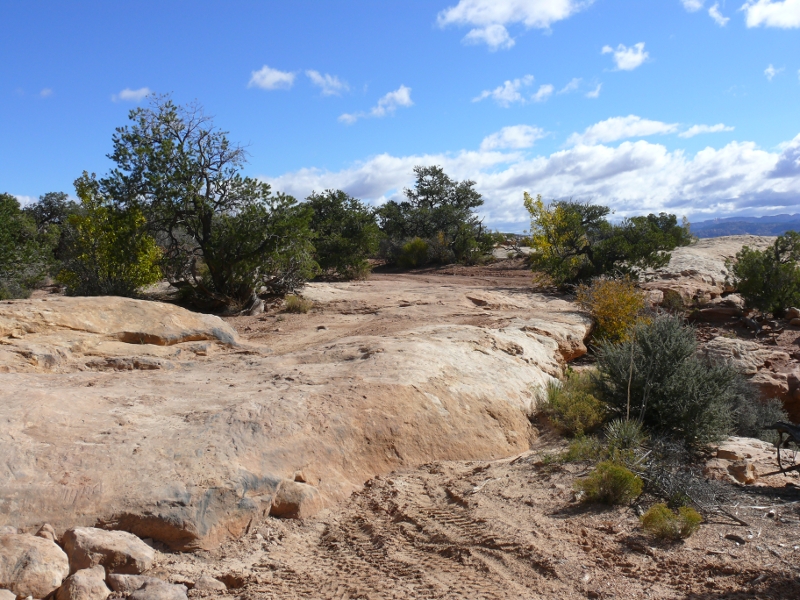 Another Glen Canyon trail. It's all downhill from here! See
this video
(5 MB)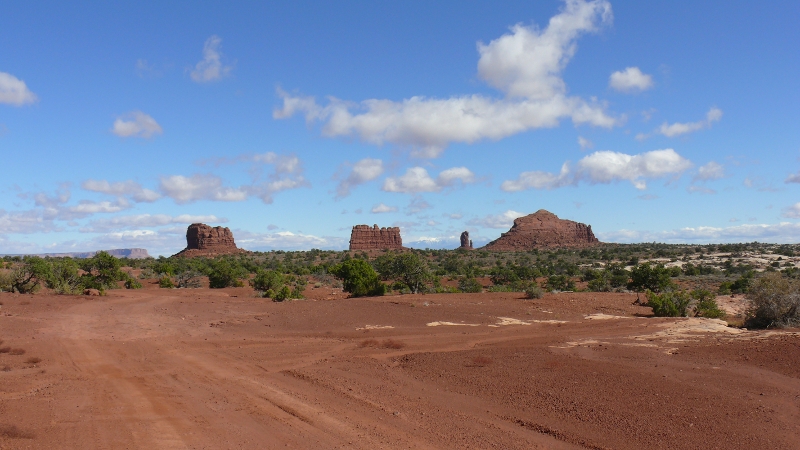 Finally, we re-entered the national park! This is the Land of the Standing Rocks. Click for a larger view.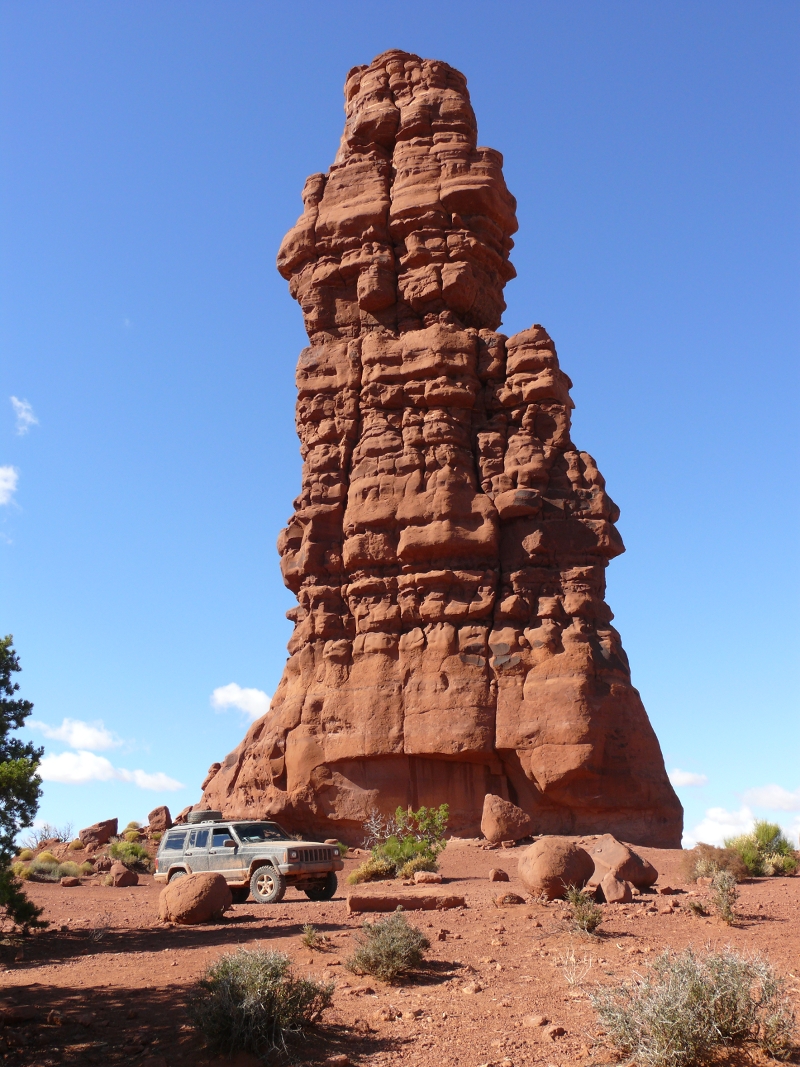 These
standing rocks
are impressive up close! Very large, too. See
here
for scale. This particular spot was one of the several campgrounds.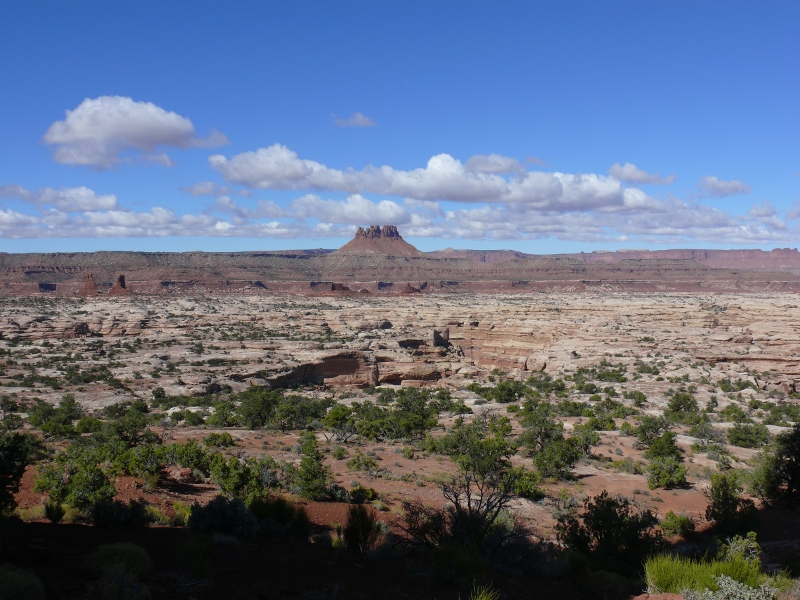 It did offer a very good view of the Maze itself. Click for a larger view. Mike took
a panorama
, too.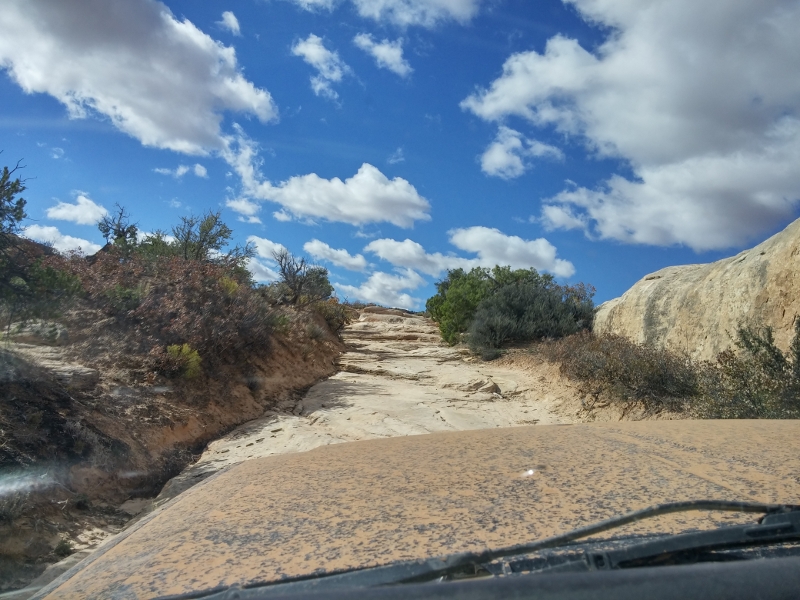 Got slickrock?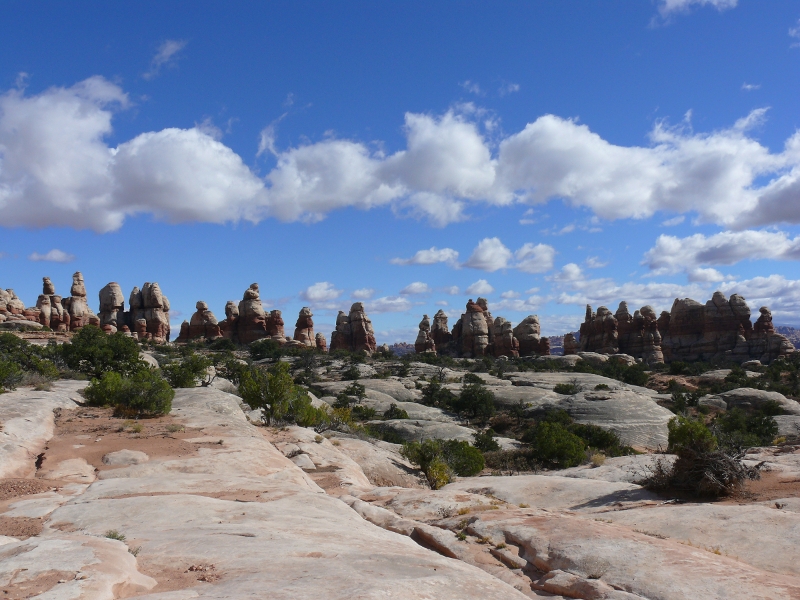 Here's a shot of the so-called Dollhouse. I don't know where they find these names either!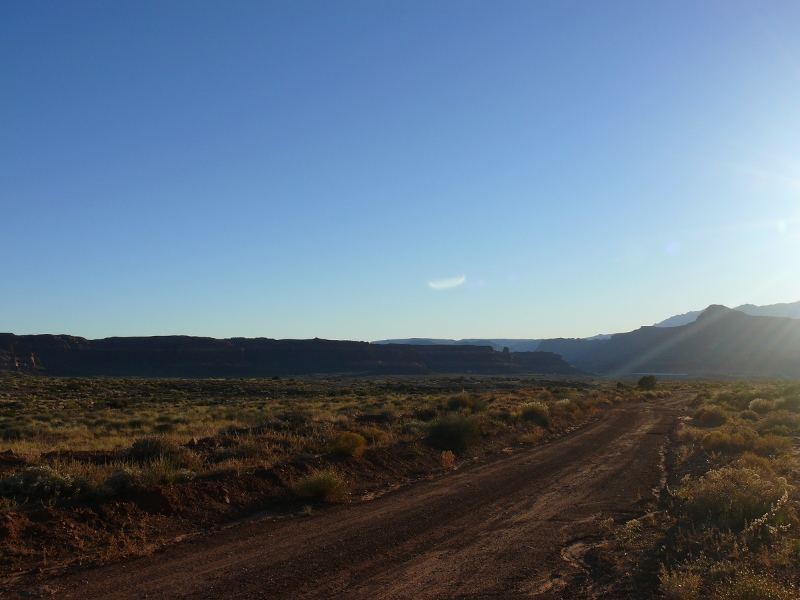 Unfortunately, one cannot four-wheel in The Maze. So, rather disappointed, we turned back to civilization. I managed this pretty shot along the long ride to pavement.
We stopped just short of the asphalt to reconnect the sway bar. Another pretty spot!
We drove on to Flagstaff and stayed overnight before returning to Phoenix. So that's The Maze! And to think we got out with all our arms




Copyright © 2002 - 2018 Billsuniverse.com