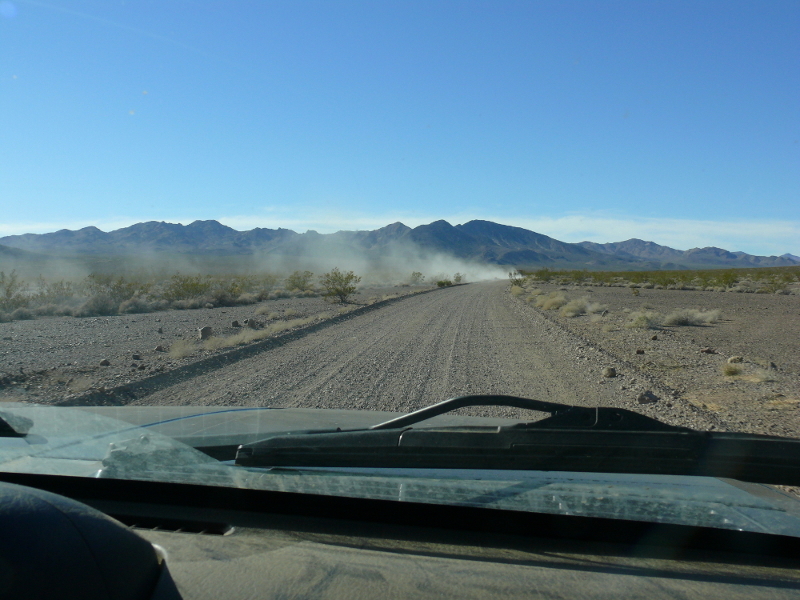 After a day of settling in to California and playing some Borderlands 2, we set out for Death Valley.
We entered the park from the southeast on freshly graded roads, as you can clearly see above. We quickly forgot about the annoyance of being passed by two semi-trucks, which we later had to pass up a hill, and welcomed a less complicated way of life.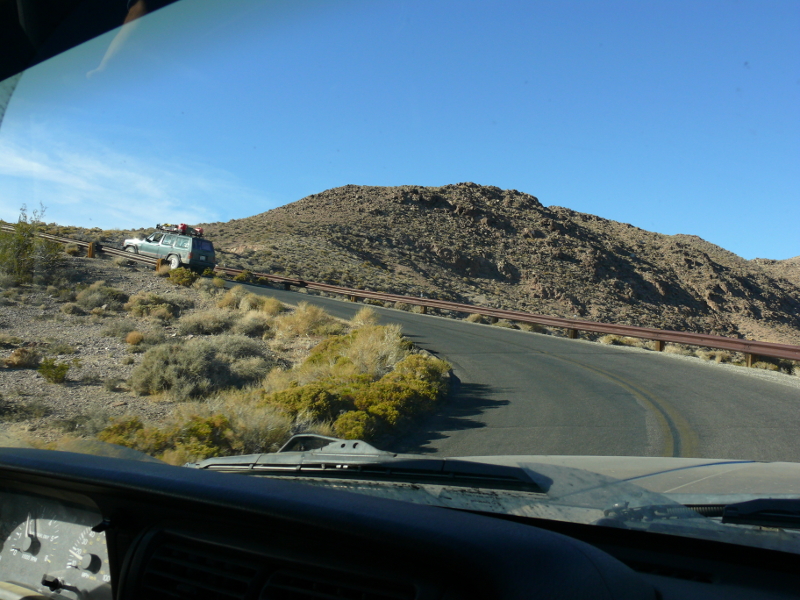 We started climbing and kept climbing, and then climbed some more. By the time we got to the end of the road, at the top, the Jeep of our main trip organizer and friend, Chris, was panting profusely. It's not too surprising since we'd climbed the Amargosa Range (probably ascending more than three thousand feet) in about fifteen to twenty minutes.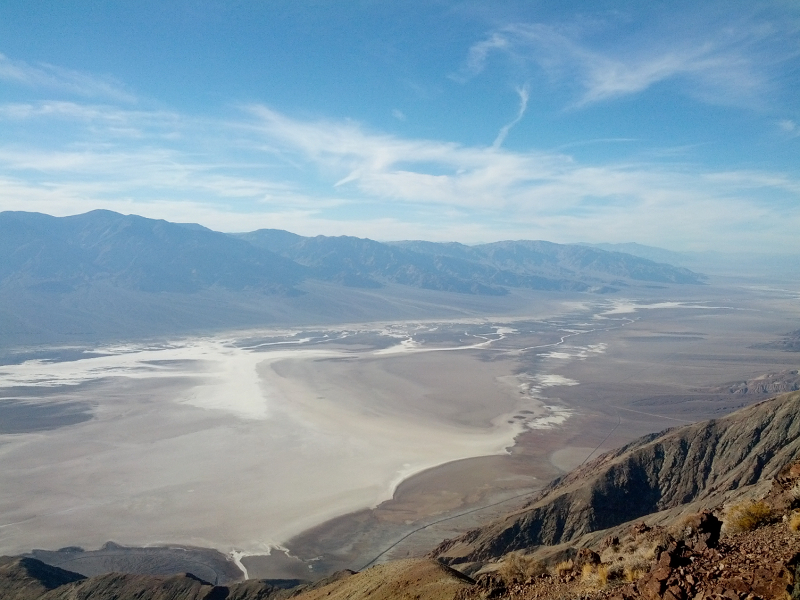 From atop Dante's View, one may take in the lion's share of Death Valley. At one time, this area received fifty inches of rain per year. Back then what would have been in the frame would be a deep blue lake surrounded by forests.
However, that was a very long time ago. So not even Al Gore can blame the disappearance of this lake on our need to explore and the resultant pursuit of technology!
Mike's shot of Death Valley beat out all of my attempts by best capturing the essence--as seen from this vantage--of Death Valley. Not bad for a telephone camera... (I think it's the skill of the operator.) Click for a larger view.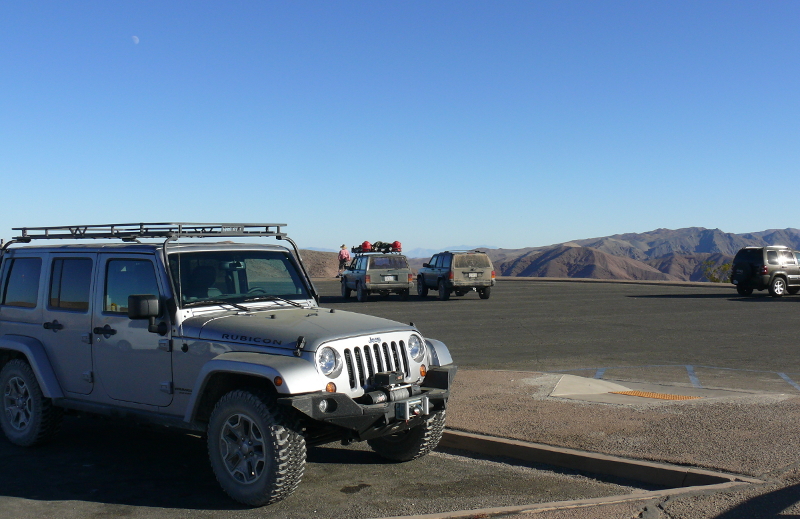 I turned around and a TV voice suddenly said: "Jeep. There's only one."
I couldn't resist that comment; because in this frame there are only Jeeps. I also managed a good shot of Chris at the summit. You can view it
here
.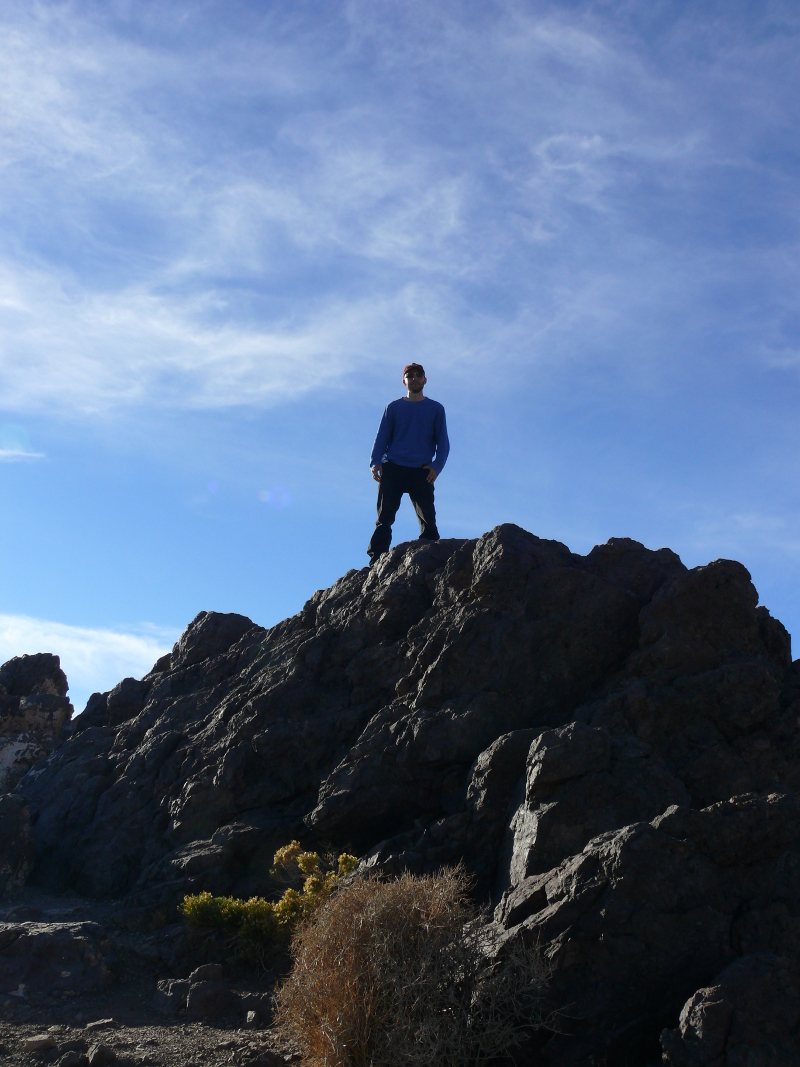 Mike as a colossus.
---
After stopping briefly at a luxurious hotel, probably the Furnace Creek Inn, we continued to Zabriskie Point. And what a spot it is! It's named for a mining businessman who became frustrated with the uncertainty of mining and lobbied for Death Valley to become a protected area.
This umbrella allowed tourists to enjoy the sights without the annoying wolf whistles from unkempt miners. Effectively this turned Death Valley into a tourist attraction. I may be giving Zabriskie too much credit; however, if he played any part in saving these sights for the future generations, then he deserves it.
Click the thumbnails below for larger photos:
Seismic events and the fact that this area was below water gave us these amazing badlands. Also, there were some agreeable foreign girls around.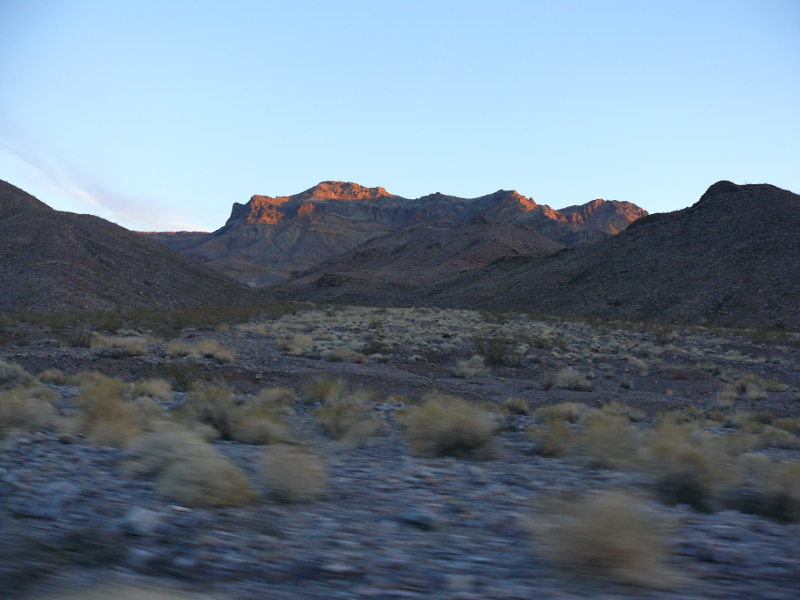 The light was starting to fail, and we still hadn't made camp. In Death Valley, backcountry camping is only allowed two miles off the beaten path. That makes sense because tourists driving by indecent hicks camped by the side of the road are less likely to return, or recommend the park to their friends.
We headed up the trail in Echo Canyon towards a mine. We hoped to find a patch of soft sand for my tent and a spot to fry some hamburgers.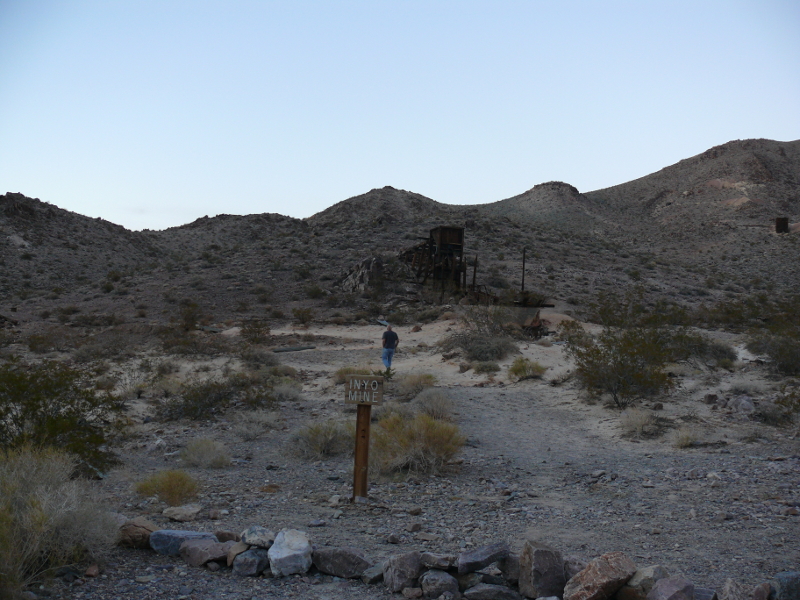 The best site turned out to be the mine. Above, Chris goes to investigate a suspiciously convenient bit of sand. The name of the mine was a point of humor for us all night. Say the name as a gangster would and it is becomes quite a funny insult or retort. "
Hooked on Ebonics
worked for me!"
With the joke still ringing in our ears, we settled down for the evening. I had first supper duty and
I set about preparing some burgers
. As Chris said, everything tastes better in the desert.
Mike took two good photos of the camp: one
at dusk
and another
the next morning
.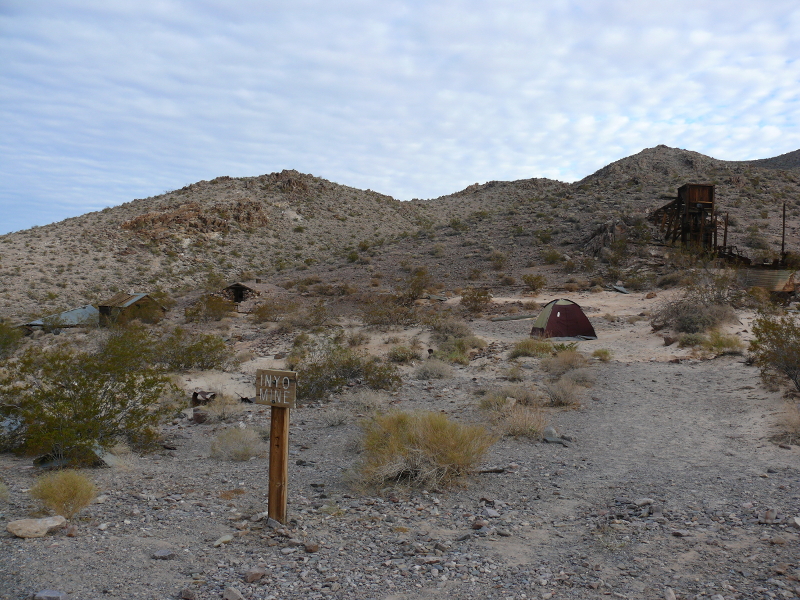 Chris said that the unusual patch of sand that I pitched my tent on was powder created by the stone mill in the right of the picture frame. He also said that it probably contained cyanide residue from gold extraction. I guess I shouldn't have snorted some? Chevy Chase would have said:
"IIIIII like it!"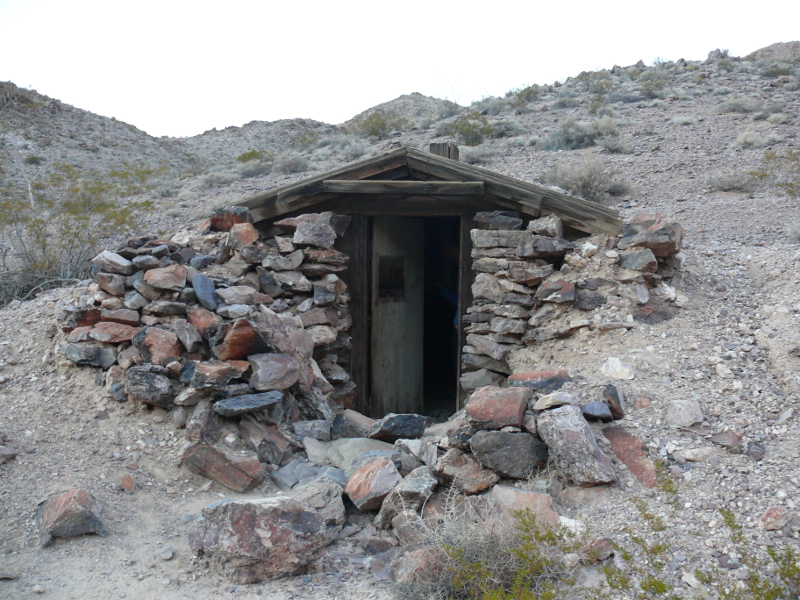 After
a pretty sunrise
captured on film by Chris, we examined the mine. Pictured above is a small, earth-bermed structure. I wonder if it was used to store perishables: a refrigerator of sorts?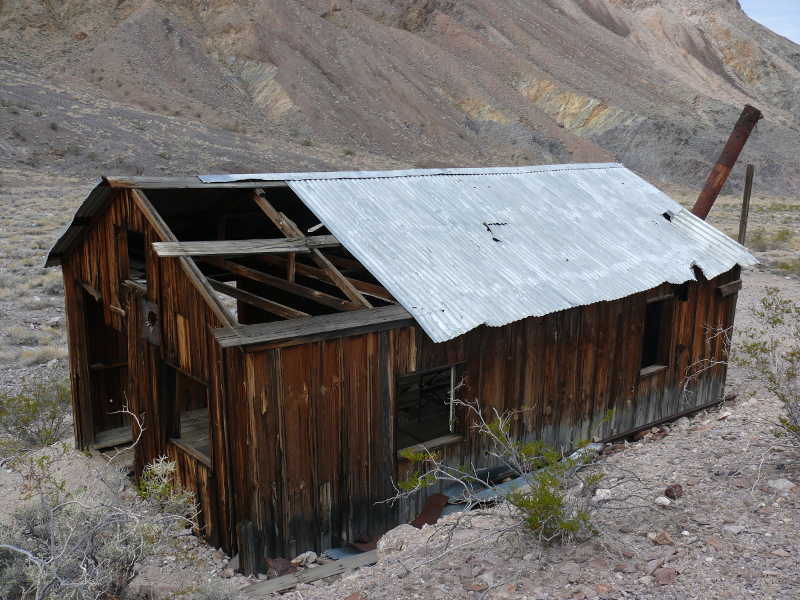 Continuing on we found a bunkhouse and the foreman's shack. The bunkhouse is shown above. Click the thumbnails to see the shack.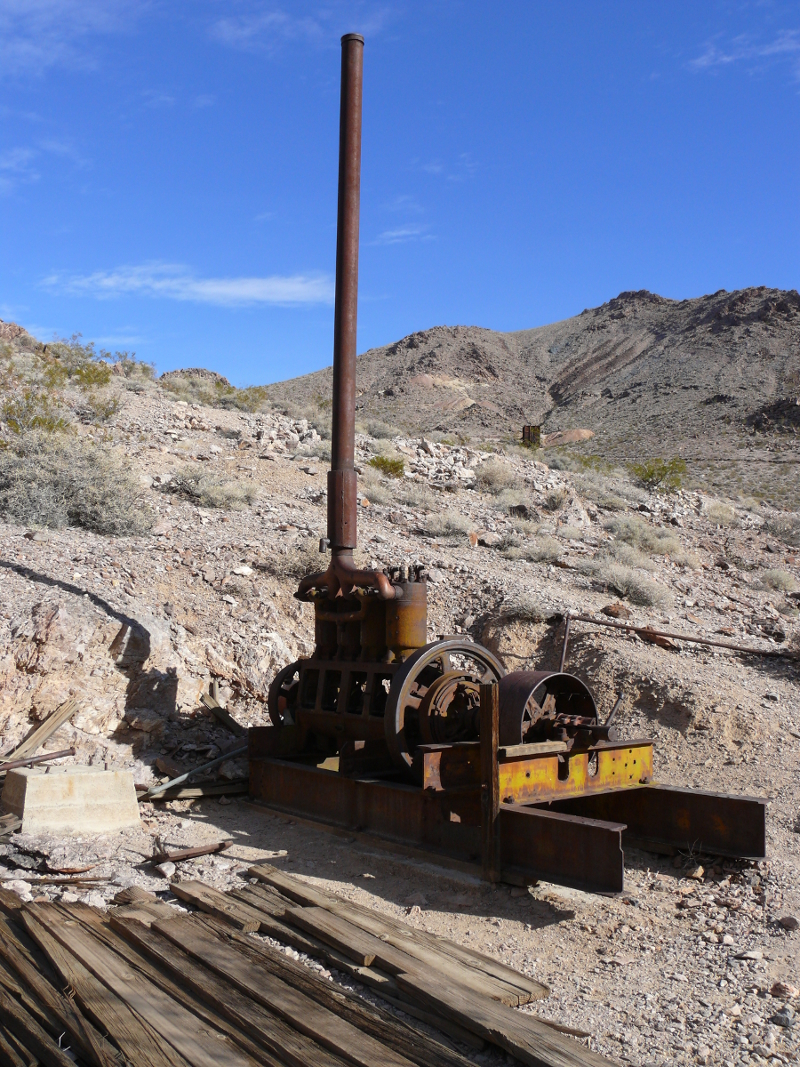 Now for the mechanized part of the mine. Pictured is an engine once used to move a belt that, in turn, spun the mill. Click for a larger view. For close-ups, click the thumbnails below.
Mike took a couple of good photos of the mill itself: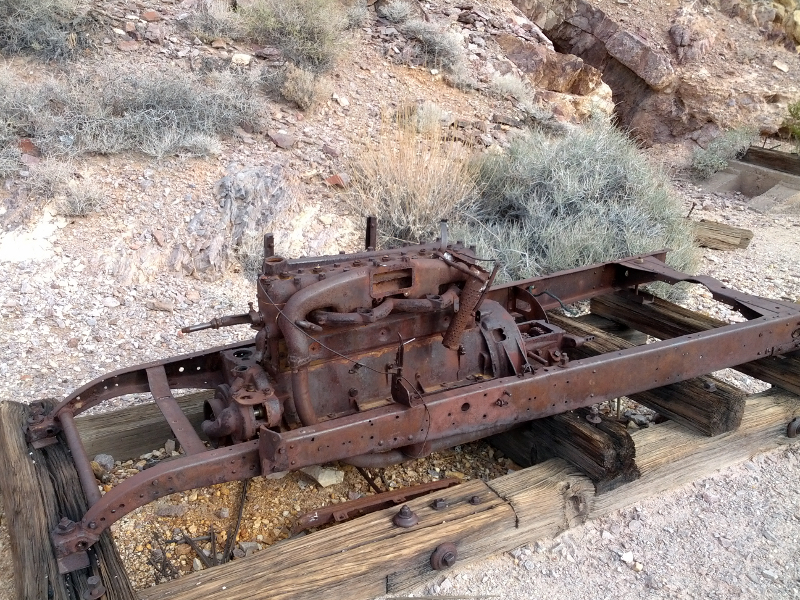 We continued up the hill to the mine. Near the entrance, we found this stripped-down car chassis and drivetrain. Cool!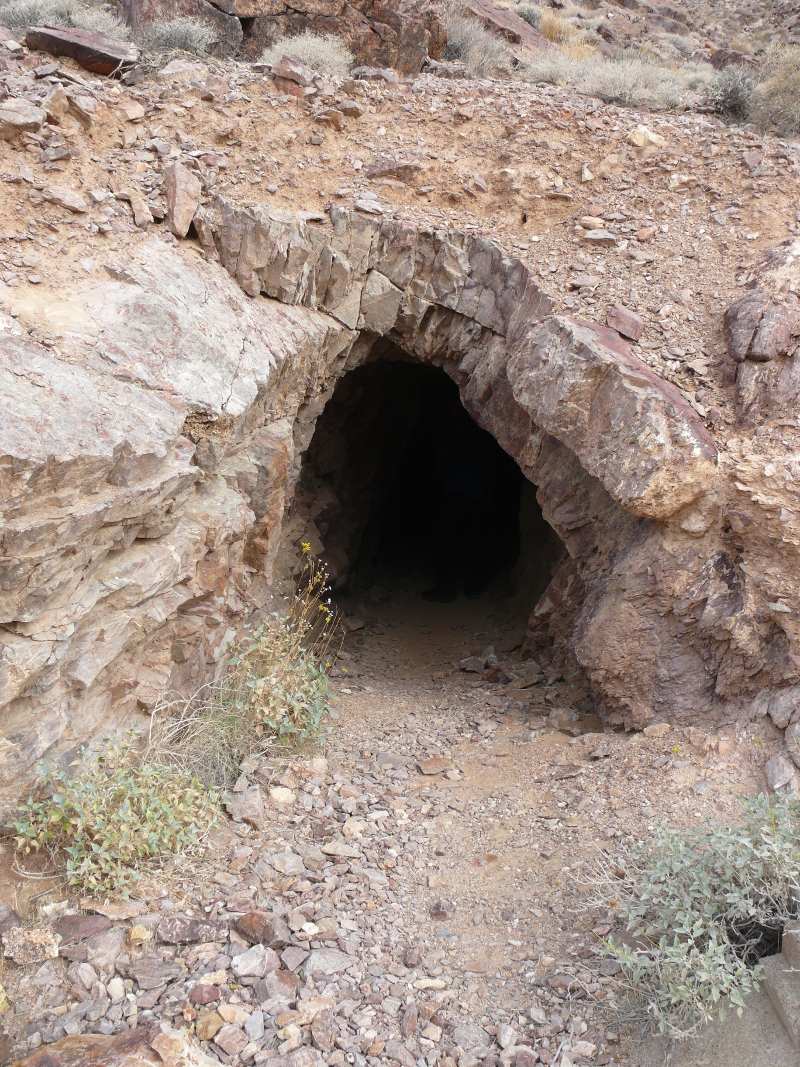 The entrance to the mine.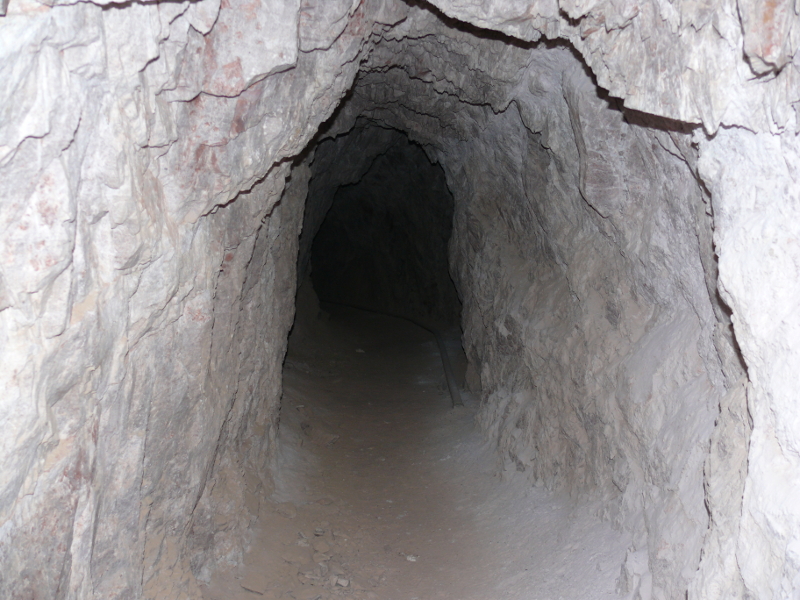 About twenty or thirty feet inside, we came across a single rail for an ore cart.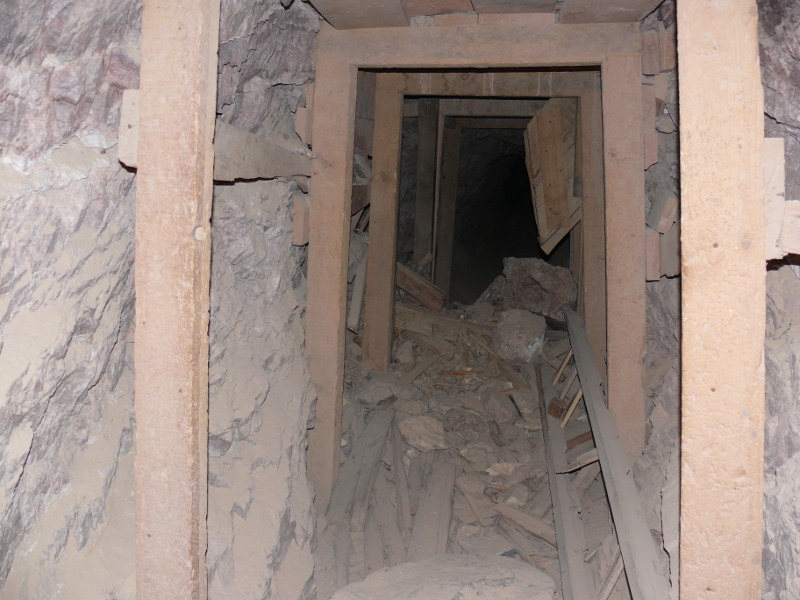 The tunnel was then blocked about fifty feet in, by a collapse. Mike noted that up and to the left was a vertical shaft with a wooden ladder,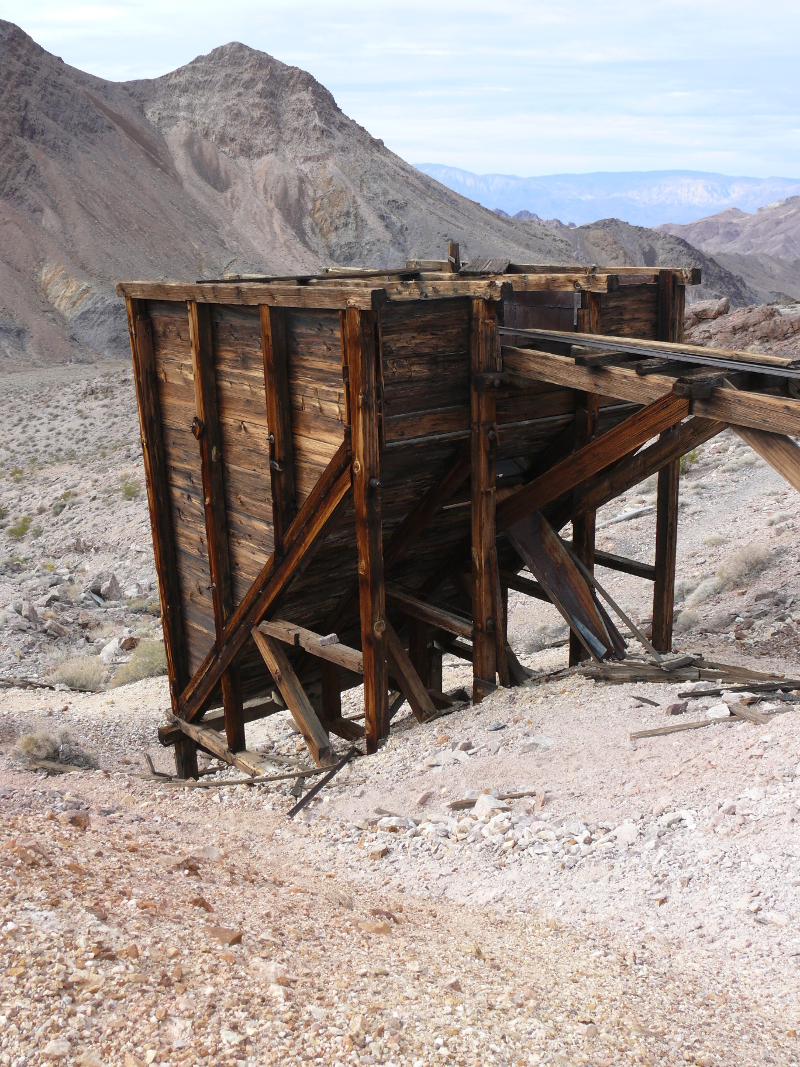 We exited the mine and saw the rails once led to large hopper.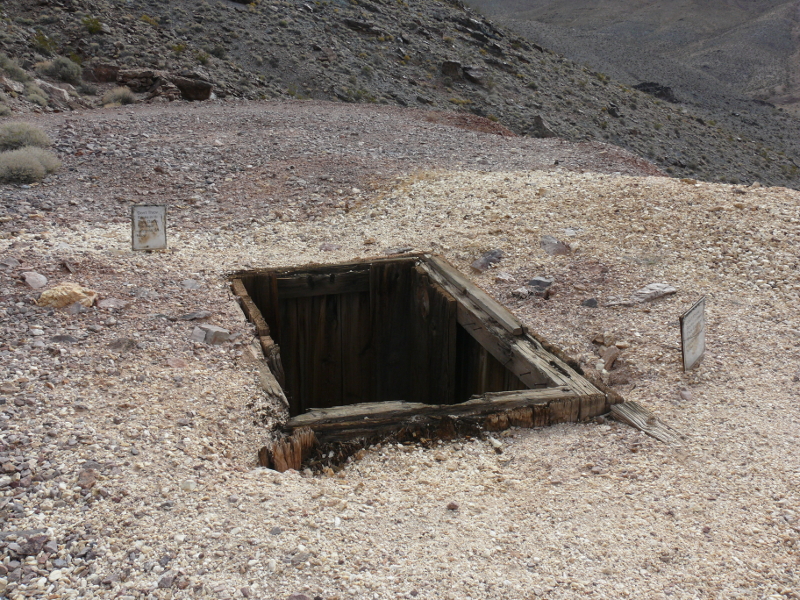 We continued up the hill to this open hole. It turned out to be the air/access passage we saw in the mine. Click for a view down the shaft.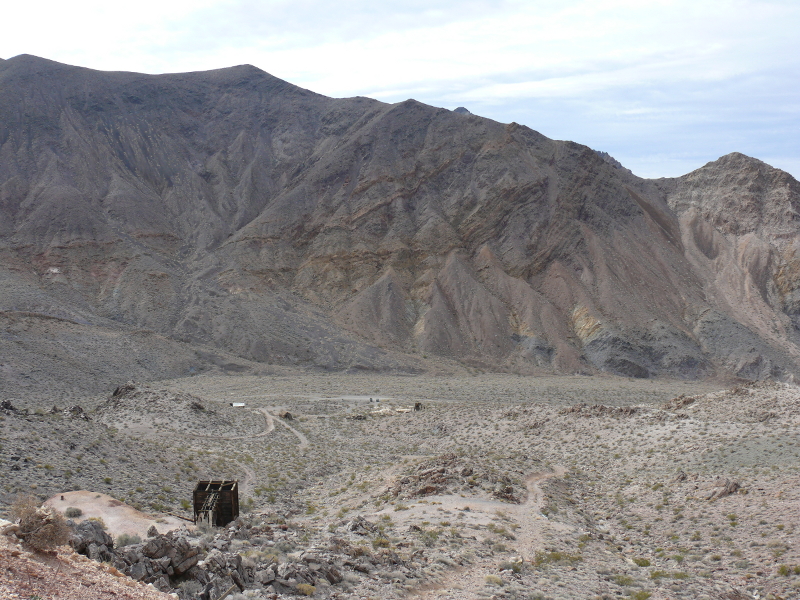 We had climbed quite a ways. You can just make out the Jeeps. The path of the rock strata on the rocky face shows the seismic activity.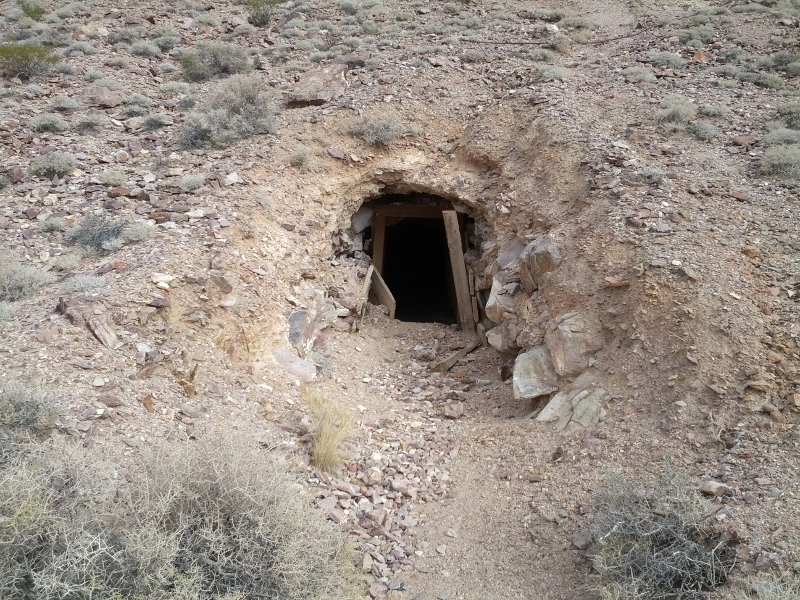 We found yet another mine entrance.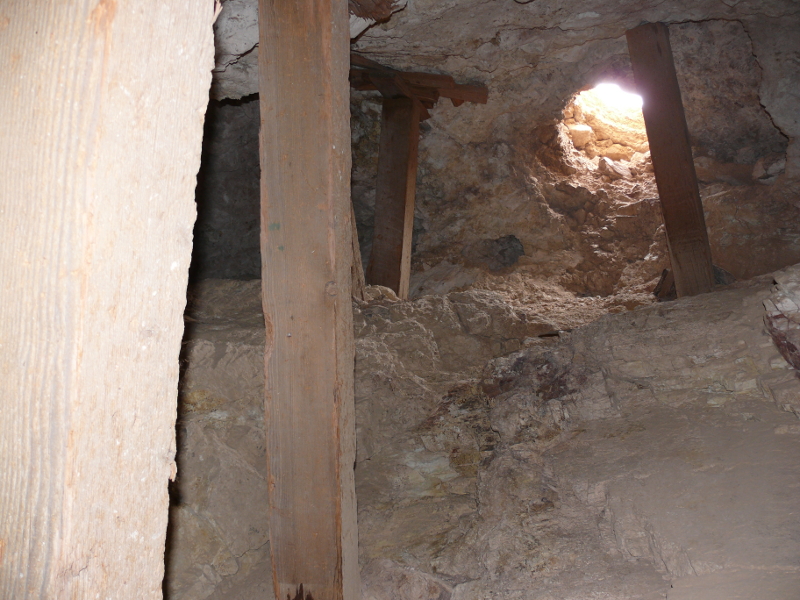 We found that the shaft continued down almost immediately. There was a cool vent hole, which you can see above.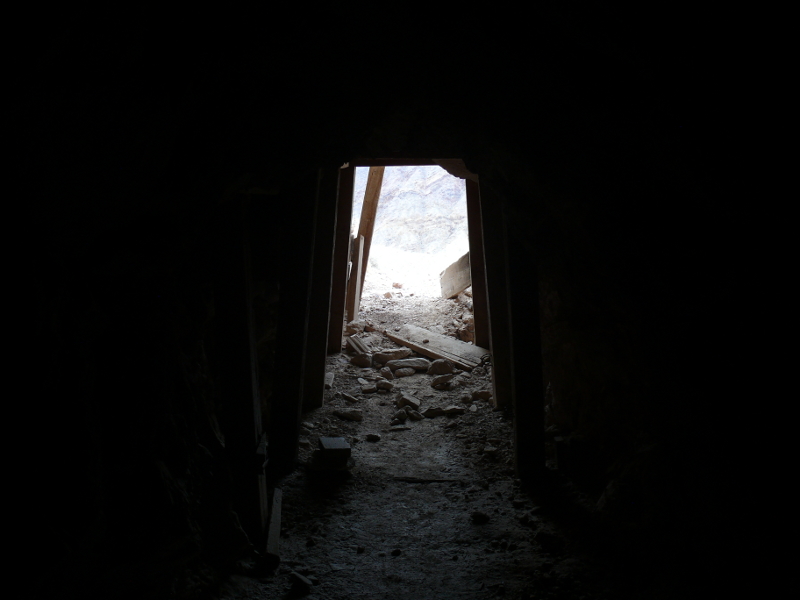 So we turned around and headed out. I beat Mike out, who took
a photo
.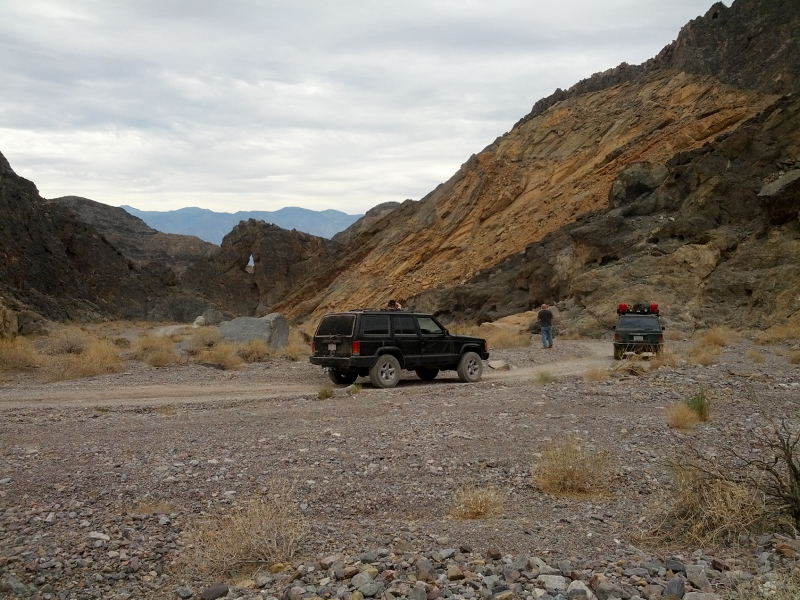 We stopped our descent towards Death Valley to photograph the Eye of the Needle. Mike took a good shot that shows off his black Cherokee. Click for a larger view.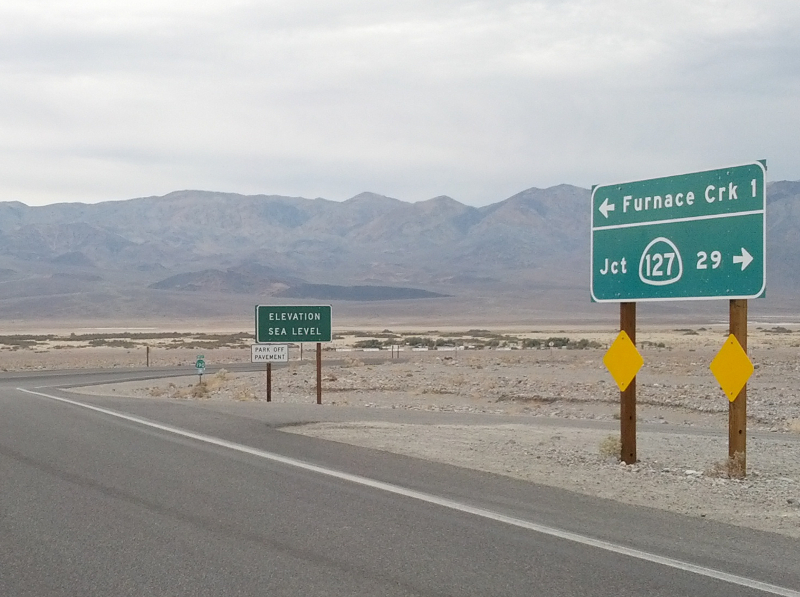 Time to start swimming!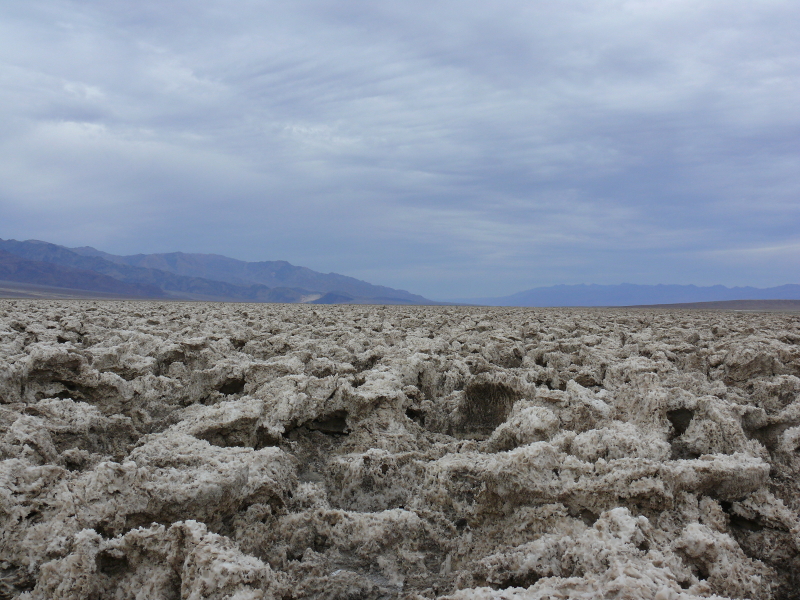 Next stop was the Devil's Golf Course. It's named because only the Devil would be foolish enough to play golf here. For an idea of the scale of these formations, you can open
this photo
. The salt crystals were definitely sharp, too!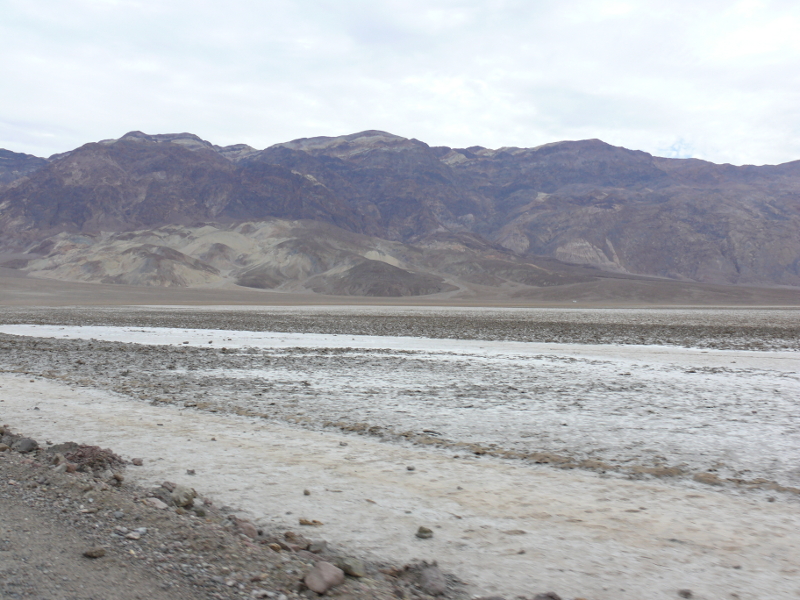 Snow? It sure did look like a dusting, however, this is salt.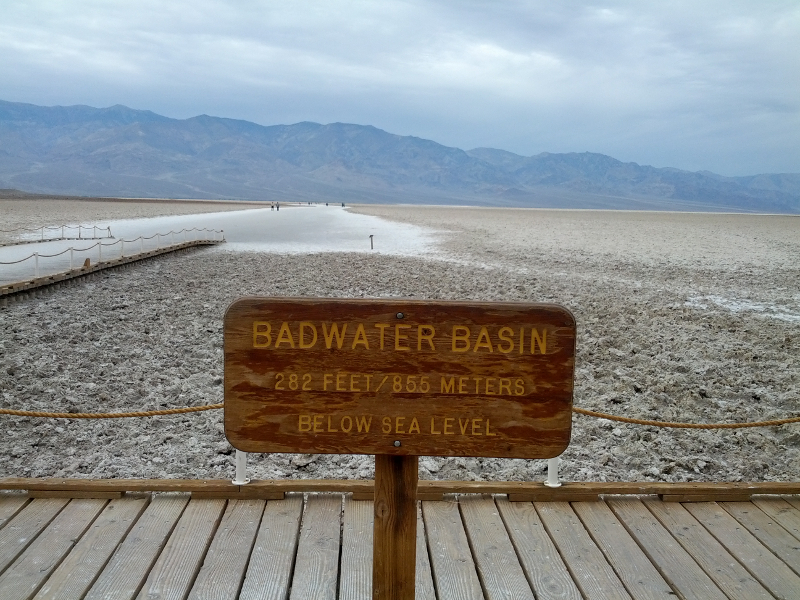 Welcome to Badwater. It's 282 feet below sea level and still dropping!
I'm really not good at judging distances, especially depth, so I took a shot using a pick-up with Washington plates as a scale. Included in the frame is a sign marking sea level. Take
a look
! (I added big black arrow so you can find the sign.)
I have the same bit of water taken with my digital camera and Mike's camera-phone. The frames aren't identical, but they're close. The difference is surprising. My camera did a better job of capturing the correct colors, as it should, since it does nothing except take photos! Here is
a combined image
.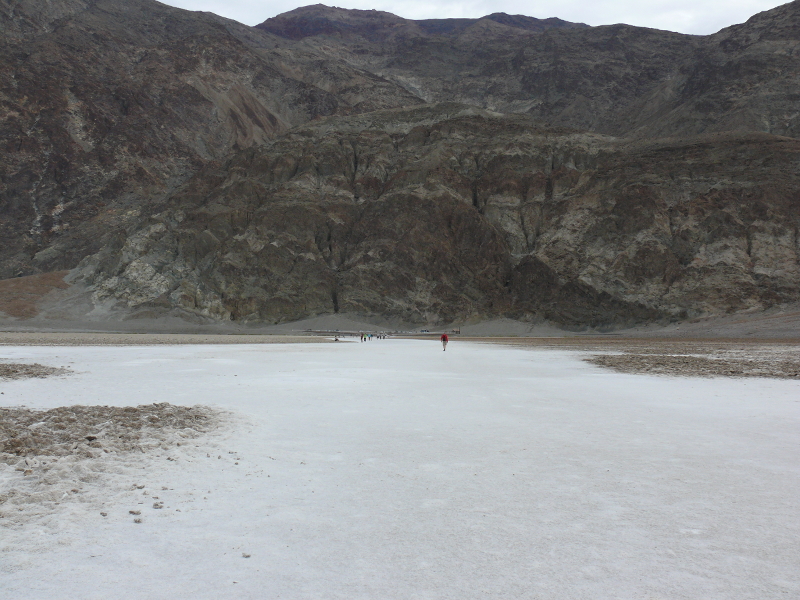 We walked out quite a ways on the dry lake bed. It looks like a miniature Bonneville salt flats!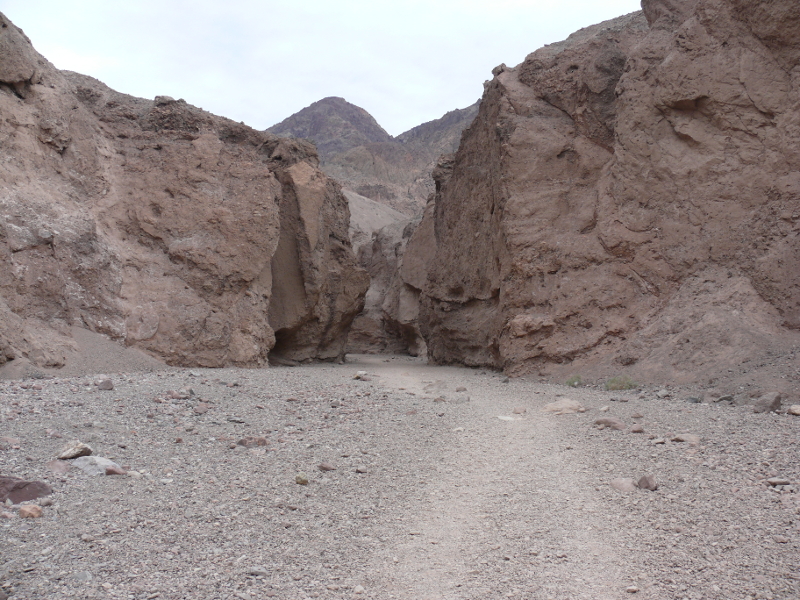 Between Badwater and the Devil's Golf Course, we stopped to hike to a natural bridge in a canyon. The view of the Valley from this point was impressive and worth
photographing
.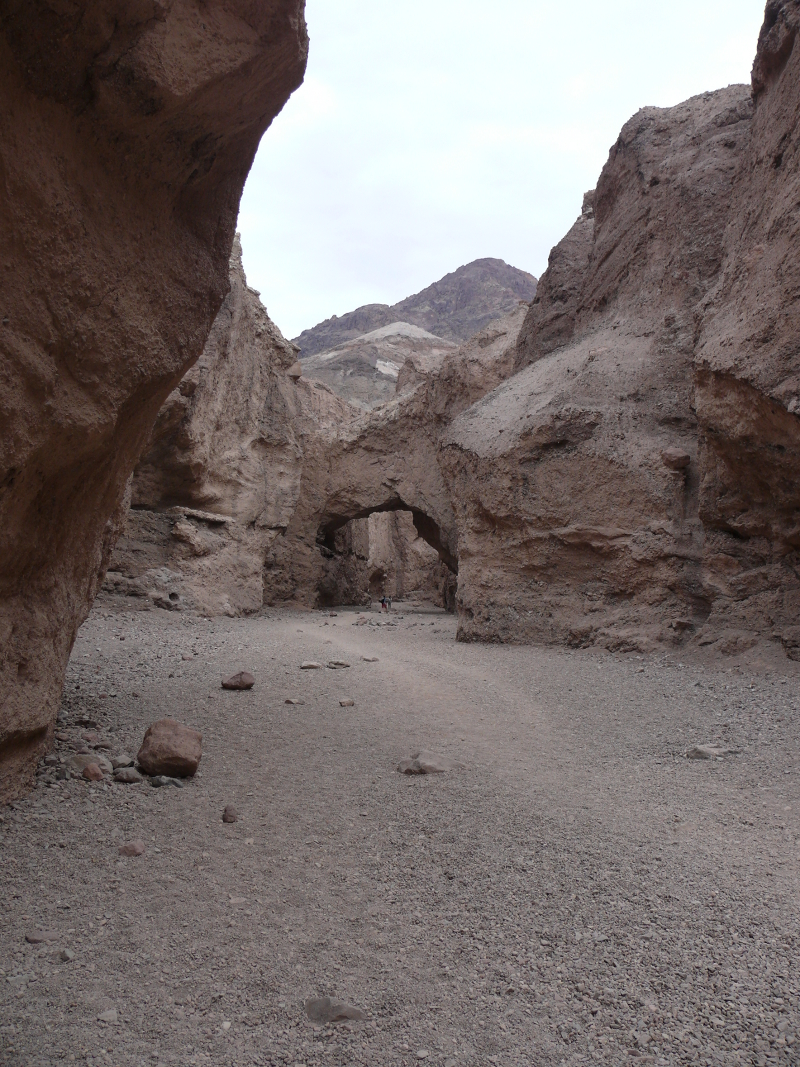 The natural bridge was pretty impressive, if just for its massive size. There are two people in the shot.
Further along was a stone waterfalls. It was neat to see but, being used to
real waterfalls
, it paled by comparison.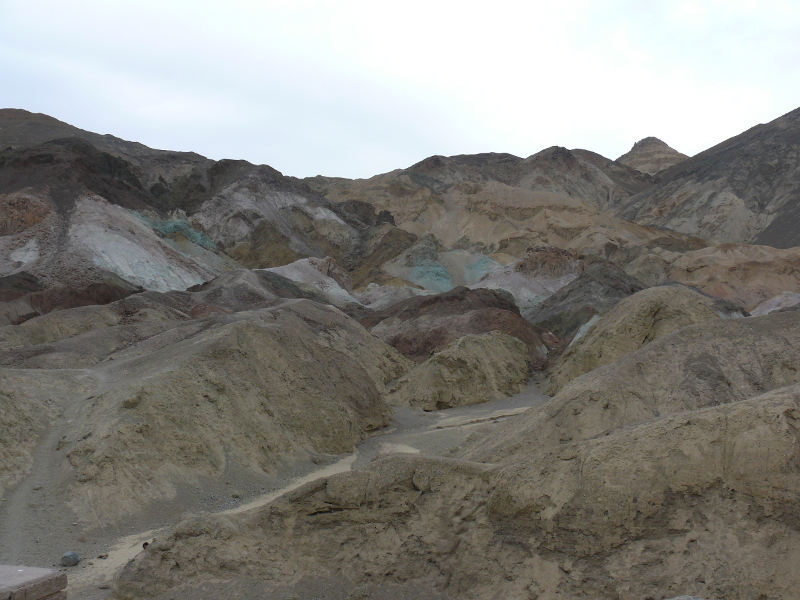 This is the Artist's Palette.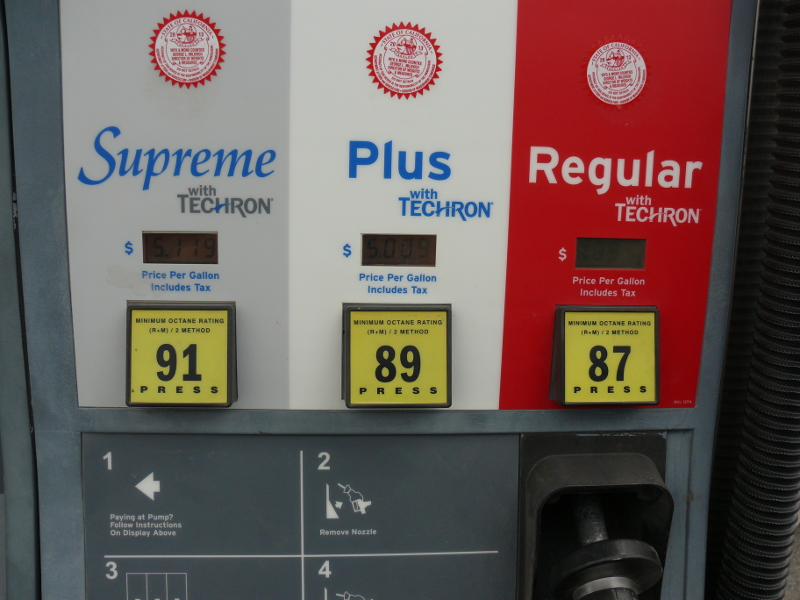 We then stopped in Furnace Creek to get some souvenirs and purchase fuel. Look at those prices! I also saw two of an endangered species! Yeah, right there in this little town. I bet you can't guess what they are! Go ahead and try to guess. Then click
here
.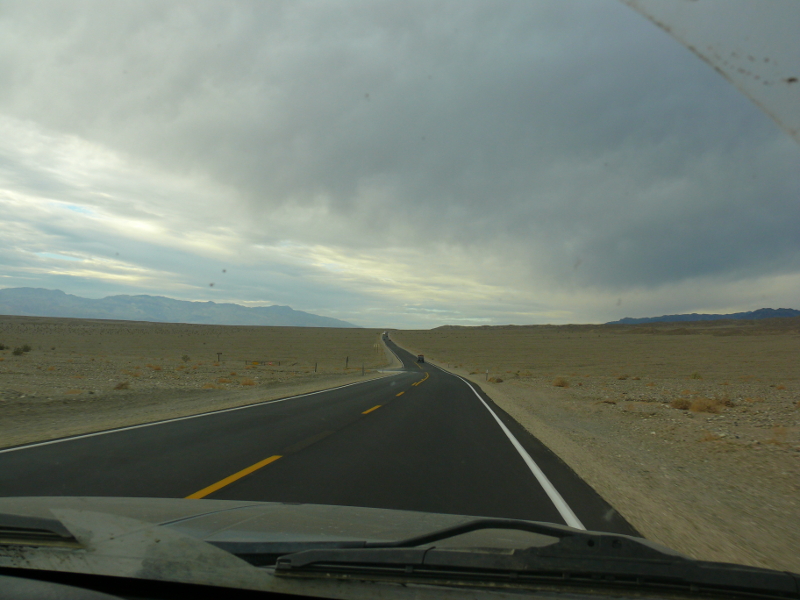 The light was starting to ebb so we headed along the high-speed valley roads to a potential camping site.
We turned off the main road onto the 4WD trail to Chloride City. A high-clearance vehicle is definitely needed for this path. Mike stopped to allow me to snap a quick photo of
a view
. The trail got rougher and narrower as you can see
here
.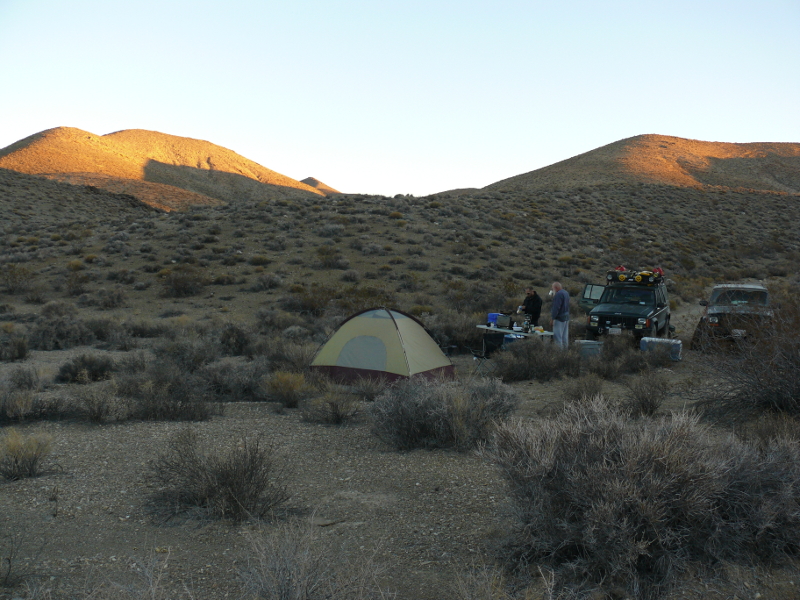 We gave up trying to reach Chloride City because it was getting dark. We found a site right along the trail and hastily set up camp. While Mike cooked hot dogs, I snapped some shots of the sunset.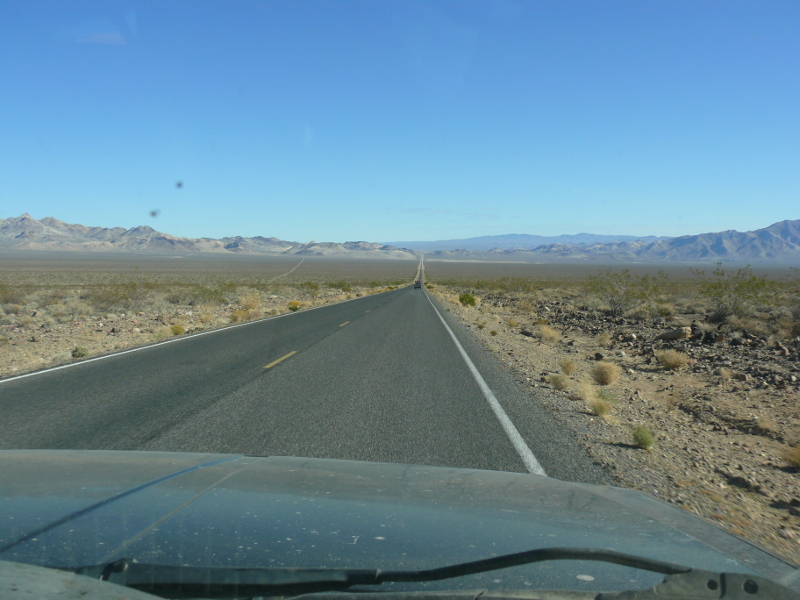 The next day we returned to the paved road to continue to our next destination.
The one-way road leading to Titus Canyon switched back vigorously to ascend the Amargosa Mountains. This can be seen in the background of the above photo.
Shortly after we stopped to let some other vehicles pass and we took some photos. I believe this spot is called Red Pass.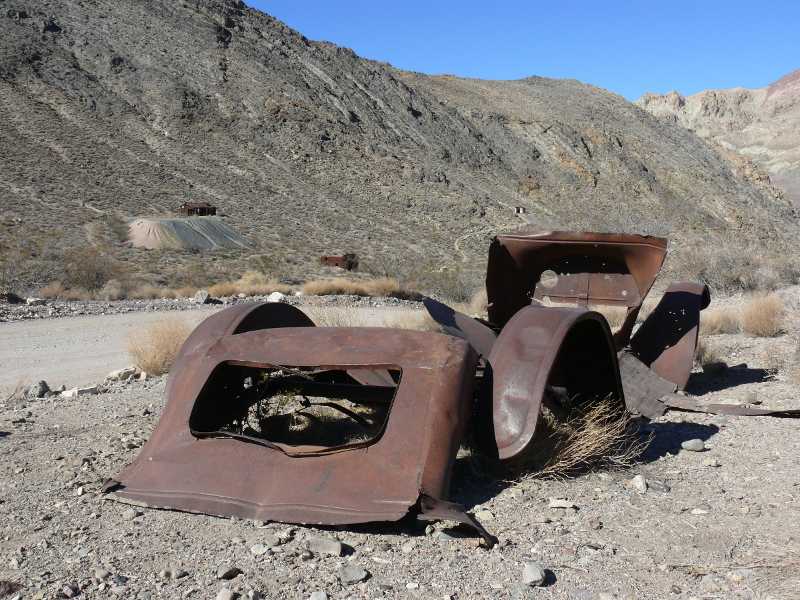 Next stop was Leadville. This mining town was founded by 300 folks responding to an wildly ambitious advertisement. It even fooled the Post Office, which set up an office in the town. The town lasted only about six months. Below are some photos of the buildings.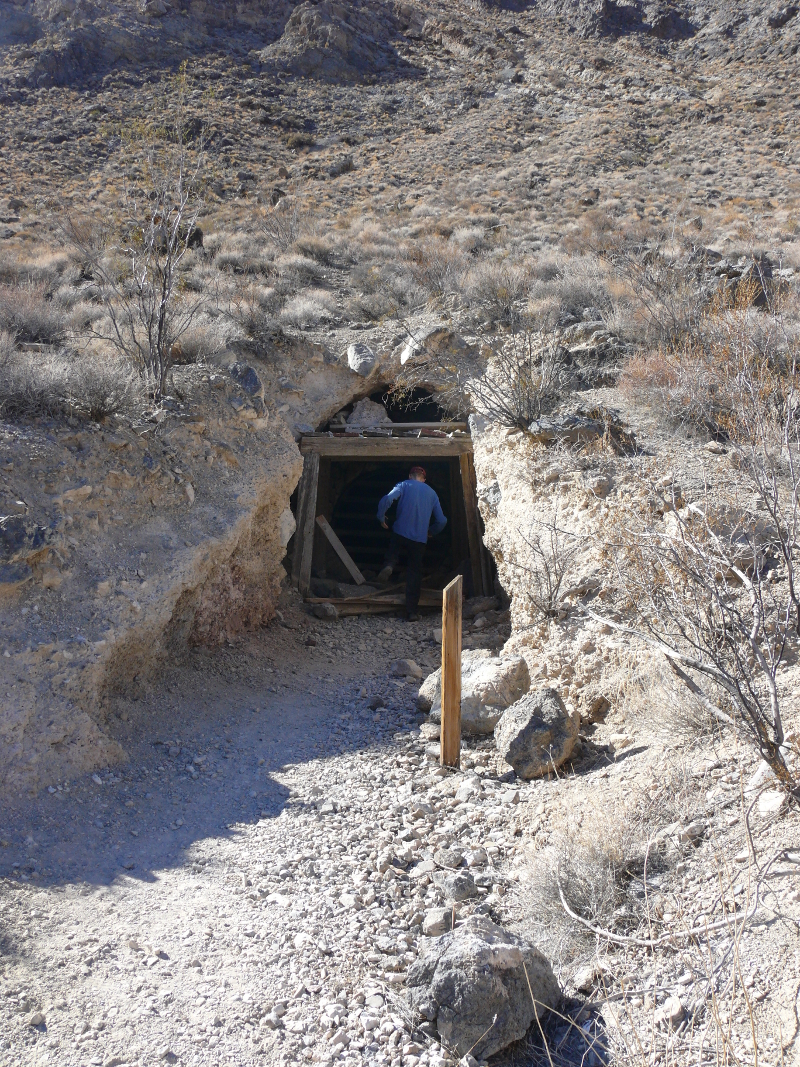 Here's an action shot of Mike doing what he likes best: checking out a mine.
This mine was barred off. Mike took
a photo
between the bars of something black down the tunnel. We couldn't tell what it was--a sensor of some sort?--so I used the zoom lens of my camera to take
this photo
. I still don't know what it is. Ghost sensor?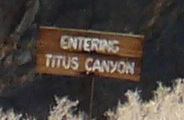 We then entered Titus Canyon.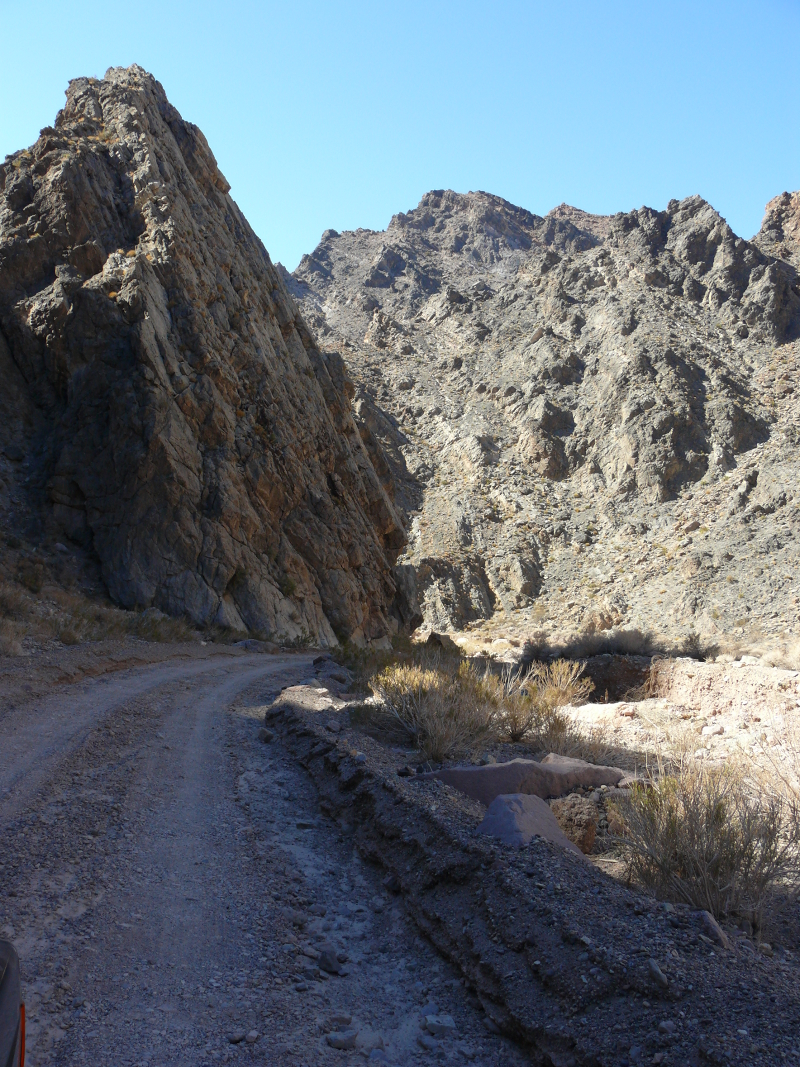 It looks like this large stone formation crashed into the earth. Nope, it's the result of tumultuous seismic activity. Click for a larger photo.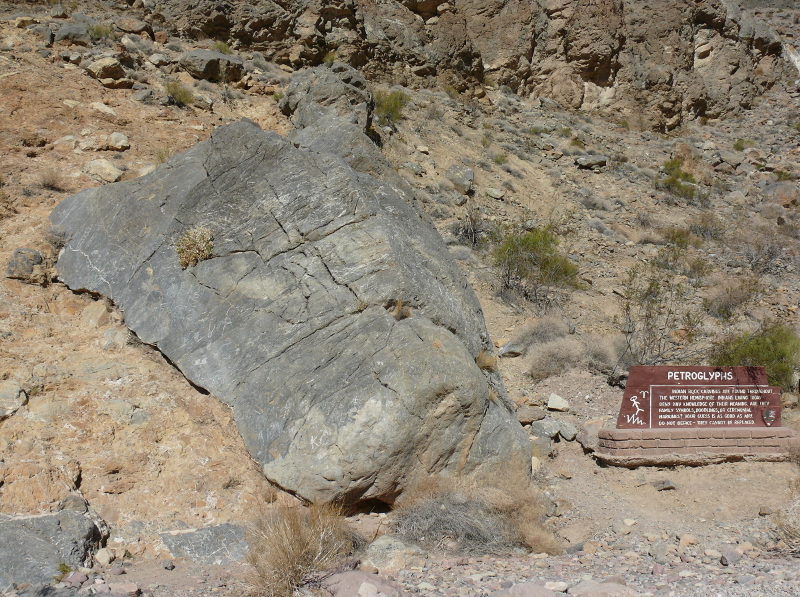 The drawings of prehistoric man or the scribblings of bored miners? You decide.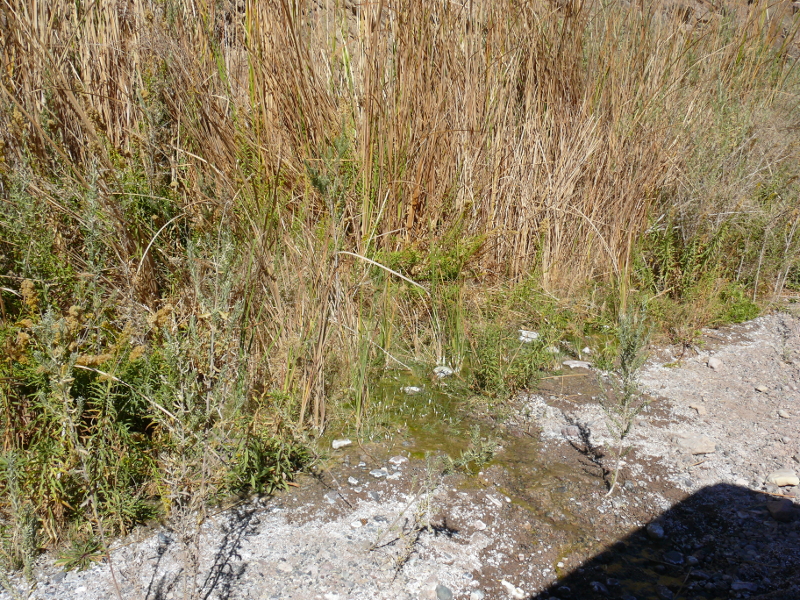 Nearby is Klare Spring. This spring allowed reeds to sprout and even a large quantity of butterflies was noticed. It's amazing what a small effluence can do in the desert.
As we headed towards Death Valley, the scenery got more spectacular. Click the thumbnails for larger views.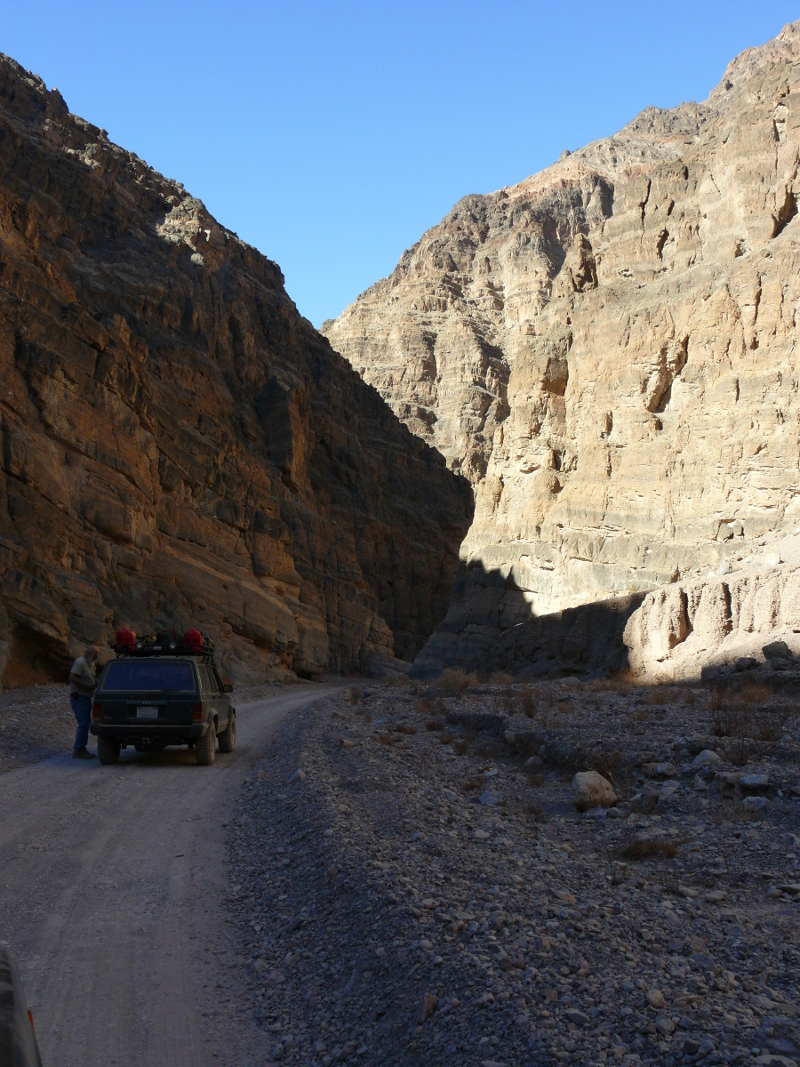 Chris stopped to get something out of the back as the canyon narrowed. This break allowed me to take a decent photo of the canyon.
It got pretty twisty as you may see by clicking the thumbnails:
We exited the canyon and stopped to look around. Here's the park
write-up
about the canyon.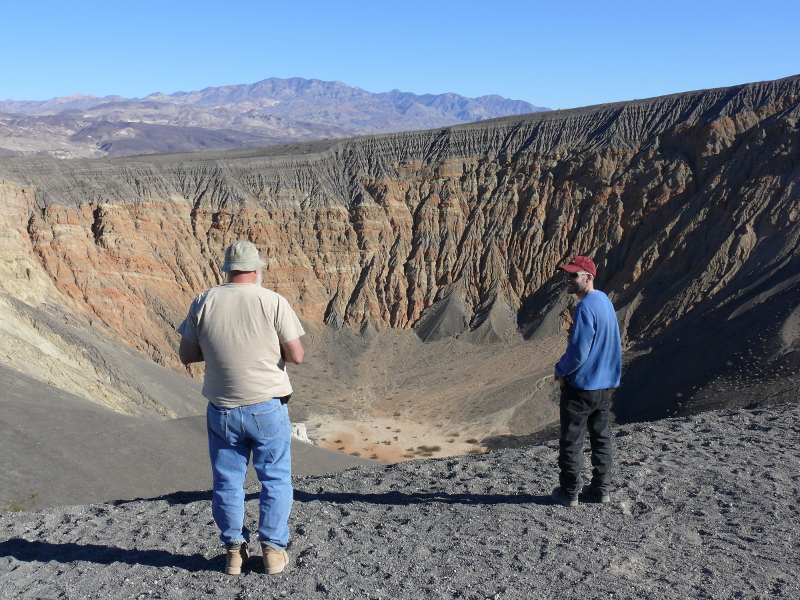 Above Chris and Mike stand in front of the Ubehebe Crater. The popularly-known cause of craters is an impact from something falling from space. This one is special because it was formed when water, superheated to steam by magma, blew away the rocky surface.
It is about two thousand years old. It is massive, at half a mile in diameter and 500 feet deep. Take a look down into the crater by clicking
this link.
Going down the black sand was lots of fun! All that was needed is to balance and take an occasional step. Once down in the crater, it was pretty: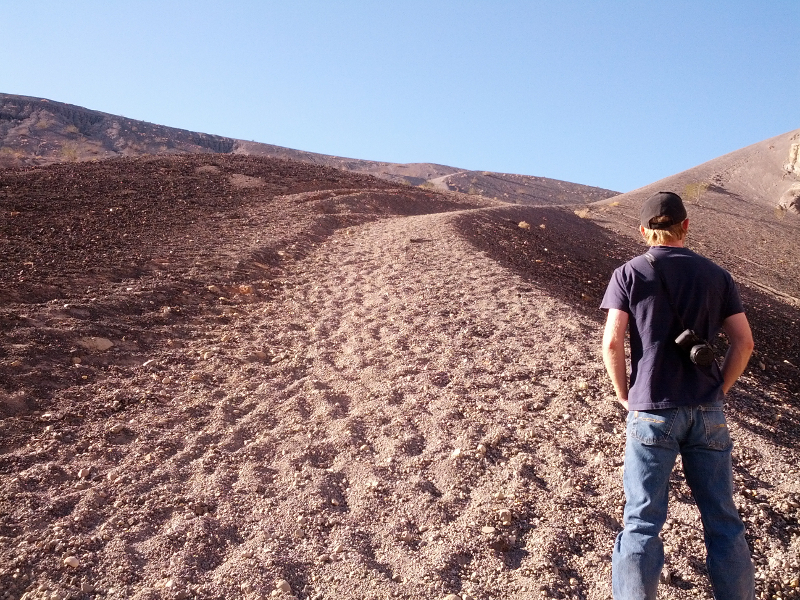 Going back up was very difficult. Above you can see the grade and the sand. Every step amounted to only half a step up because of the sliding sand. Here's
a photo
that shows the slope from the side. It was exhausting work climbing out of that hole!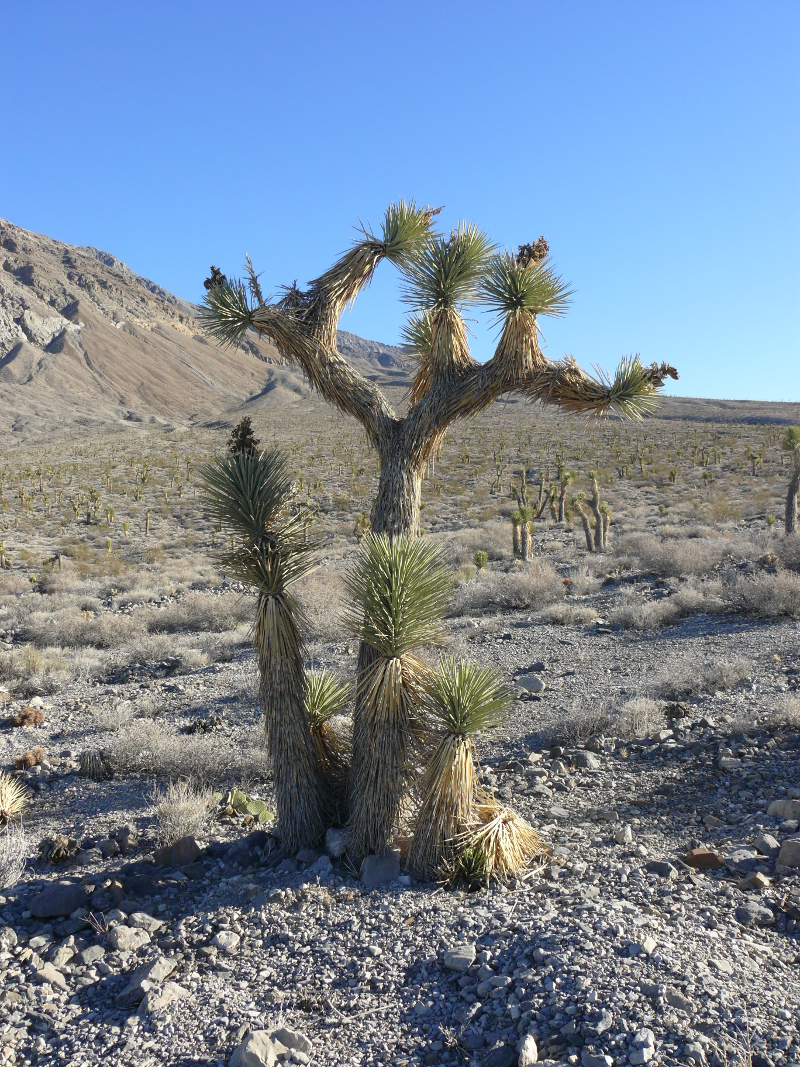 We continued along the trail towards The Racetrack. We stopped to let air out of Mike's tires. It made a dramatic difference in the ride over the washboard trail.
As he let the air out, I took in our surroundings. But wait, that's a Joshua Tree! How did you get out of
Joshua Tree National Park
? Uh oh, and I see that you didn't forget to bring
your friends
! That photo reminds me of the attack strategy of a certain Doctor Who villain. Don't blink!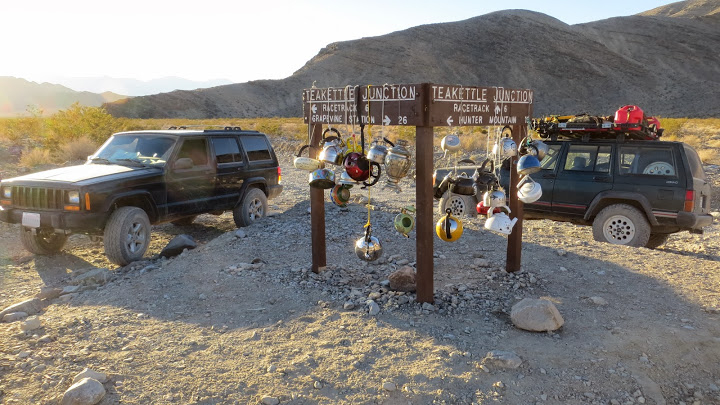 We continued on to Teakettle Junction. Those tea kettles were all very recent. Some were dated yesterday. I guess the old ones were taken as souvenirs.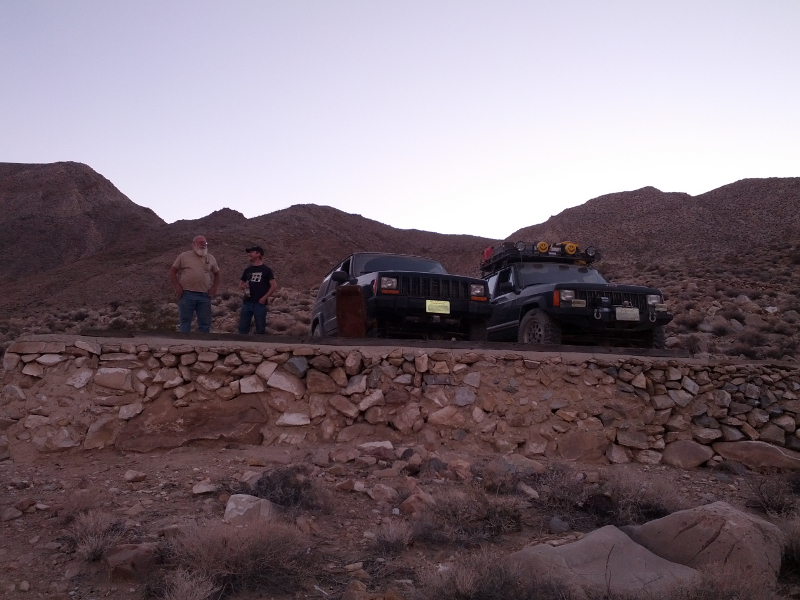 The sun was starting to set so I recommended that our expedition make camp for the night. So we decided to speed by both the Grandstand and the Racetrack. We could see them tomorrow when the light was good.
We rolled into a dry campground just south of the Racetrack playa. I stayed behind at a campsite while the guys headed up a rocky path in Chris's Jeep to investigate a potential more remote campsite. There were two other parties in the campground.
While waiting for their report, I drained the cooler of water and then cracked open a Corona and reviewed the map. The remote campsite turned out to have a concrete platform and had, obviously, been used before our arrival. There were two fire rings there, despite a park rule of no campfires.
So I drove Mike's Jeep up the tricky path. In the above photo you can see Chris and I chatting about the drive up. I was impressed how capable it was in two-wheel-drive!
I pitched my tent and then we set about cooking. There was a good bit of leftovers after we were satiated. Mike and Chris finished off the chicken, which may not have been the best idea...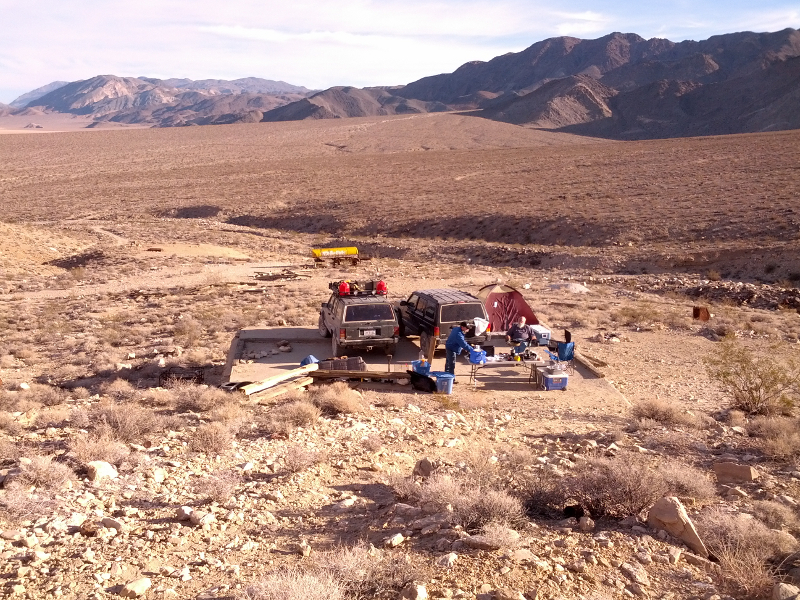 During the early morning we were visited by a fox. Mike heard the beer bottles chinking together and got up to see a bushy tail fleeing after having attacked the trash bag. It was after the chicken bones and the empty beer bottles acted as an alarm. Who says drinking isn't good for you?
Mike took a good shot of the camp from the rear. It's shown above.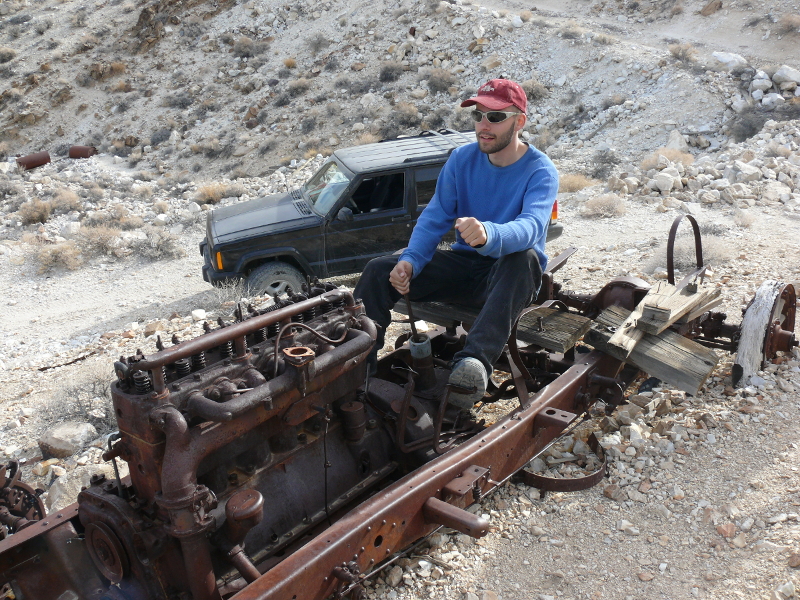 There's a 4WD trail leading west away from our campsite and we decided to see where it went. We stopped along the trail to look at this old Buick chassis. Mike surrendered to my request to pose in the car, as you can see. He was convincing!
On the other side of the trail was a four-cylinder engine block & transmission. A friend noted that these would be completely covered with rust scale if they still existed at all, on the East Coast that is!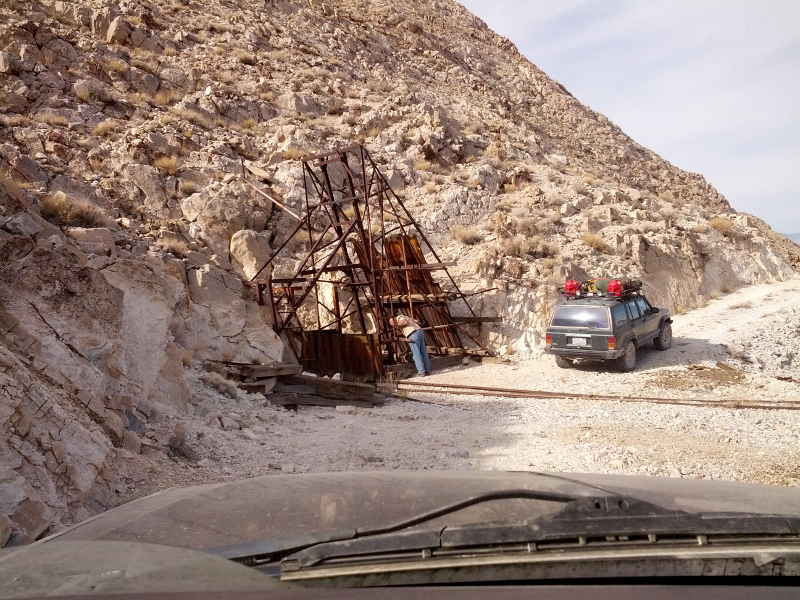 The dead end of the trail was at a mine entrance. This mine was screened off because of its proximity to a campsite. The stop allowed Mike to take a panoramic photo. It worked out well. Take
a look
. Not bad for a camera in a mobile telephone!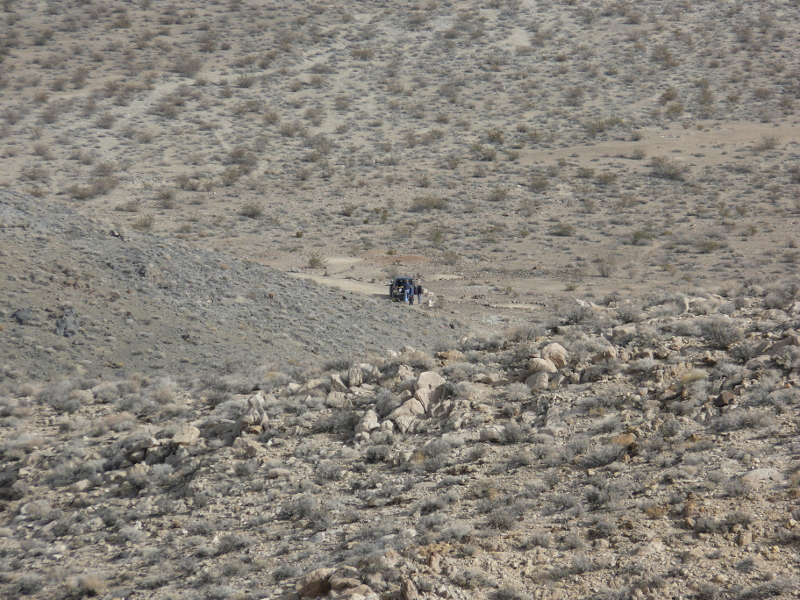 We turned around and headed back to the dry campsite. I stopped and took a photo of our neighbors who were starting to break camp. We drove down to the campsite proper and one woman wasn't going to let Mike and I drive past without telling us something.
Overnight a small truck had gotten stuck on the Lippincott Road. Dumbass! The National Park map clearly states that "conditions require experienced 4-wheel drivers". Some people are overconfident, or maybe they were just drunk, which usually amounts to the same thing. It's a good thing that we weren't going that way.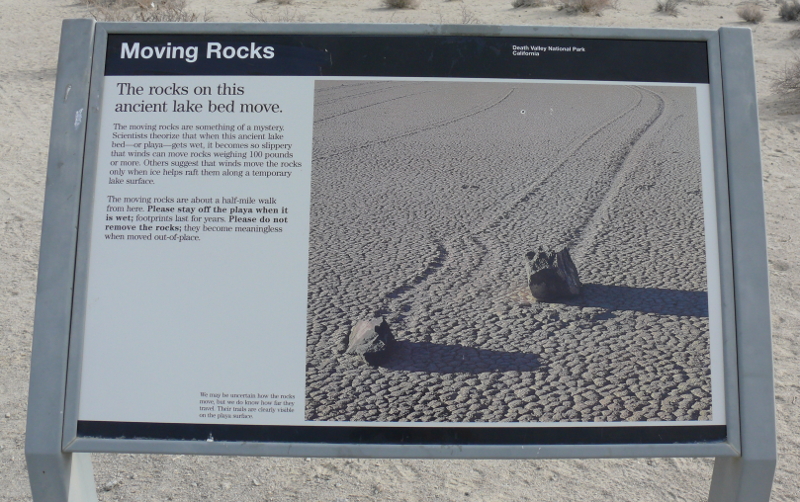 Next stop was The Racetrack. Here stones are eroded off a nearby hillside and mysteriously move around the playa.
It's a fascinating area. I went a little bonkers taking photos. Here are some of them, and some of Mike's, also:
Mike took a good panaorama of The Racetrack. See it
here
.
On the way back to Teakettle Junction, we stopped to see The Grandstand. I wonder how it got there. Click for a larger view.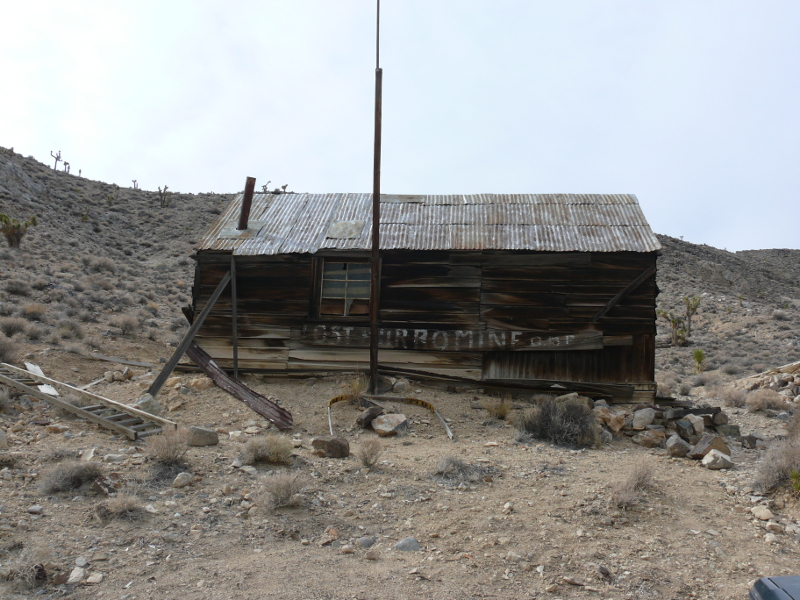 We took the turn off for the Lost Burro Mine. There was an Austrian camping there.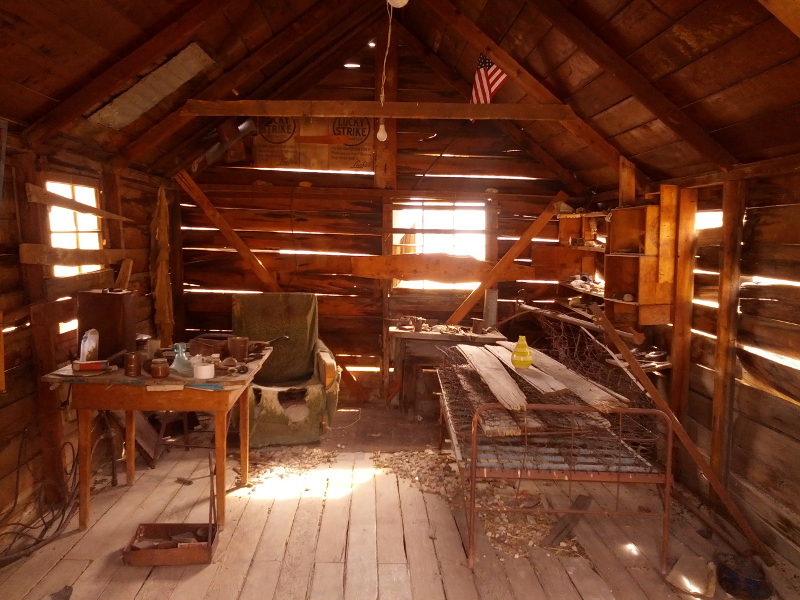 Inside the building was a sign saying something to the effect that this cabin was still in regular use so don't rob or wreck it.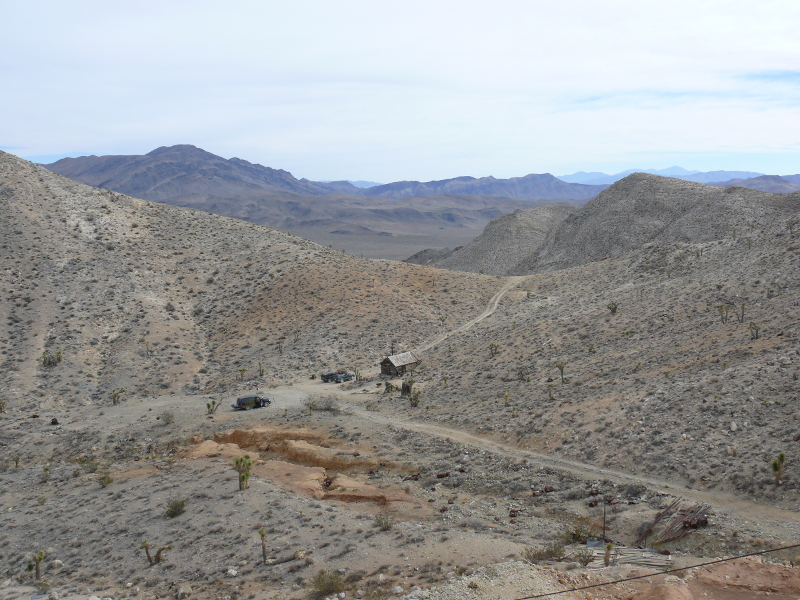 From the vantage point next to the mill, I took a shot of the buildings and our vehicles.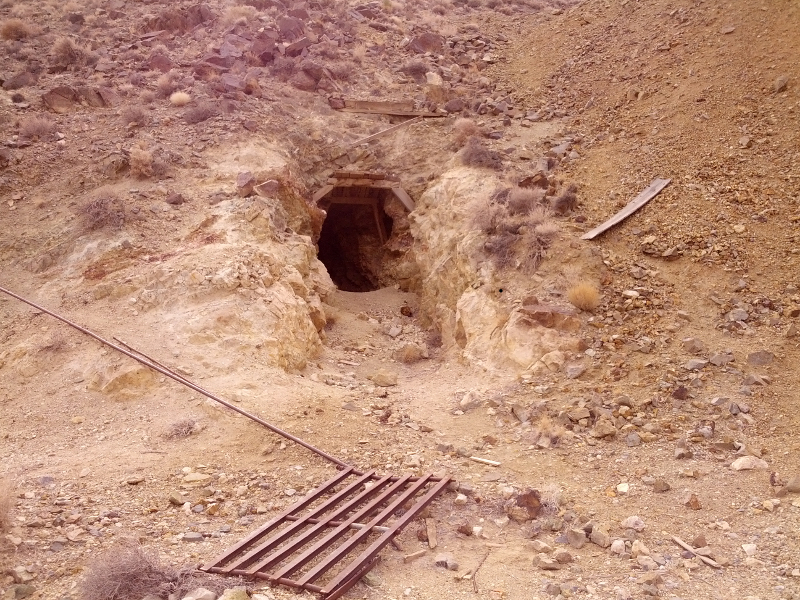 There were several mine tunnels & shafts around. Inside one were wooden shelves & bags of concrete. Another had a pressure vessel and cast iron lines connected to it.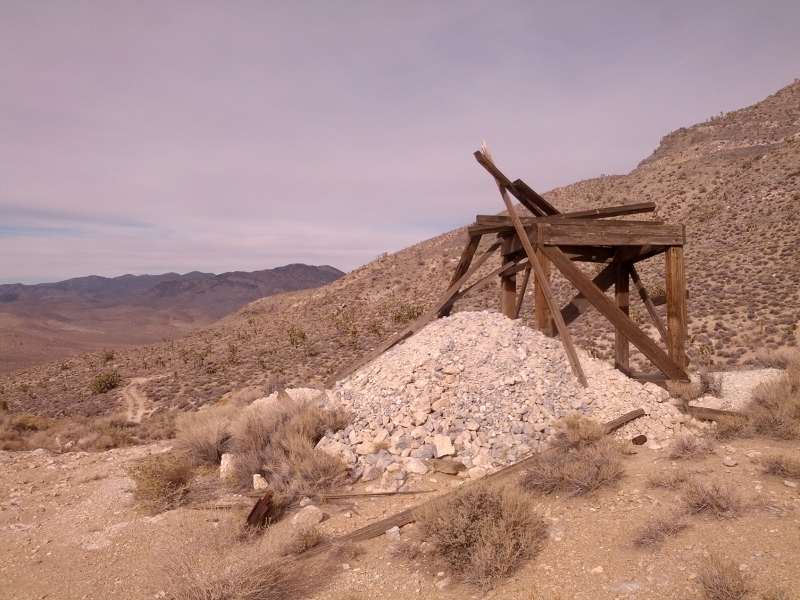 We continued along Hidden Valley towards Hunter Mountain. Along the way was a mine shaft and a few tunnels. Mike explored the tunnels and took
this photo
. Somewhere along that trail, he took
this panorama
. Good job!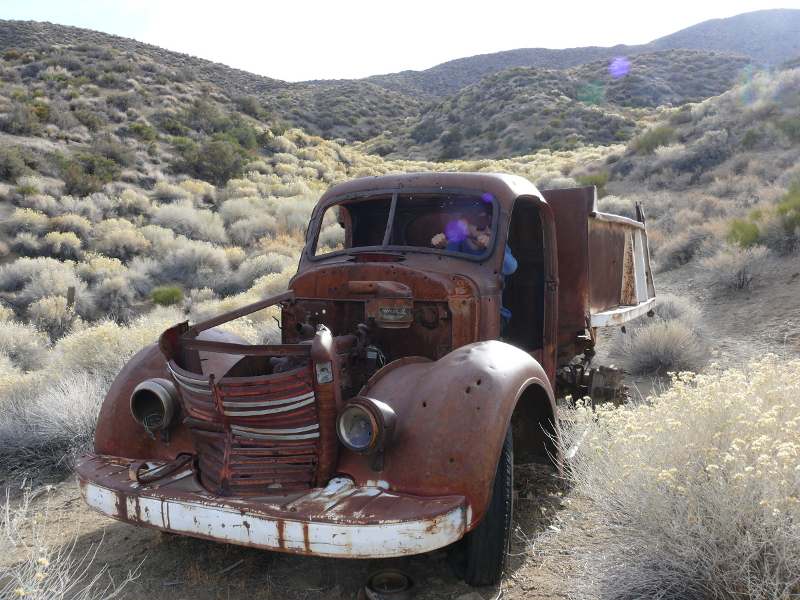 Next stop was a spring and a dump truck. Here's the truck.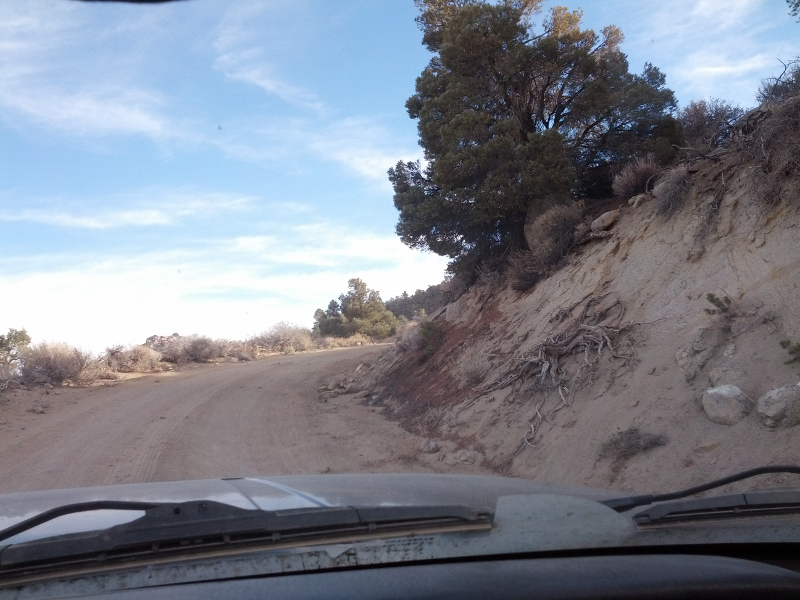 As we climbed towards Hunter Mountain (elevation ~7,500 feet) the vegetation grew with it. We drove past a number of decently sized trees that populated the blunt summit. It made an impressive contrast with the rest of, what we saw of, Death Valley.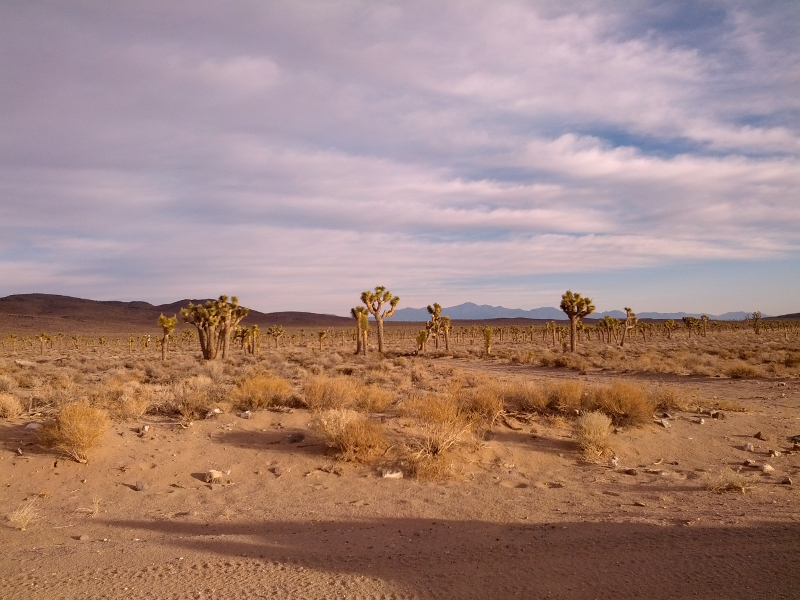 When the asphalt crumbled back into existence, we stopped so Mike could re-inflate his tires. And
they
started to converge on the Jeeps!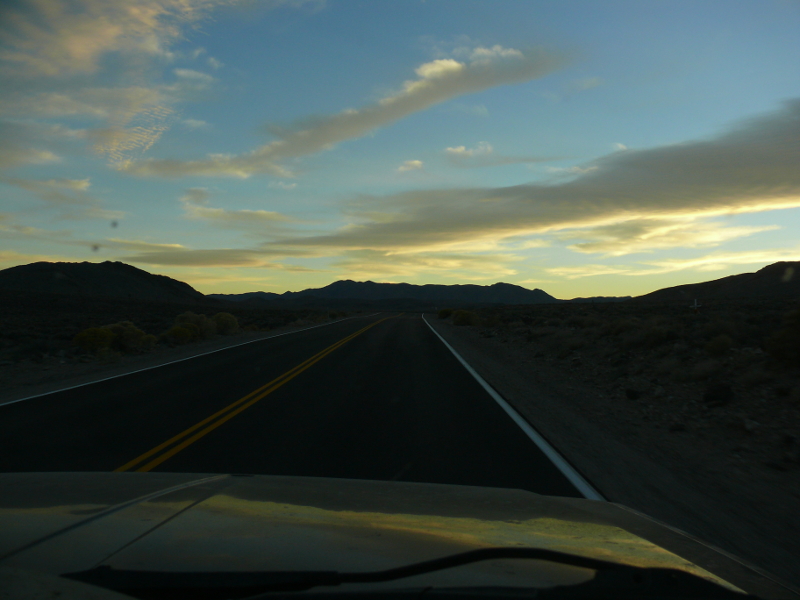 At the main road, Chris emptied a five gallon can into the tank of his voracious Jeep. That was a good move because by the time we reached the filling station in Olancha (south of Owens Lake), he had used two of the five gallons!
The drive back to Orange County was long. Highway 395 is pretty during the day, but at night; it's tedious.
We drove past a serious crash. A semi rear-ended another semi. The damage was substantial to the second truck, and it is unlikely that the truck driver survived. The highway was closed in that direction, also.
We stopped for burgers in Adelanto before commencing the freeway trip back home. Mike and I relaxed for a day, playing Borderlands 2, before I caught my flights home. I use that word deliberately because I was one of the last to board. I was delayed by the security pat-down.
I had a five-hour layover in Chicago. Since they checked my carry-on roller bag in California, I didn't have much to do. So I bought a personal-size deep dish pizza and Corona and settled into reading a brand-new Clive Cussler novel.
I returned home around 11 PM. It was cold but, as the parking lot attendent mentioned, I was still smiling. I was fortified for a New England winter.



Copyright © 2002 - 2018 Billsuniverse.com