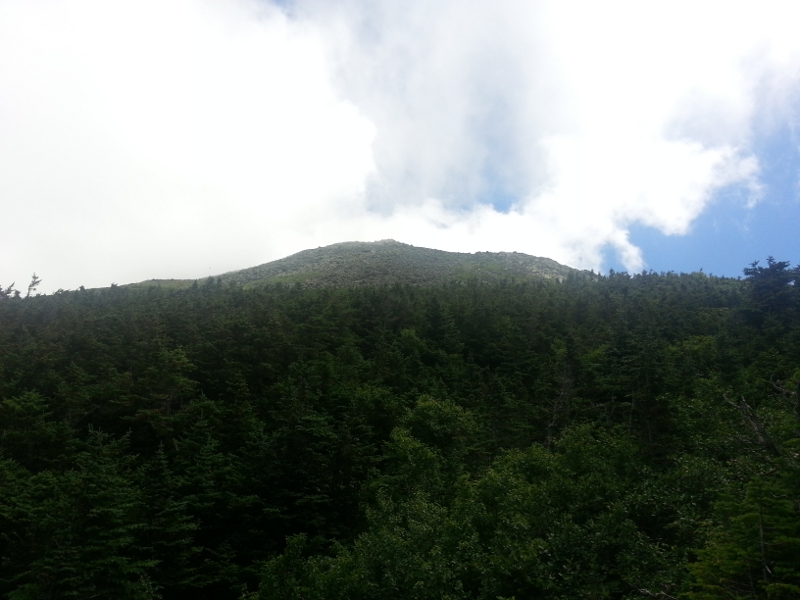 The trailhead is located off Route 4, a bit west of Gorham. Evidently, it is pretty popular because a cop was sitting near the overflowing parking lot. We parked along the road. The peak beckoned.
The trails are well marked and signed. Both the Appalachian Mountain Club and the U.S. Forest Service maintain trails and huts in this area. In fact, I'm told that the Valley Way Trail is a common starting point for "through hikers" and day hikers alike. Here's
a photo
of me and the signs.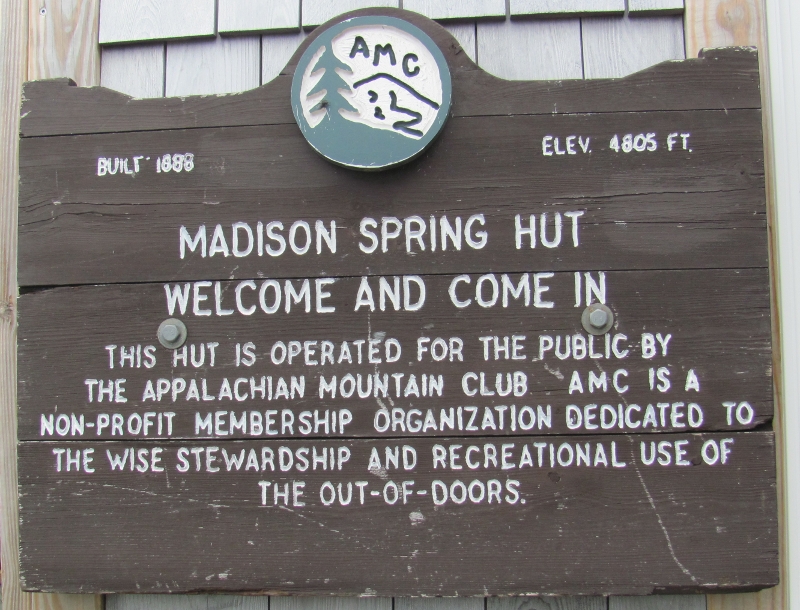 The hike up wasn't bad. Between Mount Madison and Mount John Quincy Adams is the Madison "hut". On the "hut" is this sign.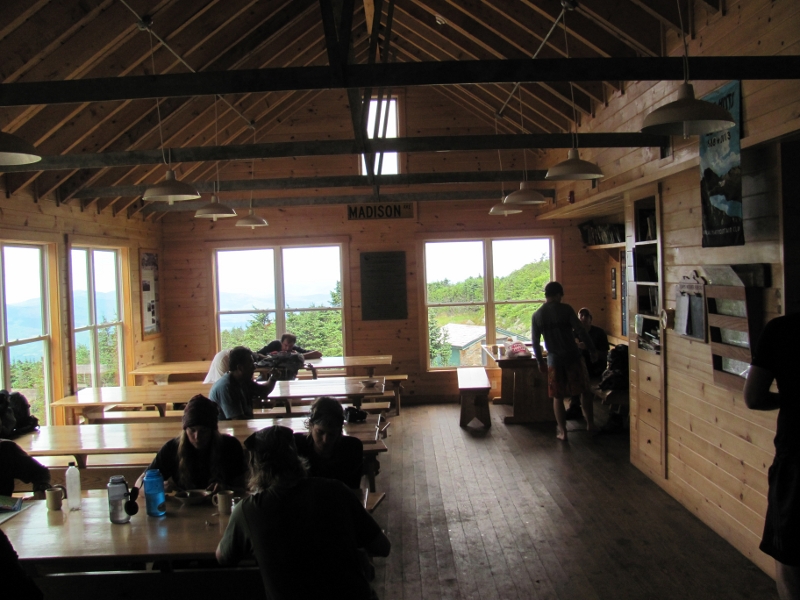 Inside the "hut" was a large kitchen, running water, a dining room, and rooms of bunks. John and I were both impressed by the luxury and scale of this "hut". We kind of expected a hovel made of twine, sticks, and mud. Nope, this place was modern, large, and comfortable.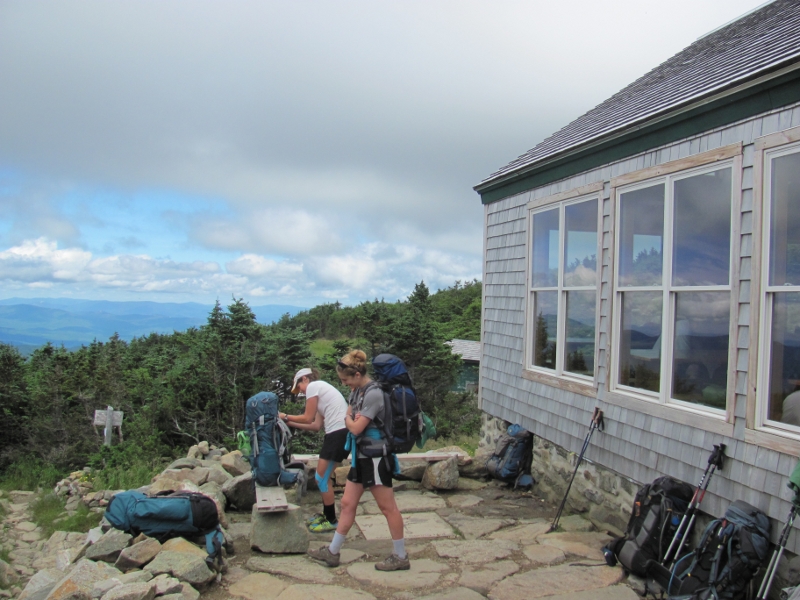 Outside the view was impressive. Oh, and hiker chicks...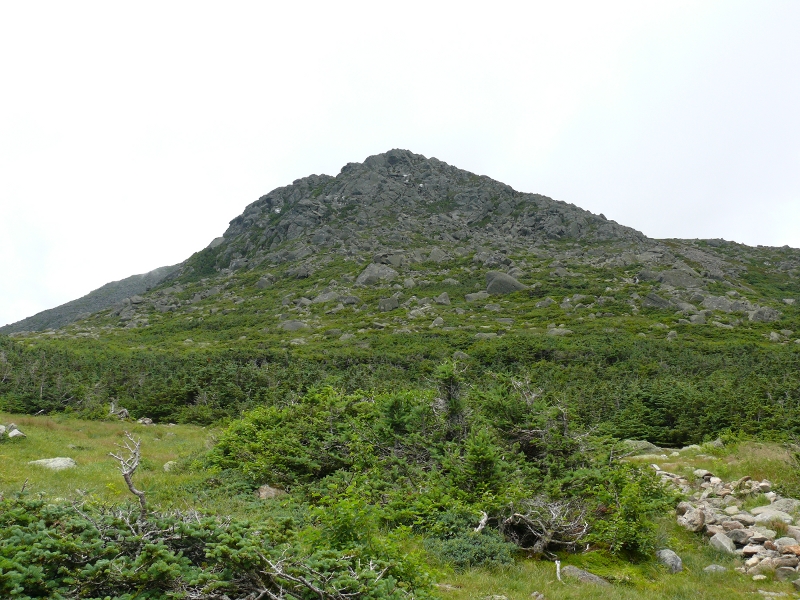 We took a rest and a bite to eat outside the hut. A group sitting near us asked which club we belonged to. John seemed very proud to say we're just a couple of guys who work together and weren't hiking with any club. (OK, he had a bit of a hard time on the way up and I had a hard time on the way down.) It was still fun to see their response. Yes, two out-of-shape 30-year-olds can day hike this trail without going with a club!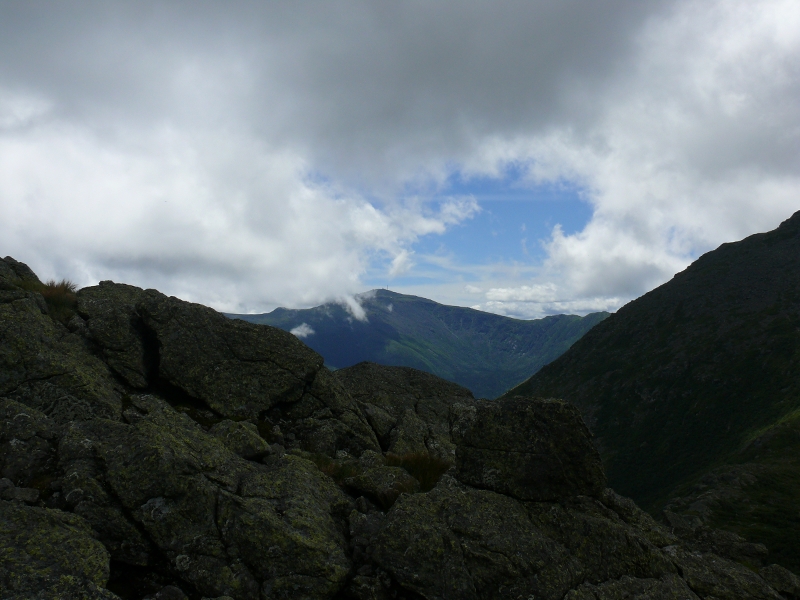 Surprisingly, I wolfed down a peanut butter & jelly bagel'wich. After that we set out for the summit of Mount Madison. Along the way we saw that Mount Washington was clear. This peak has set the record for the highest recorded wind speed on earth. Maybe some day I'll hike it? That would be better than sticking a bumper sticker to my car saying "this car dragged my fat ass to the top of Mt. Washington".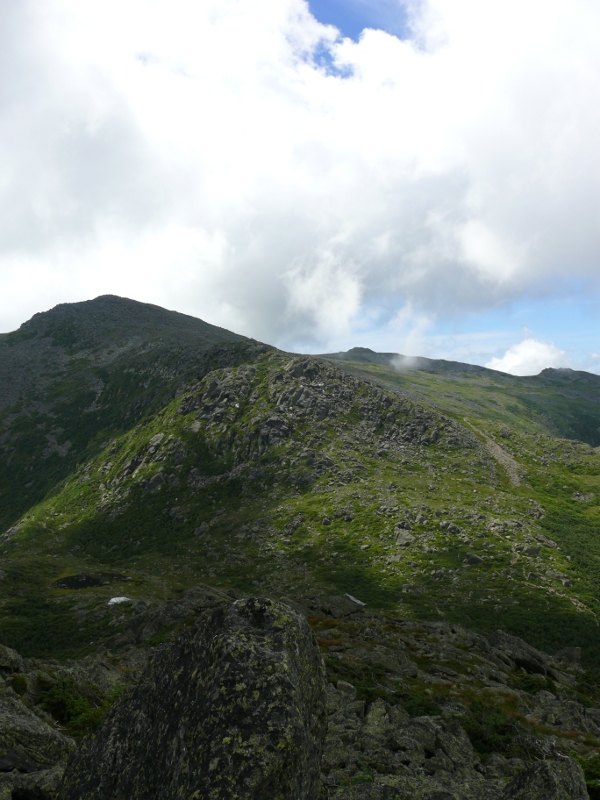 New Zealand? Scotland? No, New Hampshire. Isn't it surprising the similarity among alpine scenes around the world?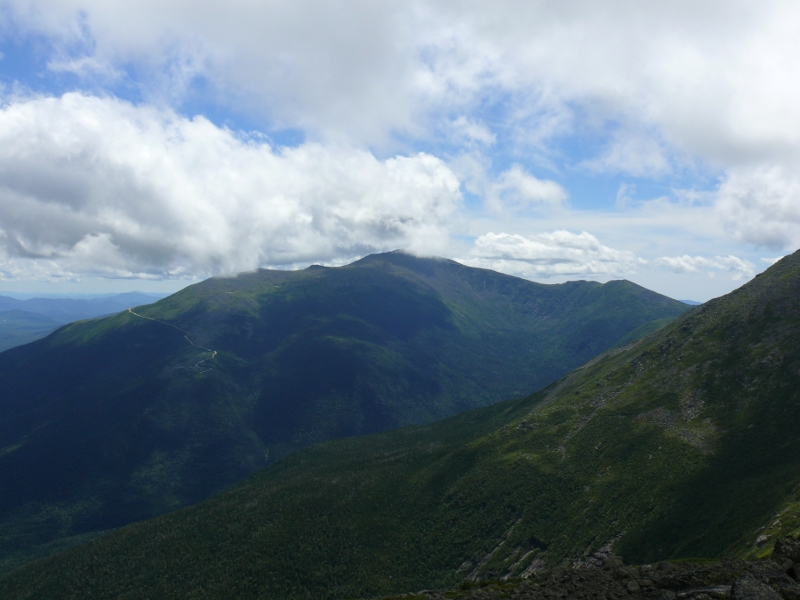 By the time we got to the top of Mount Madison, Washington was clouded over. The ribbon of the autoroad is clearly visible.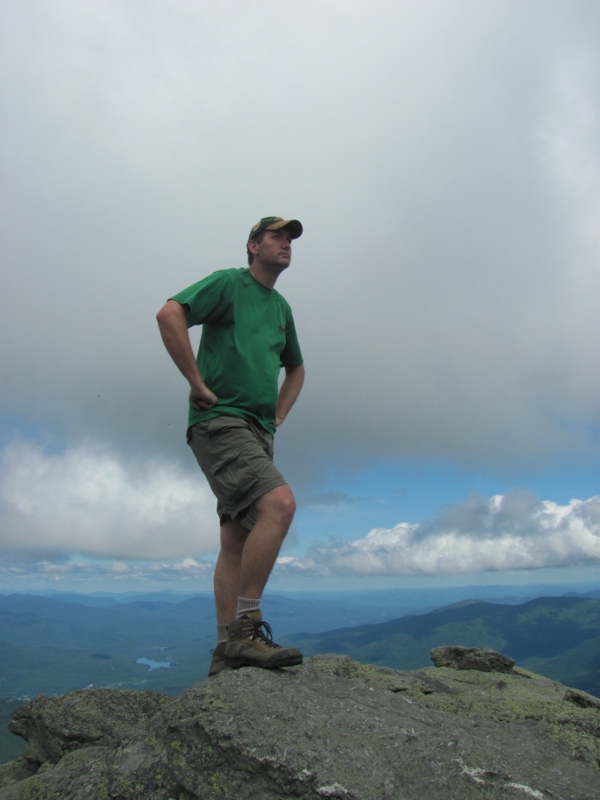 He took in the world like a colossus. Standing at six foot, seven, John didn't really need a mountain to see above the rest. That said, he's also a gentle giant.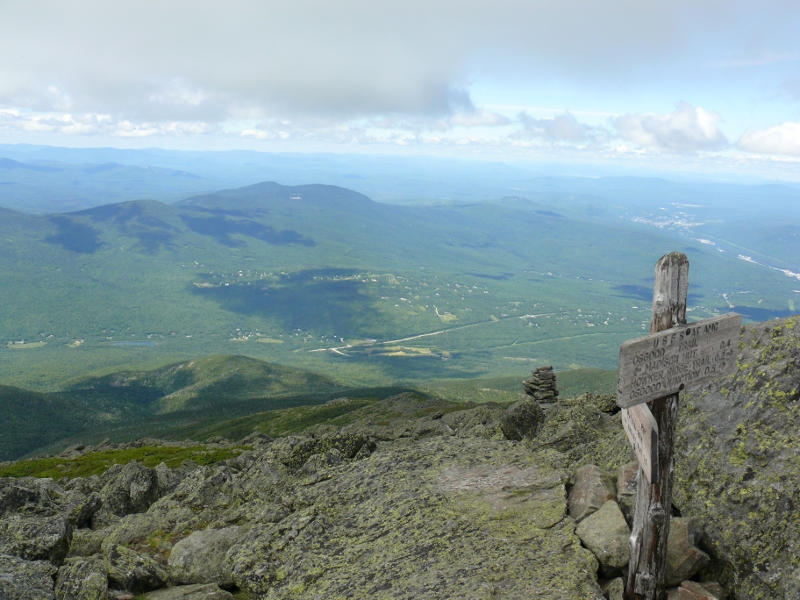 From this vantage point, the world really does look nearly infinite. Green fades to blue and is eventually embraced by the proud billows of white. Our smudges of "civilization" are clearly prone to being swallowed-up by nature.
The harsh reality of weather is obvious in the AMC/USFS trail sign. It bears a sharp contrast to the one near the trailhead. Compare it to that sign
here
.
On the way down we saw the college students who supply the "hut". On one occasion, I felt bad because I surprised an attractive blonde on the way up. Evidently, she didn't notice me pull off the trail to let her up. (They are given uncomfortable, heavy sleds to haul up goods on their backs.) She said she almost fell when she realized I was there. Hmm, such a response suggests more hikes up this trail may work out well for me! Or I'll just slowly kill-off the local university population...
The trip down was painful. I made the mistake of wearing steel-shanked boots. Never again. I think going barefoot would have been less painful. Every step onto a stone sent pain shooting from my knee suggesting that the lower half of my leg was being twisted 90 degrees to my upper leg. I wondered if my knees would survive.
Fortunately, a young guy named Patrick (from Amherst) caught up with us and asked if we knew the way to the parking lot. It was getting late and he was obviously a bit nervous of reaching his car before dark. Reinforced by his conversation and steady pace, we made great time to my car.
We saw a couple of teenage guys just starting up the trail as we were finishing. You'd think that they would be that serious type of hiker (with headlamps and fancy bags). Nope, one had a guitar (which is cool!) and the other toted a tent. It was obviously a tent because there was no evidence of packing it into a stuff bag. Ah, the invincibility of youth...
The ride back was mostly uneventful. We came across a doe and her two fawns crossing Route 4. Being a bit of a fathead, I wondered what it was before braking. John snapped me back to reality and we were able to avoid any unnecessary swerving!
I was happy to continue John's tradition of beer and pizza after a hike. He asked a gas station clerk, who recommended a good new restaurant just up the road in Gorham. Brick oven pizza and a local blueberry beer rounded out a good, if painful, hike.



Copyright © 2002 - 2018 Billsuniverse.com