We flew Lufthansa, which I jokingly refer to as the
Luftwaffe
. I always wonder if older pilots reach for a release handle as they fly over England

Joking aside, Lufthansa's service was excellent, as usual. They'll leave and arrive on time even if they have to shove silly American school children into seats. This nearly happened on one of the return flights!
Instead of a lengthy drive from Paris, as during
the previous trip
, the drive from Marseille
aeroport
was only about 45 minutes through
la plaine de la Crau
. This area is known for the stereotypical
Provençal
farmhouse. A sample provided by
www.fermedelaplatane.com
is shown above.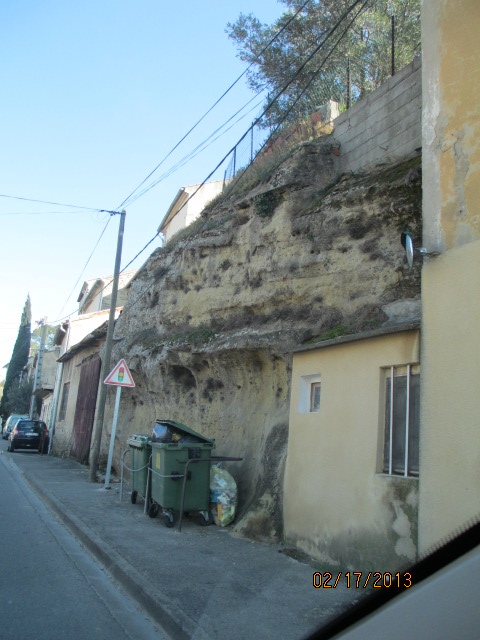 After checking into our efficiency hotel in north Arles, we set out to see some sights. Just off a D-road we drove through this little village.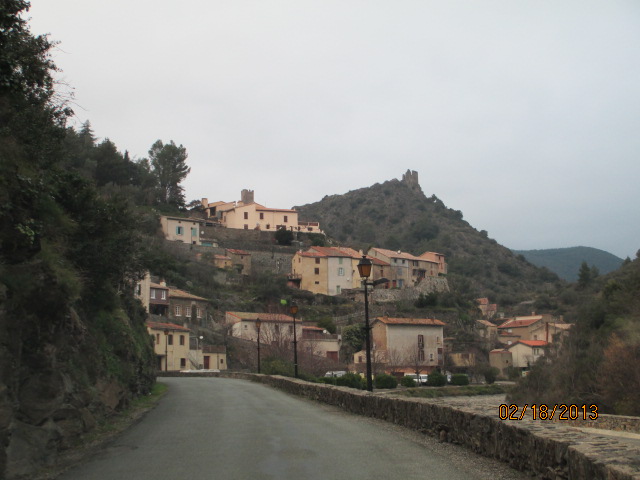 Not terribly impressed with Provence, the next day we set out for a small village just north of Carcassonne. Mom was interested in seeing an artist retreat in the village. Along the way the small D101 took us through this picturesque valley village.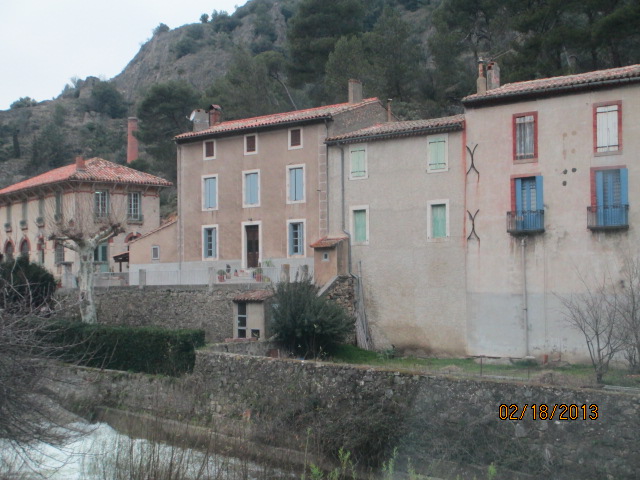 Here's another shot. The village surrounds the River Orbiel.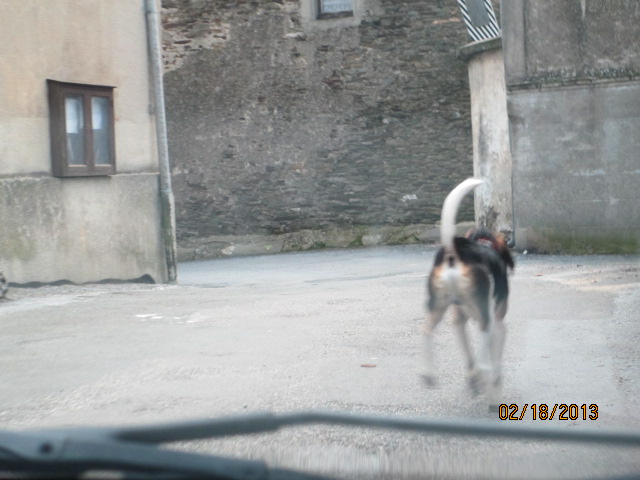 In Labastide-Esparbairenque we drove past a small parking area and this beagle seemed to know where we wanted to go so he lead us! Evenutally, the road narrowed to the point that I knew we must have passed where we should have stopped. So I turned around and he led us back to the small parking area. Being unfamiliar with the village and the exceptionally narrow valley road, the beagle would stop and turn around to make sure we were still following him.
Parked in the small area, we set out on foot looking for this artist retreat. Finding it shut, we stopped a passerby who was singing to himself. He told us that the retreat was closed because the Englishman and his American wife were vacationing in Florida. Figures! This man was thrilled to speak with Americans--well that is, Mom. He knew no English.
He invited us back to his house. We met his wife and got to sample his homegrown green olives and cherry liqueur.
Mangez, mangez!
Their hospitality reminded me of the Georgians. Now I see why Mira says that the Georgians feel a kinship with the French. The similarity was striking, albeit with less powerful booze.
The view from their house was amazing. They could see pretty far down the river valley. Mom asked how many people lived in the village. They said it was down to 80. I guess it peaked at 89 in 2010. And we knew the facts were correct because this man was the mayor!
On the way back driving on the autoroute, Mom asked if the truck on the other side of the highway was a sander. I couldn't tell because it was dark. The question didn't go long unanswered because soon we overtook a salter on our side of the highway. The unmistakable sound of salt hitting a car (a sound that car lovers abhor) was now echoing through the cabin.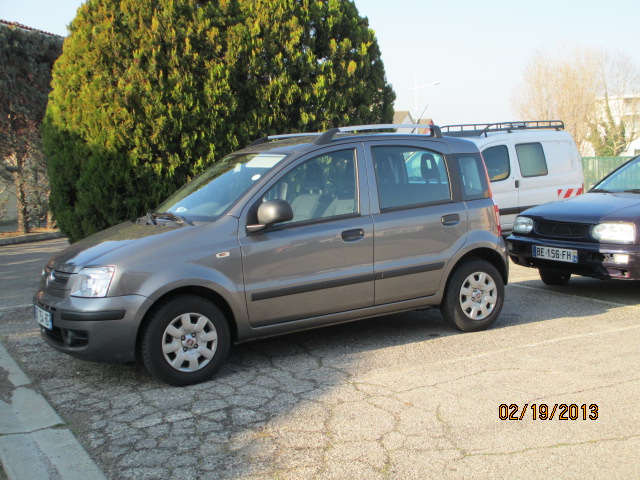 The next day I was curious to examine the car that gave me a very good scare. On the way to Labastide-Esparbairenque, this thing had suddenly let go at a low speed. It nearly skidded into a short stone wall bordering the deep river valley! I hadn't been that scared in a long, long time!
Flash back to the first day... The lady at the Hertz rental desk asked if a Fiat Panda was OK. Thinking that this was a commuting choice of Top Gear's James May, I figured it would be adequate. I thought if it's good enough for a motoring show presenter, then it's good enough for me. Oh, how wrong I was! The only way to drive this thing through a corner is slowly. Thanks, Captain Slow!
It really does handle as badly as it looks. It surprised me at the first roundabout outside the airport, where I almost put the damn refrigerator box on its side! This wouldn't be so bad, if the thing could accelerate quickly. But no, it can't even get out of its own way! Highway driving was easy: keep your foot planted and lift off to brake. I swear the brake pedal isn't needed on the highway.
Normally, car rental companies clean the interior of their cars. Even in New England, which is notorious for its bad service, the cars are cleaned. I guess we're just lucky that it didn't smell of cheese, or something worse! The engine was always a source of humor for me. During the first fill-up I had to consciously reach for the gasoline pump, the engine started and idled that smoothly! At around 16,000 miles on the clock, it was just broken... I mean broken in. This thing is by far the worst car I've ever had! I think only U-Haul trucks could be worse.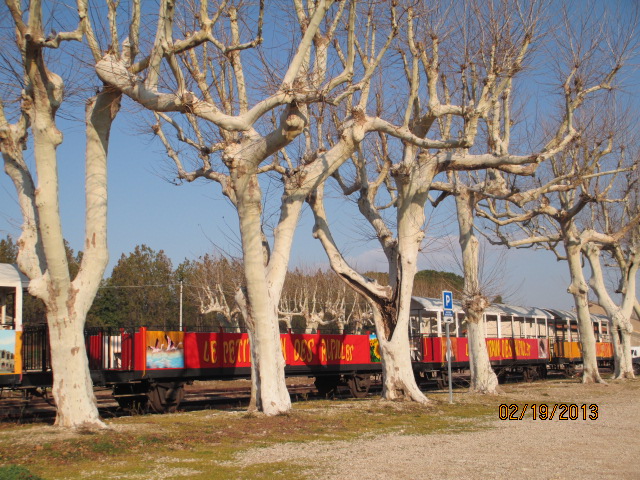 But enough about the rolypoly Panda, we could walk to Arles (the "s" is silent when pronounced) today. The path took us right by the train station. Here, 125 years ago, Vincent van Gogh and later Paul Gaugin arrived in Arles. A decorative train sits on the track. A couple of cars are painted with the likenesses of the artists.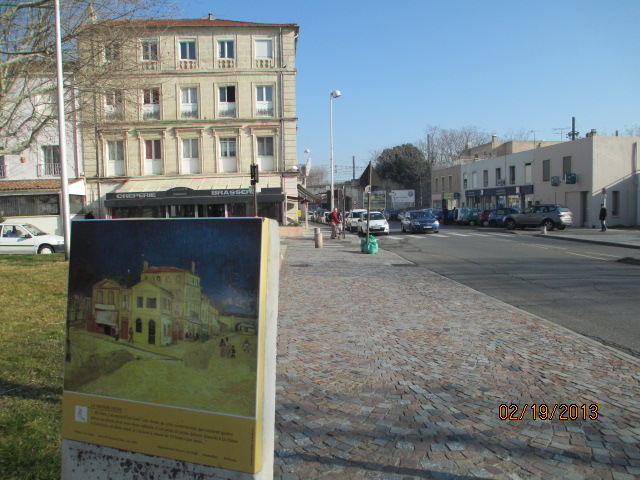 This was their destination. The Yellow House no longer stands on the site. I think van Gogh would appreciate that it was replaced by a bar. The cafe which he painted still exists (see the awning on the main street?). Much of van Gogh's and Gaugin's works created here are now famous.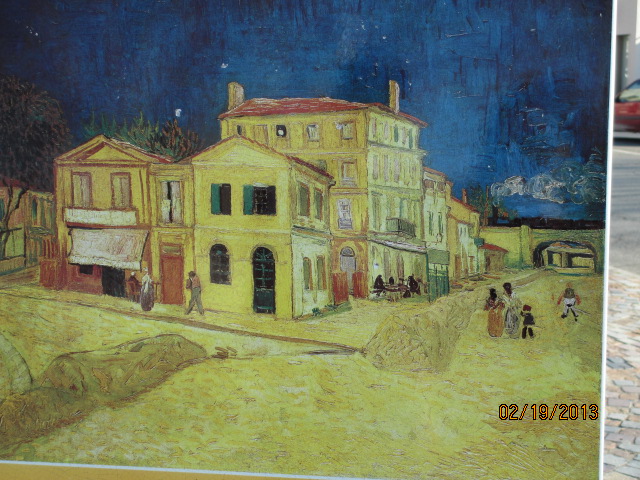 Here's what it looked like during their time. The Yellow House is the small structure in the middle of the painting.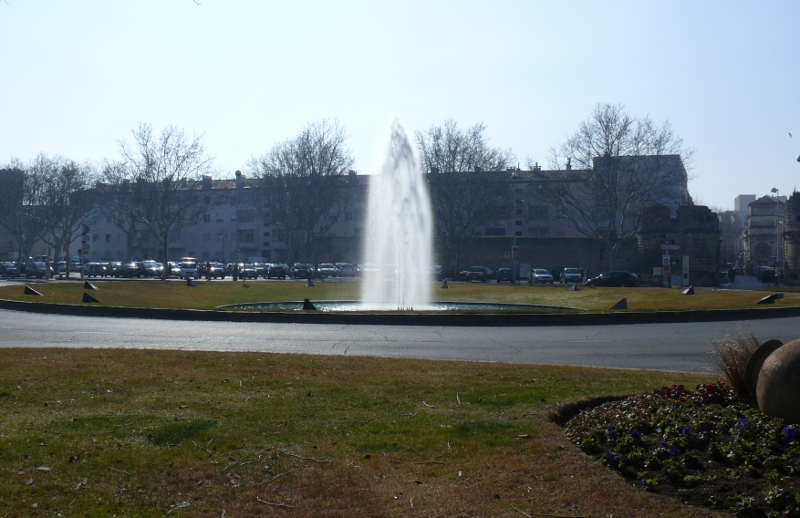 I don't know if the fountain existed during their time.
Nearby is a large plaque commemorating the soliders who liberated Arles from the Germans. Click for a larger view of the inscription.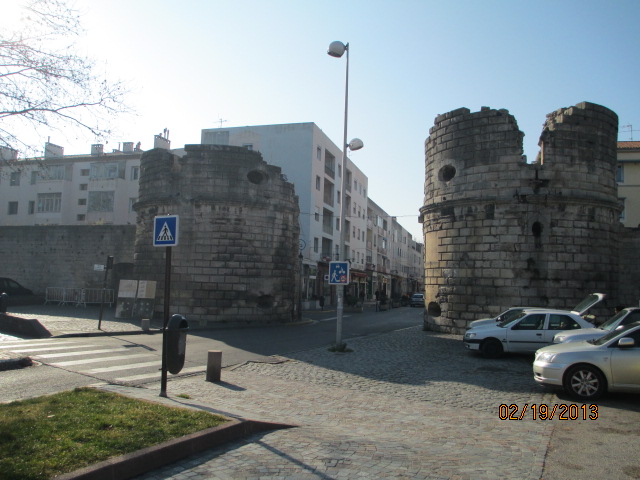 We headed into the old city of Arles, through the ramparts gate. Mom had cut her arm on an errant bit of wire sticking out of a telephone pole. Not far within the walls was the familiar green cross above a door to a pharmacy. We entered with the intent to purchase some antiseptic cream and Band-Aids. We didn't expect the girl behind the counter to clean and dress the cut. What really stunned us is that she didn't charge us anything! I was ready to pay for her service and the supplies, but no. Maybe Provence is OK after all?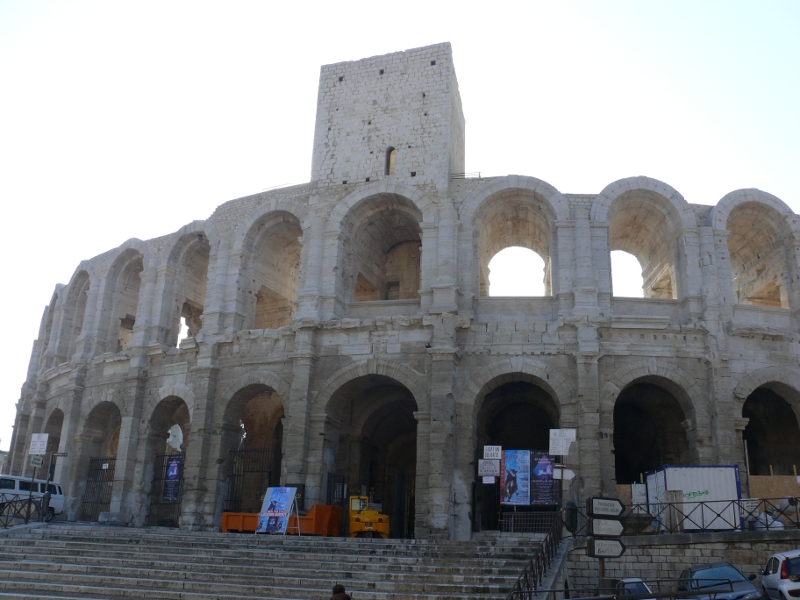 The Roman arena is situated near the center of Arles. Men were mending the stonework at the main entrance. We declined to pay to take the tour. Evidently, bullfights are still held here.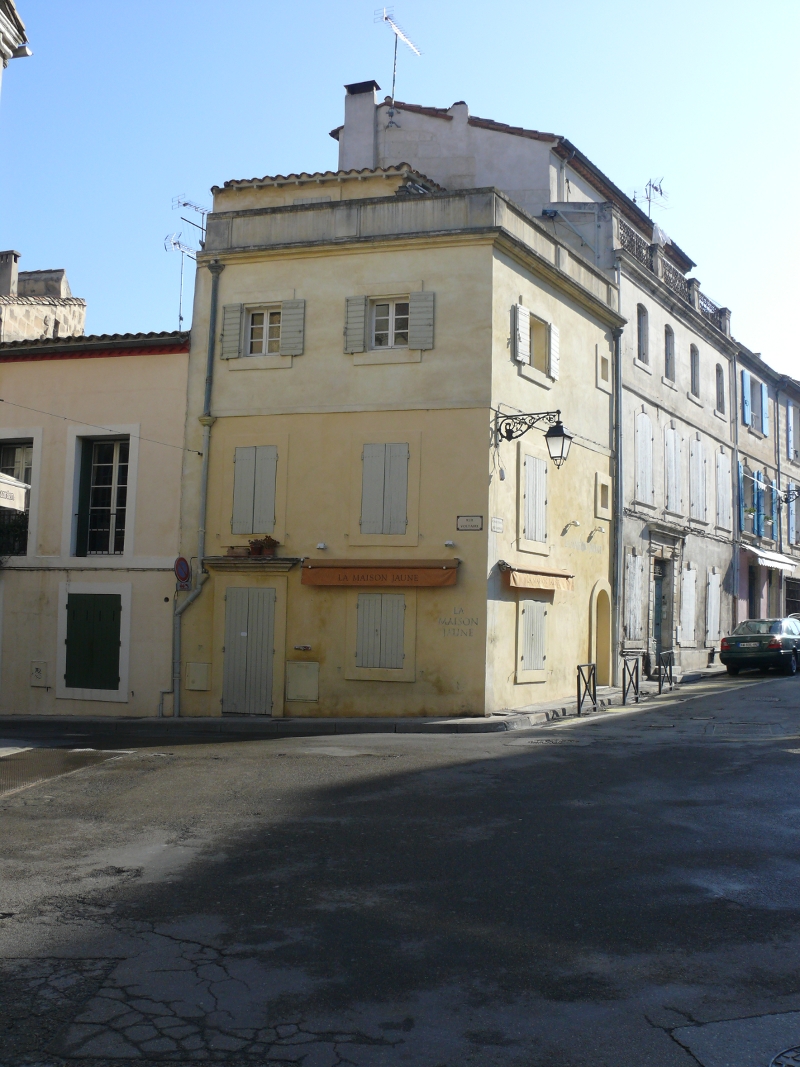 I wonder if this
maison juane
was named after van Gogh & Gaugin's old residence?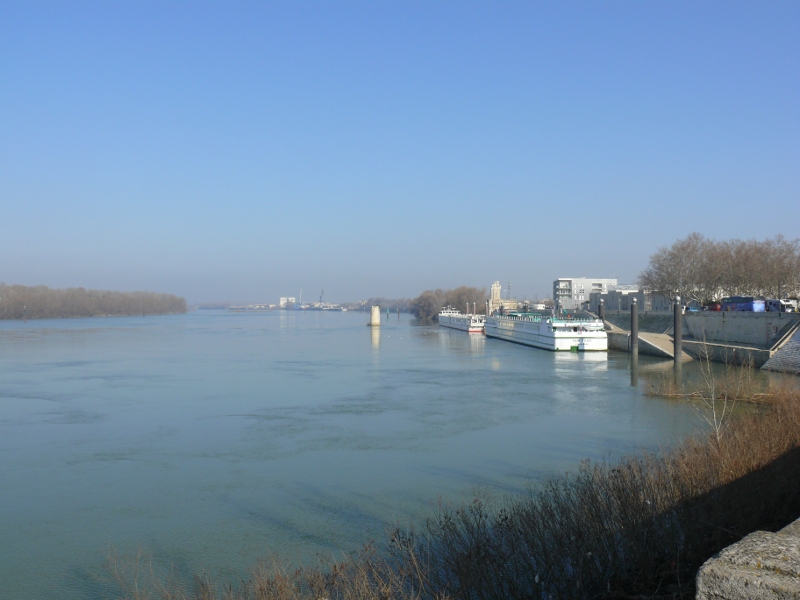 Le Grand Rhône
is a site of many van Gogh paintings. At least one Alsatian gives him credit. Click the photo to see how.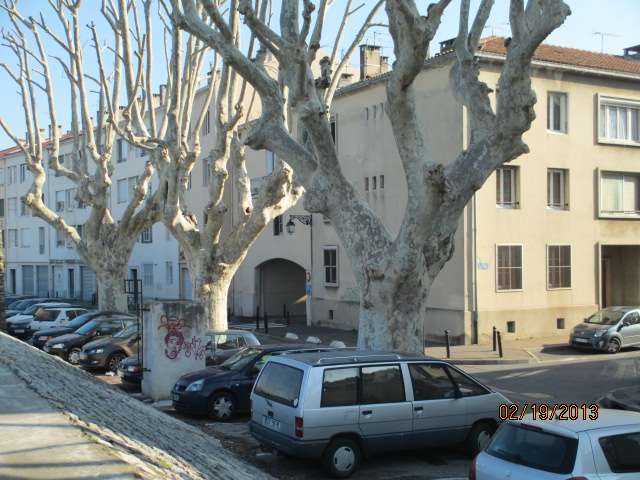 Here's a pretty typical street along the river. Notice the--what do they call it--street art?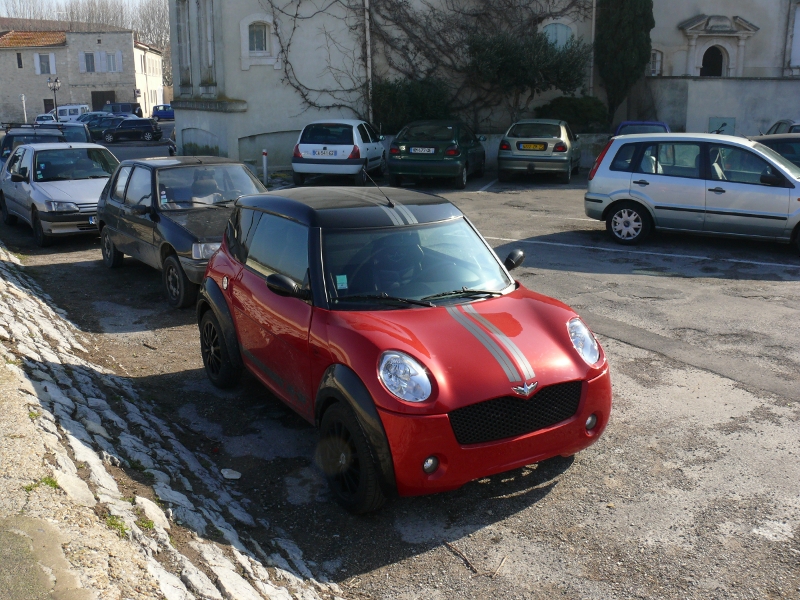 Also, along the embankment was this curious little car. I scoured the Internet but couldn't learn what it is. Click for a larger shot. You can see the emblem, which looks like a diving bird,
here
. If you know what it is, please drop me a line at
this link
.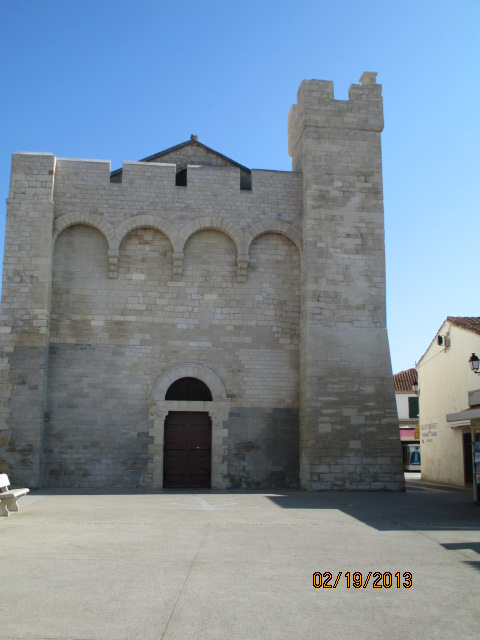 The next day we headed for Sainte-Maries-de-la-Mer. We visited this village in August, however, we couldn't get anywhere near the church in its heart. This time was no trouble because the beach goers were nowhere to be seen. I don't know why because it was a warm, probably in the high 70s.
Immediately as we were in sight of the church, a homeless gypsy woman descended on us. Offering a medallion and expecting money in return. I gave her a five Euro note with the thought that this would keep the others away. It worked.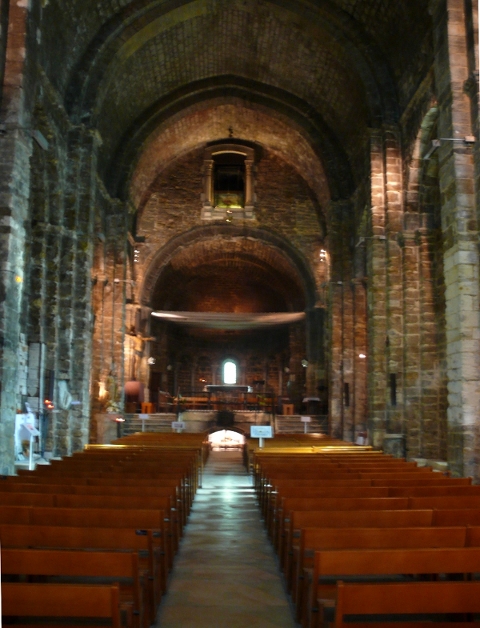 Inside is a pretty typical church. Along the side walls were cases containing arm bones. Perhaps a bit morbid, but they are treated as relics.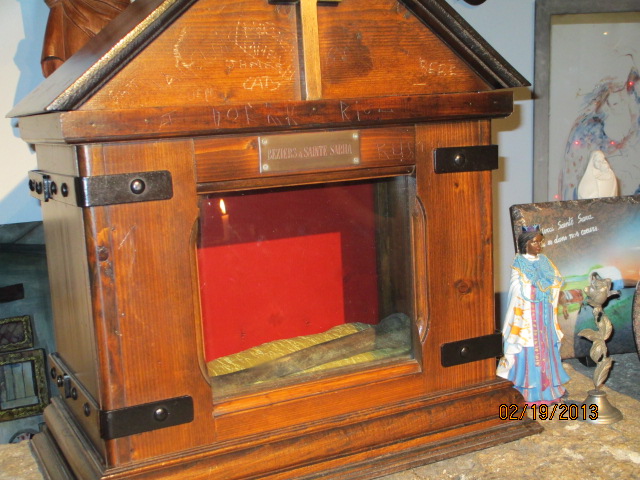 Below the altar is a crypt dedicated to
Sainte Sara
. There's also a bone here in a box, which has been decorated by disrespectful visitors.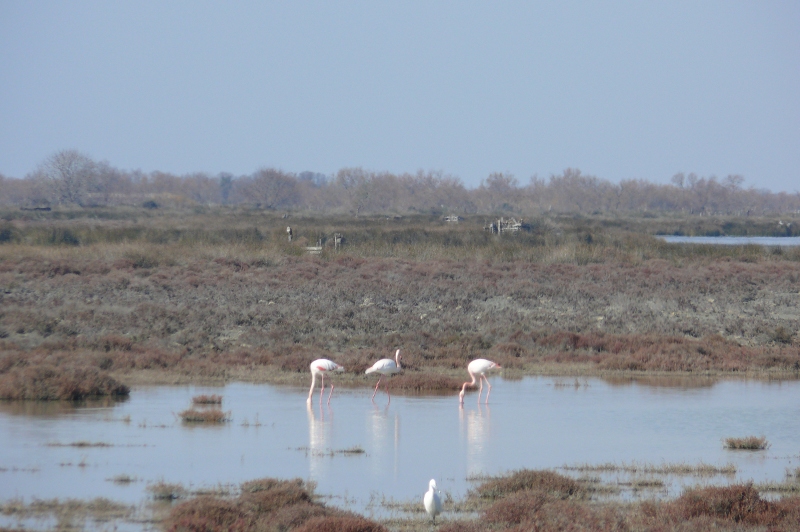 Heading out of the village, we took a small D-road through
la Petite Carmargue
. Finally, we got to see some of the local fauna. The flamingos must stay away during the tourist season. Click for a larger view.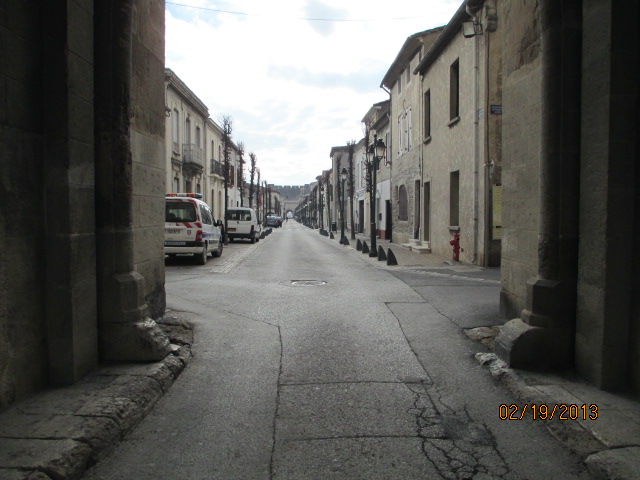 In Aigues-Mortes we stopped to look for souvenirs in the
centre ville
. Here's a neat shot through one of the gates.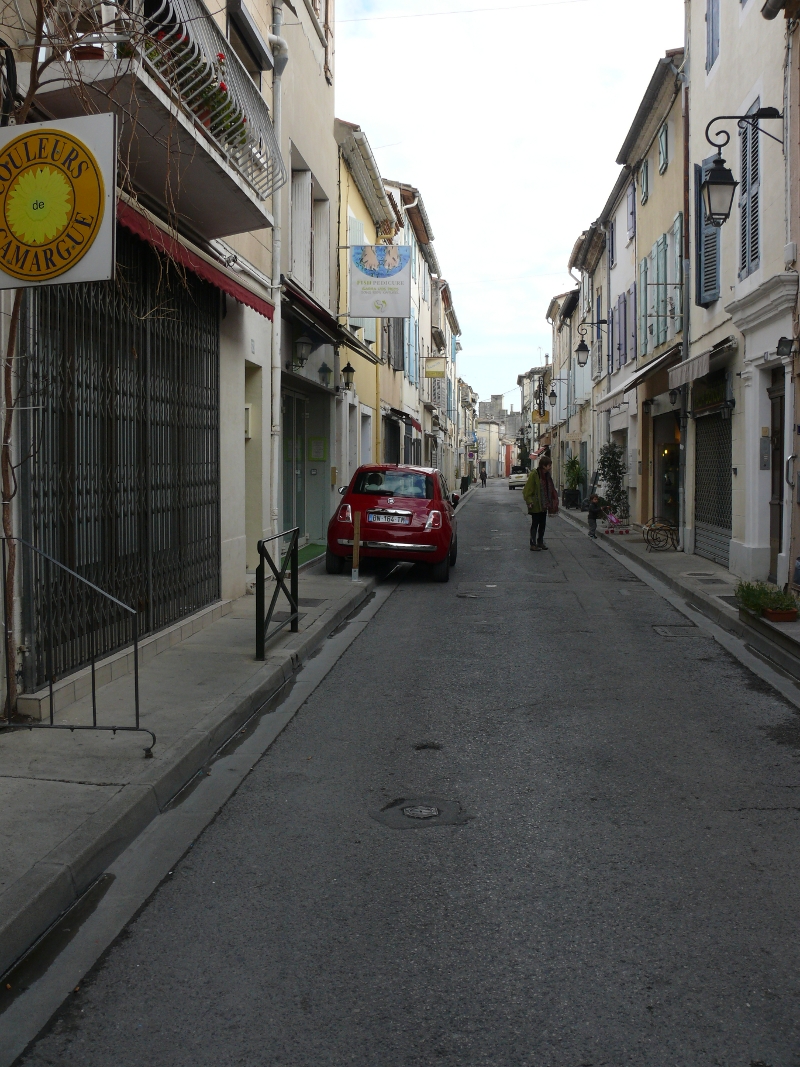 The town seemed to just be waking up. Oh, it was so cold! I think it had dropped to a frigid 55-60 degrees!
In the square, everything was still packed up. Oh, it must have been nearing 11 AM by now.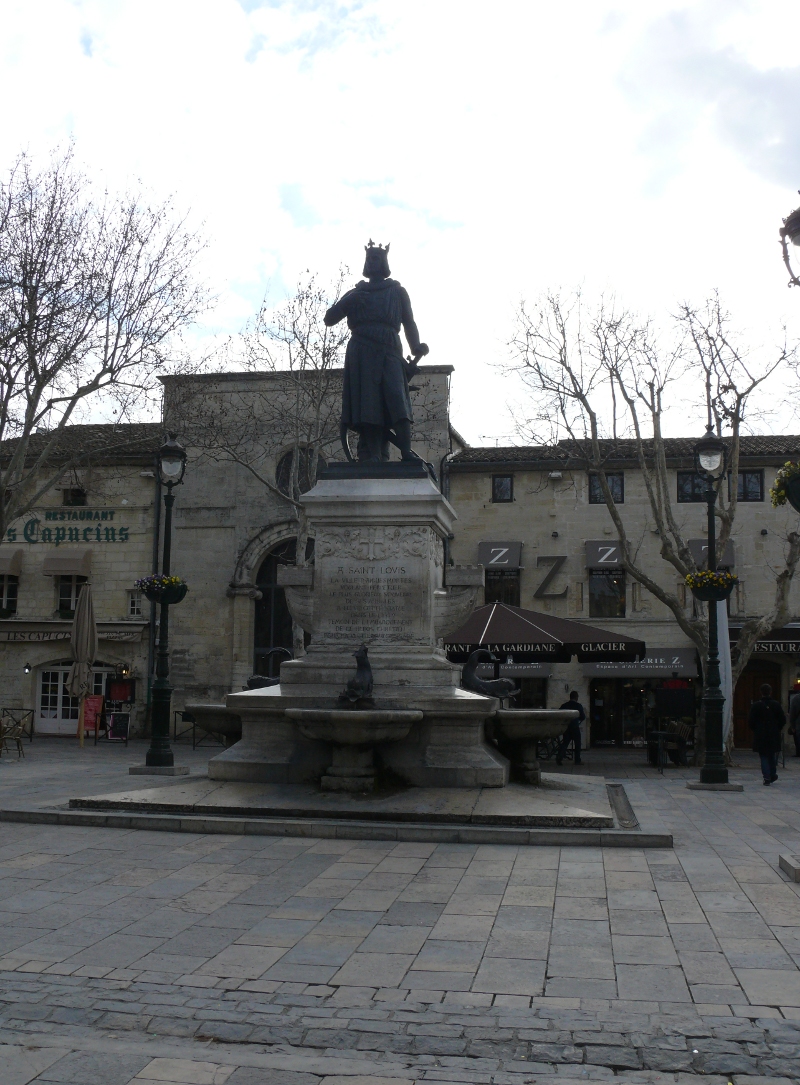 There's a statue of Louis XI in the square. He established the walled town to firm his power on the Mediterranean.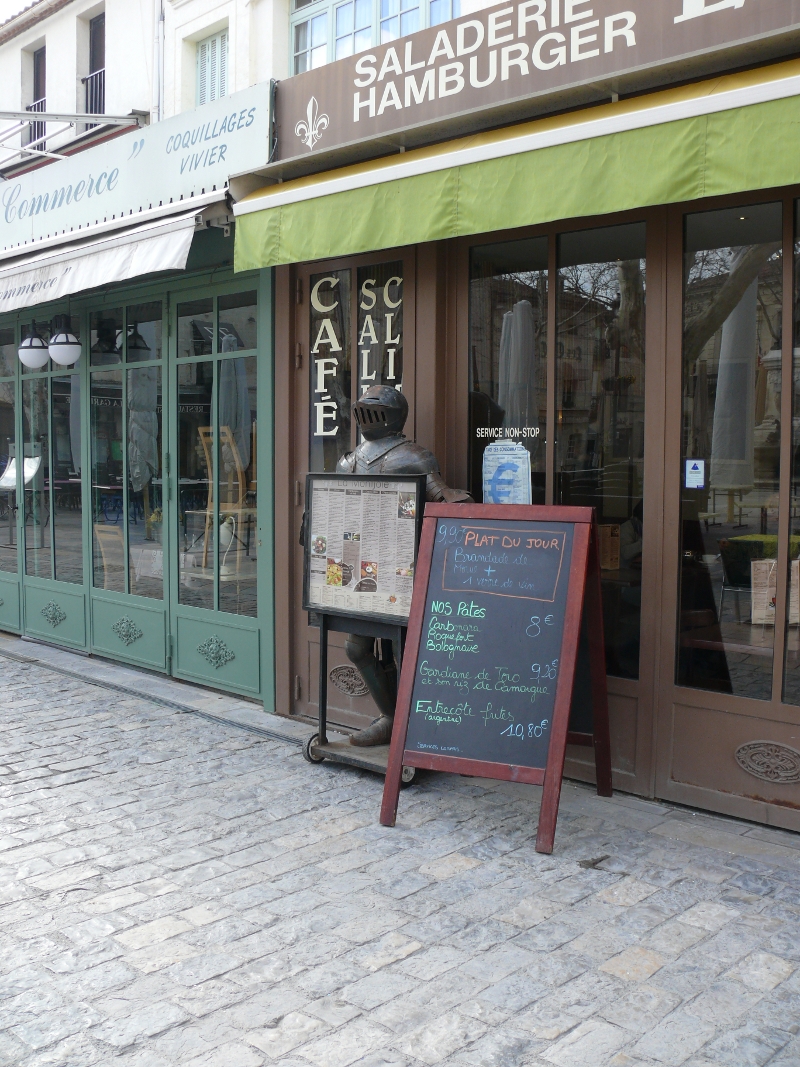 Outside a restaurant is a suit of arms. It looks authentic, but I'm just judging by its size. (Remember European men of the Middle Ages were shorter than average. Of course, this could be just a poorly-kept suit for a modern woman who got sick of Medieval Times!)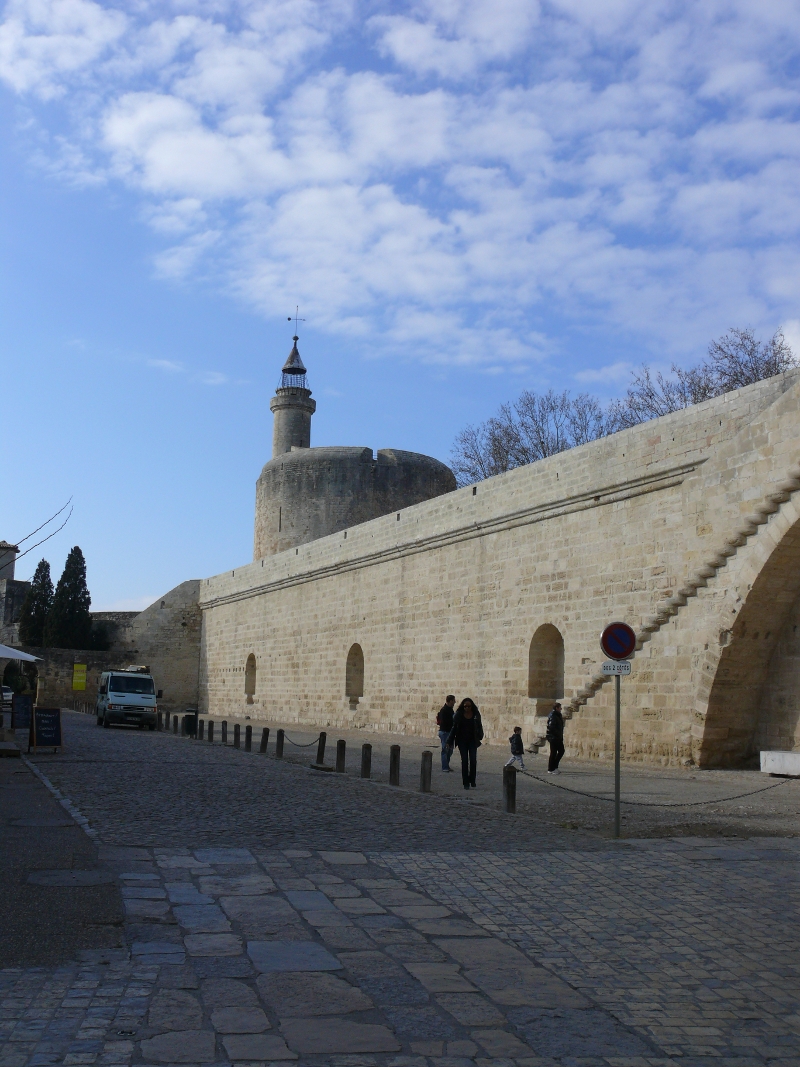 The walls are really intact in this old fortress city!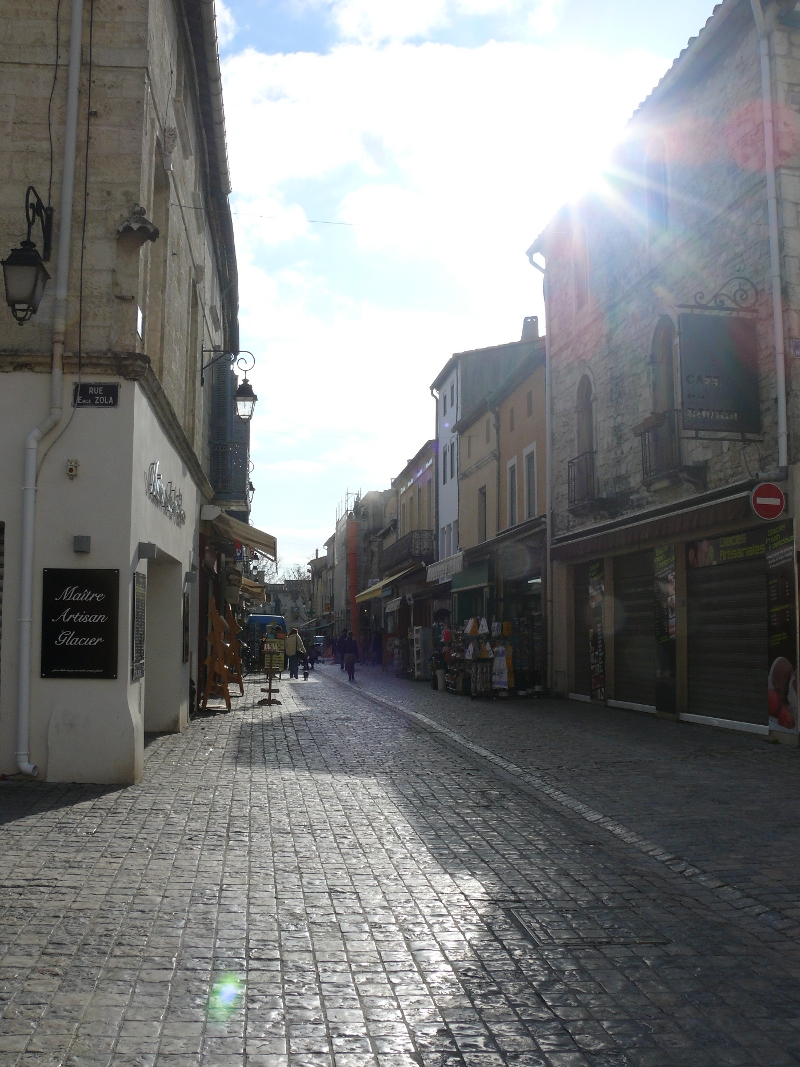 Occasionally I manage to take a photo that captures the spirit of the moment. This seems to be one of them. Click for a larger view.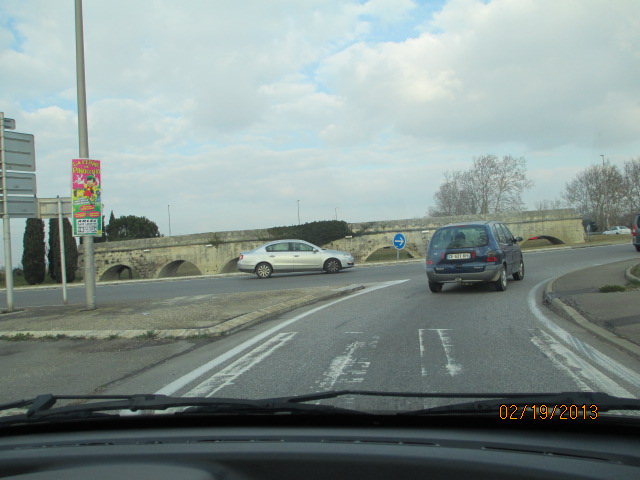 The Panda's worst fear: a roundabout! Notice Mom's already leaning against the roll of our hopelessly cuddily, err, Italian bear. In the center of this roundabout is remnants of some Roman construction.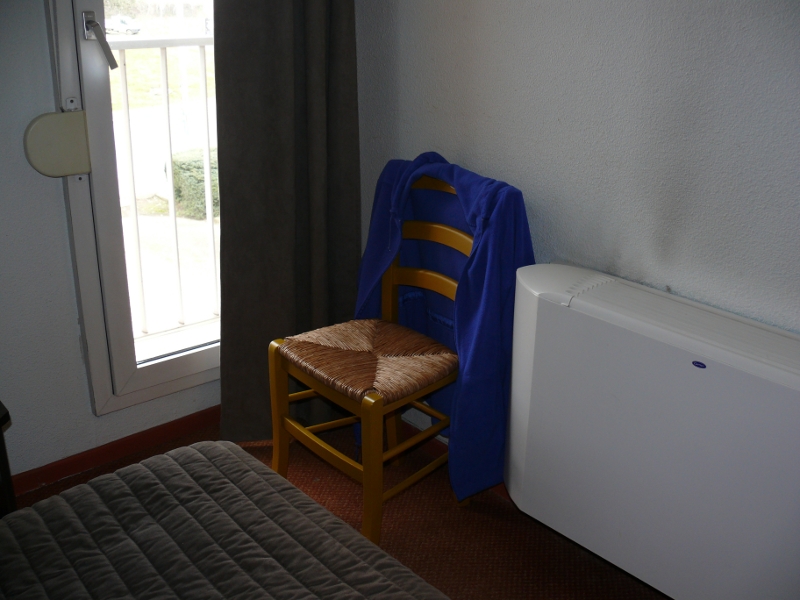 Vincent van Gogh's chair lives on in a Balladins hotel

Here are some shots of the room. The en-suite bathroom was much larger than the one at the Fasthotel. There was plenty of room to separate the beds for more privacy while sleeping, also.
...and some shots out the window.
Of course, the junk food...
Shown are only two bottles of wine. We enjoyed several more bottles. I just forgot to photograph them!
The Listel was awful. We bought it because it was made in the Camargue. It was also twice the price of the much, much better-tasting Cahors! I even tried the Listel after drinking a lot of the good stuff and had a
Black Books
moment ('An oaky finish? Oak! To the front garden!'). The Listel had the bouquet reminiscent of an aboriginal's armpit and a taste that makes a Belgian lambic seem smooth and delicious! Avoid at all costs.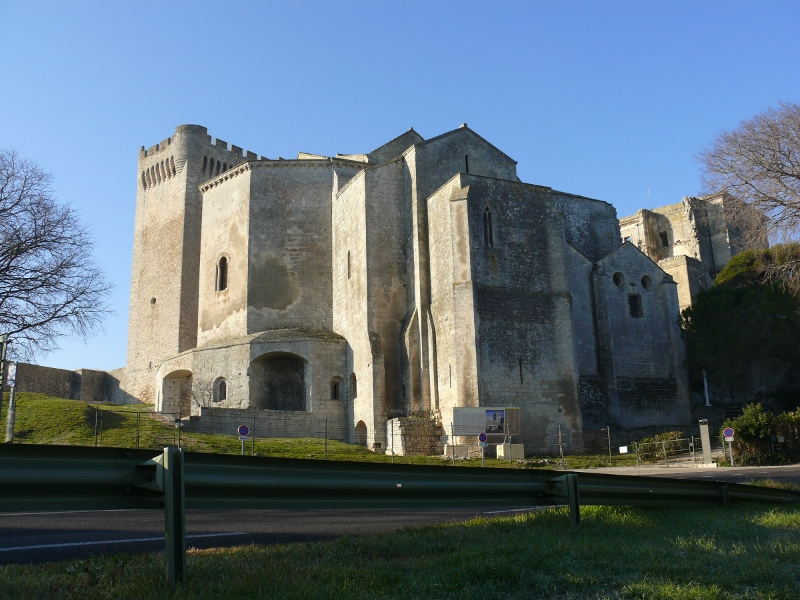 Abbaye de Montmajour
is just off the D-road, and of course, it was not open yet. Oh well, I got a good photo of this structure built by Benedictine monks in 948. That's pretty old.
On a small D-road we passed through the remains of a Roman aquaduct. We then continued on towards the
Chaine des Alpilles
.
Here are some shots of the
Alpilles
. I believe this word roughly translates to "little Alps".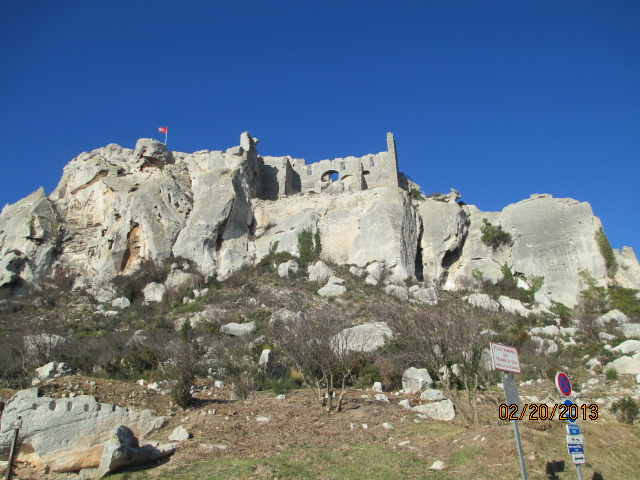 This is the remains of the citadel near Les Baux-de-Provence. It must have a commanding view. The owners think so because they charge a formidable sum of money to walk up inside it.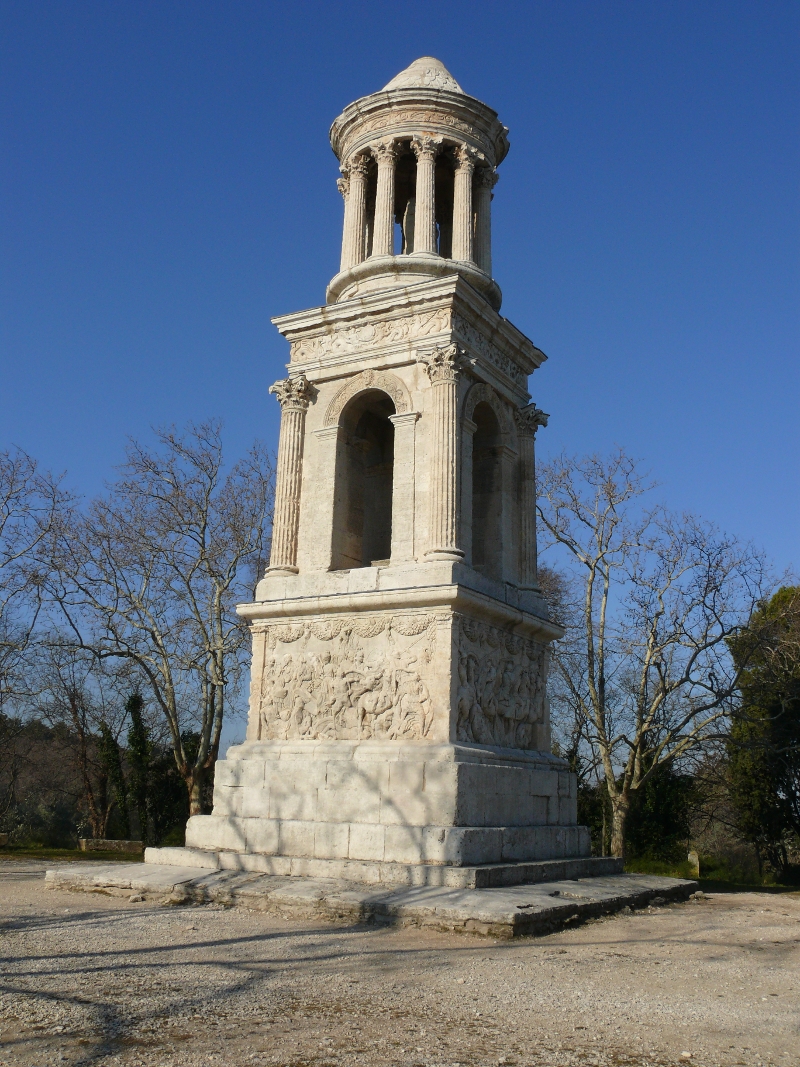 Just outside St-Rémy-de-Provence is the ruins of the Roman town of Flanum. This community was sacked by the Goths just after the fall of Rome. Pictured above is the mausoleum. Below is a photo of a Roman arch.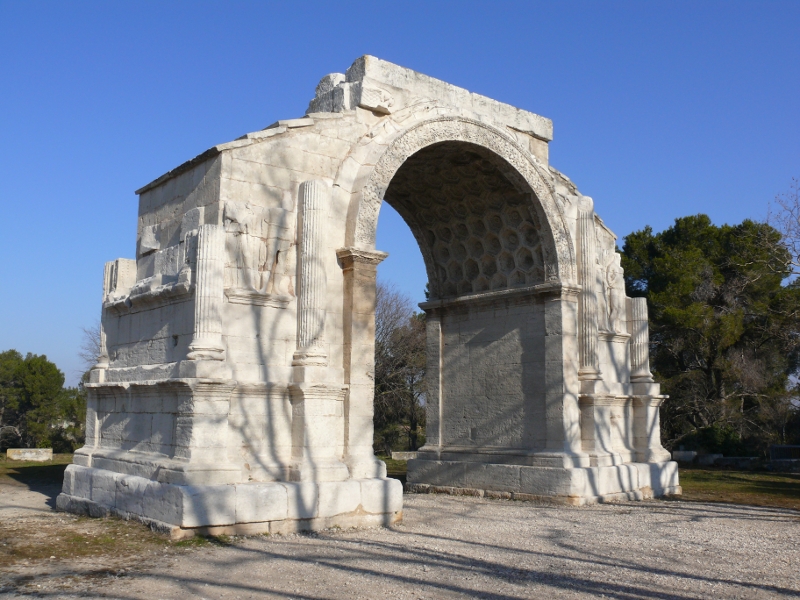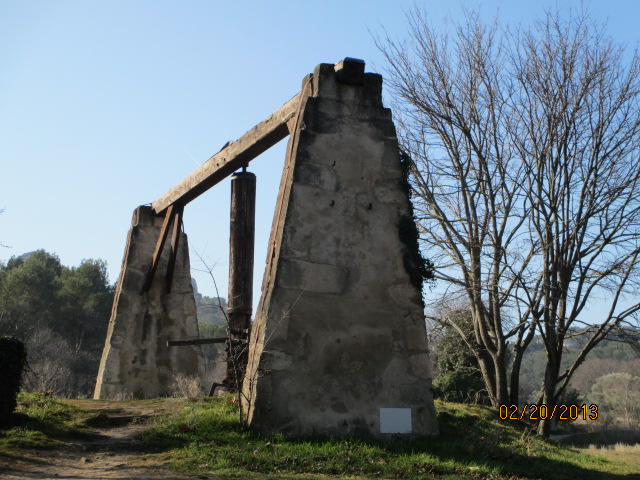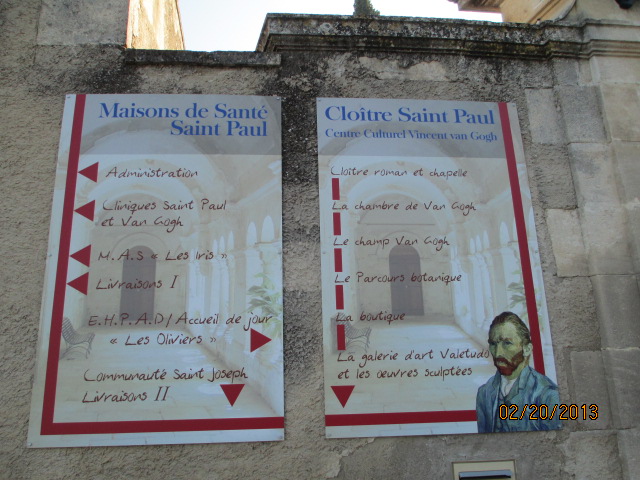 Probably more important is the cloister of St Paul. Around this courtyard are hospital rooms. Vincent van Gogh spent a year here after his argument with Gaugin in Arles, which climaxed with him slicing off an ear and delivering it to a familiar prostitute, and Gaugin leaving.
I don't think van Gogh's contemporaries and the people living around him would have thought that this hospital would go through so much trouble to celebrate the works of art he created while a patient.
Above are some of the masterpieces that were created in the surrounding area. The first thumbnail is the current view.
Here
you may see both the painting and the current view. Amazing talent.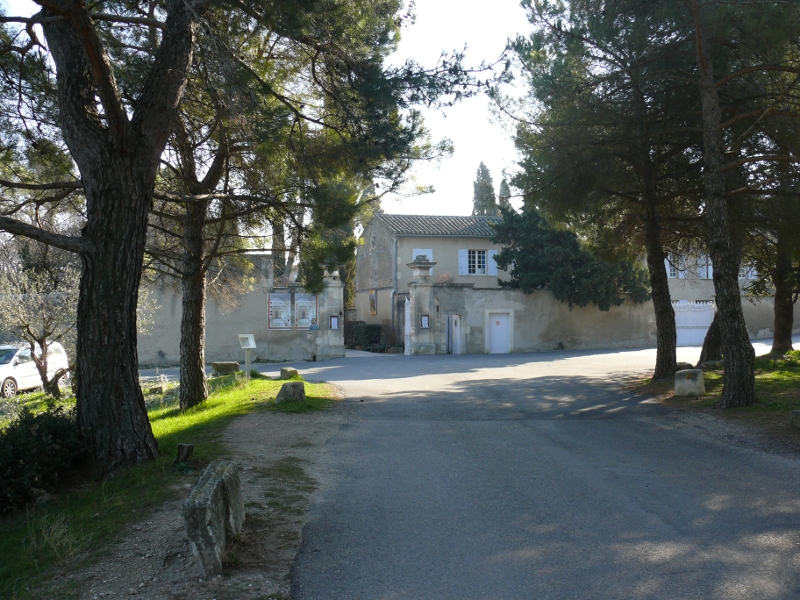 This is the entrance viewed from the drive.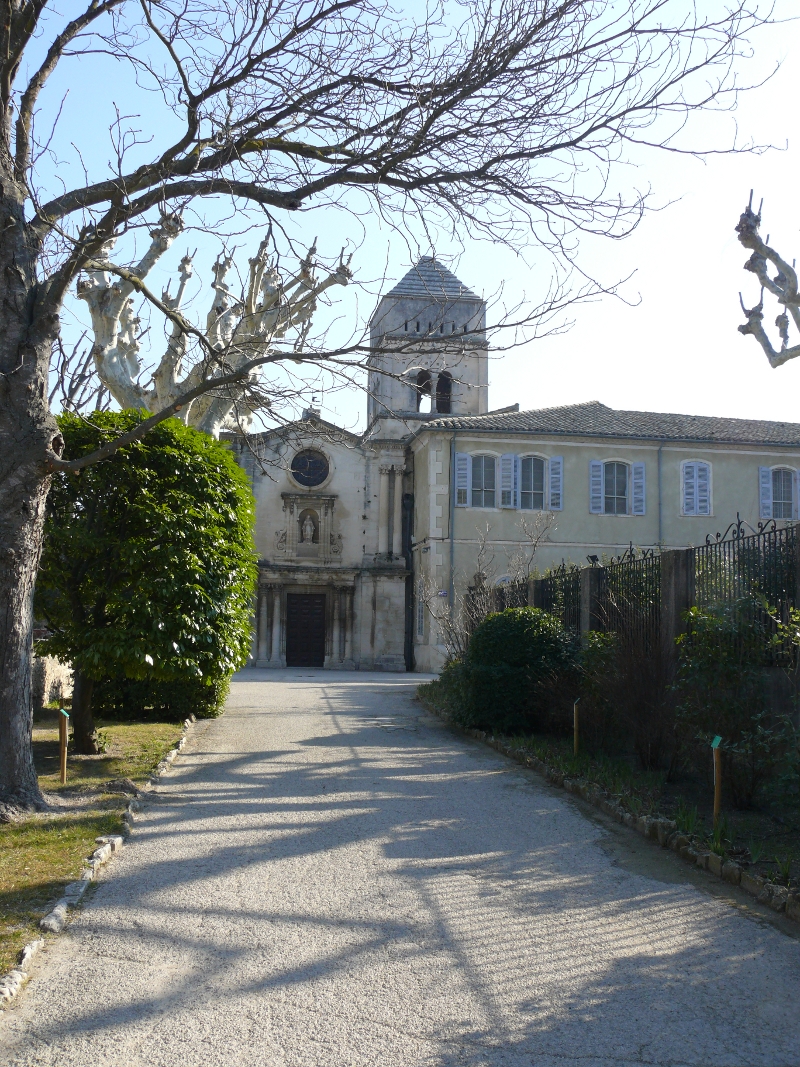 The view of the cloistered hospital from the path.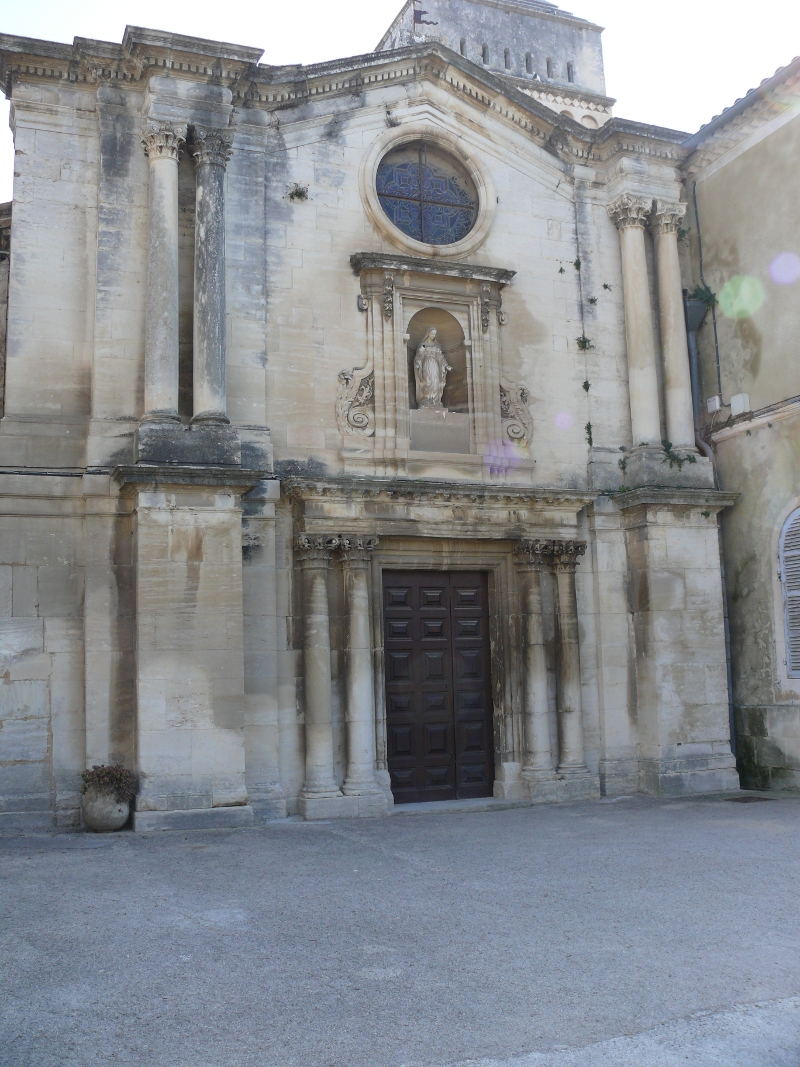 And finally the entrance.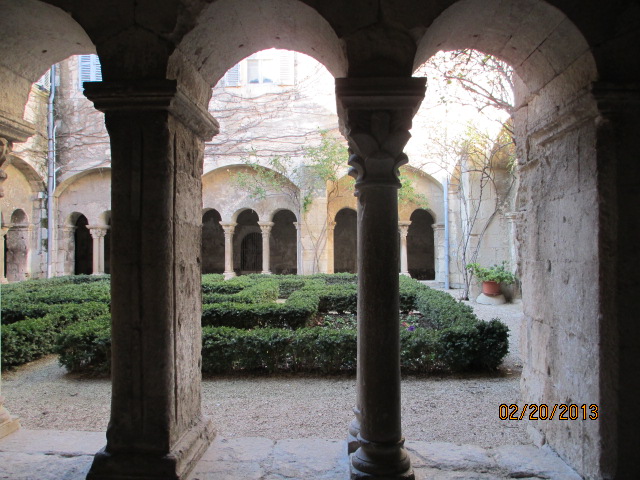 Inside it's a typical cloister. Not only is there an arched courtyard, but it really is quite secluded and peaceful.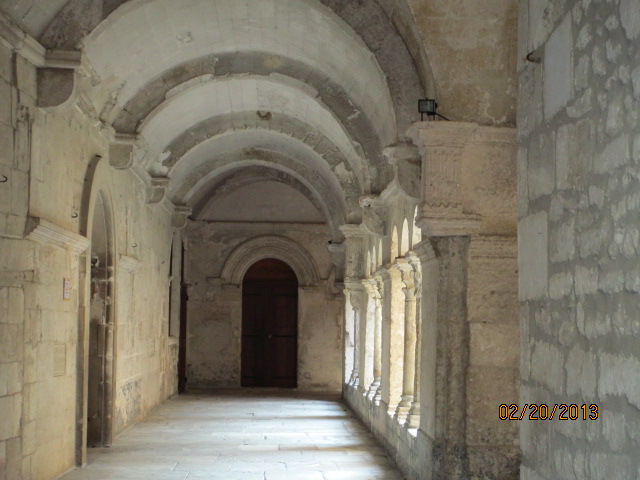 Through that doorway is the van Gogh gift shop. Yes, this poor maniac-depressive man has an entire gift shop of his work. And, it's heated too. I thought the woman working the register was a bit overly courteous. I guess that comes with working at a tourist destination in Provence?
Mom chose against paying for a self-guided tour of van Gogh's cell (he wasn't imprisoned). Like her, I would have found it hard to see where this great man tried to recover from his tough mental illness. I'd much rather see what he saw and loved enough to capture in oil.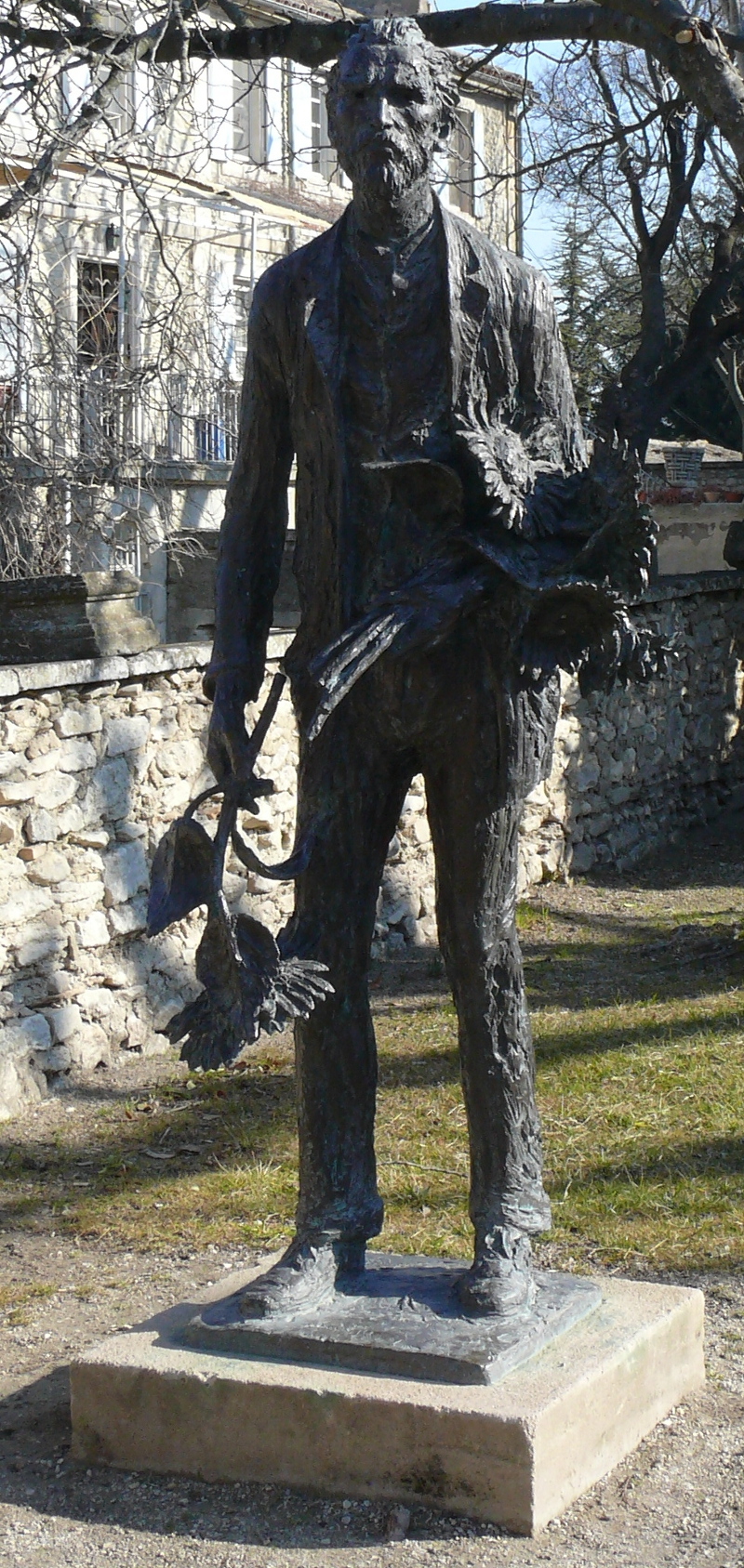 If only this great painter had known the beauty he recorded with his 'brush, maybe he wouldn't have come to an early end? (Surely no one has since captured the simple attraction of sunflowers?) Or maybe, it's as was portrayed in Doctor Who: Vincent van Gogh was always destined to live a short life?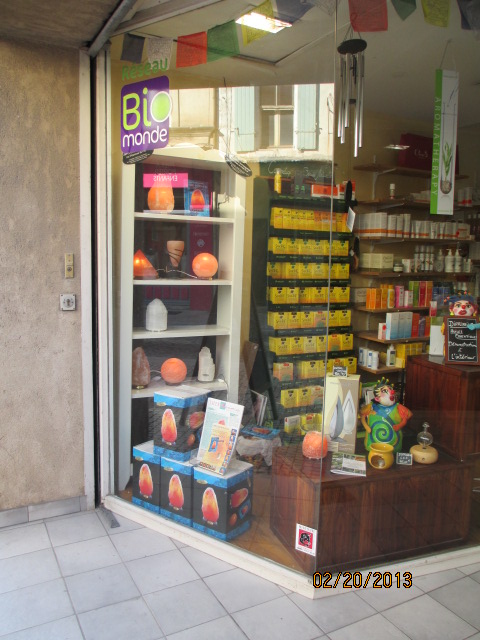 We continued through St-Rémy. It was an active little town. Even the gas pumps were stuffed into a small space on the ring road!
We continued to Châteaurenard. This town boasted a good-sized
centre ville
and I could swear that I saw
la Rue de la Poste
, so I suggested we park and find a post office. Mom was hesitant as we entered an underground parking garage. It claimed to be free. Yes, well, we'll see!
After being directed by a woman in an expensive heavy coat to a main street, we wandered by this shop. Maybe it's run by a modern hippie (e.g. Fran
à la
Black Books
)? The owner hasn't given up the lava lamps, which are cool, but seems to have embraced the "evil" capitalistic idea of profit.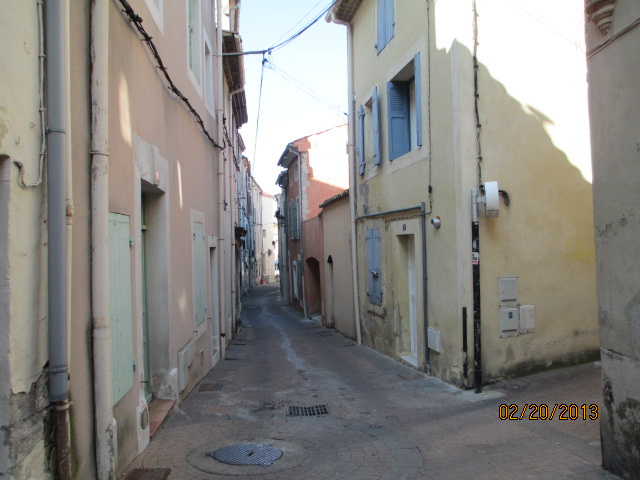 We continued to wander around and asked a couple other people where the post office was located. After being directed to a post box, Mom asked where she could buy stamps. Then, came the longer directions. You know, past here, left there, past the dead dog, etc.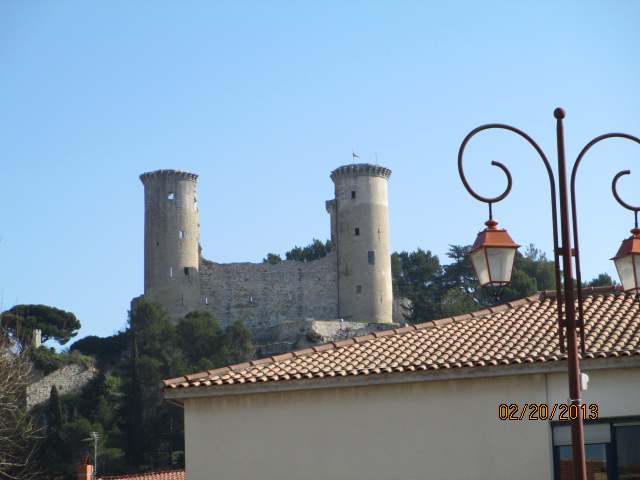 At least we got to see the château in Châteaurenard! This is a distant photo because up close it is immense! We postponed finding a post office to stamp and mail our postcards. The parking did turn out to be free!
We arrived in Avignon and was greeted by the gates. Avignon was the papal residence for a good bit of time, hence the intact city walls. We drove around the walls for quite some time. The thumbnails show only about half of the total wall.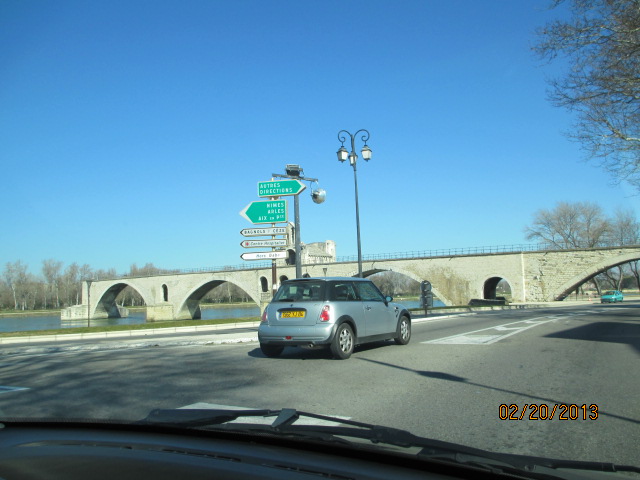 This is the famous Avignon bridge that was knocked down by a flood in 1668 and
below
, not on, was where people danced. The bridge is named
Pont St-Bénézet
.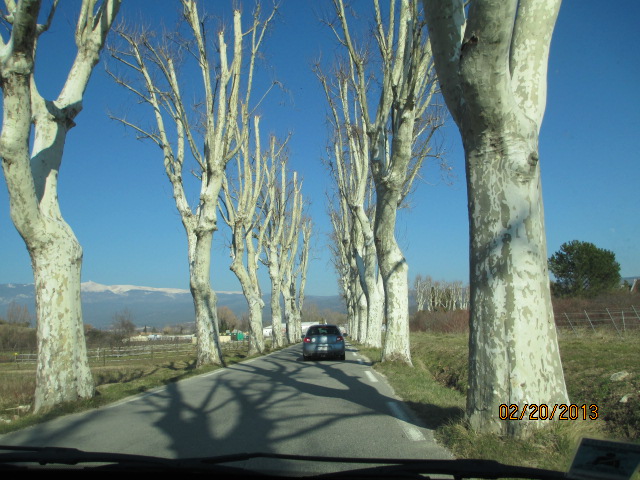 Unwilling to stop, pay to park, and then pay to see the papal palace; we continued east towards to Alps.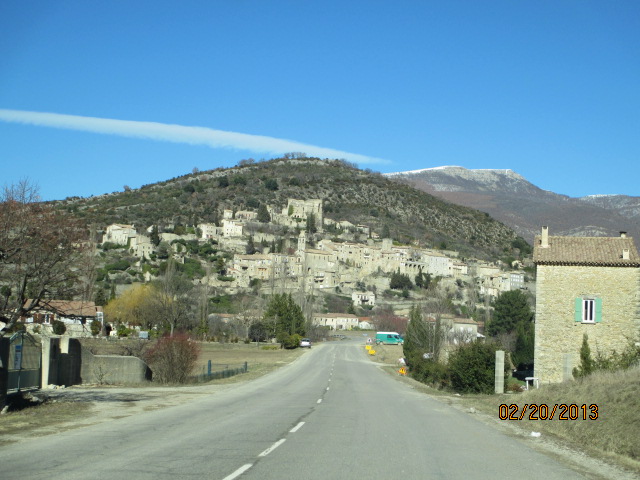 We made a wrong turn, and I got very angry with an impatient motorist; so it took us a bit of time to get heading towards our next destination.
Once again in the countryside, things settled down. Here is the lovely village of Montbrun-les-Bains. The mountain in the background does look brown.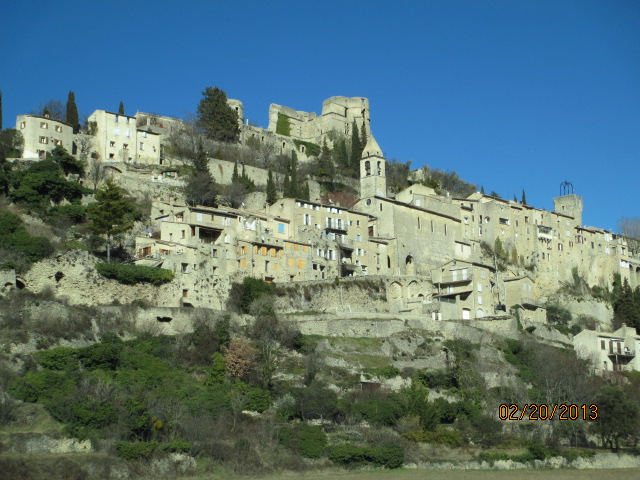 Atop this hill, I think, is the chateau that the map marks.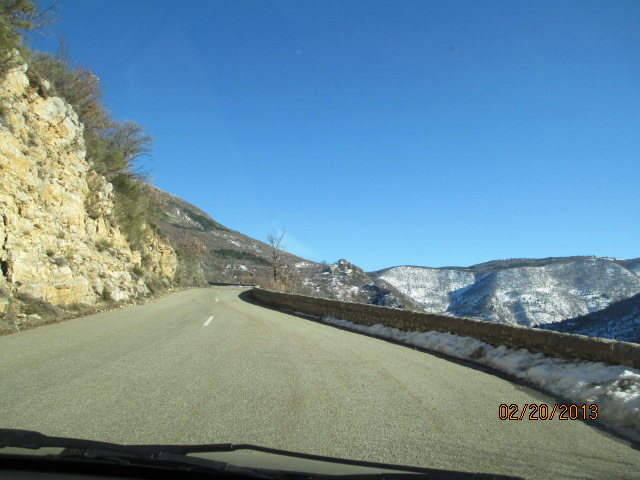 As we climbed, the road became narrower and more twisty. In a normal car, this isn't a problem. In a pudgy Italian, it's difficult! There's little room for error. Don't brake well in advance for a slight turn and it's curtains for you.
The size of the villages in these parts is very small. Below are two photos of such a town taken one after another.
Even at 30 kph (less than 20 mph) they're finished in no time. Now, this is the France we know.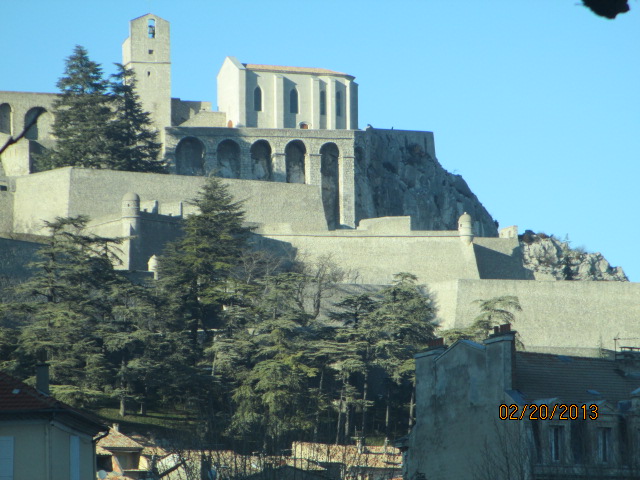 Our first glimpse of Sisteron was impressive. The question that succeeded was: can we get close to it?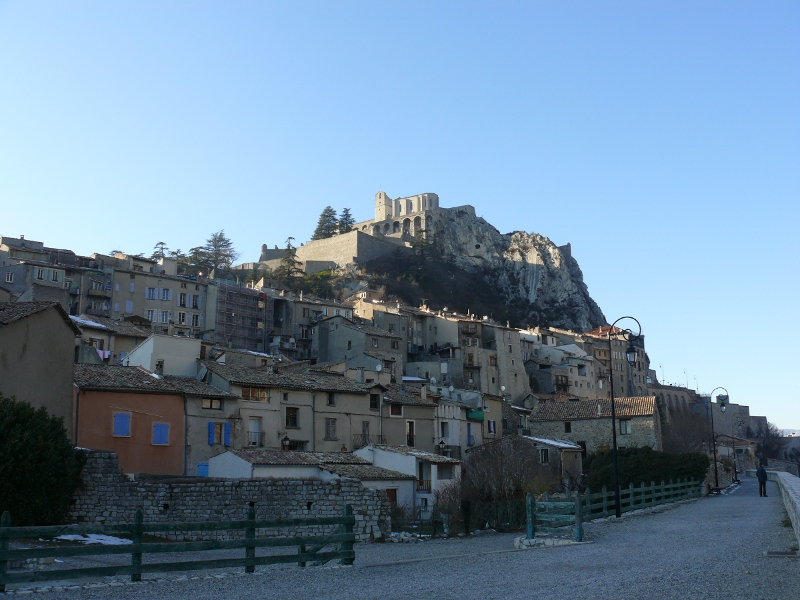 After driving around, and seeing much of the town, we found a riverside parking lot. Since there were some potential rapscallions wandering around, Mom elected to stay with the car. I took the above shot of this stone town built into the side of the hill. I took a video.
It's available in
AVI format
(22 MB) and in
MOV format
(original format 43 MB).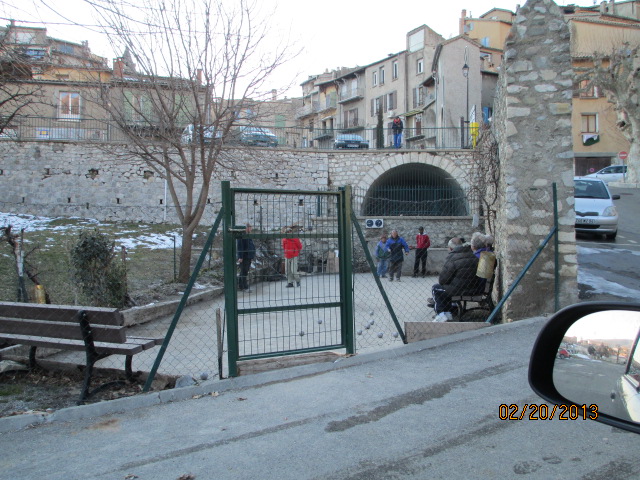 On the way out of the parking lot, we saw men playing bocce. Maybe the French have another name for it?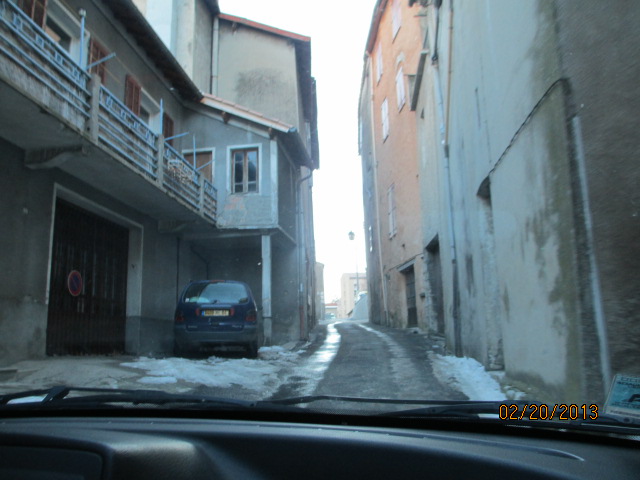 I kept waiting for Jason Bourne to drop off a building into this alleyway!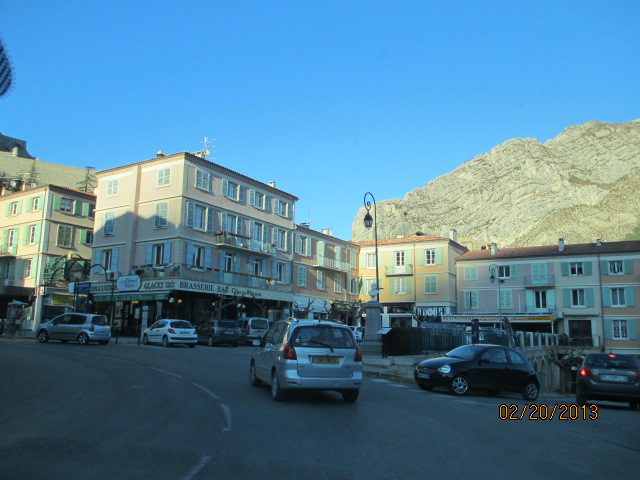 Ever confident with my directional skills, I set out for the bridge crossing the River Durance.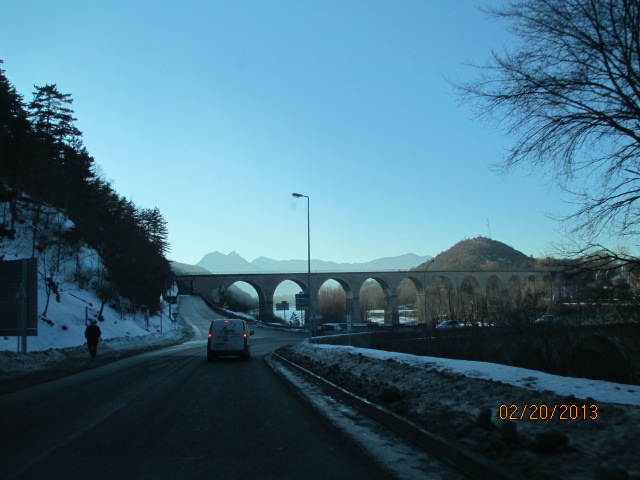 Cool bridge.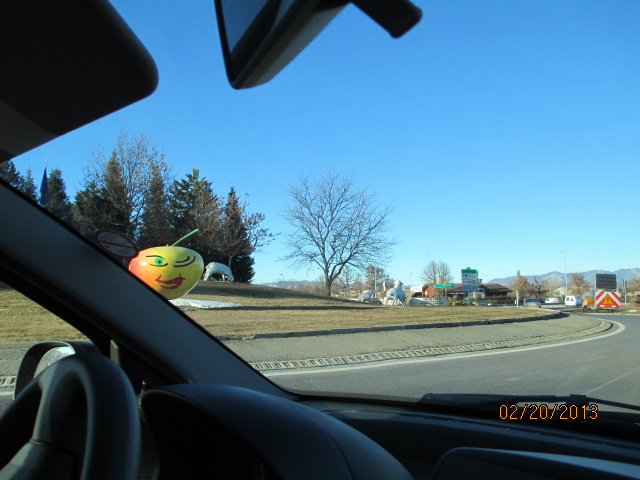 I knew I was on the right route. The winking apple told me so!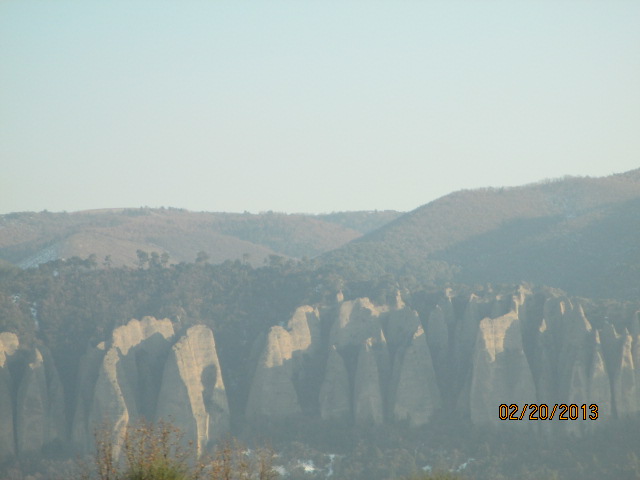 Back on
l'autoroute
we made tracks for Arles. On this stretch of very fast highway, we saw some impressive rock formations. I'm surprised that Mom could get any clear photos since to keep with traffic, I had to push significantly past the 130 kph (82 mph) speed limit. No cops either. Have I said why I love the south of France?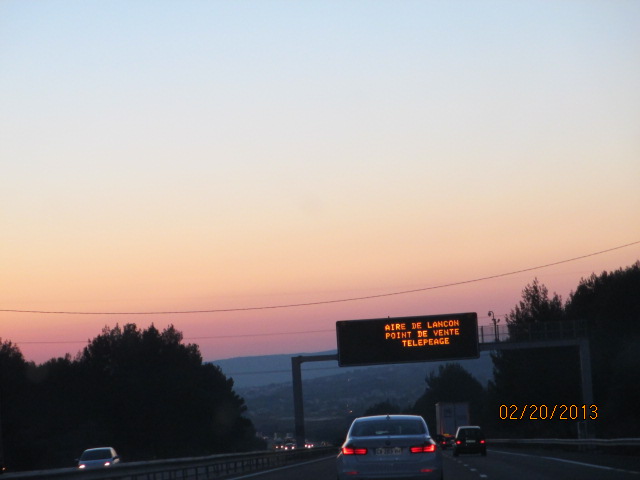 This was the sunset as we aimed for the hotel. However, the challenges weren't finished yet. First, we had to pay a toll twice because the road was poorly signed and I ended up taking the wrong direction. OK, we see this back home. That wasn't the worst of it. Imagine after a long day of driving, and while recovering from a good evening of French wine, you are suddenly dumped off the autoroute and cannot find your way to the next autoroute.
Autoroutes are like our highways. These roads are usually well signed, right? Not in Provence. I thought that it was perhaps like Massachusetts where I-95 is called 128. No, this was much worse. Can you appreciate being able to see your objective and not being able to reach it?
Yes, the Provencals had removed all the road identification signs. I'm not talking about signs for Ma's restaurant. I'm referring to the signs listing the road name! Imagine you're driving on a state road and then the road ends and you have two choices, neither of which are labeled as this main road. This is the problem with Provence. Too many English-speaking folks have moved in and the locals retaliated by removing the road signs. What, you don't know where you're going? Tough luck, Monsieur!
Eventually, through no help of the French, I found our way back to a signed road. It required all of my directional ability, which it never should have. Fortunately, along the way we sneaked into a chain grocer just before they closed and bought supplies.
---
The next day our departure was slowed by an automatic fence, which would curiously let in pedestrians but wouldn't let cars out. Well, at least not until 6:30 AM. You can come in and hotwire my car, but you can't leave until half past six. How French is that? All we need is a dog with bloodshot eyes excessively drooling on the gate release button and growling anytime we got near! Fortunately, we made it to our plane in plenty of time. I did push the little Panda a bit to ensure our early arrival. I'm sure the next user will enjoy an engine cleared of upper-cylinder carbon!
In line for the X-ray machine, a Swedish man decided to speak to me. He had been challenged by the security people because he didn't put a small vial of shampoo inside his ziplock bag. He commented that flying was annoying and true liberty is driving. I couldn't agree more. He seemed a bit surprised to learn that I was an American.
On the puddle-hopper, Mom and I couldn't sit together. I dozed during the take-off. Being on a
Luftwaf
--Lufthansa--flight, I ordered water in German. I guess I fooled the folks across the aisle from me because they asked if I was German. I stated that I am an American.
Trying to be a good single-serving friend, I offered to collect the cup of the woman seated next to me. I couldn't tell which language she spoke. However, fortunately for me, since I had clearly announced my nationality, this window-seat passenger knew which language I preferred.
Soon we struck up a conversation in English. She said that she didn't speak a word of English and then proceeded to have a long conversation with me in English. I was a bit surprised. She spoke better English than people I see in the streets here.
As it turns out she, and her husband, own a house in Aix-en-Provence (where Mom and I got lost). This woman says she exchanges houses with people around the world. She asked where I'd recommend she visit in the States. I told her to stay away from Boston. Flashbacks of being lost on roads with no signs came to mind. Instead, I recommended Florida because she had small children. Of course, this conversation never took place... because she doesn't speak a word of English.



Copyright © 2002 - 2018 Billsuniverse.com