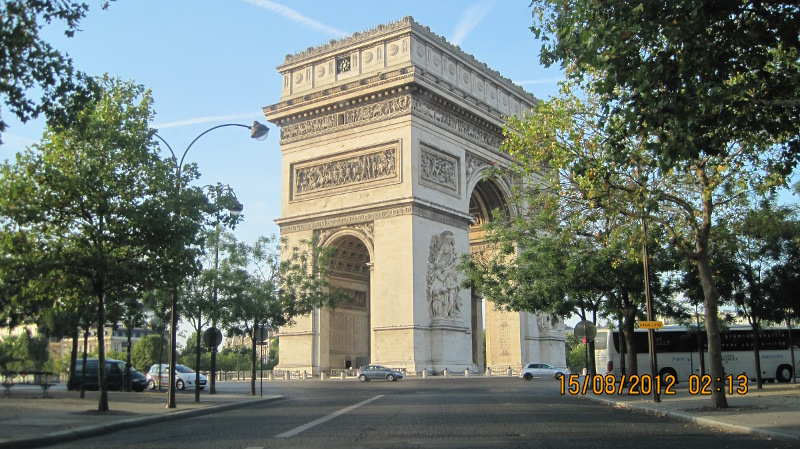 IcelandAir didn't serve any free food on the two flights from the States. A disappointment when one plans to eat on the plane! Of course, we couldn't eat in Reykjavik either because we had no Icelandic krona and we didn't dare try the credit cards, lest the accounts be suspended for suspected fraud.
I think by the time we got to Paris we had had some food. Don't remember.
What I do remember is the lack of traffic in central Paris! I had planned to sit in rush hour traffic and was very surprised at the lack of traffic. It was a Wednesday morning, after all. Did the zombie apocalypse happen, like in London at the start of
28 Days Later
?
Here's a good shot of the Arc de Triomphe. Unlike Chevy Chase in European Vacation, I didn't get caught in the crazy rotary around the monument. Not to say that a few Parisian motorists didn't try to hit us! Welcome to Paris. (Click the photo for a larger image.)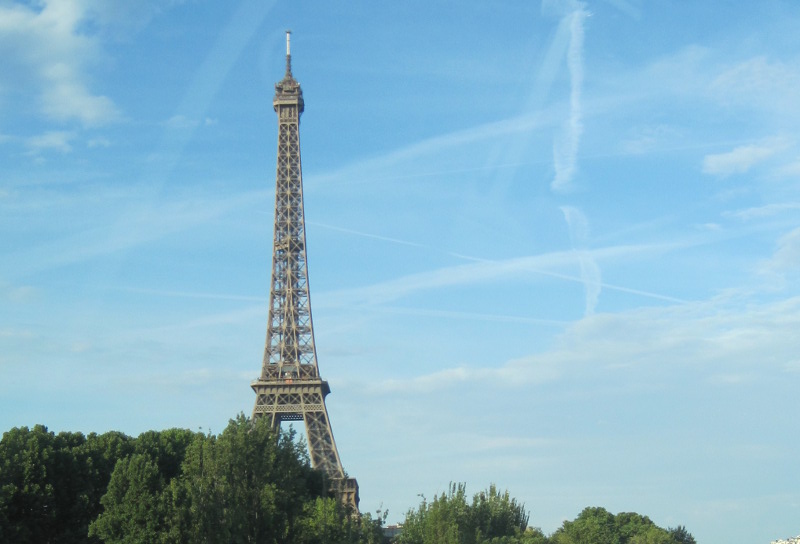 Recall
the last time I was in this city
, I was on foot. I recommend that. Don't drive in central Paris unless you're just passing through. Driving isn't difficult if you can be aggressive and drive quickly.
The trouble is finding parking in central Paris. It's around, and really isn't that expensive; however, the problem arises when you want to walk out of the underground car park. At least, that's what happen to us when we pulled into a parking garage marked "libre" near the Eiffel tower.
There were no unlocked doors leading to the surface and no card readers to accept our parking ticket. Thinking back, I still don't know how they intended people to get out. Maybe the garage was just for locals who had magic badges? You know, like most (all?) Europeans have computer chips in their credit cards.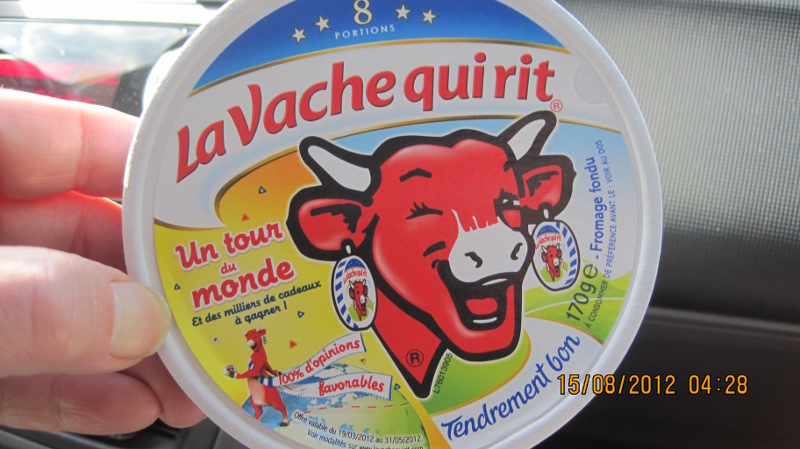 We paid (no simple task) and left the parking garage. After driving around central Paris a while longer, Mom said she'd seen enough and suggested setting out south. I saw something new in Paris: an ATV like
mine
threading its way through traffic near the Louvre. Which one of these vehicles doesn't belong...
At a motorway service station we bought some bread and cheese made by the cow who laughs. The cheese is nothing to laugh at because it is better than most cheese spreads available in this country!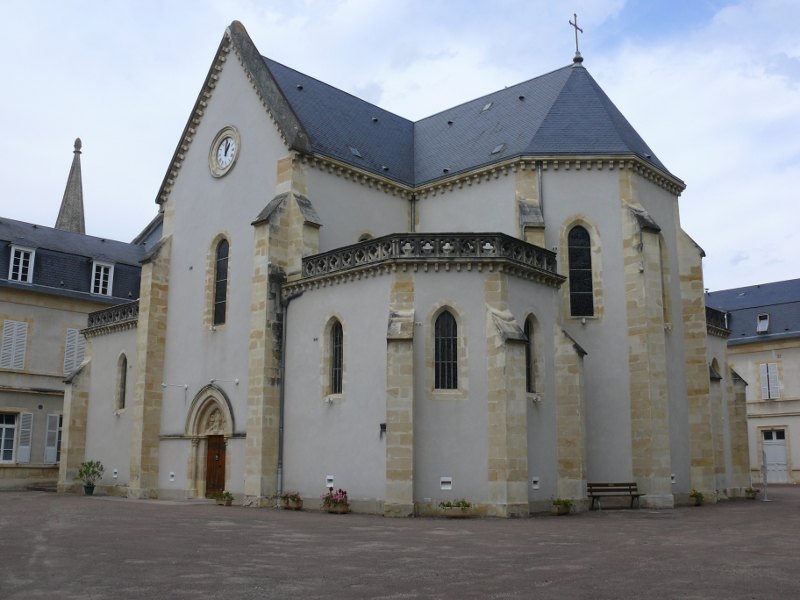 We stopped in Nevers to visit the resting place of Saint Bernadette. Unfortunately, we'd arrived a bit too late and the caretakers had gone to lunch. Not to be rushed, they returned an hour later. Normally, this wouldn't be a problem, but we had just arrived and were still six hours away from our hotel room!
An Indian family was also waiting. I took a couple of photos of them all with their camera. I guess I still don't look like a thieving scoundrel. Darn!
Everyone was thrilled when the caretakers returned and opened up the church. It was warmer than usual and a bit humid. Inside the church to the audience's right of the altar laid Bernadette. I'd never seen an incorrupted body before. It's one of those things that never leaves you. She was a tiny woman.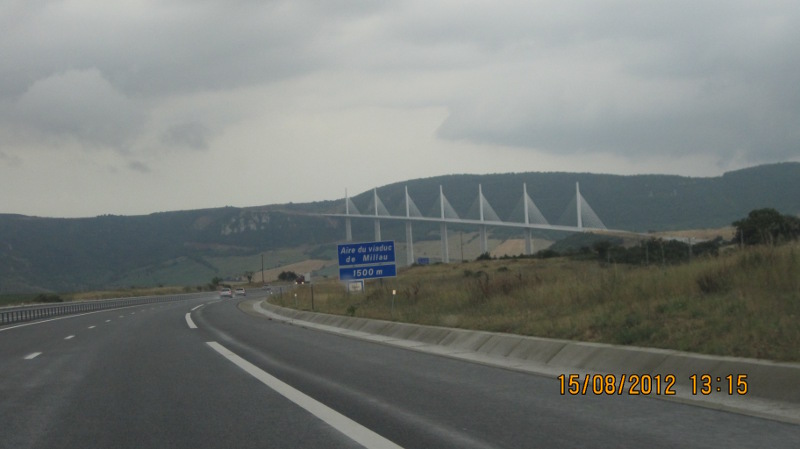 French motorways (autoroutes) are well maintained and easy to drive. One does have to stop every fifteen kilometers to pay a toll, though.
Here you can see the new famous bridge near Millau. It set a record or two. Indeed it is an impressive bit of engineering. The French agreed and charged us for the privilege of driving over it! Click the thumbnails below for closer photos. We got our money's worth crossing that viaduct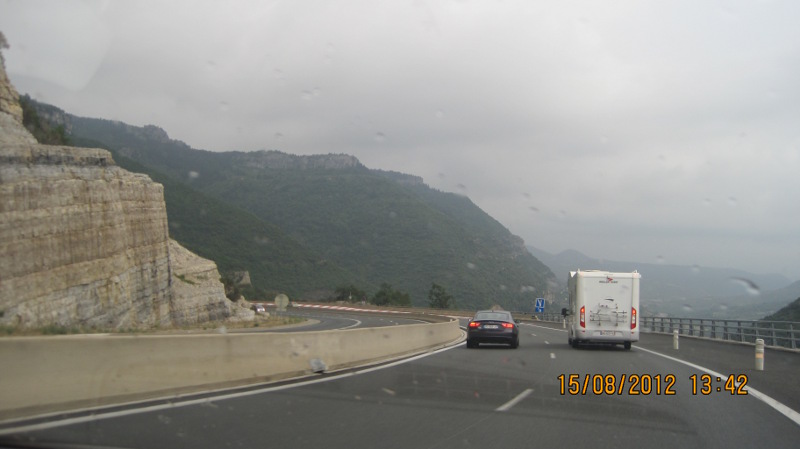 A caravan on a quick downhill road... Hmm, this reminds me of
the time Mike and I got stuck behind a mini-van while rolling down from the Skyline drive
. At least this guy went faster, though I did overtake him.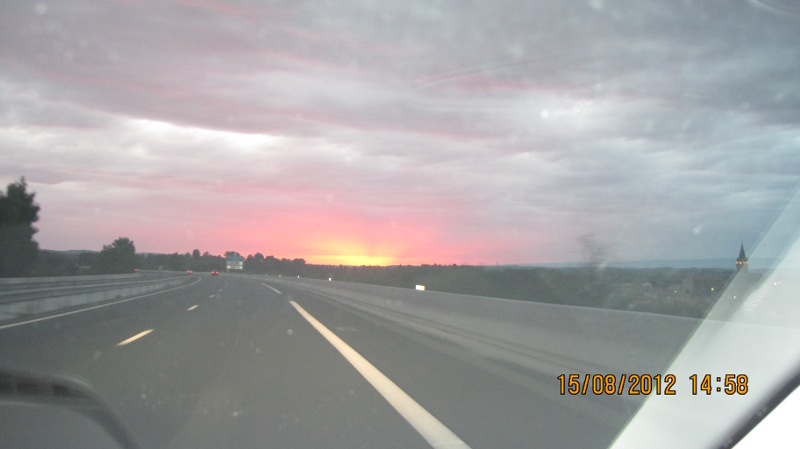 A sunset worthy of the American Southwest! Judging by the color, we've good weather in store for tomorrow. By this time I was getting very tired. I remember Mom saying, after the fact, that she knew I was getting sleepy because I would take more swigs from my pop bottle. I applaud her for staying awake the entire time, too! We arrived at the hotel without a problem somewhat after sunset.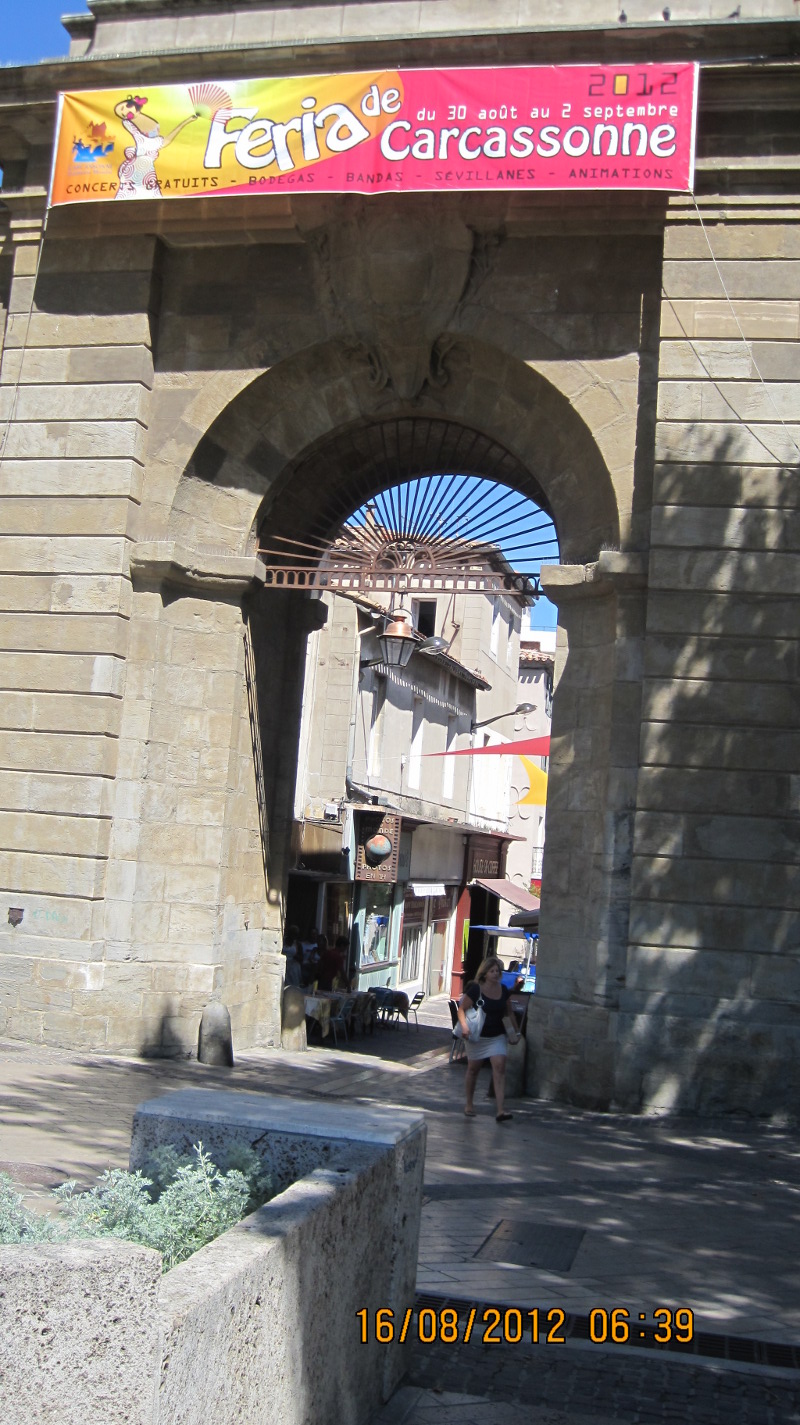 The next morning we overslept the breakfast by a bit. But we noticed that the hotel breakfast area was open: the owners had kept breakfast open just for us! This is the typical behavior of the southern French: understanding and kind. I would stay at the Fasthotel in Carcassonne again. The husband and wife went out of their way to make us feel welcome.
Fueled by a good French breakfast, we set out in the car. The first stop was centré ville (town center) of Carcassonne. This fully operational walled town center is a special place.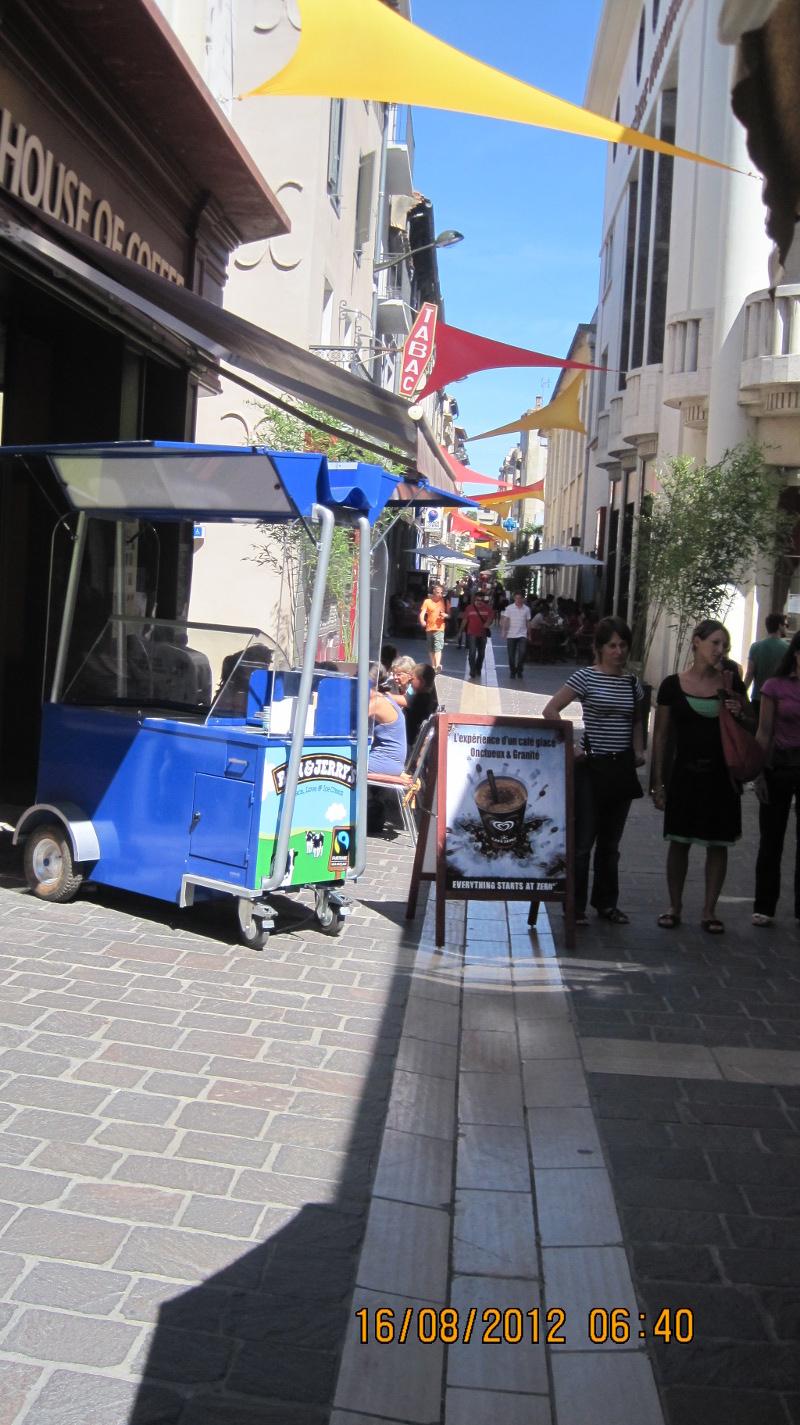 Ben & Jerry's? How far did we fly away from Vermont?!
Fortunately, our minds were elsewhere. Mom hadn't been able to ring her husband since we arrived in France. Understandably, this hung heavily over our heads. A worker in the Fasthotel said: don't you have an iPhone? After learning that we were technologically backwards, he said if we were to find an Internet cafe, it would be in centré ville.
Fortunately, Mom just purchased a phone card and mobile phone in the post office. (American post offices should sell cell phones because, if executed properly, that would generate a lot of profit.) The old man in the post office was very understanding and kind. He spoke slowly and clearly that even a retard like me could understand him. What a considerate people: the southern French!
We sat down at a table in the square to decipher the phone card instructions. And what a spot to sit down. Queue the accordion. Click the thumbnails above for views from the table. As expected from my viewing of
'Allo 'Allo
, a pretty waitress turned up to take our order.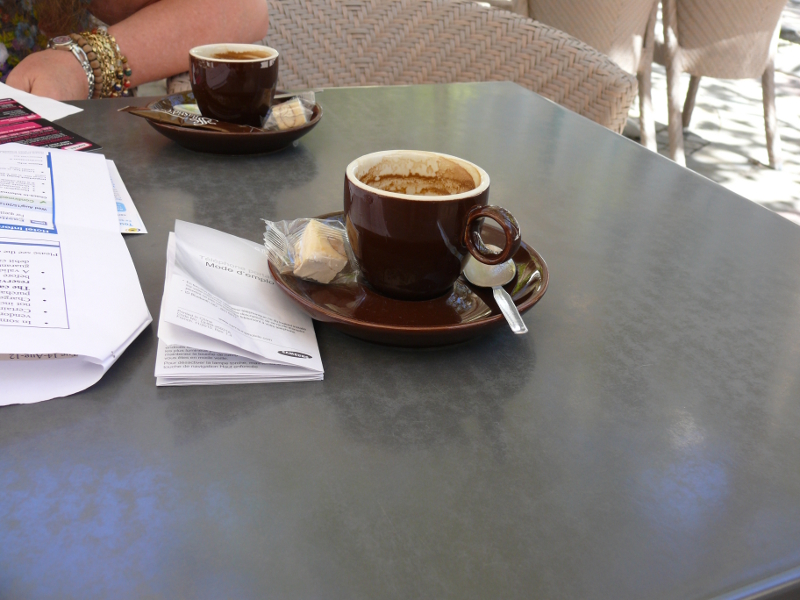 ...and of course, our order produced two small, distinctly French coffees. The accordion music continues...
By this time Mom and I had figured out how to use the French phone card & French mobile phone, which was just like mine except thicker, to ring the States. Her husband directed Mom to have a fun trip and not worry about phoning. Very decent of him.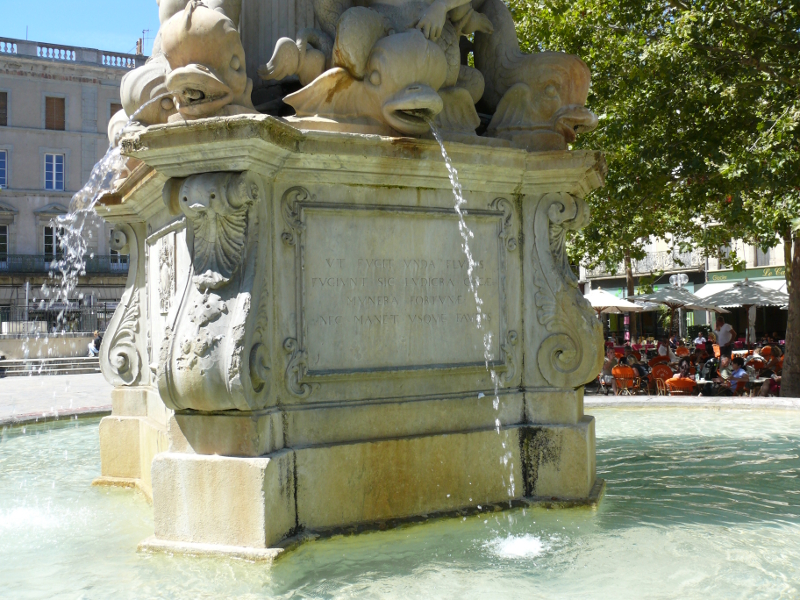 I returned the coffee mugs--can I call those tiny things that?--and paid the waitress, which I forgot doesn't need to be tipped to survive. (French custom is not to tip, or to do so only when service is exceptional.) Oh well, that's a casualty of being a well-off American. You know, secretly the French love us... and so would I, if I were in their place: the German language is much harsher on the ears than French!

As we wandered out of the square we took a look at the fountain. I believe it's inscribed with Latin words. I don't know what they mean. If you can read Latin, why not give me a hand and translate the inscription? If you complete the
technical problem
form with a translation and leave your name, then I'll give you credit on this page. Click the photo for a larger view of the inscription.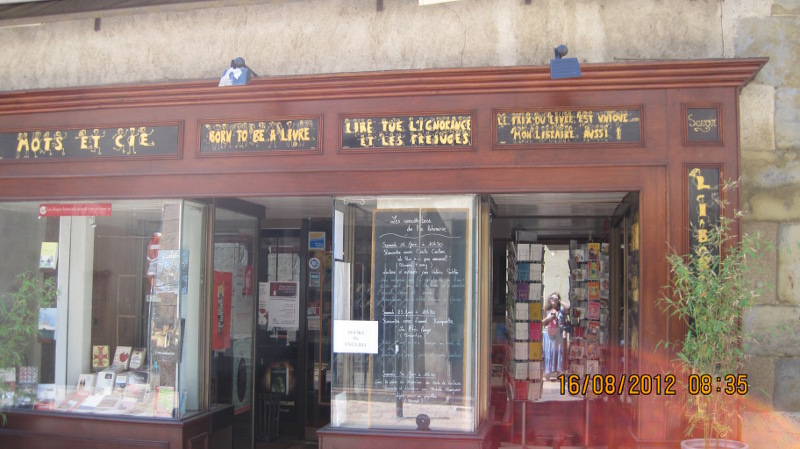 We headed towards a church within the city walls. Just before we arrived, we came upon this curious little bookshop. To be honest, it and the female owner reminded a bit of Bernard Black's shop, except this French woman was far more considerate of her patrons!
The church we were heading towards turned out to be closed.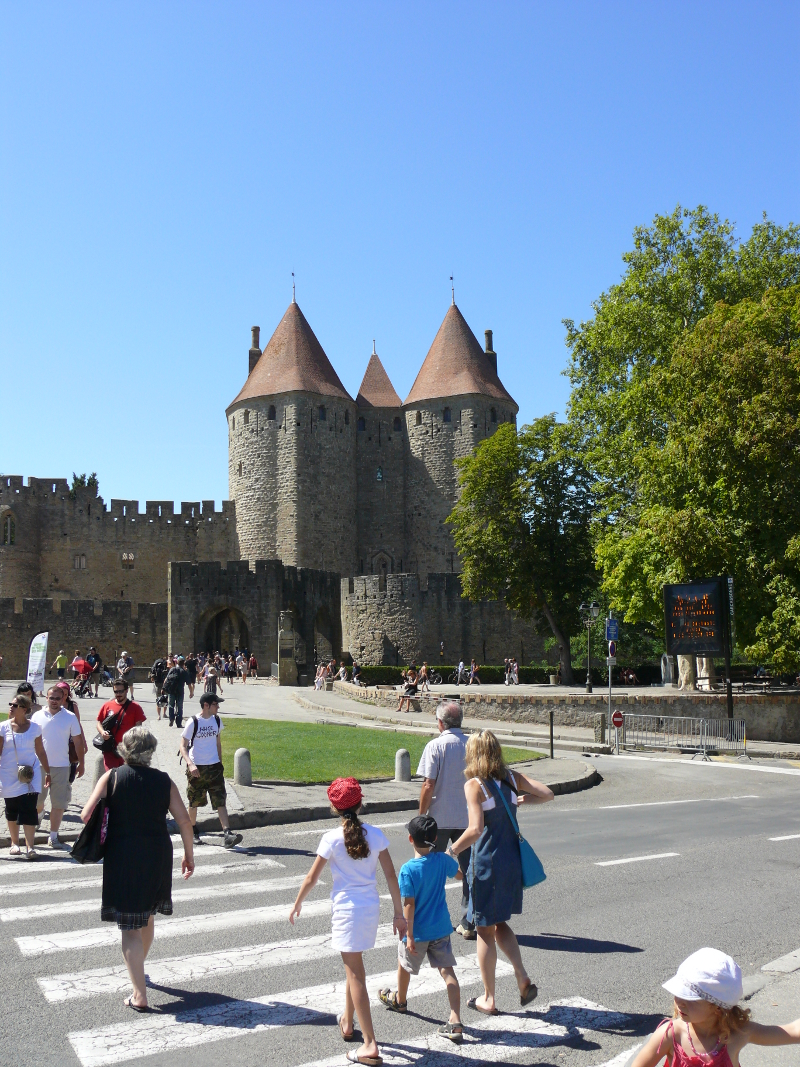 Next stop was la cité of Carcassonne. Can you say tourist trap? I wonder if these people realize that they're visiting a place where life was
kill or be killed.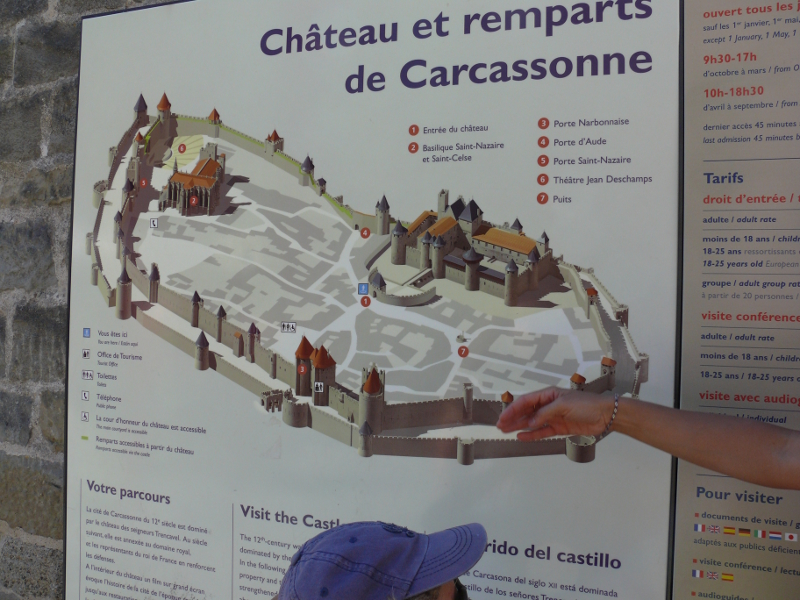 After fighting down the main street, which was also uphill, we came to the castle. Outside the gates is this map. The previous photo was taken outside marker no. 3. This one was shot at marker no. 1.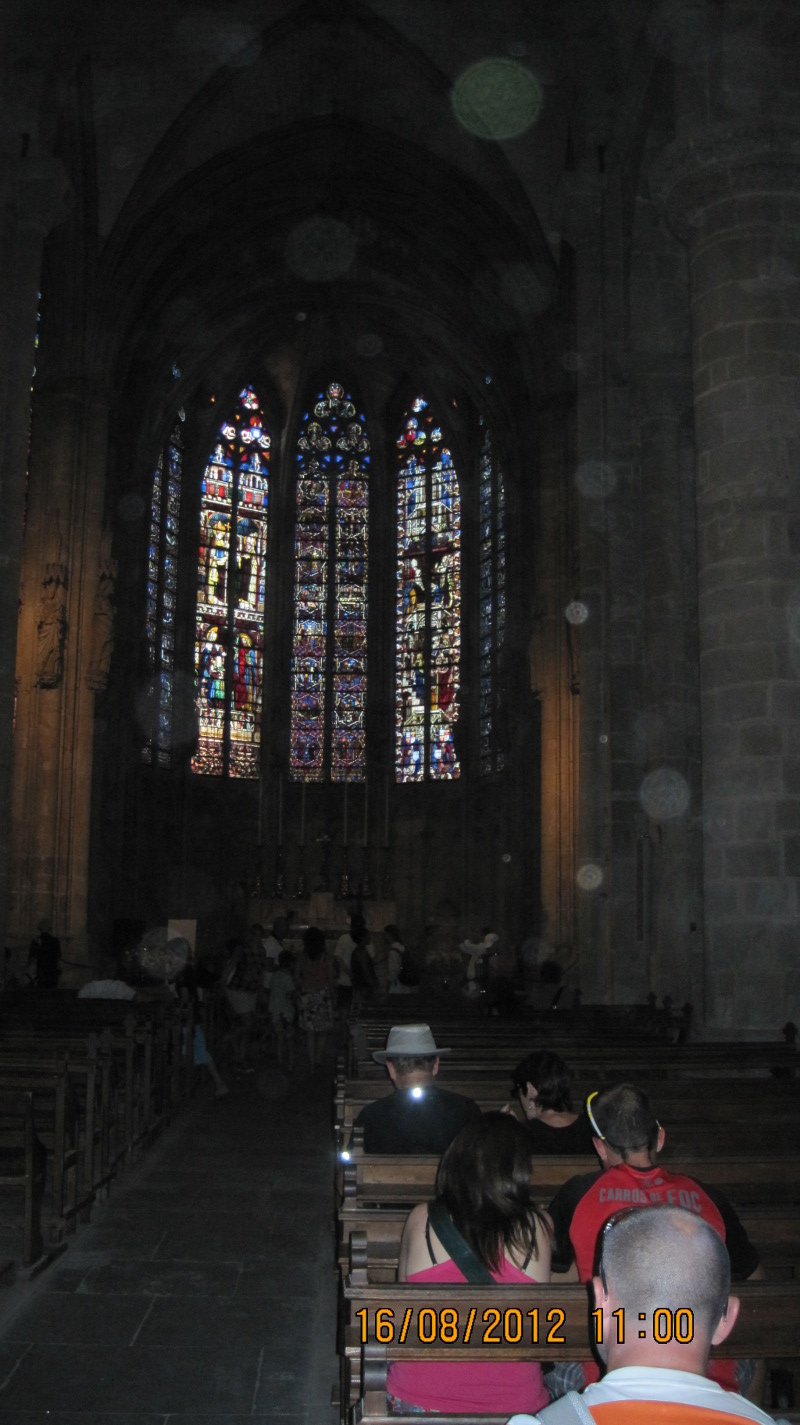 We then headed towards the church (marker no. 2). It was a big, old Catholic church inside.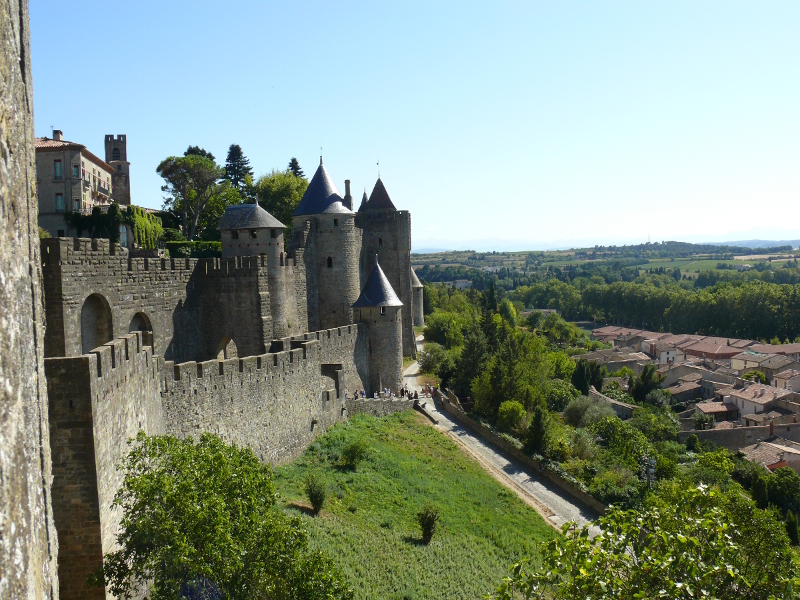 Behind the castle there were a good view. Click for a larger photo.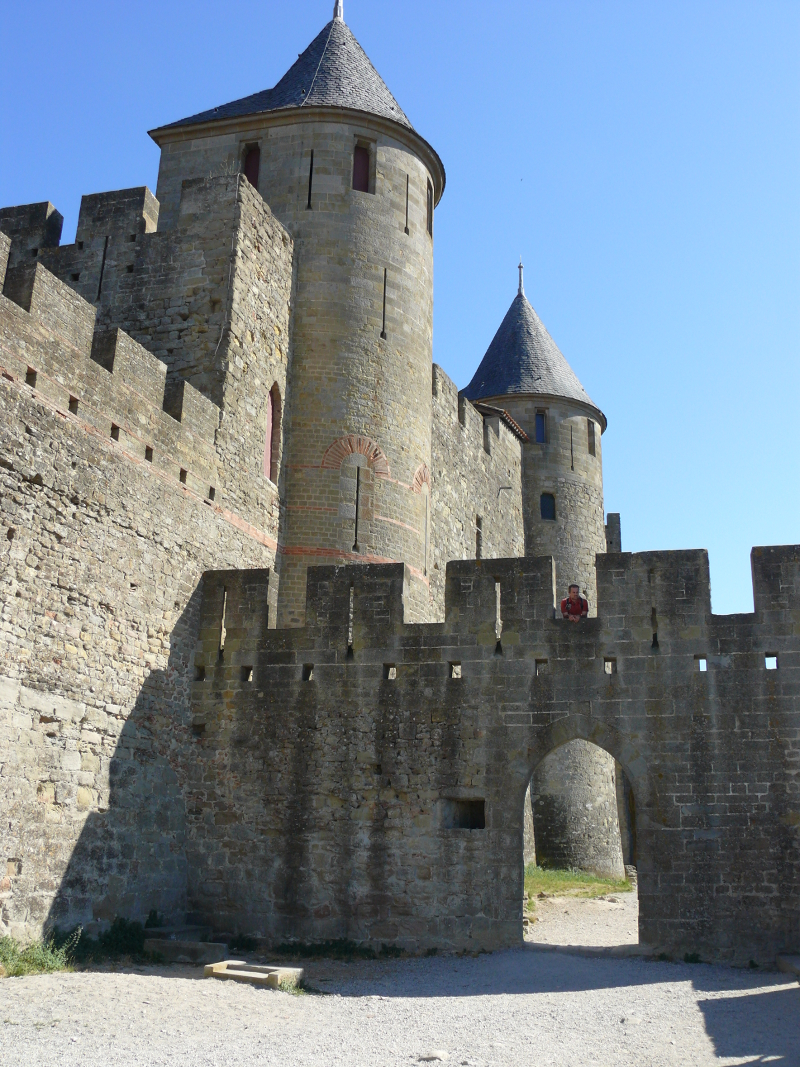 We continued along the ramparts. Here's a shot looking back at the rear of the castle. Click for a larger view.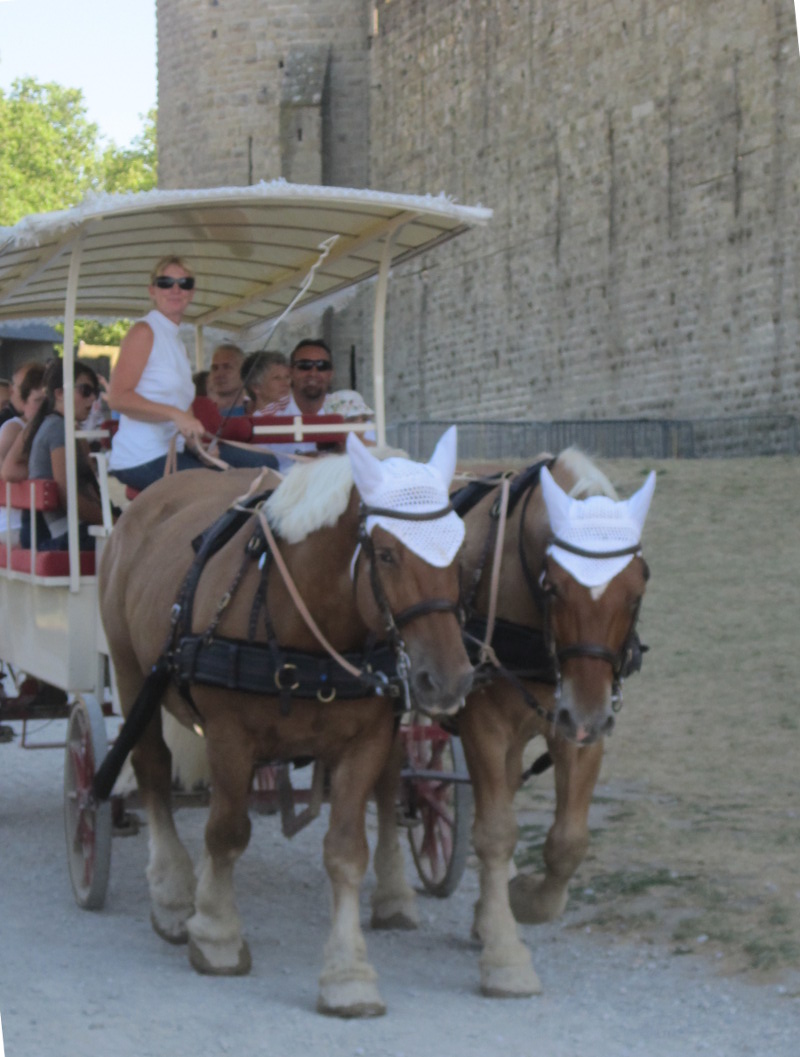 Here are some happy people taking a wagon ride around the ramparts. Below are more shots.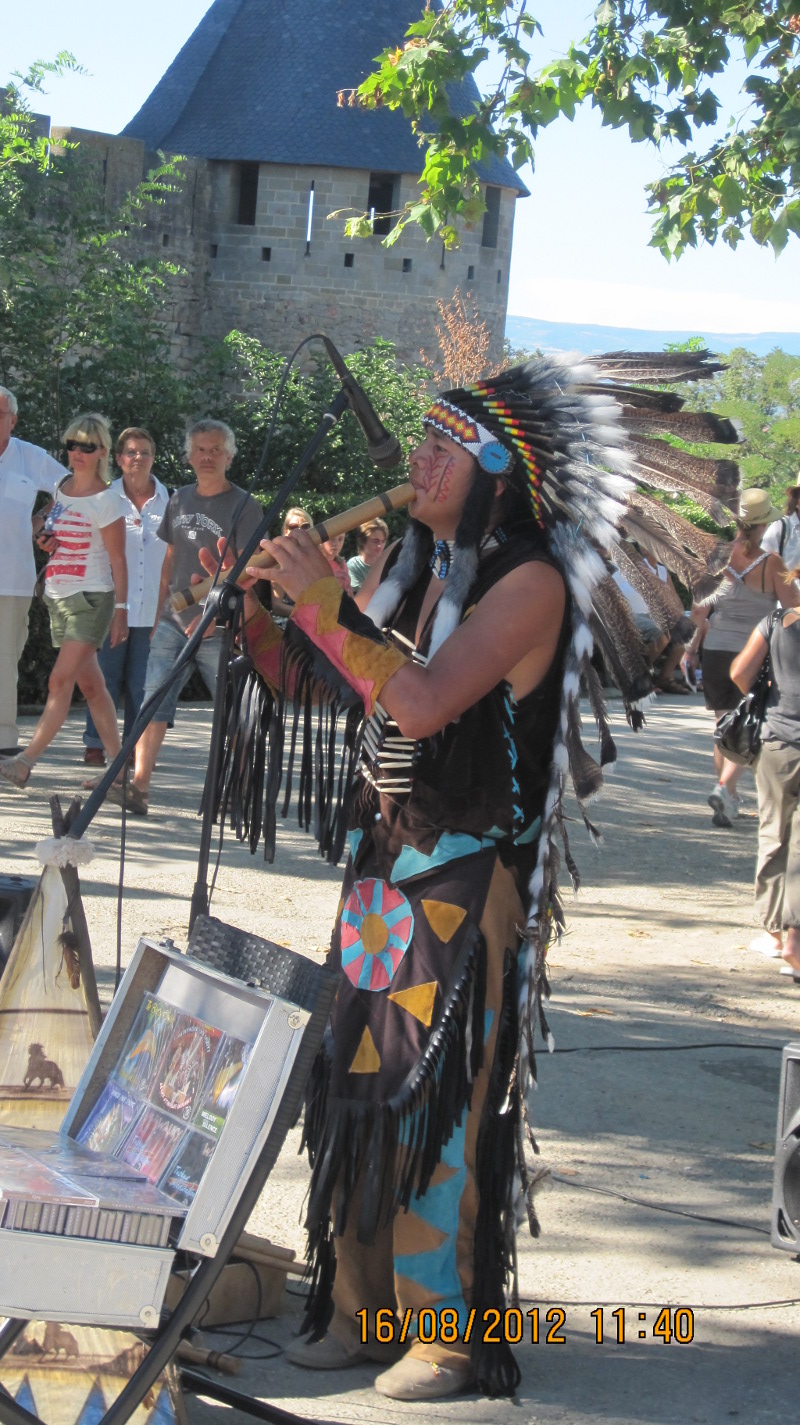 This Indian musician outside the main gate was quite good. Far from home, though.
As we were leaving la cité, we saw this cool trike!
So I introduced Mom to the gourmet food associated with traveling with one of her sons. Wine is dirt cheap in France. The junk food is about the same quality as anywhere.
Here's what the room looked like. Useable with an ensuite bathroom. French TV presenting the stereotypical programming.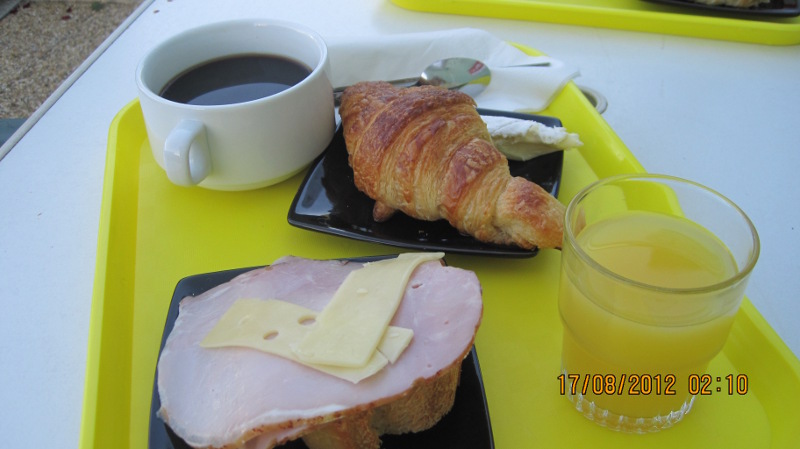 The Fasthotel's breakfast is very significant and decidely French. It was something to look forward to in the morning!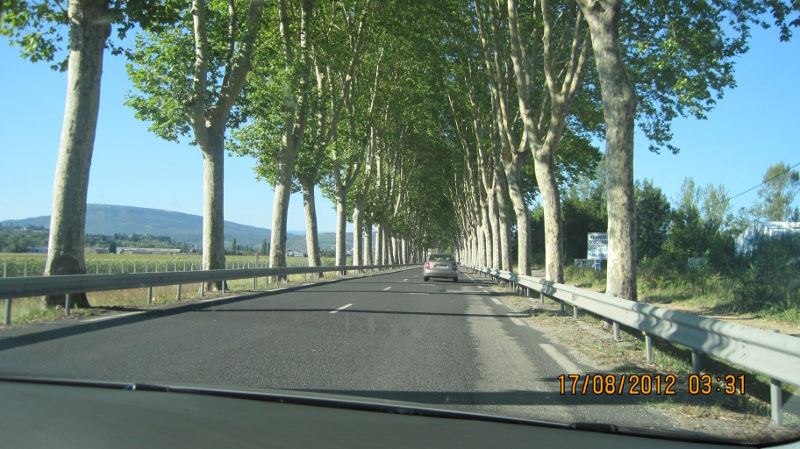 The famous tree-lined roads that are so prevalent in France are not abandoned in the south.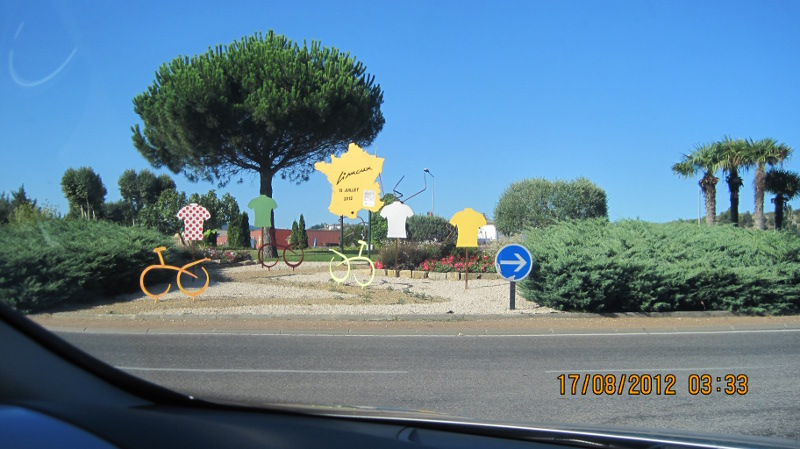 Here's a roundabout in Limoux (pronounced Lee-moo). This town will come up again in further down this page. In this photo you can see artwork of bicycles and a date inside an outline of France. The 15th of July, 2012 marked the beginning of the fourteenth stage of the Tour de France. I believe the stage started at this roundabout and terminated at Foix, another town we visited.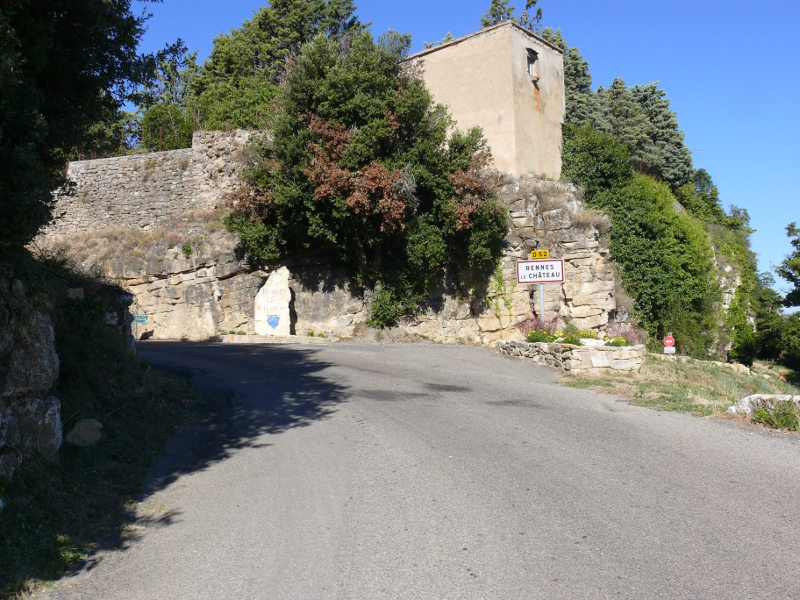 After driving up a twisty and narrow road, we arrived at Rennes-le-Château. This small town at the top of a small mountain is known for a buried treasure discovered by a 19th century priest named Bérenger Saunière.
Briton Henry Lincoln, while vacationing in the south of France, read a book describing the possiblity of the priest's treasure. Upon his return to England Lincoln worked with two others to write a novel explaining the clues left behind by Saunière. This was broadcast as documentary on the BBC in the '70s.
The idea was embellished by a New Hampshire resident in 2003 and became a best-selling novel and later
a blockbuster movie
. The idea is quite controversial: Jesus Christ was married to Mary Magdalene and she bore him a son. So little Rennes-le-Château is a site of a modern reawakening. Heady stuff, eh? And you thought we were on vacation!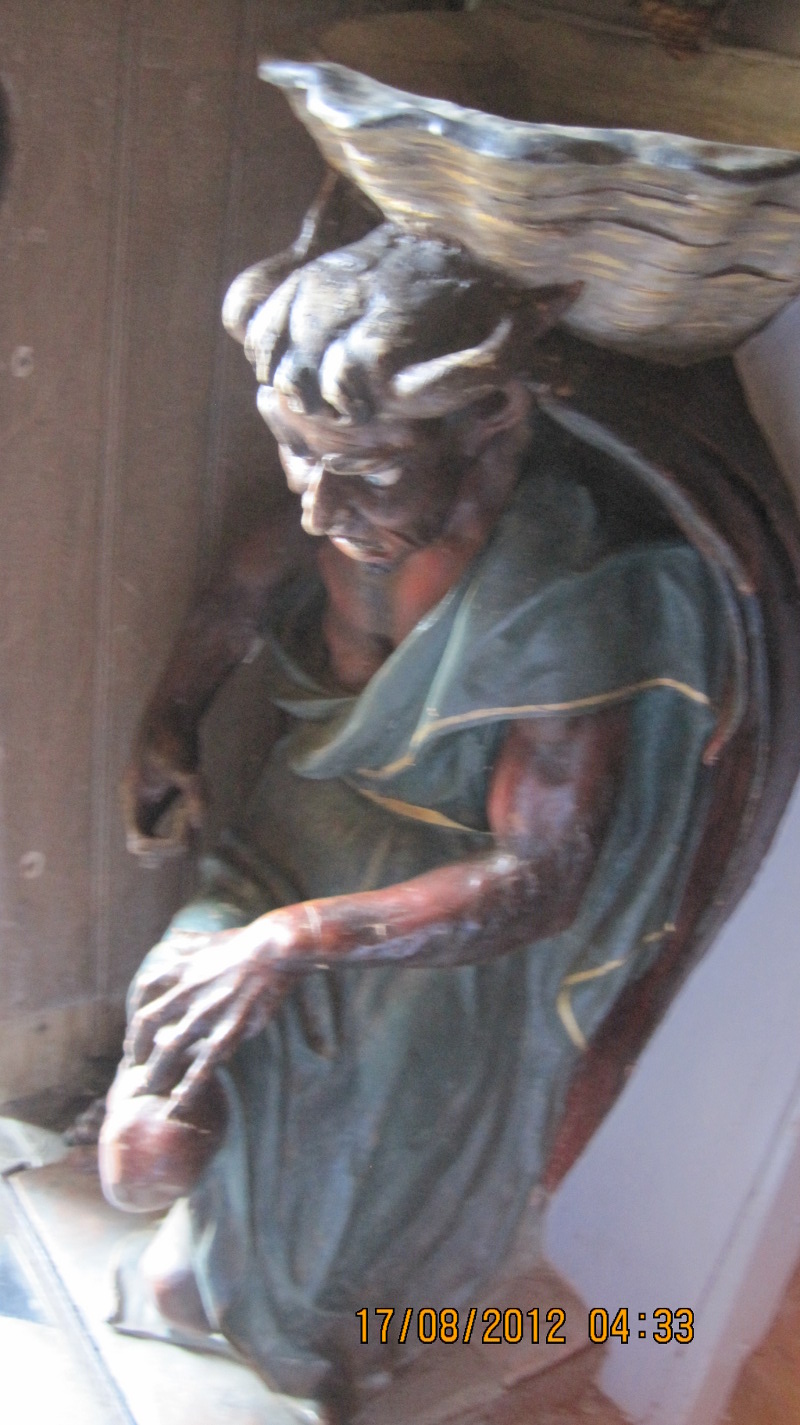 Despite the likes of Jules Verne leaving clues about the Rennes-le-Château mystery in books, this tiny settlement is largely just a chapel, a few cafes (of course, we're in southern France), a tower, and a few shops.
We arrived so early that the shops were just opening when we arrived on the scene. So we visited the chapel dedicated to Saint Mary Magdalene. Immediately as you enter, you look down on the devil angrily bent over under the holy water basin.
Inside is very small: about six rows that would fit at most six people each. Above are some thumbnails leading to full-size images of this impressive little chapel.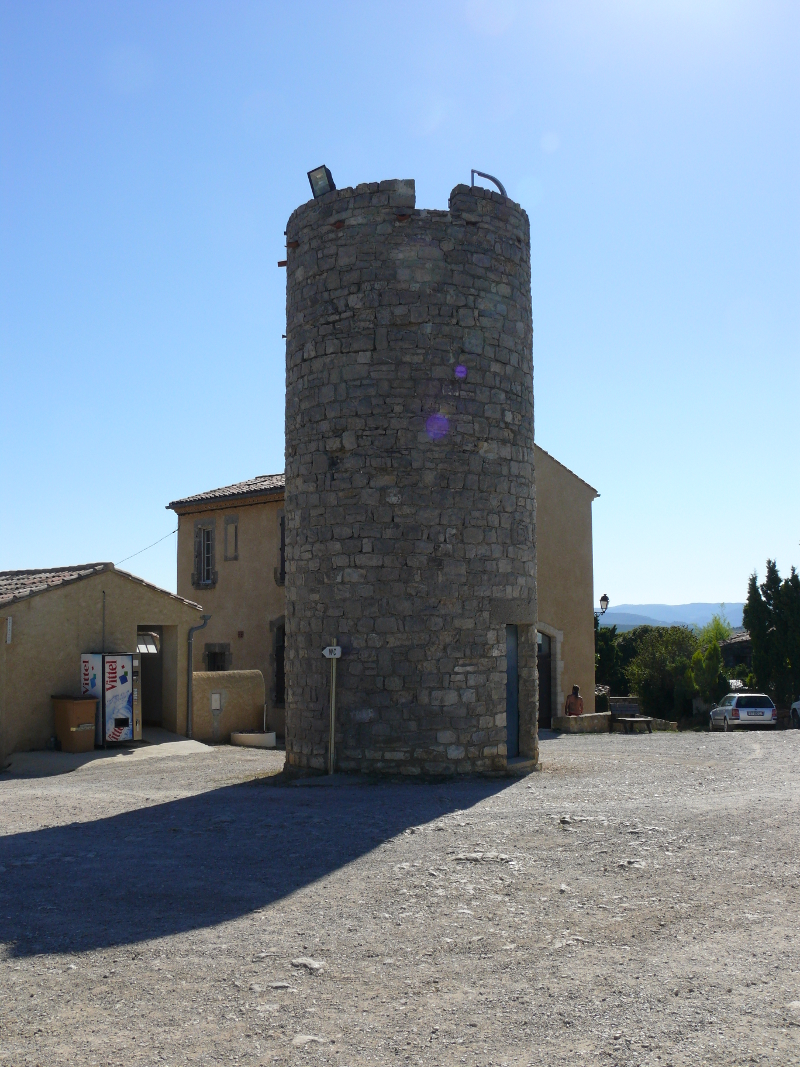 Near the top of Rennes-le-Château is this small round tower.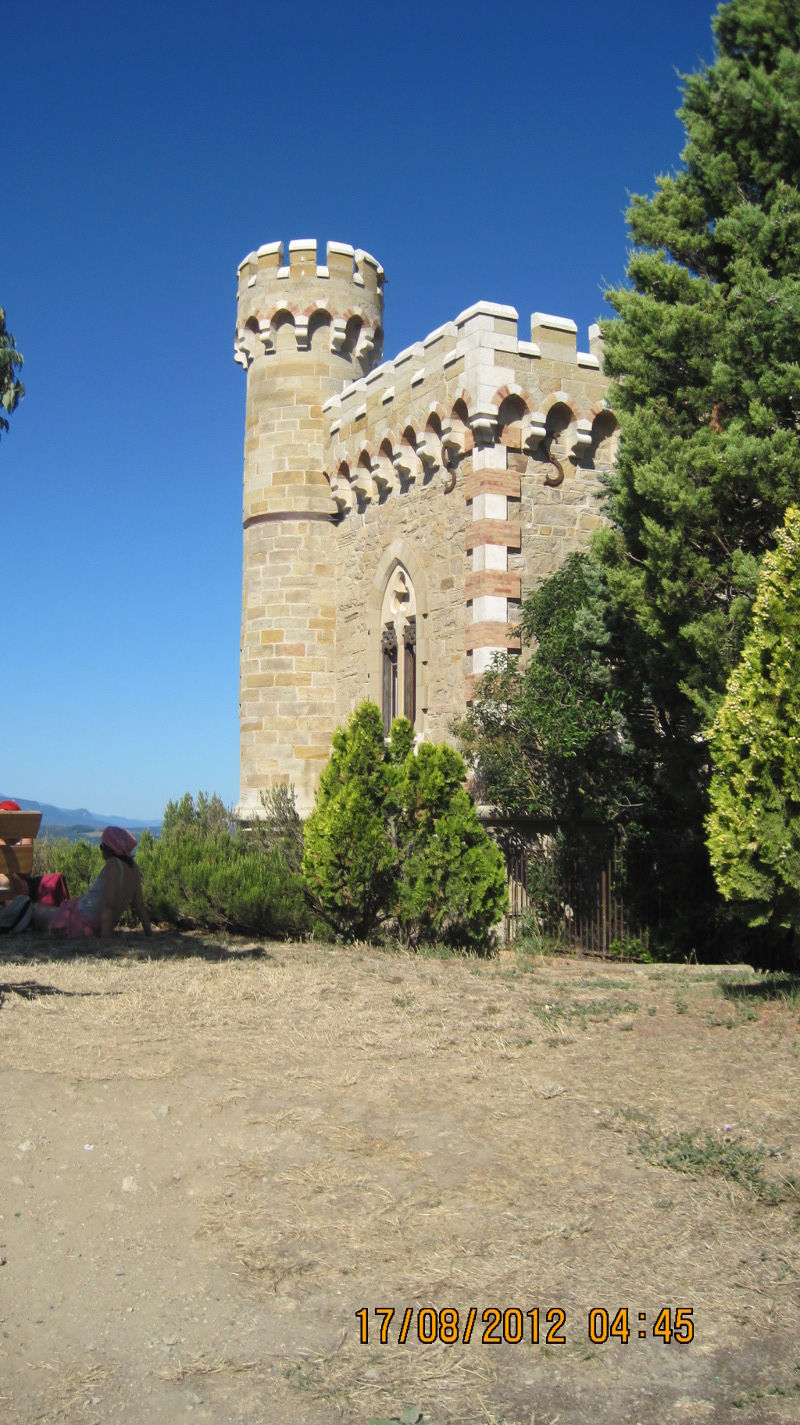 Here's the Tower Magdala.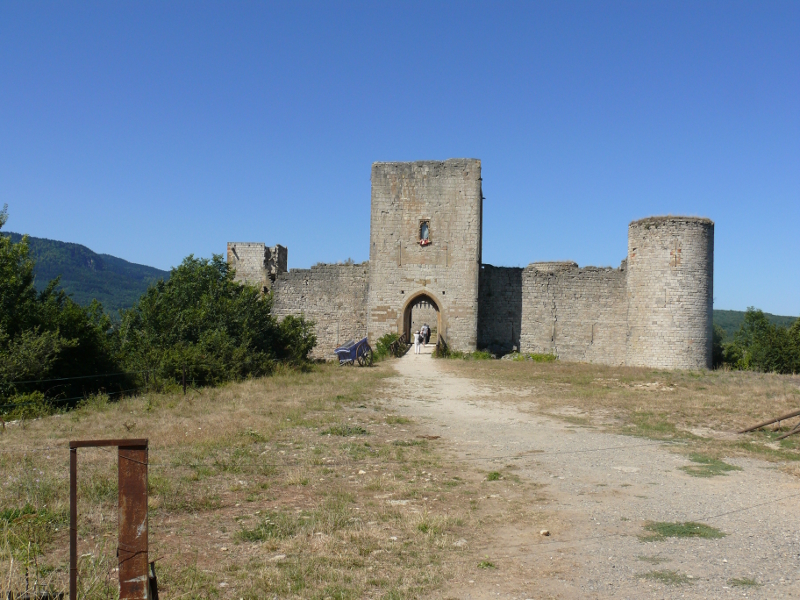 From there we set out across Cathar country. Here's Puivert castle. We had to drive up a somewhat tricky dirt road to get there. Rather than paying to walk around in a destroyed castle, we returned to the car.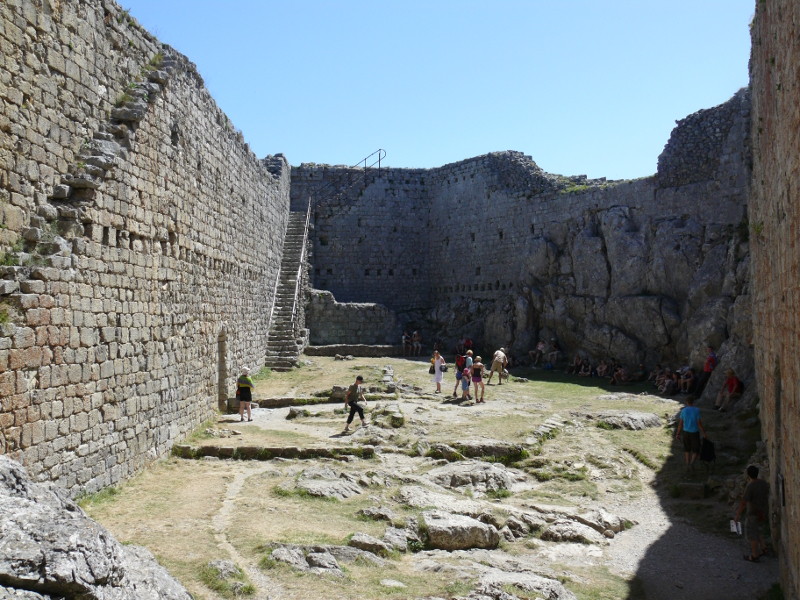 This day turned out to be quite hot. It must have been in the mid 90s and the sun was very strong. I wondered if I'd make it to Montségur. This little castle reaching for the heavens was the last stronghold of the Cathars. Inside, not much is left.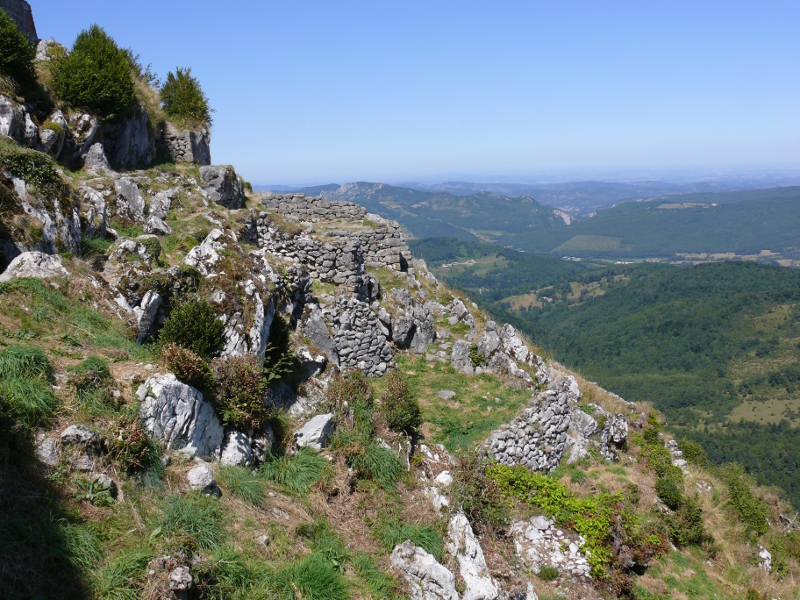 This is where the Cathars' houses were.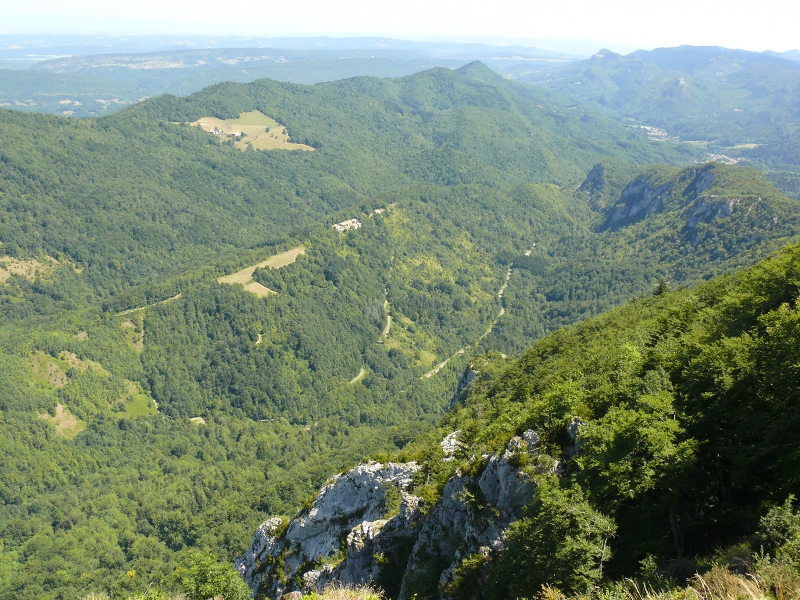 The drop is as sheer as it looks. There was only one way to get to this fortress. Click for larger image.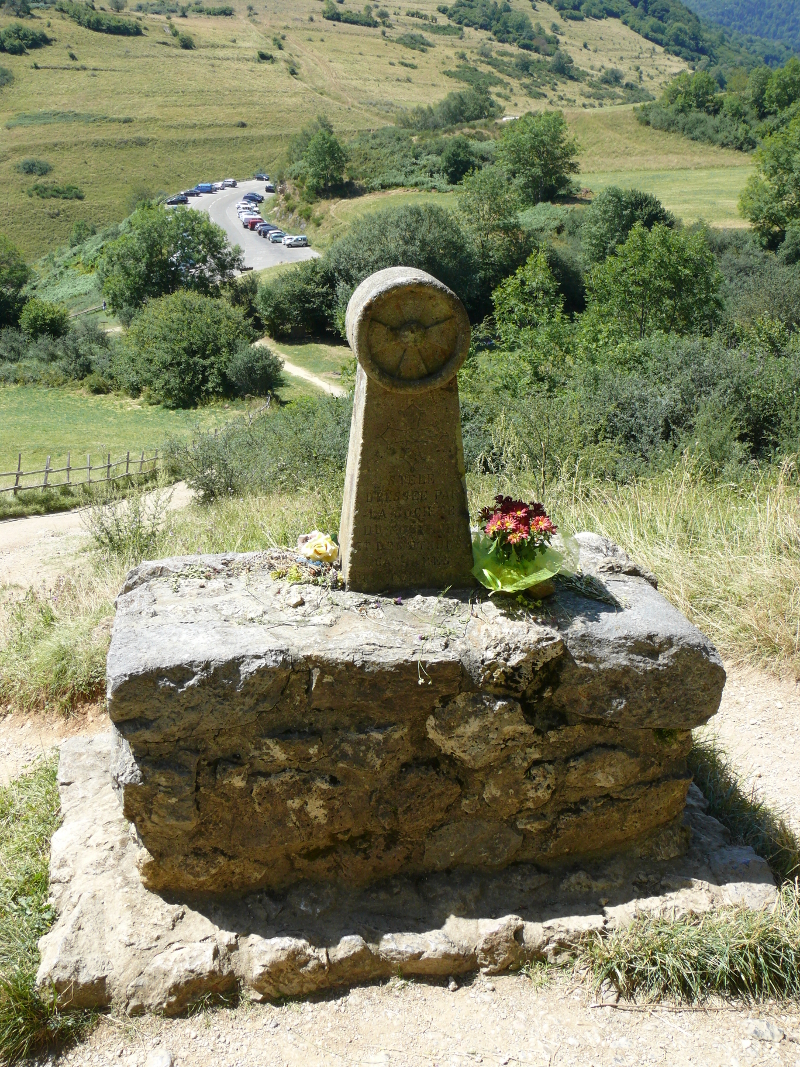 Near this spot 205 Cathars were burned alive after a successful siege drove the Cathars out of Montségur. Their crime was not renouncing their faith. This monument reminds us of this terrible act. This marked the end of the Cathars, at least according to the Catholic church.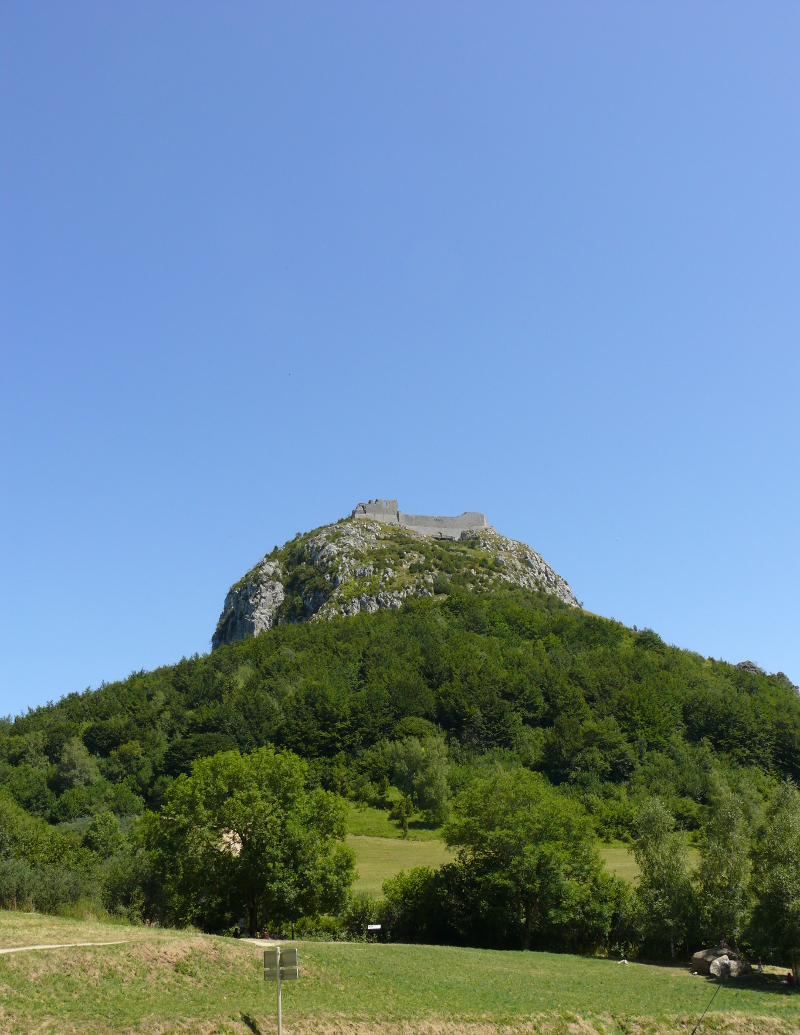 I think you can now understand why I was so winded by climbing to the castle. It's tough hiking in flipflops.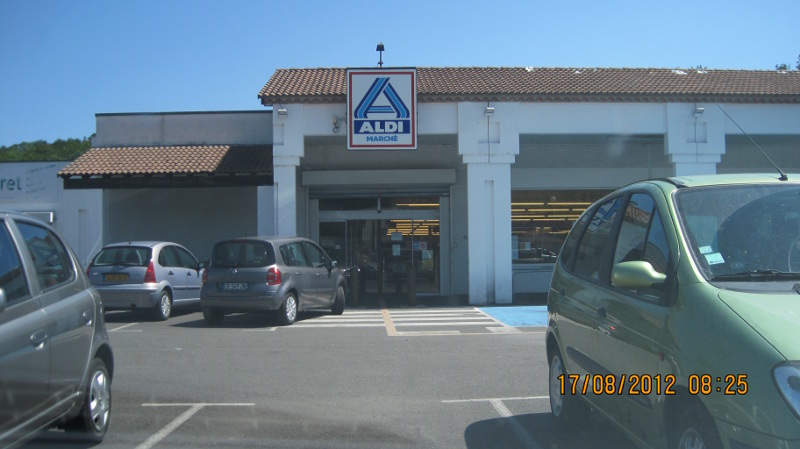 Familiar supermarket? We stopped here to get picnic makings. Like the French parking, too.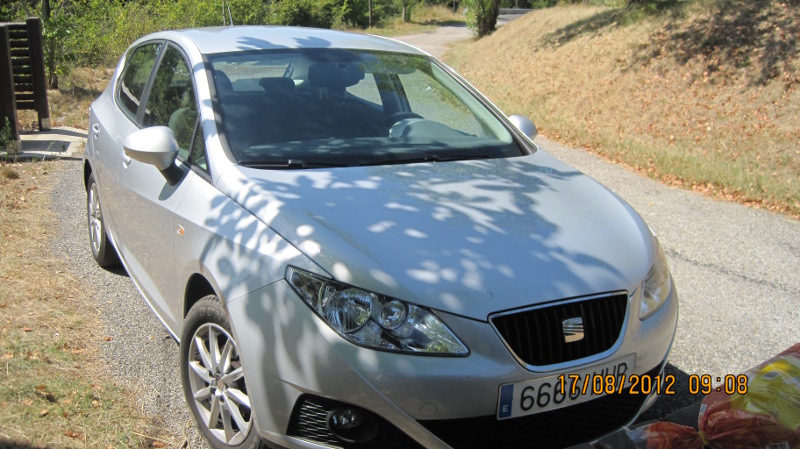 Here's our car. "The dog tried to bite that too." It's a Seat (pronounced SEE-ahht). Spanish car. Not bad. Not as good as the
Renault Clio
that Bob and I rented when we visited northern France.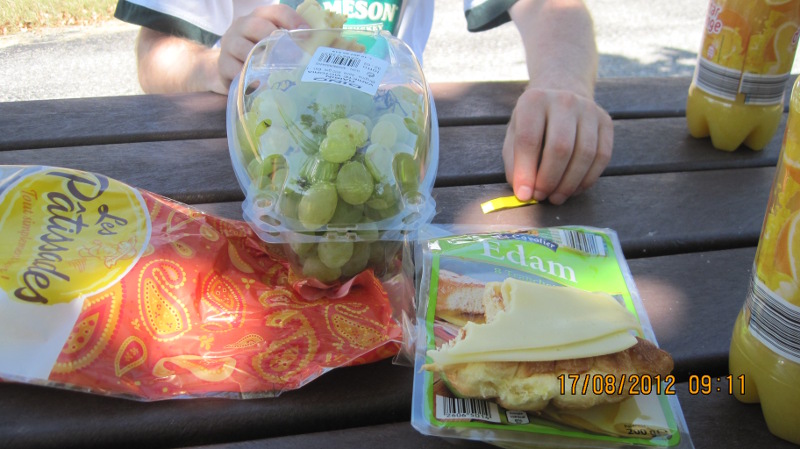 The picnic food.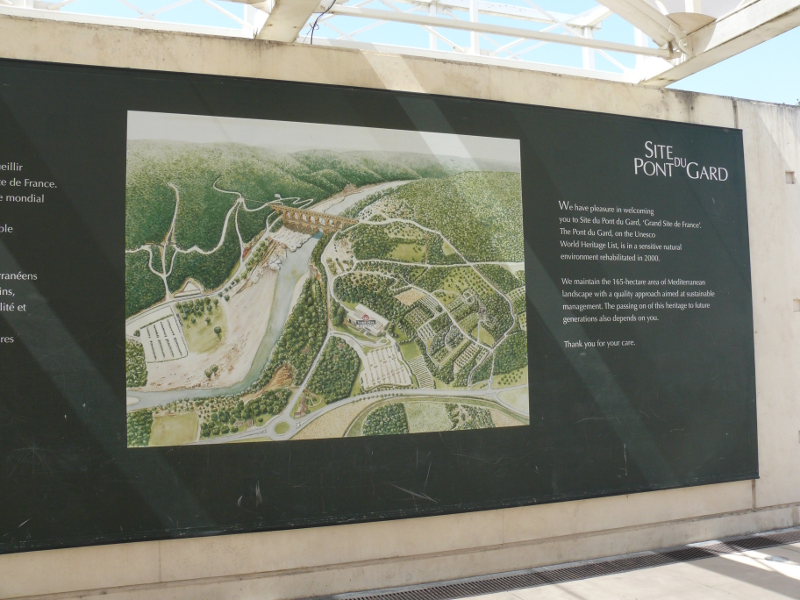 The next day, after our excellent French breakfast, we set out for a Roman aquaduct. It was pretty far afield, however, Mom humored me and didn't complain. This is what I really wanted to see in the south of France.
After several tolls, we arrived at Pont du Gard. The welcome center was cool because water was sprinkled from the open ceiling. Good thing too because that day it was 105 degrees and sunny.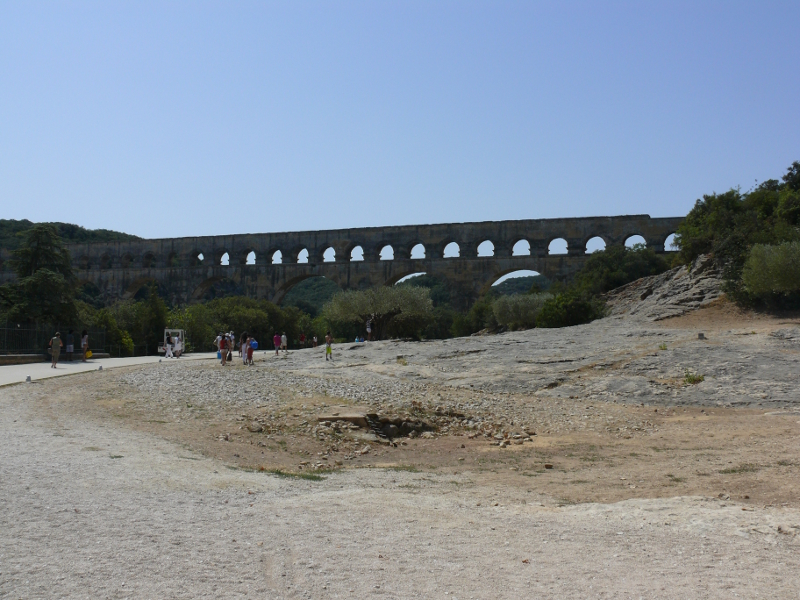 I recall Mom asking if we'll notice this aquaduct. Ahem... There's the answer!
| | |
| --- | --- |
| | |