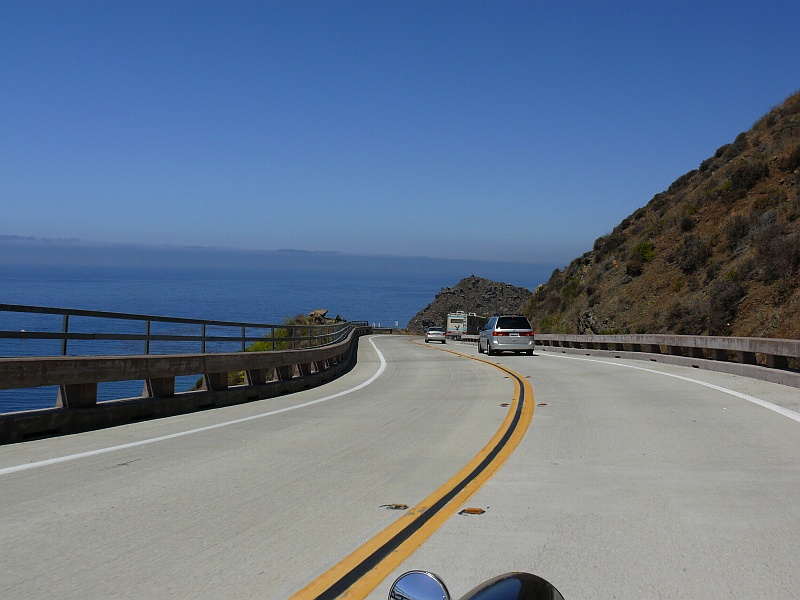 I set out early one week day morning and missed most of the rush hour traffic. After I was comfortable that the car wouldn't have any trouble I raced a Camaro near Vandenberg AFB along PCH (Pacific Coast Highway).
I filled-up in Guadalupe, which is a cool little town west of Santa Maria. Driving through the town on the return trip, I again admired the main street buildings, farmland, and good vibe.
After leaving San Luis Obispo I found myself on a twisting two-lane highway clinging to the edge of California. Unfortunately, I also came across RVs and lines of cars crawling along behind them. Many times the drivers of RVs and cars pulled over to let me by!
This surprised me. Obviously I could go much faster than they could, but I was still impressed by the consideration. One RV didn't pull over and I was stuck behind it and six other cars. I got a long passing lane and overtook all seven vehicles by accelerating from 40 mph to 90. Passing acceleration: check!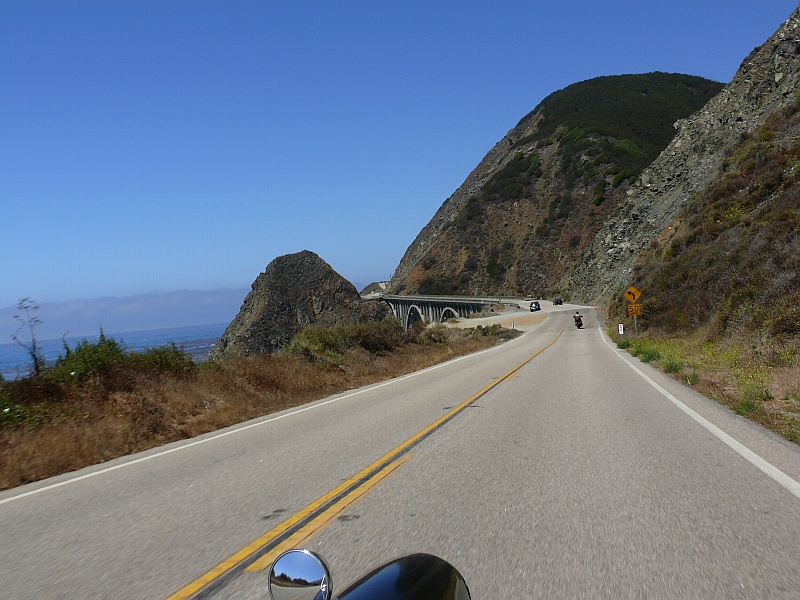 I crossed some cool bridges. This terrain is typical of the central California coast. The speed limit of the road is 55 mph and I found it difficult to average 45.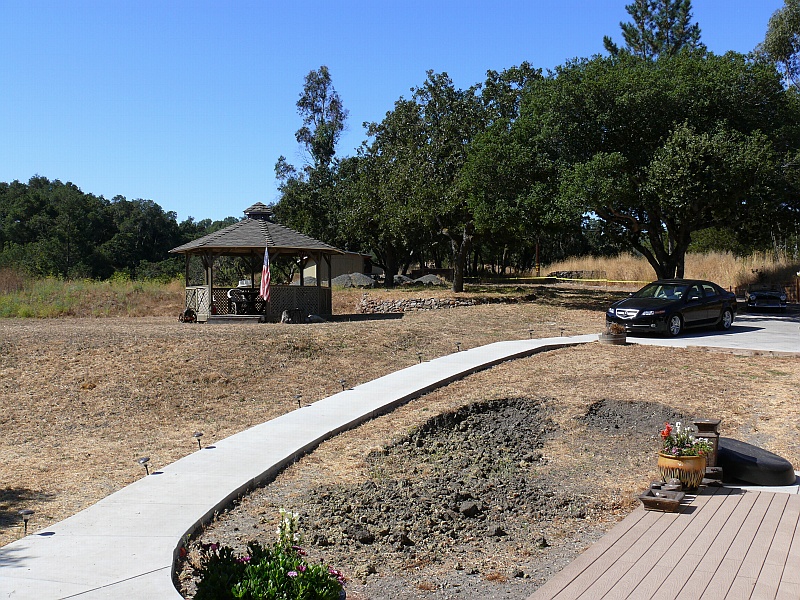 After nearly twelve hours behind the wheel I made it to Santa Rosa. A buddy of mine lives amongst vineyards outside of this northern California town. Here's the view from his porch. I got to drive over the Golden Gate Bridge. It really is a feat of engineering!
I was also amazed that San Francisco was foggy and chilly while Marin County was 90 degrees and sunny. The car drew quite a number of looks in Frisco.
In Santa Rosa my friend and his wife took me to the
Bear Republic Pub,
a tour of the
Laguntias brewery,
(which has a brand new German-built automated brewing system)
Williamson Winery,
(who offer food tasting at the same time to show that wine can accentuate food)
Toad Hollow Winery,
as well a plethora of restaurants and small brew-pubs.
I also got to see "his" '60s Vette. He found the car parked in high grass and his wife's father explained that a debtor had left it as collateral. The car's been there for decades. After he gets the registration sorted out he's going to get it running.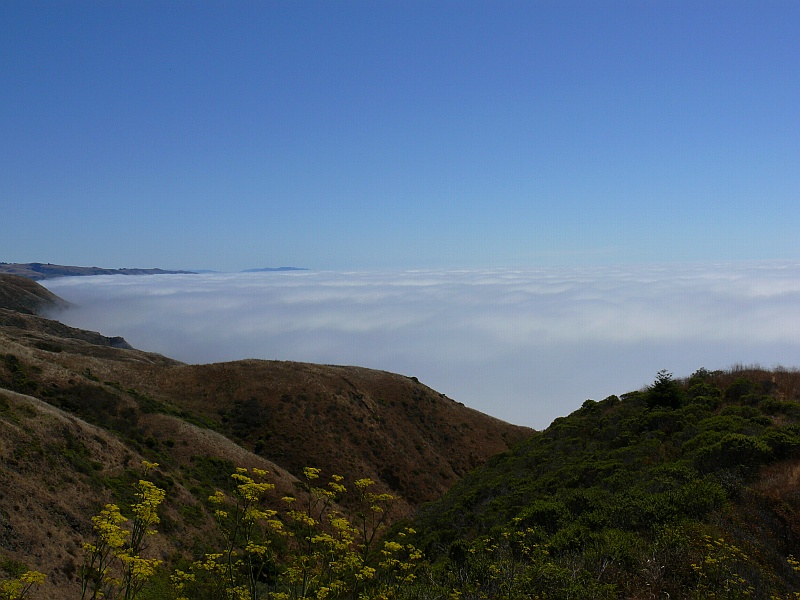 After staying a couple of nights, I resumed my northward trek. Along the coast it was a bit chilly and created a very cool effect. Those are clouds sneaking up the side of the cliffs!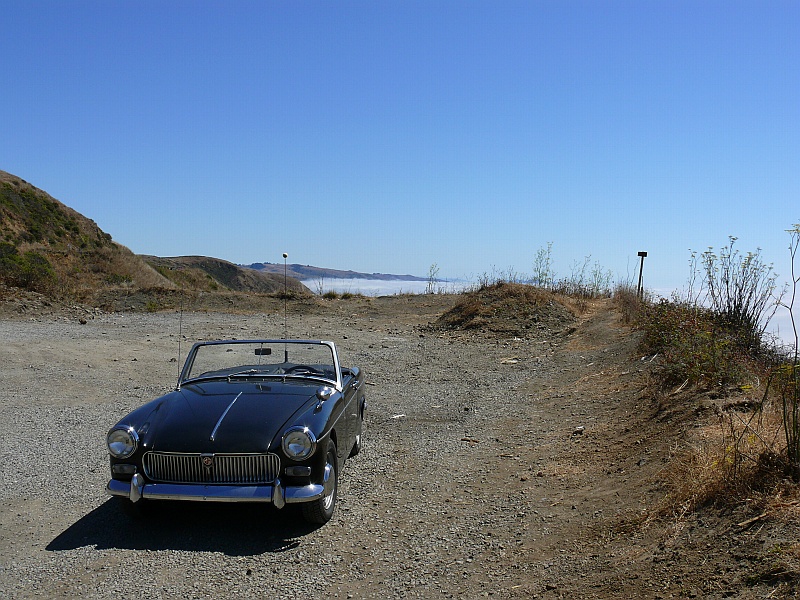 The MG proudly gleaming in the sunshine.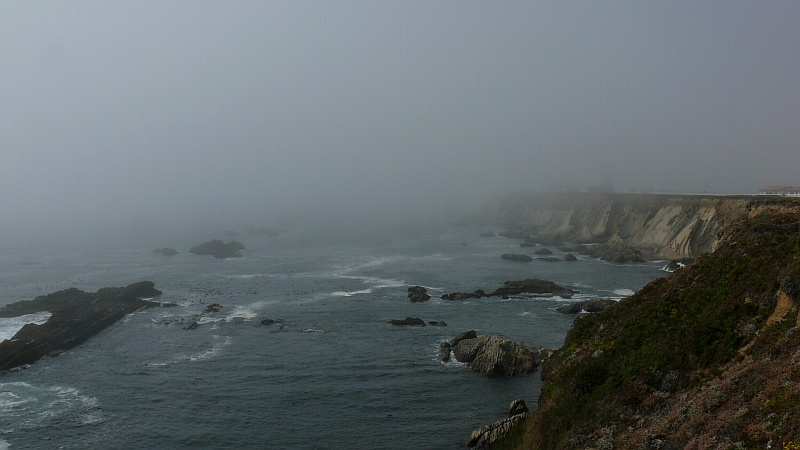 I turned off the PCH and headed out towards a lighthouse near Point Arena. It was fogged in and I could just see the lighthouse. Click for a larger photo and look for the lighthouse.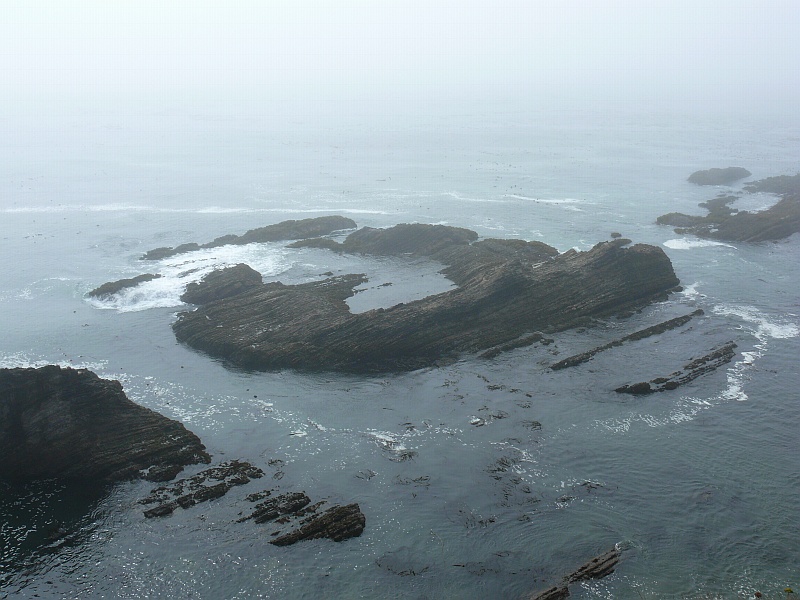 Down the cliff side were these unusual rocks.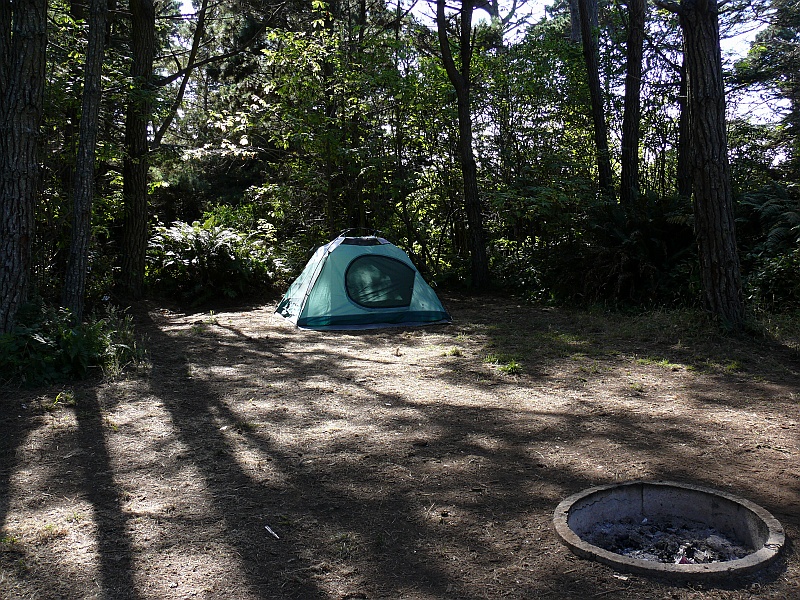 I stopped in the early afternoon because I was hung over from the last night. I stayed in this cool little campground in Mendocino, about ten miles south of Fort Bragg, California.
I talked to the guy (Jeff) running the place and a guy staying there watching a camper for a friend (Manny). The 'ground had showers & toilets and was quiet. I was content and turned in early.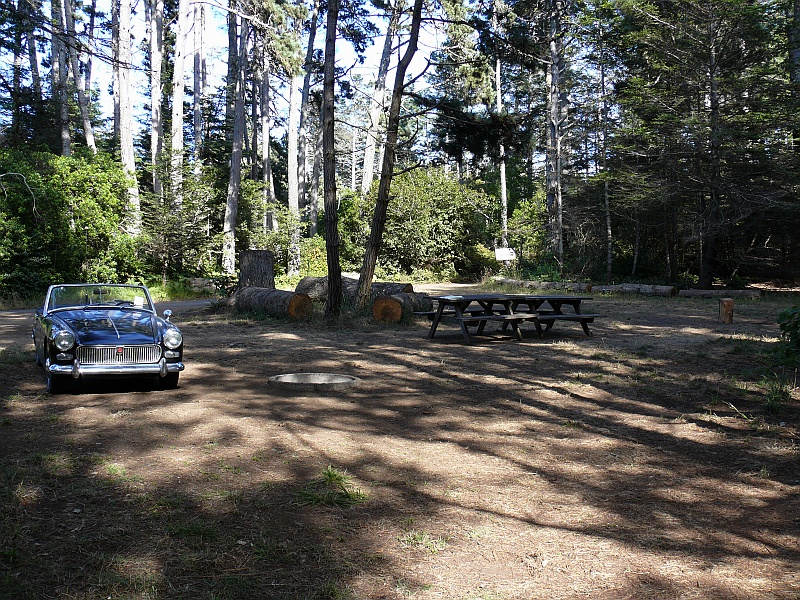 Here's the view from the tent.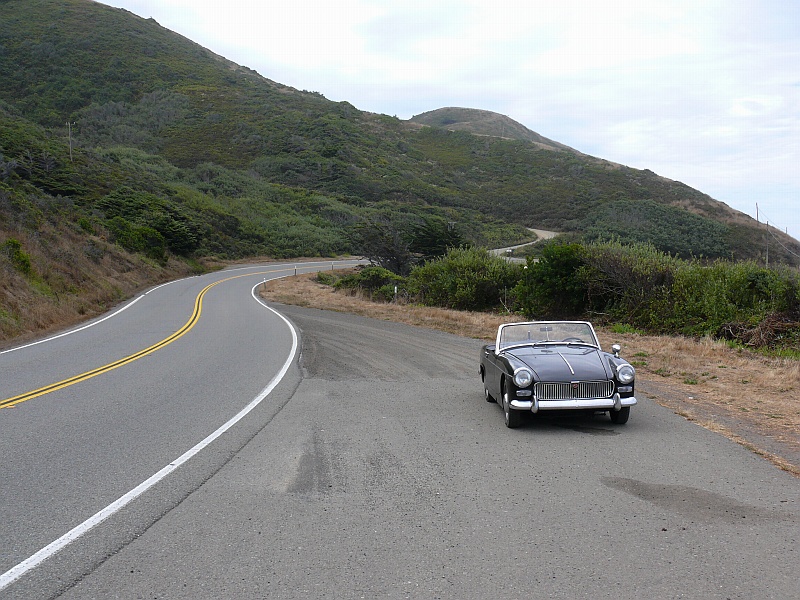 The next day I didn't stop for food at the cafe that Manny worked at. I was anxious to get going. So I stopped in Fort Bragg for snacks and food for the boombox (batteries). The road remained twisty and perfect for the MG. I passed many cars and trucks.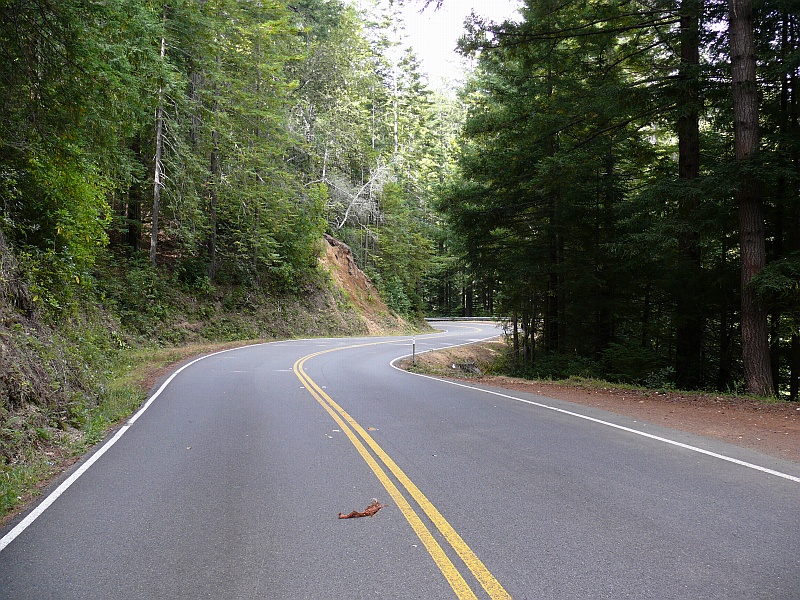 As the PCH abandoned the coast and headed inland to Route 101, I got to twist through the redwoods. I saw little traffic. One logging truck either didn't see me or refused to move over so I passed him illegally. The driftwood floating around was red and not grey or white.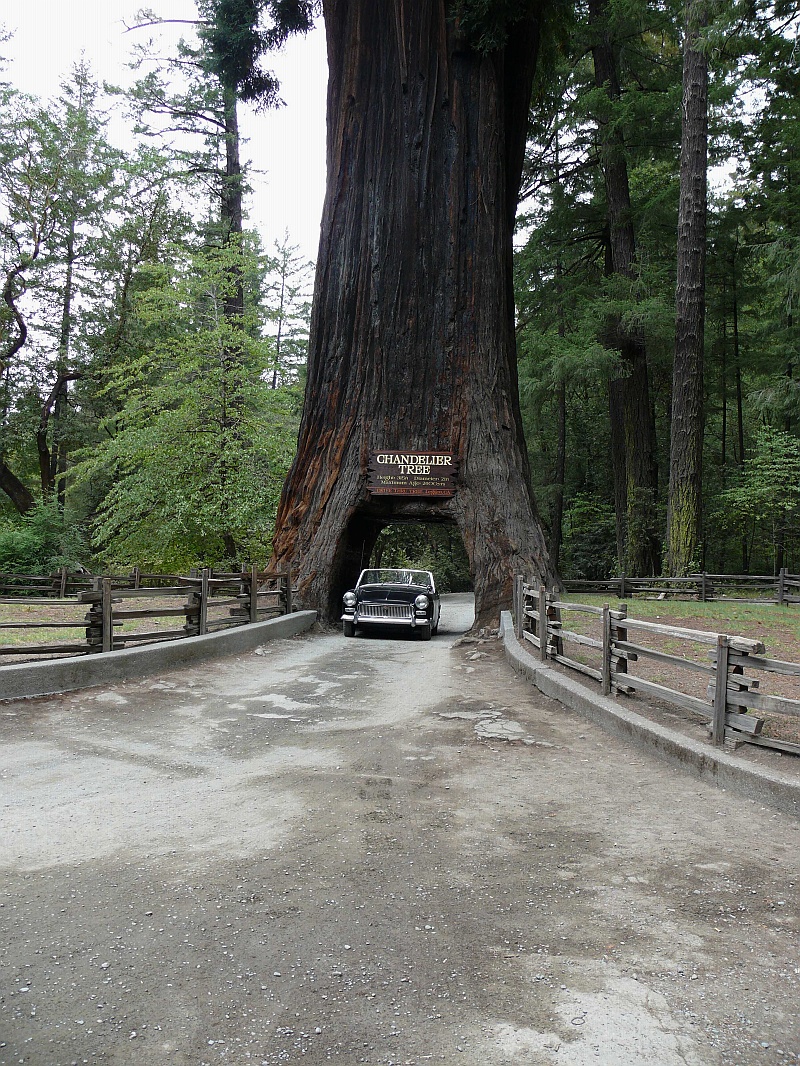 Like everyone else, I had to take a photo of my car inside a tree. Unlike other people I could get out of my car while under the tree!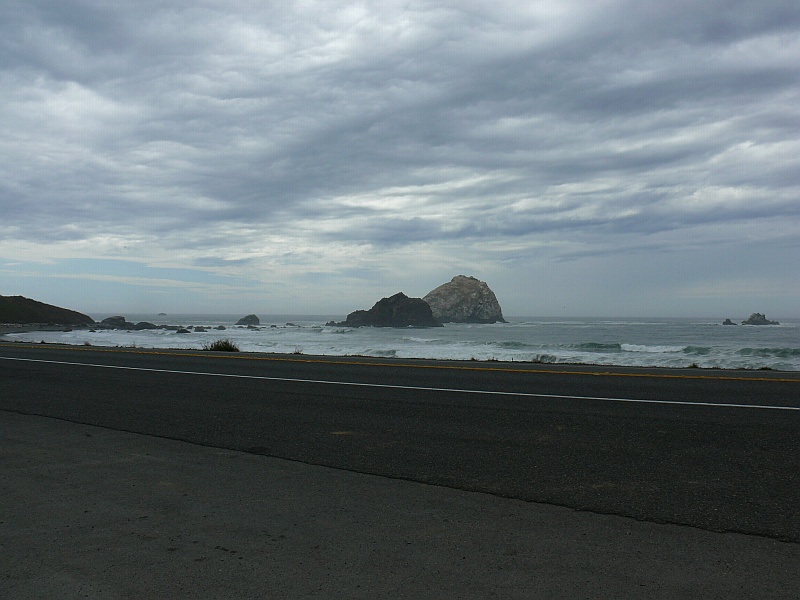 I think this is still California but it looks like the stereotypical cloudy, wet Northwest. Click for a larger photo.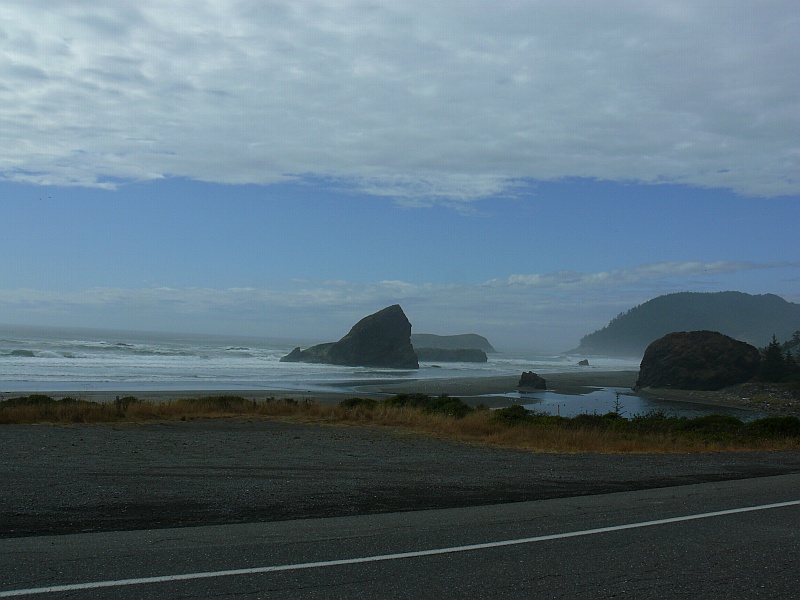 I ran with a late-model Corvette through the rest of California and into Oregon. The guy behind the Washington-plated car asked if I had changed the engine in the MG. I said "yes" before roaring off from a green light.
We raced along Route 101 until I had to fill-up in Coos Bay. The engine had spun a quart of oil out the rear main "seal". I need to get the upgraded replacement seal sometime.
I am disappointed with Oregon. The people are busybodies. I was honked at several times for looking at a map while driving. I'm sorry bud, but I can do two things at once, are you jealous? Also, the speed limits in towns are too slow. 15 or 20 mph on a divided highway with buildings more than a stone's throw away is too nannying.
Also, you can't pump your own gas in Oregon. Like the "smokestack state" it's some dumb law to prevent people from filling up the storm drains with diesel fuel. Protecting yourself from yourself...
People are also grumpy and never smile in the "nanny state" maybe it's because the guys don't get any sex. You'd think in the "beaver state," they'd get some action. But no, Oregonians seemed too backwoodsy for that. And I know I'm spoiled by southern California, but people in Oregon are ugly! Maybe it's because they're unhappy and won't smile?
While I'm ripping apart the "rodent state," what's the deal with all the traffic signs? As soon as I crossed the border I read signs warning me that such-and-such is illegal. I half expected to see a sign warning that murder is a crime! Even the speed limit signs are strange: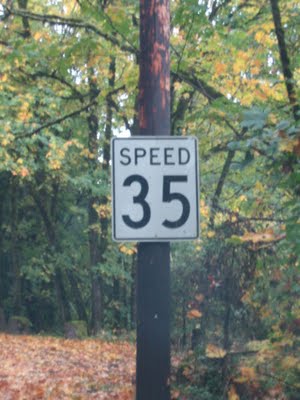 So I'm supposed to keep the car at 35 no matter what happens? Or is this merely a guideline? Is 35 economical and the state feels that I should drive at this speed to save the planet? What if I don't want to? Is there a law against going slower? I know there's a law against going faster. I got a speeding ticket and was told it's not a crime. You mean I don't have to go to jail with the rapists and murders. Well, thank you for that!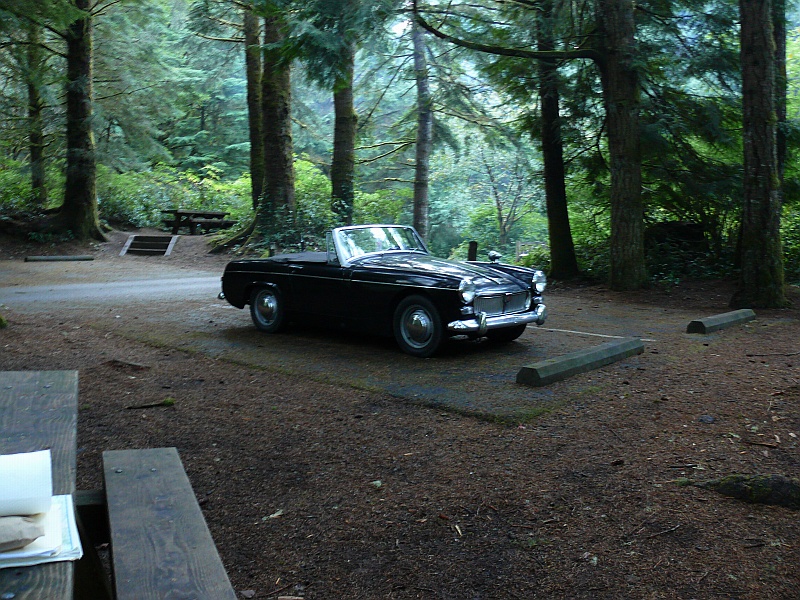 I stopped at a state park near the dune area south of Florence. The park ranger was grouchy and told me that my car needed a tune-up. I politely said that it's high performance so that's why it sounds like that. I spoke with him for about twenty minutes. Not once did the guy grin or crack a joke.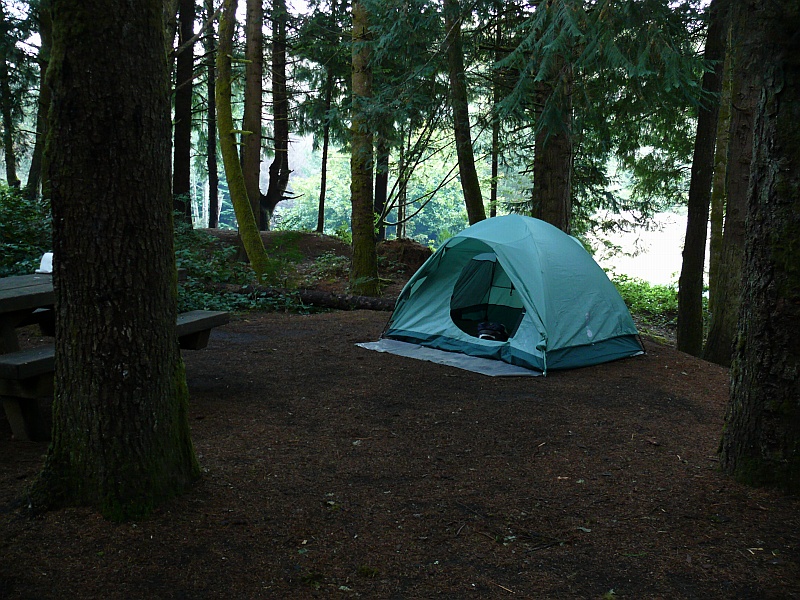 I was settling down to bed when two suvs showed up and parked in the single-car slot next to the MG. They, then proceeded to unload the Ark. I don't mind people. I guess I was just not too thrilled that they couldn't use the empty parking spot directly across from the campsites for one of their vehicles. They finally shut up around midnight.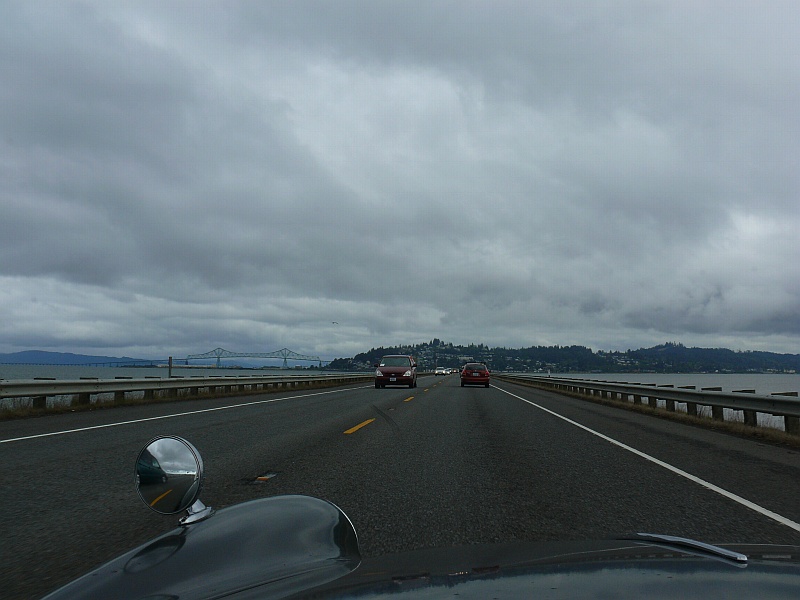 The next day I continued on to Astoria. This small city in the northwest corner of Oregon is noteworthy to people my age because the movie Goonies was filmed there. The city is pretty with lots of brightly-colored houses terraced on a peninsula between Oregon and Washington. It seemed calmer than the rest of the "grumpy state," perhaps the influence from Washington state helps? The scenery was impressive. There was a downtown that wasn't decrepit. I wouldn't mind spending more time here.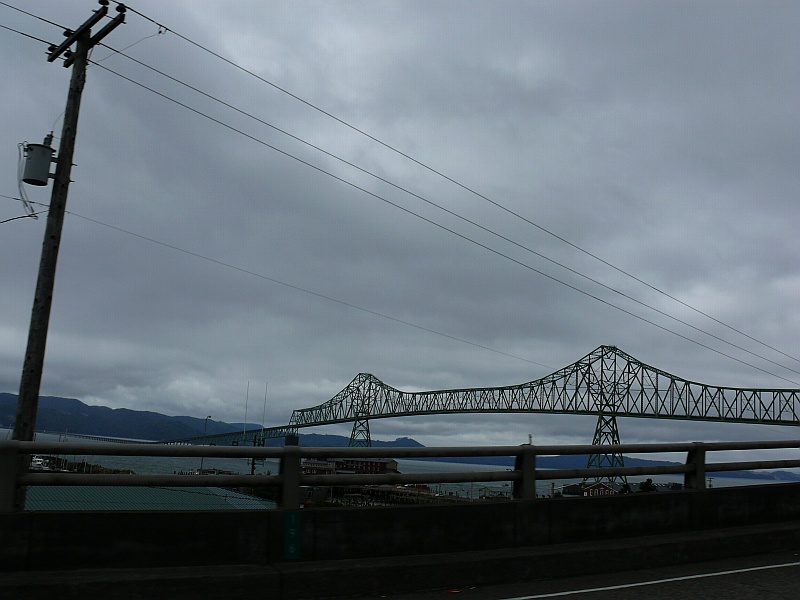 The Astoria Bridge is probably the longest bridge I have seen in a while. It's not as long as the Chesapeake Bay bridge-tunnel but it is still impressive.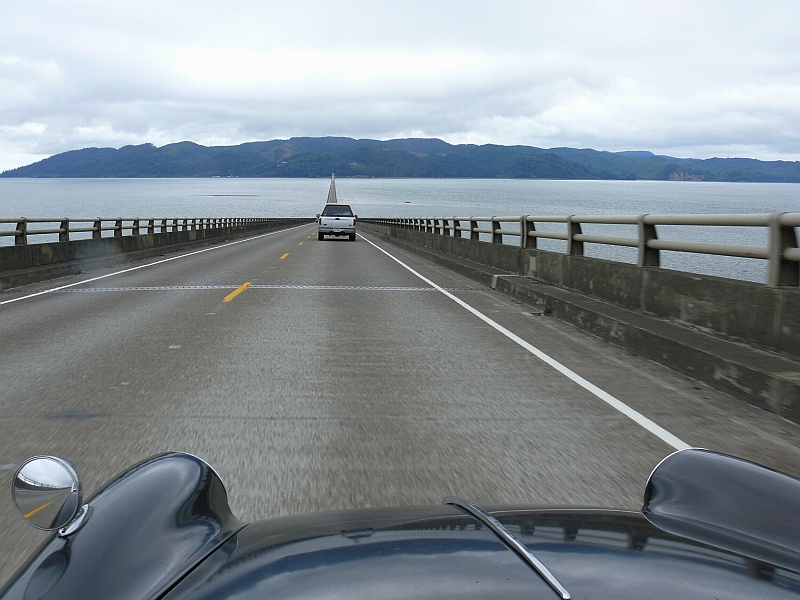 After driving the suspension bridge, there's a long flat section before the Columbia River is finally crossed and I was in Washington State.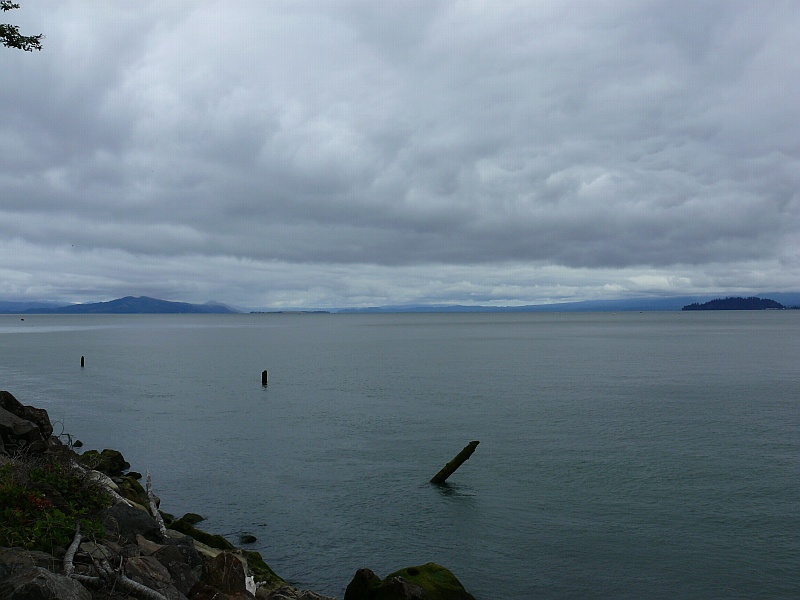 The view of the Columbia River delta from Washington is spectacular. It's no wonder that Lewis and Clark were so taken by it! Click for a larger photo.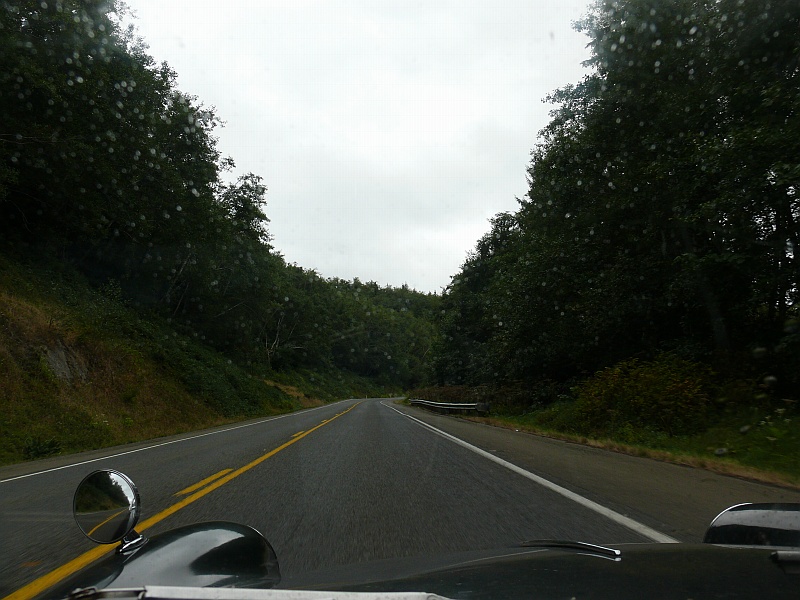 In southwestern Washington the roads opened up and traffic diminished. The weather was drizzily on and off. It was a welcome break from the sun of California. I saw damage from a hurricane. Huge trees were bent over or snapped off. That's power.
I stayed in Ocean Shores. It reminded me of
Myrtle Beach
. It's planned and the roads are a bit tedious. I had to fight the urge to rip through an open 25 mph speed zone. The next day I headed towards Interstate 5 to return home. I was tired of driving.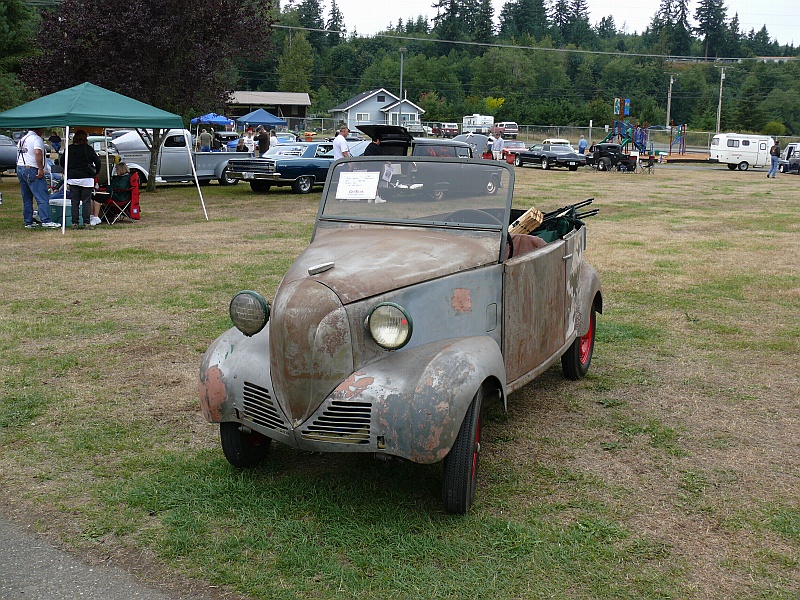 I stopped for fuel in the little town of Elma, Washington. I wandered around looking for the Subway shop and found a car show going on. I pulled in, paid the entry fee, and walked around. This 1941 Crosley convertible drew my attention away from the American muscle machines.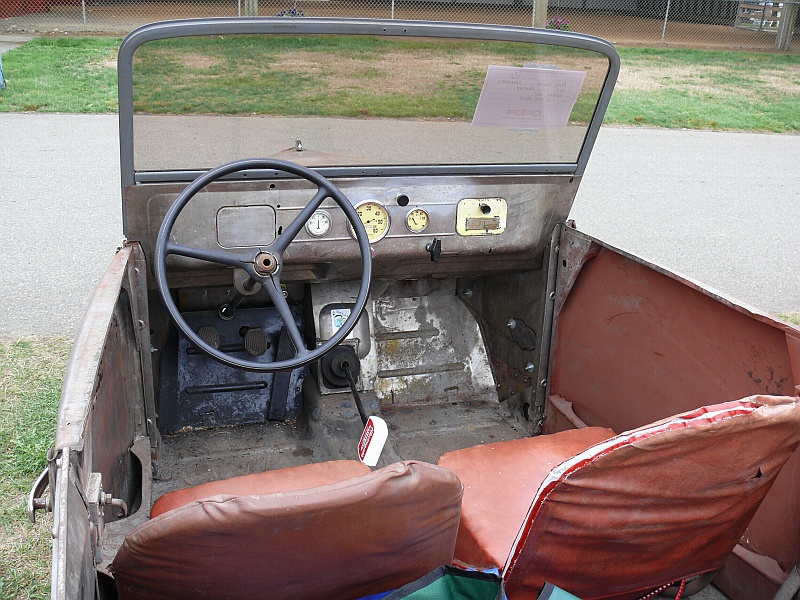 It's more spartan than my car! Imagine crossing the country in this machine.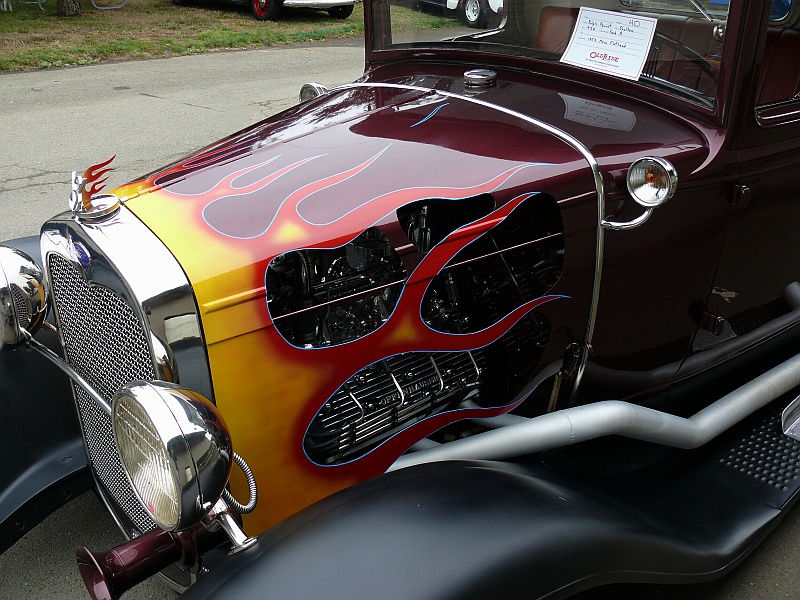 I also came across this unique bodywork!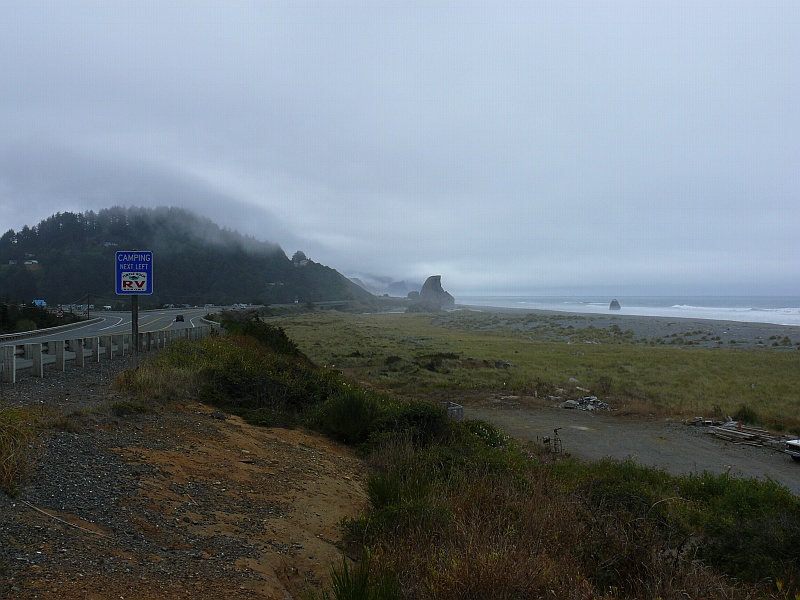 I drove through Portland. Not a triumphant city. I went back to the coast where I could justify being in Oregon. I was rewarded with this beautiful view. Click for a larger view.
I stopped for my last fill-up in Oregon near Gold Beach. The attendent knew my car and we chatted for fifteen minutes about classic British sports cars. I also got a two dollar bill as change. I'd never seen one in person. Maybe Oregon isn't all bad?
I took Route 101 back to Santa Rosa. It's a pretty drive and not too hot for the MG. I stayed in a small motel in Willits, California. I liked that little town. The people are friendly and the place reminded me of the classic American town.
On the way back to Santa Rosa I had lunch at a Mexican place in Cloverdale. Excellent food and service without the hustle and bustle of LA. The drive to Santa Rosa passed well. I spent a few days with my friends and then returned to LA.
I'd traveled more than 2,600 miles. The MG averaged 36.5 mpg (with a maximum of 40.4 and a minimum of 33.1 mpg) and only spun two quarts of oil out the rear main seal. Nothing broke. Not bad for a 44-year-old British sports car!



Copyright © 2002 - 2017 Billsuniverse.com