The flight was not too long but I arrived in rain and darkness. This isn't bad when one knows where to go, however, it took me a while to find where to pick up my rental car. The Irish accent is a bit indecipherable when one's tired.
I was given an Opel (Vauxhall) Astra. It's about the same size as a VW Golf but handles like a small American car (though not as badly as the Chevy Aveo.) Without a navigator I managed to drive into Dublin and "customize" the far side of the car.
Driving on the wrong side of the road, in the rainy darkness, without a decent rest for 24 hours are ingredients for scuffing up a new car. There was no major damage to the car (I opted for the zero liability coverage too). I think the main damage was to my ego.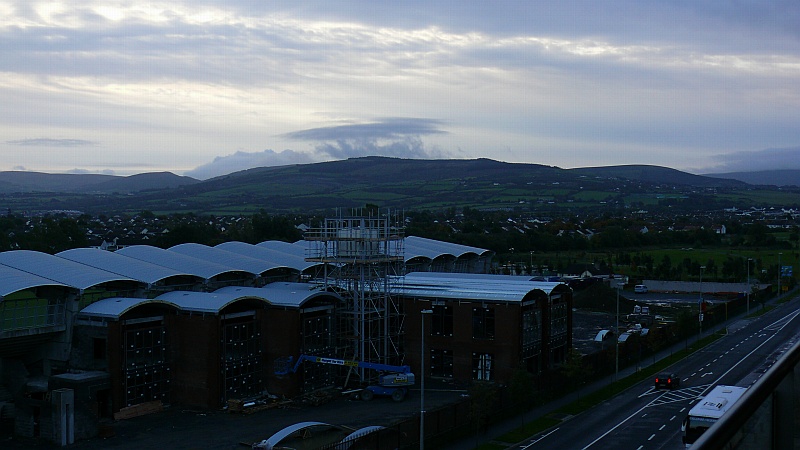 Once I found the hotel, after taking the scenic route, I checked in at the reception desk. I misunderstood the girl at the desk and went to the wrong room. She hadn't written my room number so my sluggish memory failed me.
It didn't help that she seemed a bit nervous. Perhaps she doesn't see too many fairly young American guys checking into her posh hotel? This hotel was very fancy. I almost felt guilty showing up in jeans and a T-shirt. Almost, that is: these business men need something different periodically!
The next morning I woke up a little early so I took some photos of my view. The Wicklow mountains were clearly visible. I didn't head directly south to see them up close. Next trip I will drive through and see them.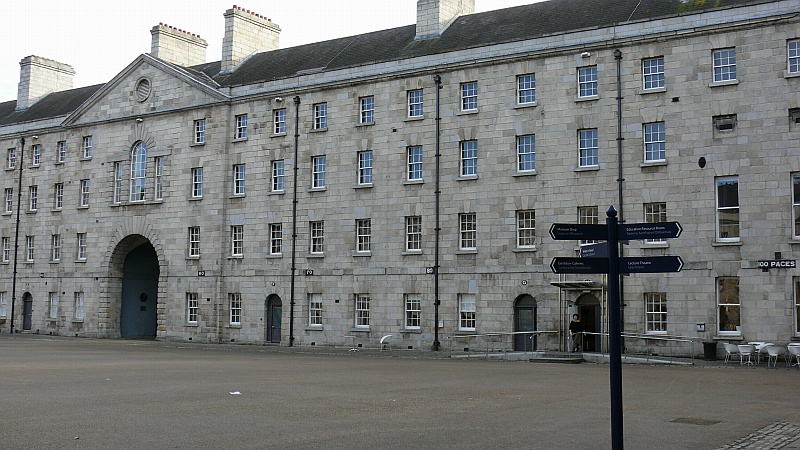 The next day I took the
Luas,
Dublin's light rail tram into the city center. I felt a bit out of place. Most of the Irish have very dark brown hair and pale skin. My yellow hair and reddish (sunburned) skin just didn't fit.
The Luas is set up like the London tube but isn't as quick and exciting. The track layout is shown in English and Celtic. The recorded voice announces the stops in English and Celtic. Wonderful!
I got off at the art museum: the National Museum of Ireland. The museum had just opened so I took a few photos of the courtyard. The keen observer will notice the sign denoting "100 paces" on the side of the building. What this means I don't know. Perhaps a relic from the old days? There are signs every ten paces.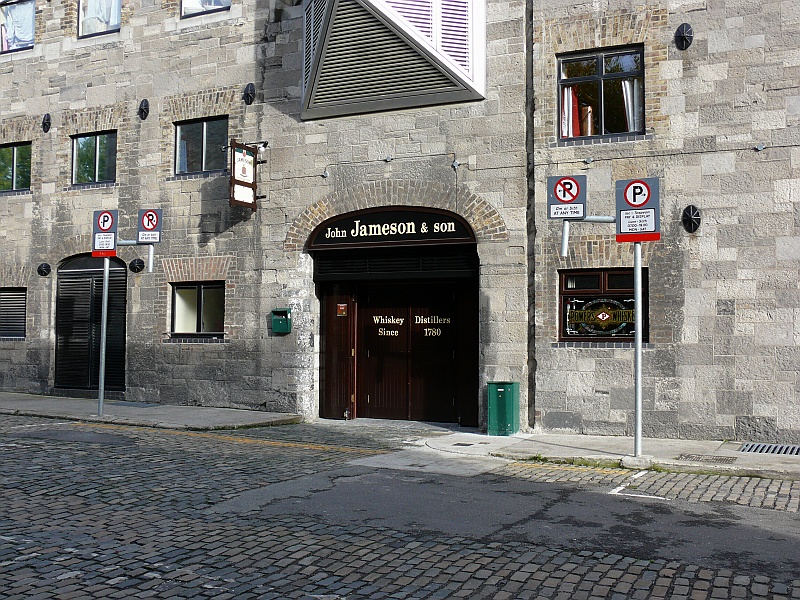 Jamesons... Whiskey... Yummy...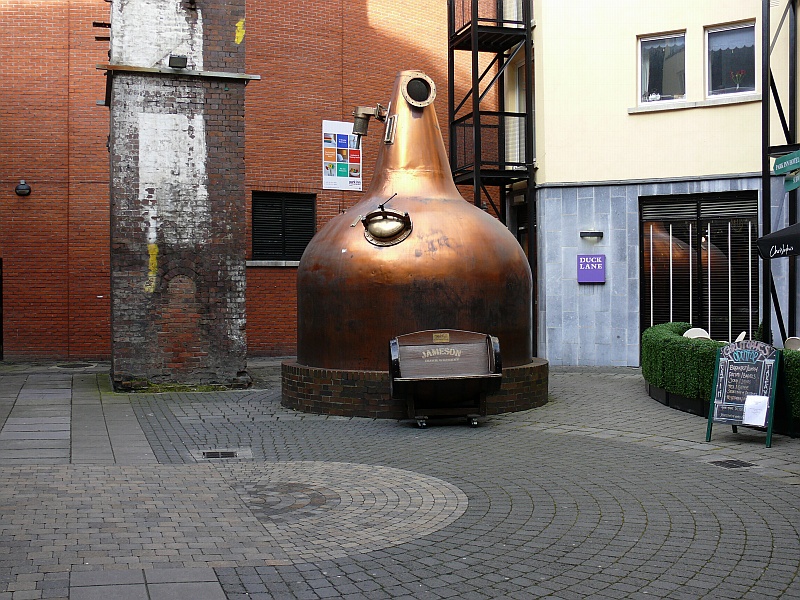 Down the alleyway to the tourist entrance for the Old Jameson Distillery is a courtyard with this large vat. Cool!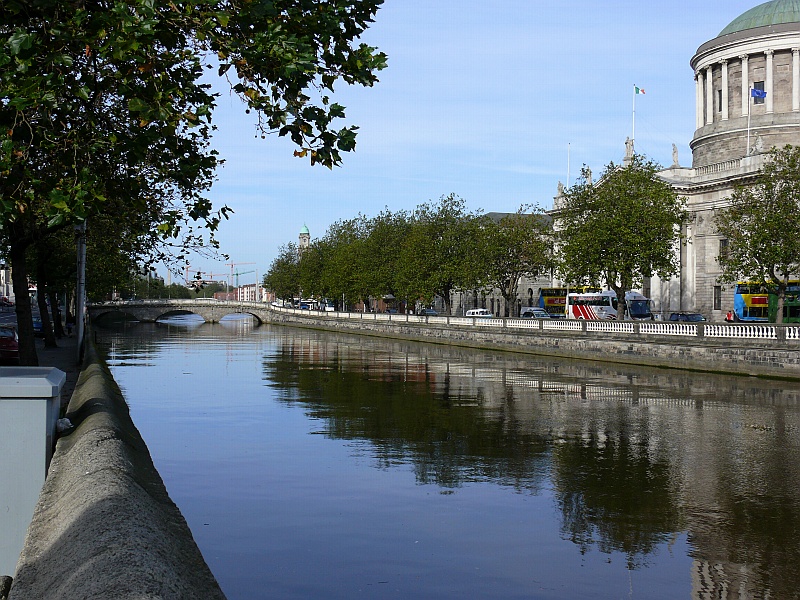 The Liffey runs through the center of Dublin (Dub linh). In Celtic, or Gaelic as the Brits call it, the capital of Ireland is named Black pool. The river water is dark. As I watched it as I traveled along in the Luas I was amazed that it did indeed look black.
Here you can see the center of Dublin. It doesn't look that much different than Paris. Though there are no painters along the embankment, like along the Seine.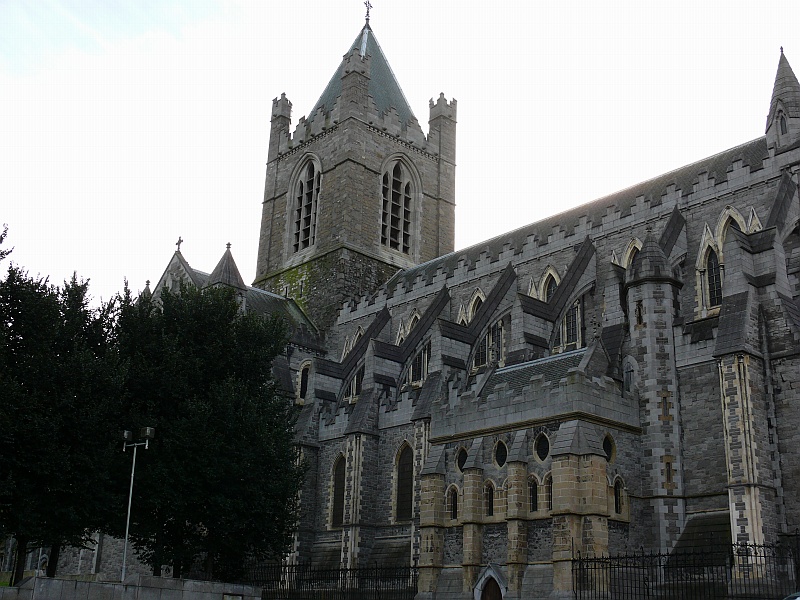 The Church of Christ is immense and finding a good spot to photograph it is difficult from the road. It's so large that it spans the road with an arched bridge.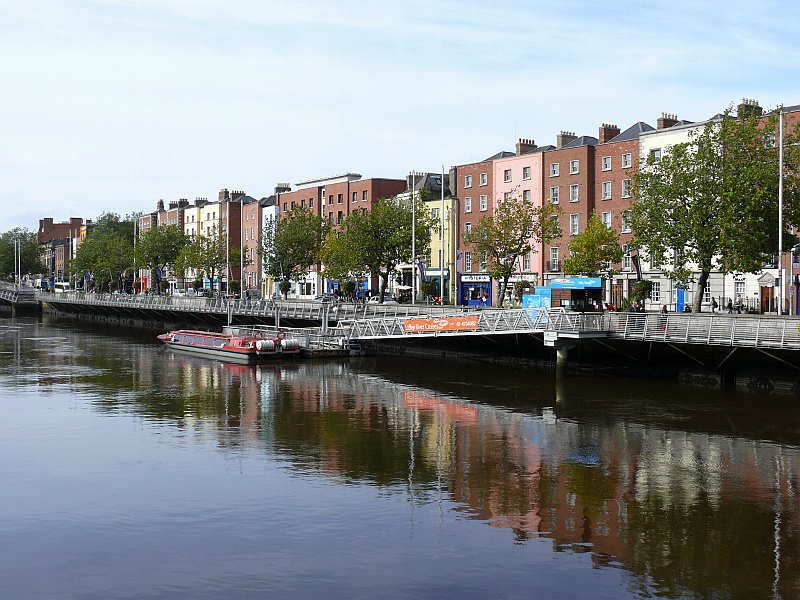 Care for a cruise on the river? That boat is very low so it can get under the bridges at high tide. The buildings along the north embankment are typical of the British Isles. Brightly colored shops on the ground floor and apartments on the first, second, third, and fourth floors.
Georgian architecture (King George of England, American Revolutionary times) is very common in Dublin. Obviously this period is when it grew substantially. Though there was plenty of new building still going on when I visited, despite the faltering world economy.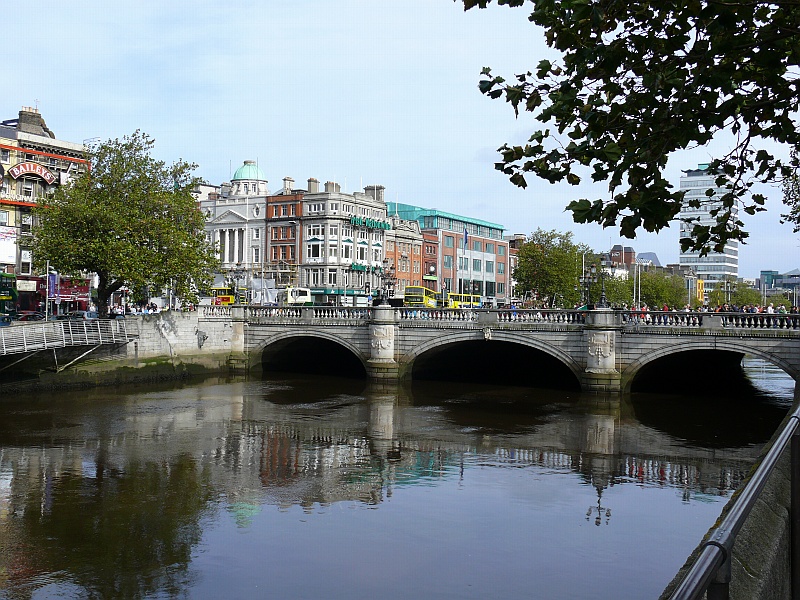 O'Connell Bridge from the north bank of the river. It serves one of the widest streets in Europe. No doubt it is one of the busiest streets in Ireland. I didn't drive on it but walked across it. It is wide but pretty and trees fill the center median.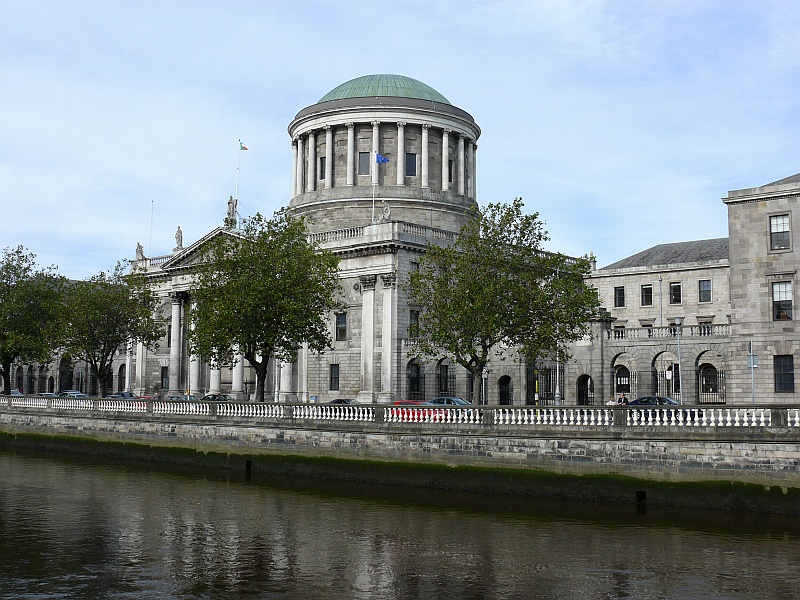 This is the Four Courts of Ireland: Supreme Court, High Court, Central Criminal Court and Dublin Circuit Court.
Later that night I went to Temple Bar, the night life section of Dublin, and enjoyed a few glasses of Guinness...OK, I drank more than a few. (I lost count after five pints.) I spoke with an Englishman at the bar, who now lives in Dublin, about the economy, politics, traveling, and the obligatory subject: women.
I am impressed by Irish women. (I'll try not to be a bastard.) The pale complexion and dark hair, which I hear comes from the Spanish, is so very attractive. But there is something else. The Irish women are fun and lively.
I expected all Irish women to be redheads or blonde. This hair color can make very pretty women but, in my experience, they tend to be either sluts or frigid. Either way, it's not always cool. The Irish women didn't seem to suffer from this affliction.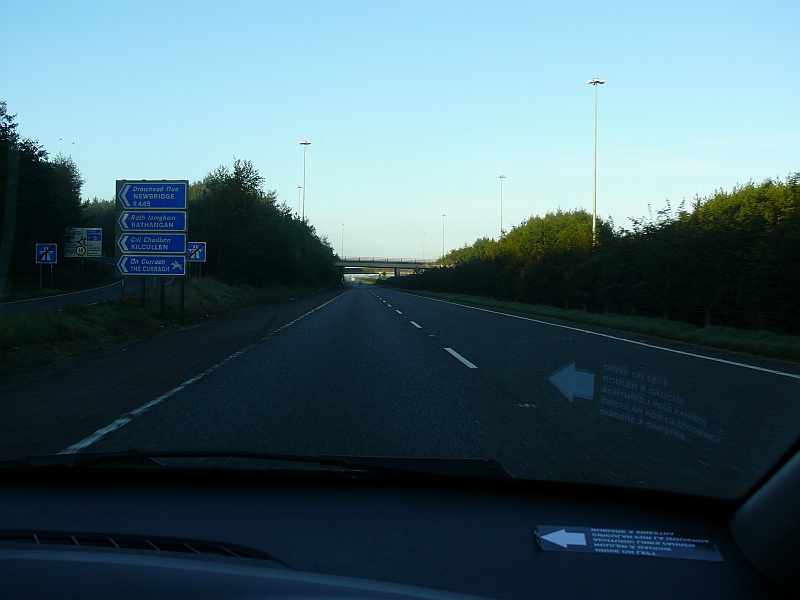 The next day I rose early, and surprisingly not too hung-over. So I set out on the motorway. I planned to spend two days driving around the southwest and west of Ireland.
Practice is all that is needed to become accustomed to driving on the other side of the road. But practice on a sunny, clear day on an empty divided highway is so much better than wet, dark nights on narrow lanes in a country's largest city!
Driving on the other side isn't as bad as first learning to drive because a majority of understanding to drive is learning the machine. Though, looking over your right shoulder while reversing is as helpful as looking out the side window. No doubt I would have failed a driving exam but WTF I'm an American! Don't most peoples expect us to be terrible drivers

Notice the reminder to drive on the left reflecting into the windshield? It's written not just in English (for Americans) but also in French, German, Spanish, and I believe Italian. I don't blame them because it is easy to end up on the wrong side of the road after a turn. Other cars remind you by flashing their headlamps but when alone on a country road I found myself saying outloud: "stick to the left."
I admit that driving a car on the wrong side of the road is much easier than riding a scooter on the wrong side of the road. I scared a Siberian girl (girlfriend at the time) by renting a scooter and taking her around the crowded streets of downtown
Pattaya.
So if you want to visit the countries that drive on the wrong side of the road, rent a car. It's a lot easier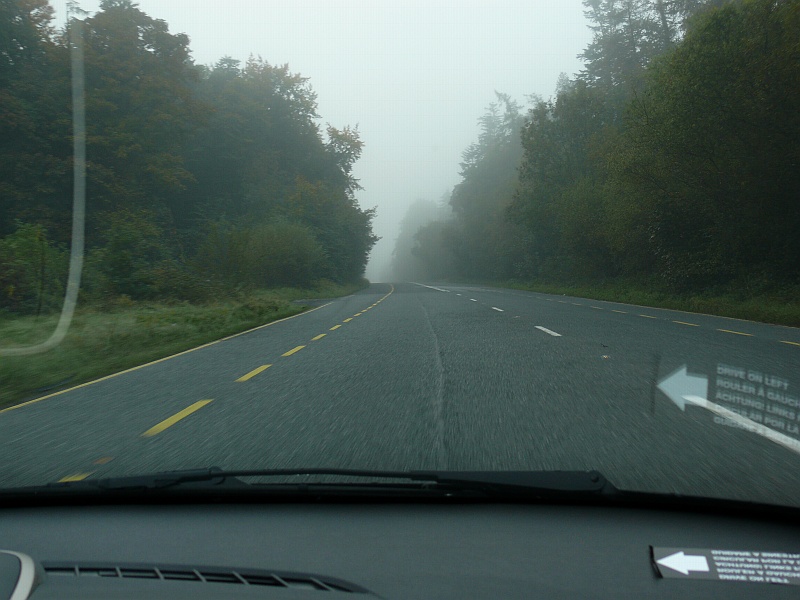 I got off the motorway as soon as I could. Two-lane roads allow one to see so much more of a country. Motorways, like American interstates, only allow one to bypass sites to arrive at the destination as soon as possible.
Did you notice that white is used in the center of the road and yellow at the edges? That's the European way. Double yellow means you can't park here, instead of do not cross lest you hit an oncoming car. A double white line indicates that you cannot pass. Personally, I found that a double yellow line looked very crowded on verge of the small city roads. I prefer our single white line, even if it means the same thing!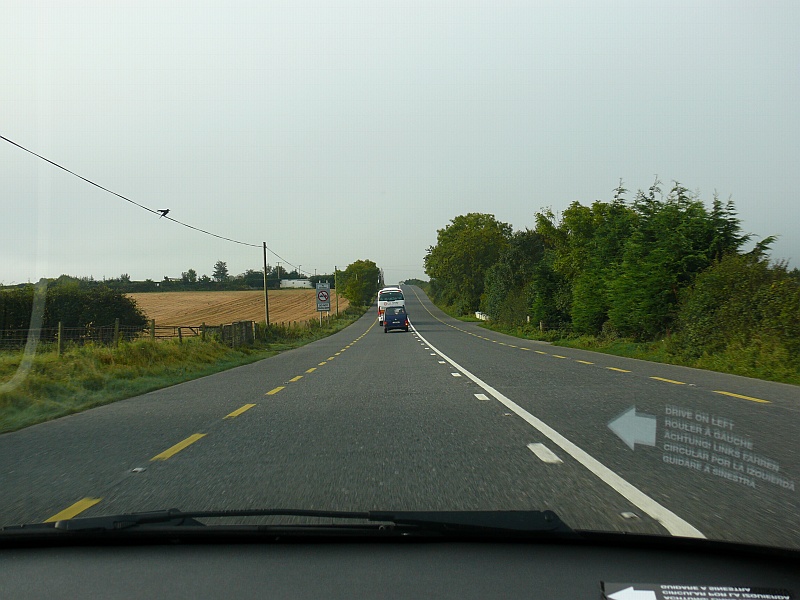 Pictured is one of the many tour buses I encountered on my road trip. The bloody things try to go fast but just can't easily fit down the narrow road. I overtook quite a few.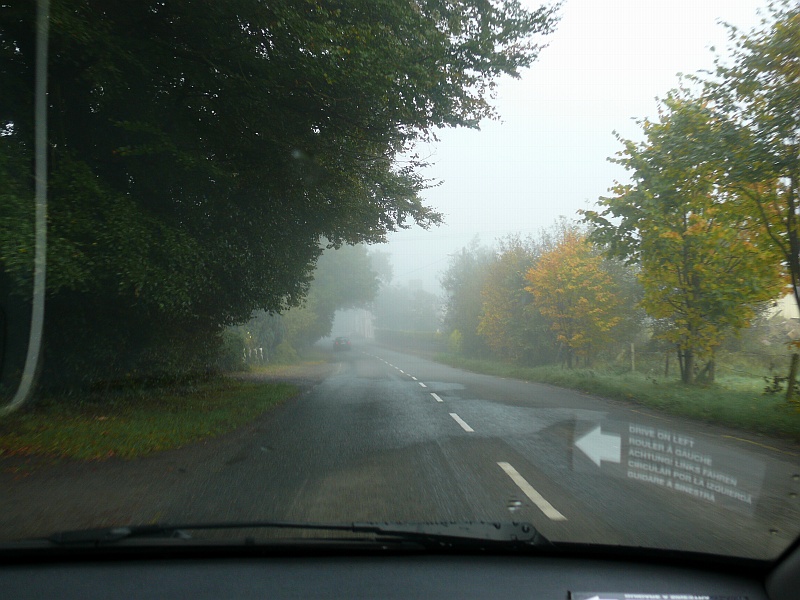 It did get quite foggy. I enjoyed every second of it. Weather is so wonderful.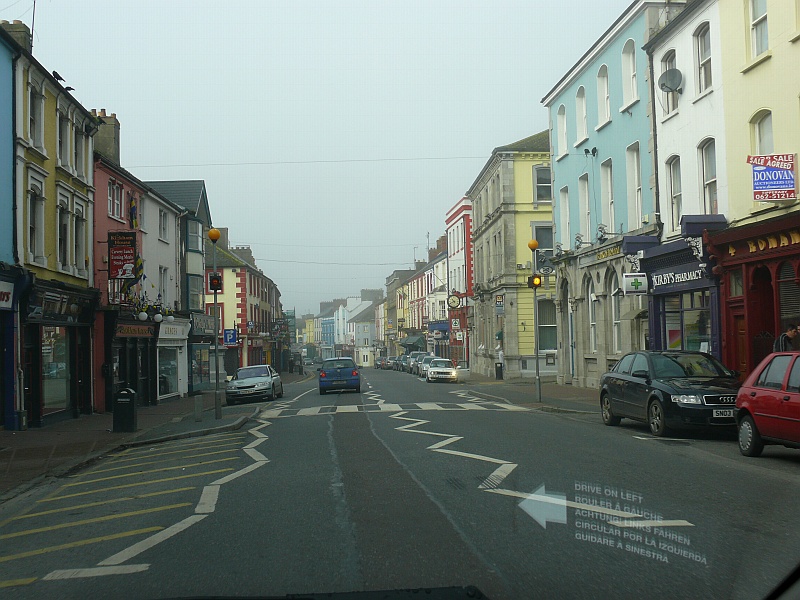 I drove into Tipperary without really noticing it. Damn it, LA is desensitizing me to traffic and cities. Here's a zebra crossing (crosswalk). I like the intricate warnings on the road. The zig-zag white lines warn motorists of an upcoming zebra crossing.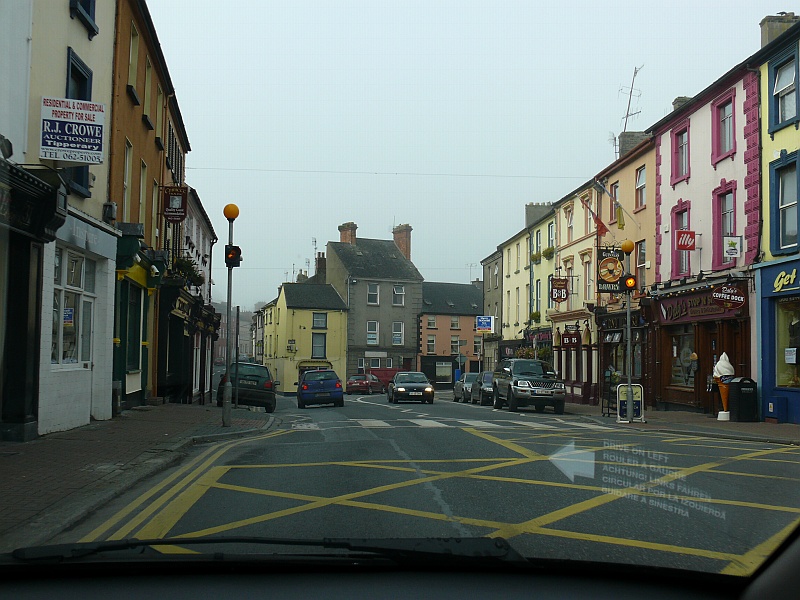 This is one of my favorite photos. I love the fact that the city put a zebra crossing between pubs. This is a reason why I love Ireland! In Tipperary you can be totally shit-faced and still the cars will (probably) stop for you on your way to the next pub. Ah, paradise!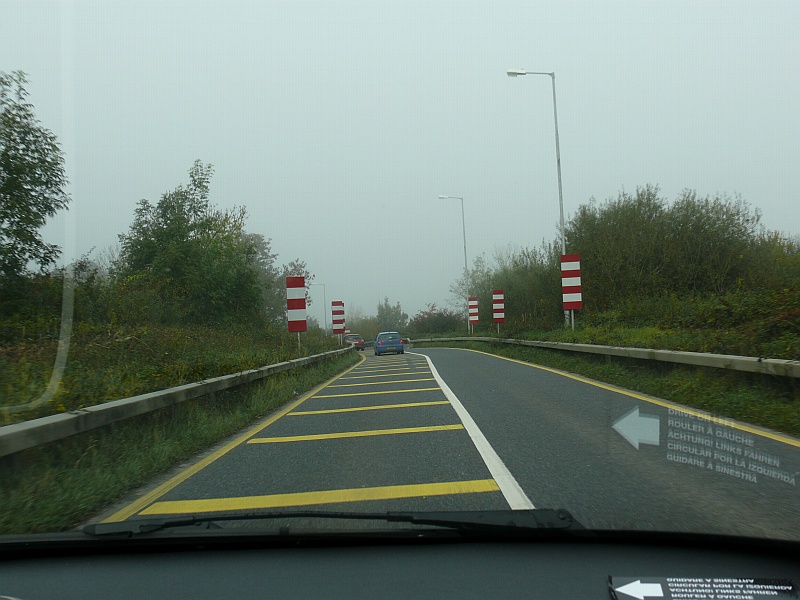 The yellow lines on the roadway warn you that you are approaching a roundabout after a long straight. It's really a cool idea, and no doubt, useful when one has drank a bit too much whilst playing dominoes at the pub and has to return to the farm on your tractor to tend to the livestock!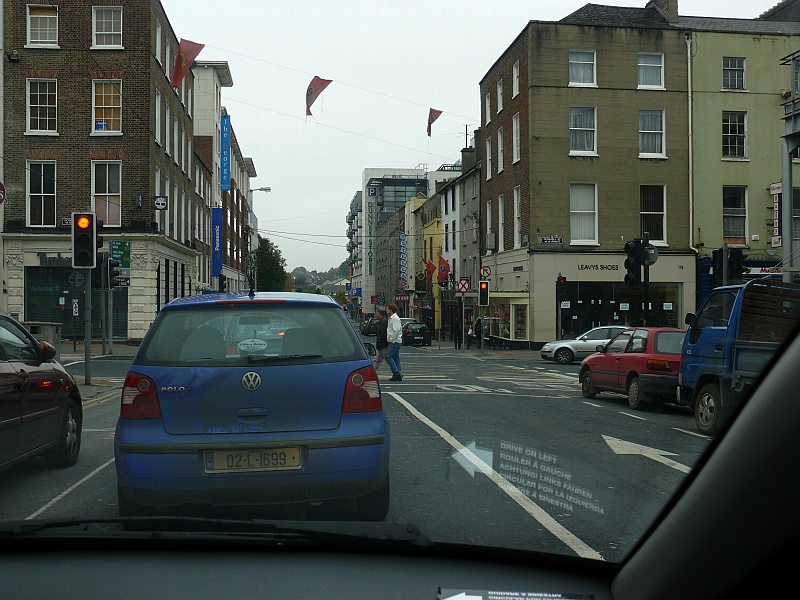 I hit some real traffic in Limerick. Ahem, one Volkswagen Polo can qualify as traffic, right? Here I wait at one of only a few traffic signals in Limerick. The cross street is O'Connell. That is the main drag of Limerick.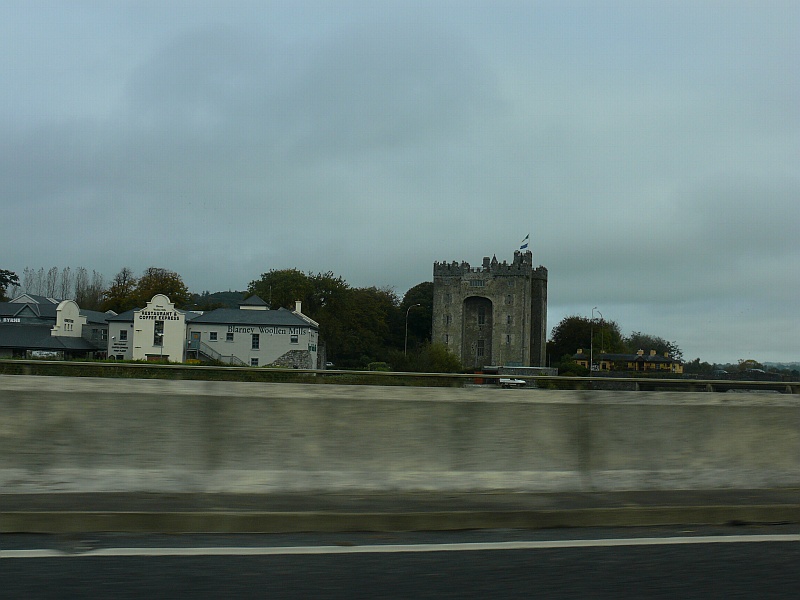 I sped by this attraction on the motorway. I drove by it on the slip road but changed my mind on stopping. I didn't want to deal with Oriental camera-toting tourists. I want to experience castles on my own without some tourist asking me to move so he can get a good photo of his family in front of a sign!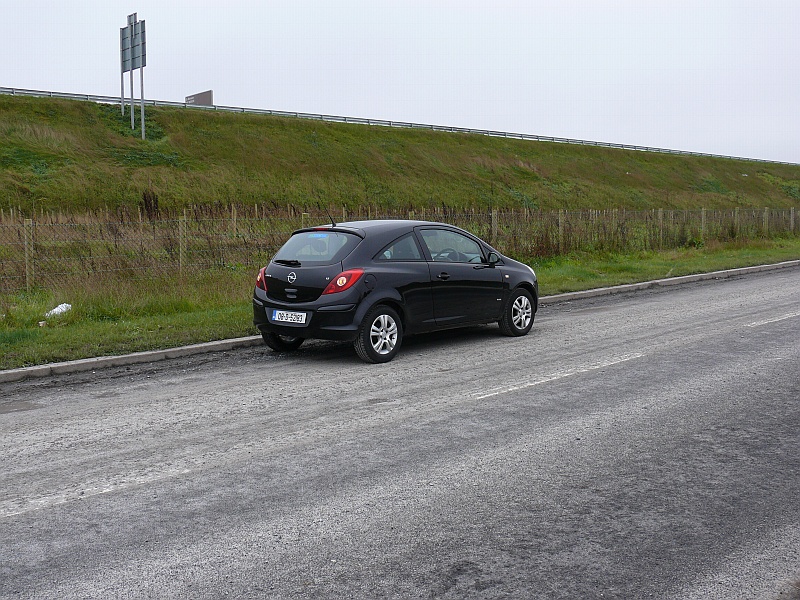 I tried to get near a Friary but it was on private property so the road ended before I could get close enough for a good photo.
So I photographed my rental car. It was really a sharp little hatchback. I got caught a few Irish looking at it approvingly. Yes, it was a pretty little car. The problem is that it handled poorly for a small hatch. Sure, it was easy to drive but I would happily work with a heavy clutch if the car looked, and acted, like a sports car instead of a pregnant jelly bean. Yes, I know I'm a
car-cist:
not all cars are created equal in my eyes. I'll watch for the car equal rights groups.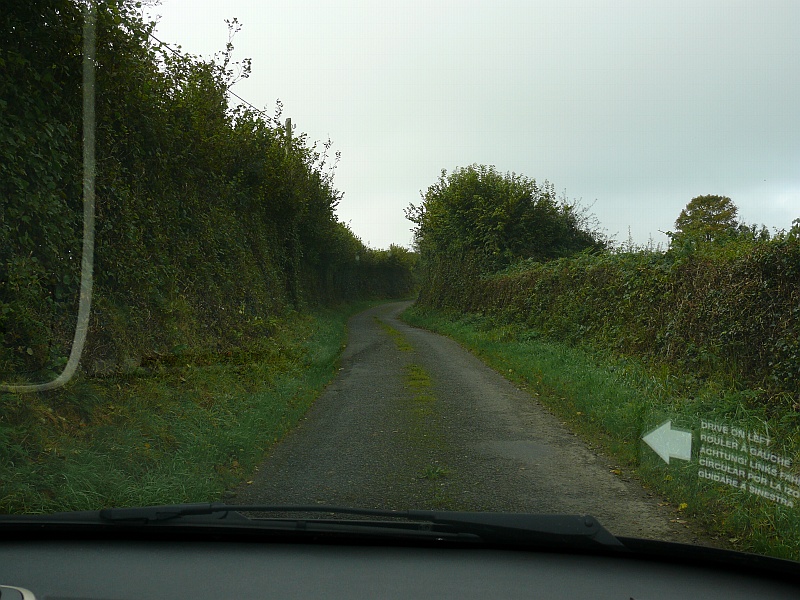 I got on a small road towards an old castle and abbey. I wasn't disappointed when I discovered that it was a glorified driveway. As I neared my destination a child on a big wheels waved to me. I acknowledged him with four fingers more than the customary (Irish) one finger. After all, I was on a narrow driveway that must, surely, terminate on private property. Why upset the locals, even if they are too young to drive?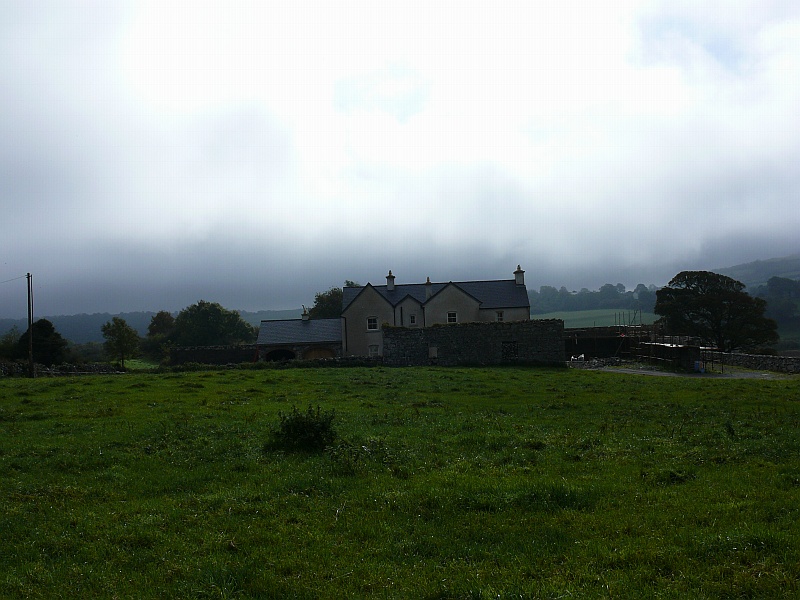 Yes, the driveway did end on personal property. Here's the farm house that I saw at the end. The cool thing is that these people, like many of the Irish, don't mind tourists who traipse around their property as long as they close the gates and don't bother them.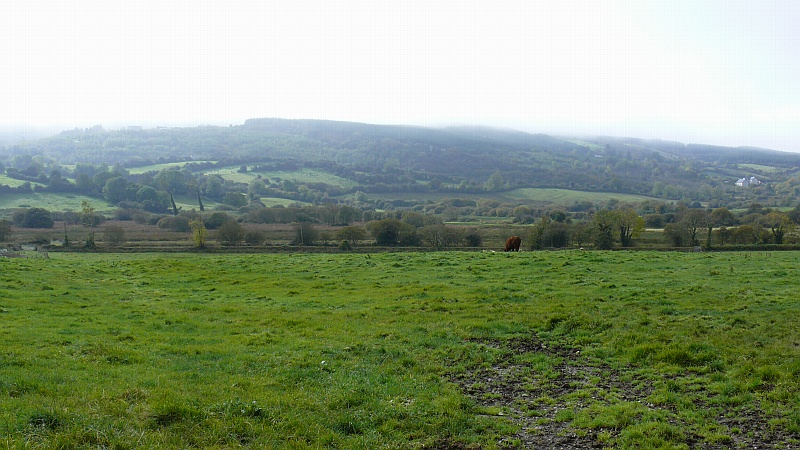 The view from the farmer's lands is spectacular. Photos, even taken by the best photographer (not me), just can't show the beauty. It must be experienced.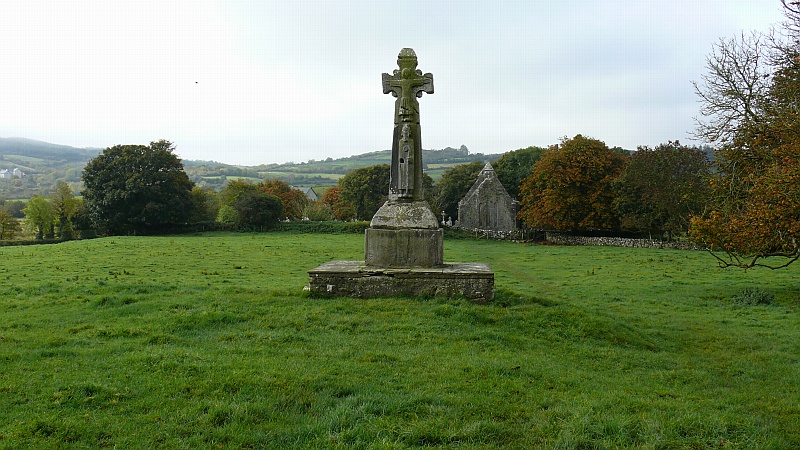 An old Christian statue on the way to the old monastery (dating to 12th century) at Dysert O'Dea. Below Christ on the statue is a bishop, which they claim is possibly St Tola.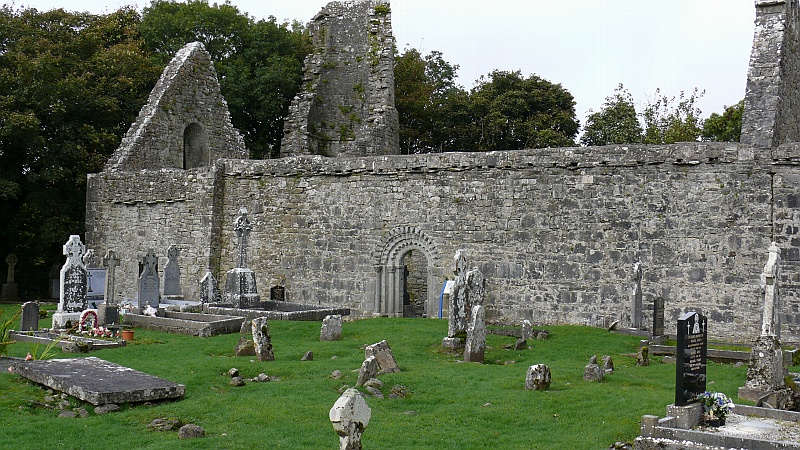 The courtyard was populated with ancient and new graves. This is the beauty of the Europeans. They do not abandon a site because it is too old, or out of fashion. Be sure to notice the modern granite tombstone along with the worn stone tombstones from many centuries past.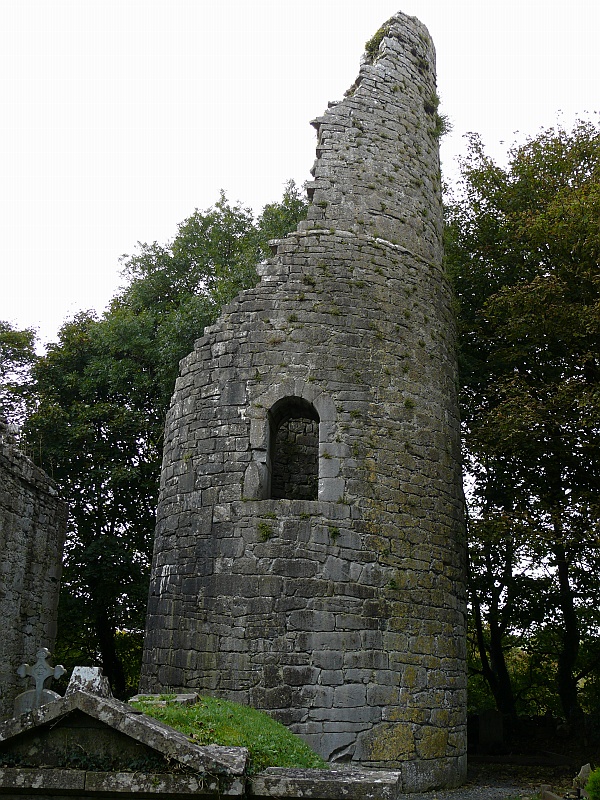 The tower of the monastery.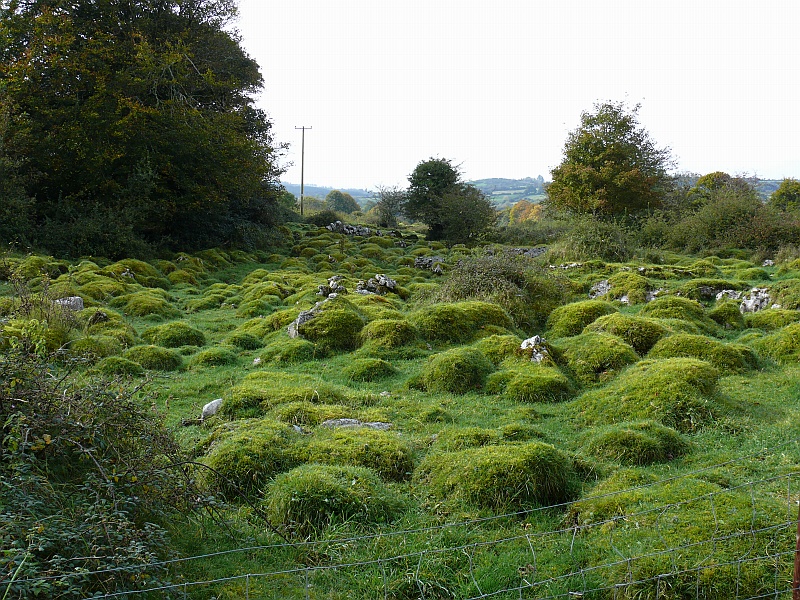 Some interesting landscape near the castle...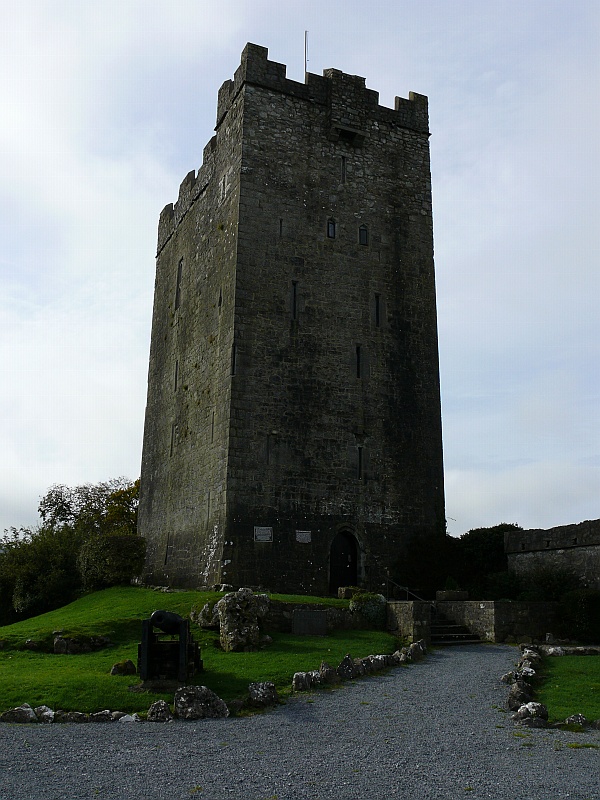 O'Dea Castle was locked up so I couldn't get inside. The Archaeology Centre is repairing the castle and the surrounding land so perhaps in the future the castle will be open? That's a good enough reason to return to Ireland!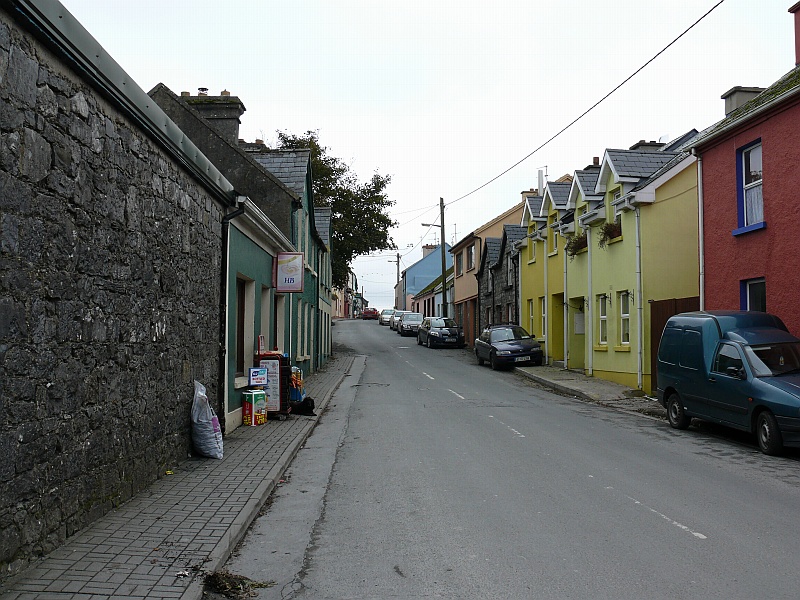 Here's a photo of a village on the way north. I really like those colorful houses.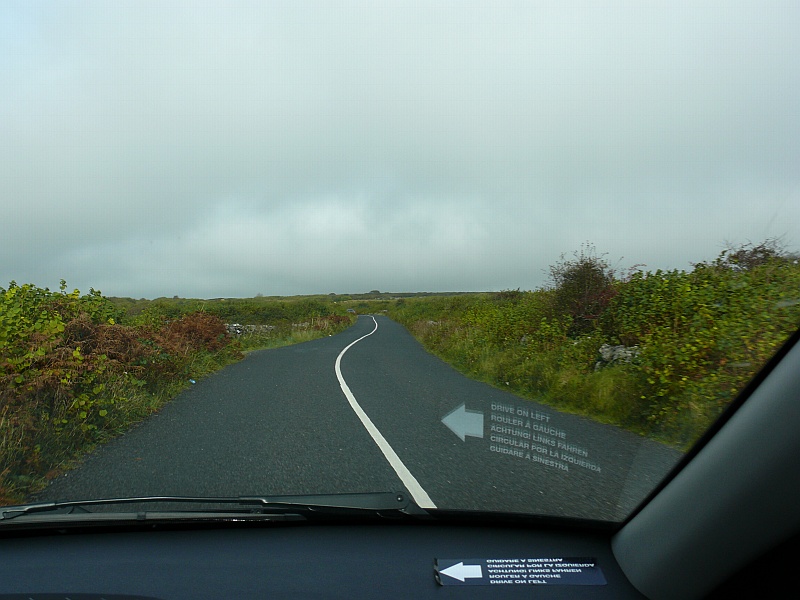 I entered a region of the West called the Burren. It's an area rich with prehistoric sites. The roads also narrowed.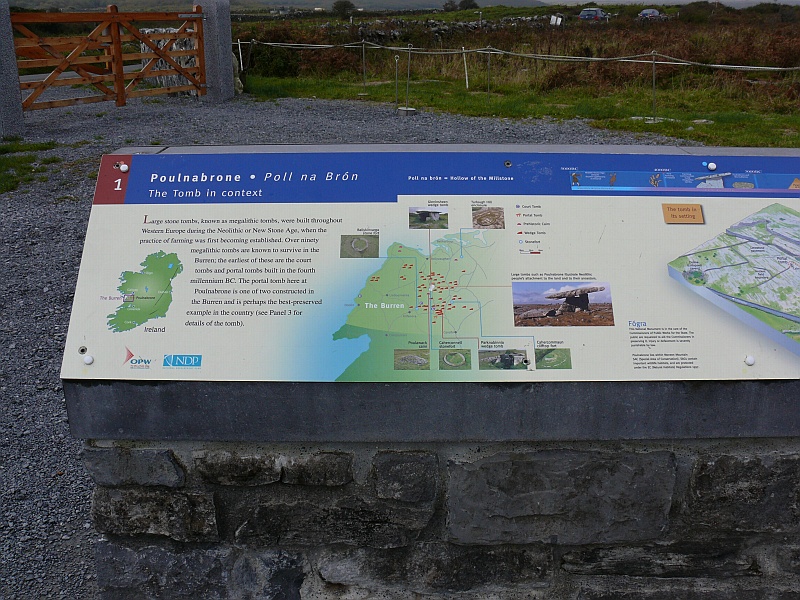 I stopped at Poulnabrone, a new Stone Age tomb. This map shows its position in Ireland.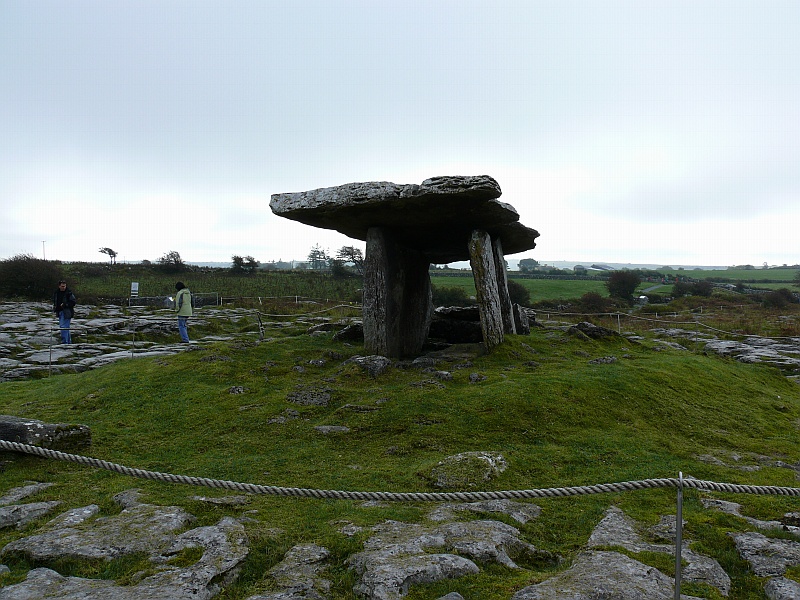 Here's the entrance to the tomb. It's really an impressive bit of engineering. Does this not prove that the ancients weren't as incapable as some modern people like to think?
As I walked around and enjoyed the site, an old man asked if I was cold in short sleeves. His wife overheard my response and said that I have too much blood so that's why I am not cold. Now I know why the mosquitoes like me!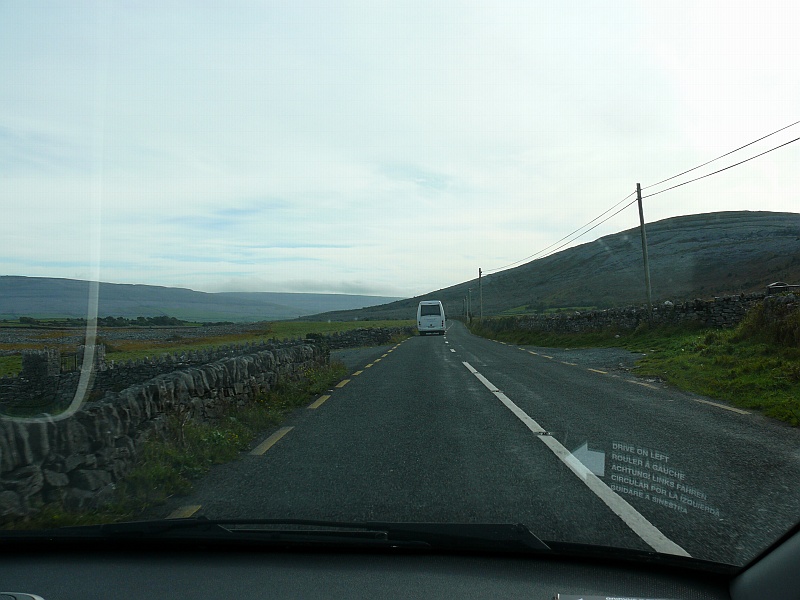 Another tour bus, ugh. I think they were trucking people out of Galway. The Galway area seemed to have a lot of Americans. The city reminded me of America.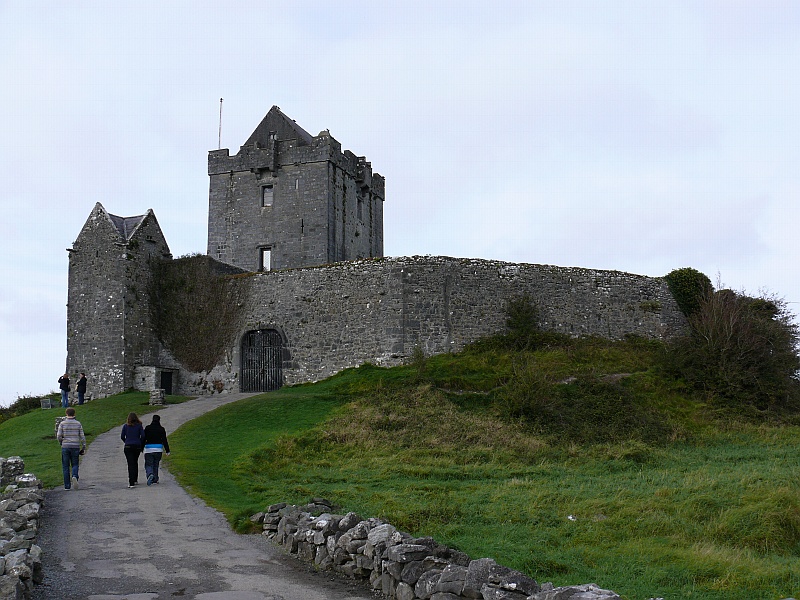 This is Dunguaire Castle on the road to Galway. I spoke to the guy and two girls in the foreground. The guy was a German who spoke excellent English. They were travelling in the opposite direction of me. He thought I was Irish. One of the girls was Spanish and didn't speak too much English. She stared at me, though. You'd think she'd never seen an American!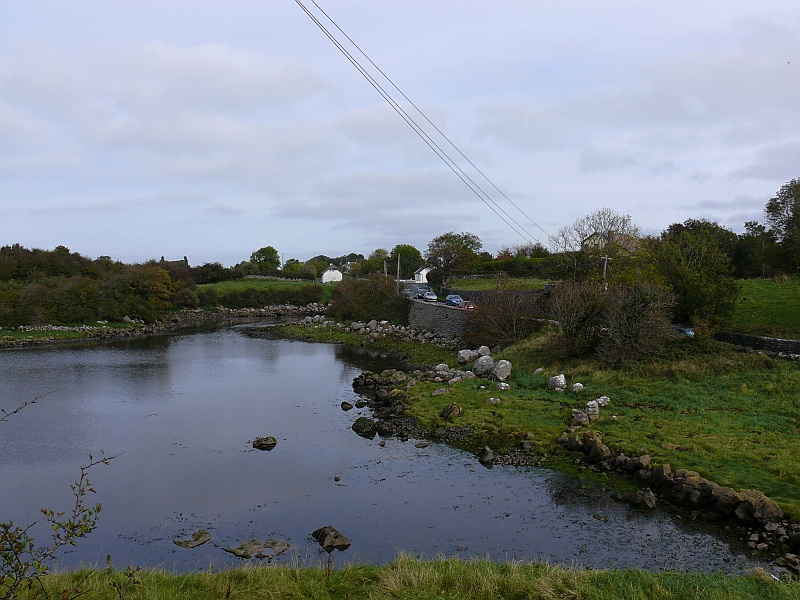 The road running by the castle.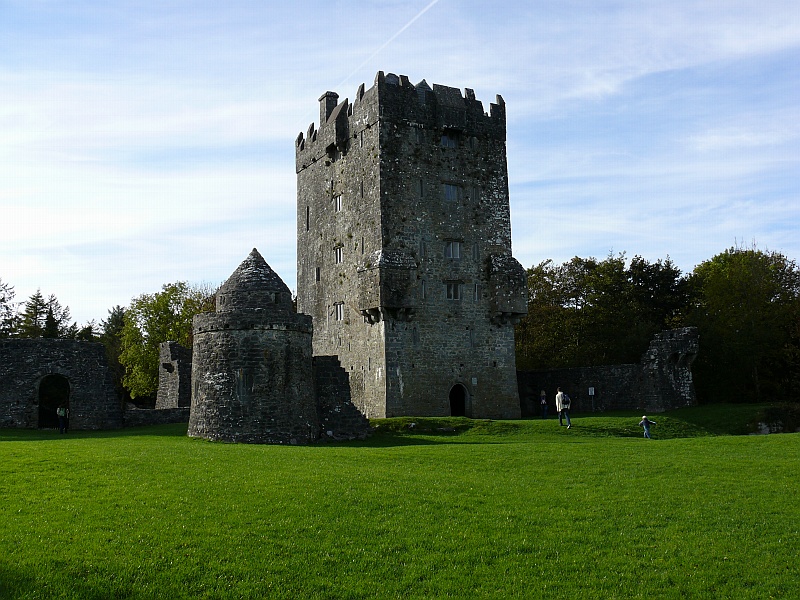 I passed through Galway and continued on my way towards Connemara. This is Aughnanure Castle. This was a powerful castle back in its day. There was a moat around it and significant walls. The dip in right section of the photo was originally a service entrance that connected to the moat. When the water was higher in the past, boats landed there with supplies.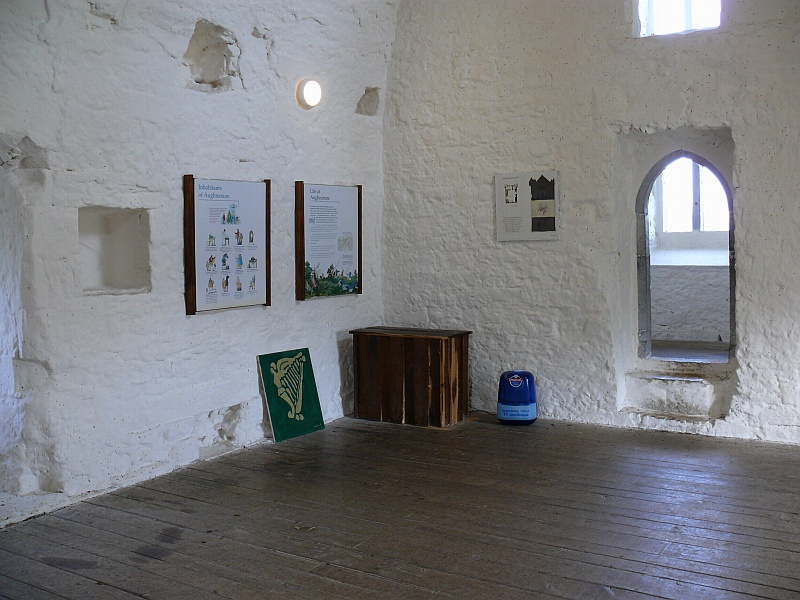 I paid a few Euro so I could enter this castle. Whitewashed and full of plaques, it seems to forget its past. This could be a good thing because who really wants to get a disease from the walls?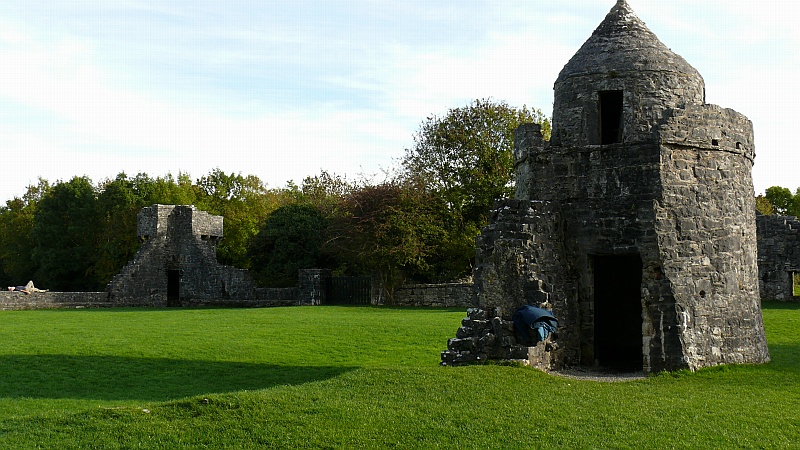 A good shot from the castle doorway...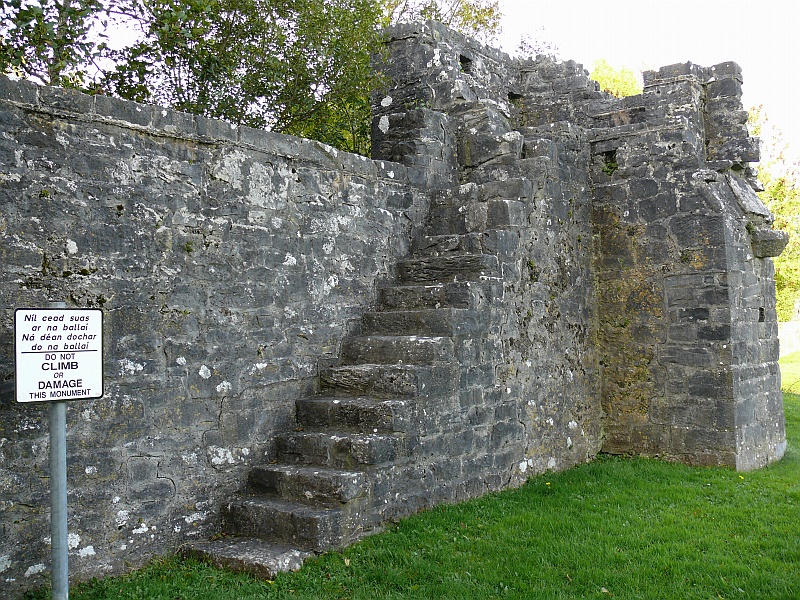 A good shot of the wall... now a monument!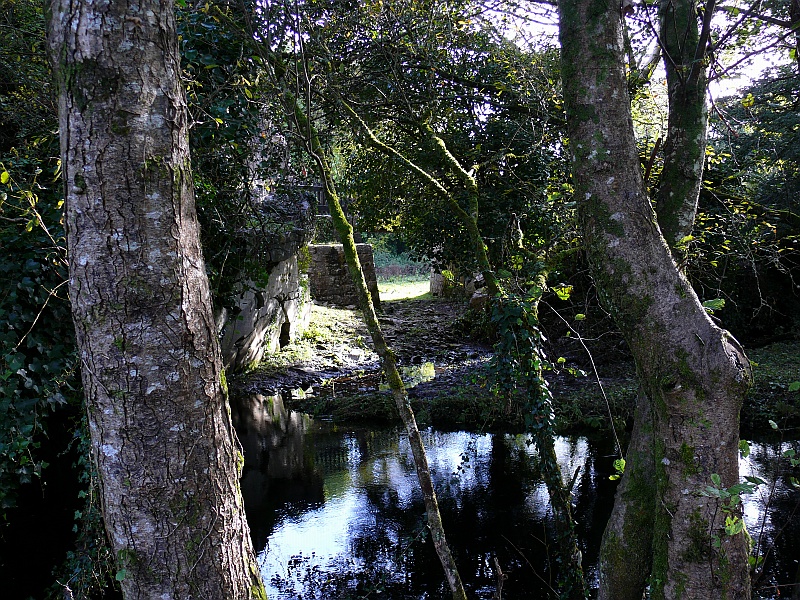 Where the supply ships left the moat and landed near the castle.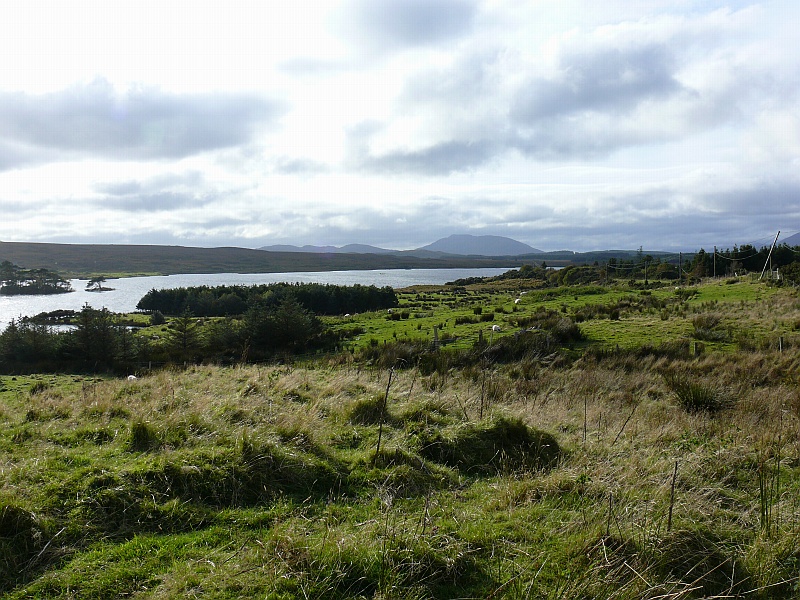 On the way to Connemara...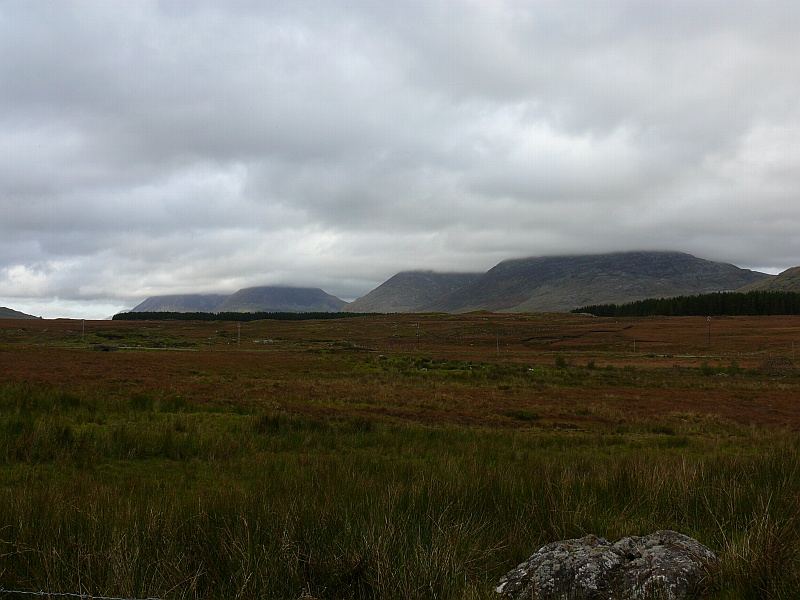 The scenery in Connemara is pretty.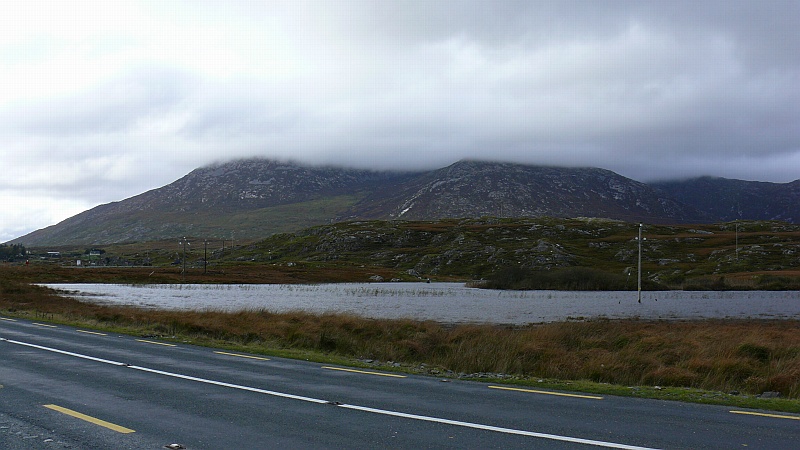 Another great shot of Connemara...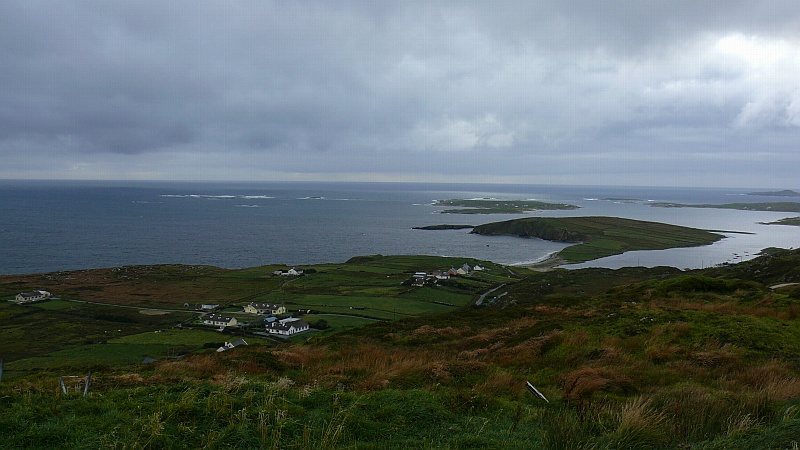 In Clifden I took the Sky Road and overlooked the Atlantic Ocean.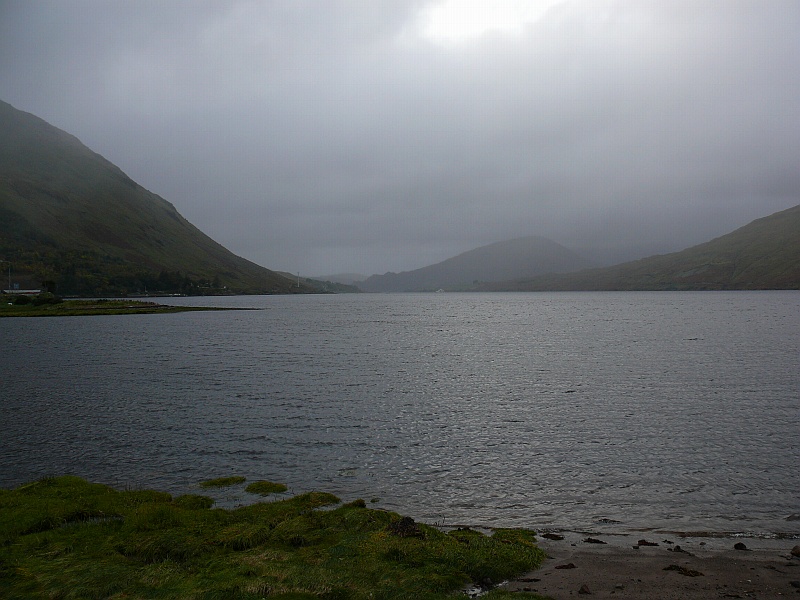 This is Killary Harbour. It's a fjord. At the spring equinox the tide rises more than 16 feet in 50 minutes. That's an impressive current.
Here is Rossroe and its environs on "The Killary."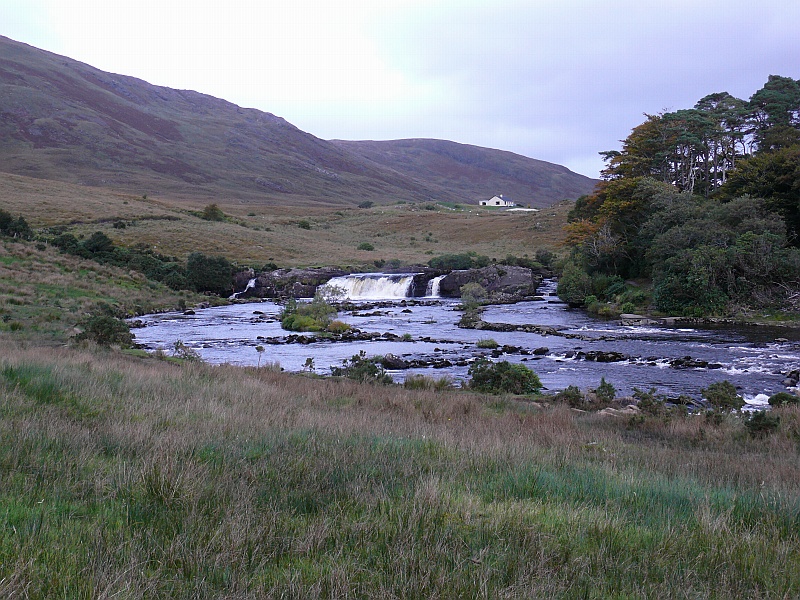 Falls on the Erriff River. Again here a man commented about my bare arms: "aren't you cold?"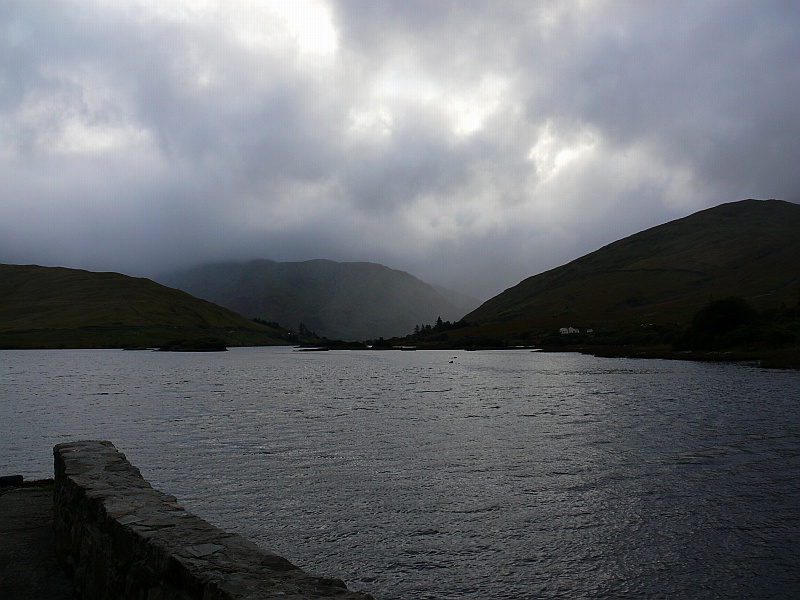 I don't know exactly where I took this photo. But it is undeniably a gorgeous scene.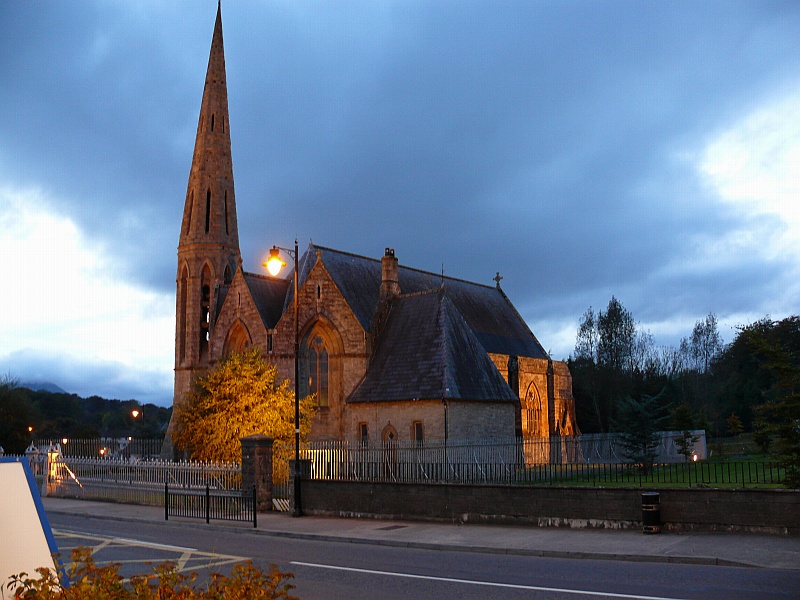 A church across from a gas station in Westport. I drove from Westport back to Dublin overnight. I drove some 15 hours in one day. I just wish I had had more time to explore the countryside, and another driver would have been good too.
Keeping with Bob and my custom, I bought chips and pop for the road trip. "Freeway Cola" has got to be geared towards Californians. I did enjoy the "Rusti Chips." I imagined I was gnawing on a northern car with the rock salt and the crumbly bits. Yummy! The hell with eating bland Total cereal: chew on some Rusti Chips.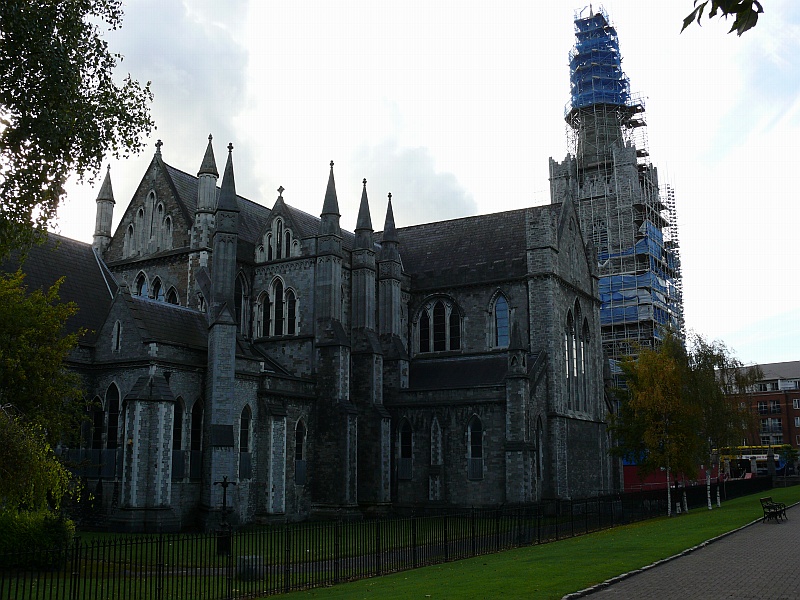 Back in Dublin, the next day, I walked around some more looking for a Post Office. Here's St Patrick's Cathedral.
I walked by the Guinness Storehouse and didn't want to stand in line with a bunch of Americans who can't hold their liquor. Harshly put I saw some people wandering around aimless and then puke in the gutter along the street leading to the brewery. I assumed they were American because they were very loud and speaking English.
I did go to a pub later that night to "sample" the Guinness. (Someone has to test for quality!) I spoke with an old Irish guy who was just back from New York. We got talking and had some educated discussions about politics, society, women, etc. I drank in two pubs that night, but was impressed by the music at the Auld Dubliner.
No page about Ireland is complete without some comments about pubs. So here are the few that I visited during my three day stay in Eire:
Ned's - Townsend Street - Good atmosphere. Good '80s American music. I spoke with a few of the other clients on the way out. Their casual friendliness proves my belief that the Irish are a wonderful people.
Peter's - Johnson Place - Guinness is good. Hell it's Ireland: it should be good! Either there's no music or it's too loud. Not too crowded. All in all a cool atmosphere.
Kennedy's - 31/32 Westland Row (southwest corner of Trinity College) - Decent Guinness. Good atmosphere. A tribute to the Kennedys: American and Irish. Good music. About the only pub near Trinity College. WTF? Don't Irish university students drink?
Auld Dubliner - Temple Bar - Good Guinness. Excellent Irish music. Despite being a tourist attraction, this pub is great fun.



Copyright © 2002 - 2018 Billsuniverse.com