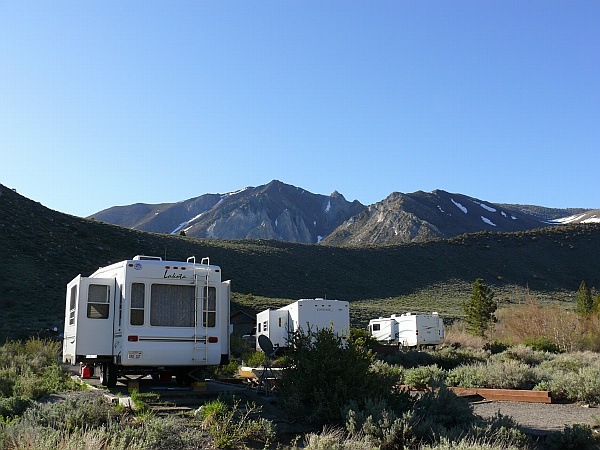 The view that I woke up to after I climbed out of the tent. Left-click for a larger image. Click any photo on this page for a larger version.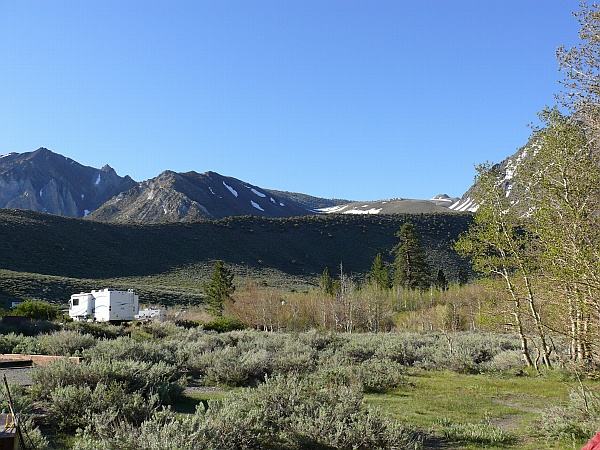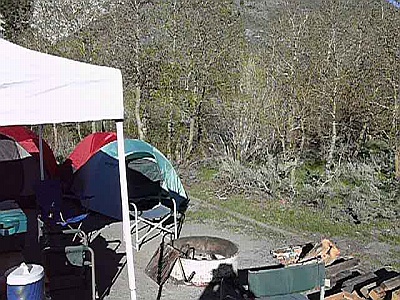 Click the image to the left to watch a Quicktime movie capturing our campsite. There were four of us in this site. Greg, my co-worker who arranged the trip, and his buddy Eddy slept in the large red tent. I tried out my new aqua-colored
Eureka tent
and another co-worker John stayed in the other small tent.
The E-Z Up canopy saved me from a sunburn. The sun is quite bright at 7,000 feet.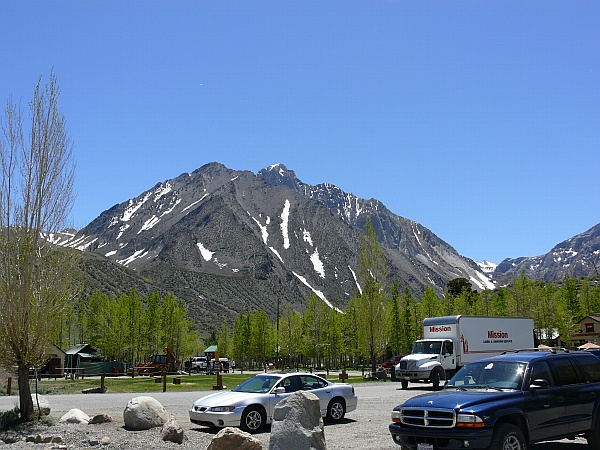 This photo captures a peculiar combination: the raw beauty of the mountains (yes, that is snow on them) near the Lake, the distinctively small pine trees of the Inyo Forest, and clean vehicles from Los Angeles.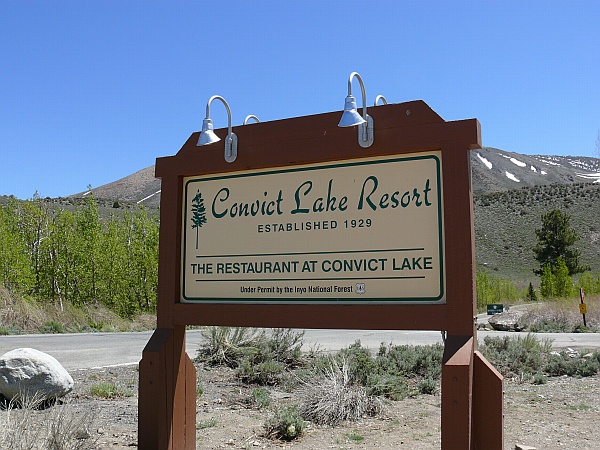 I sped by this sign yesterday.
I took advantage of the widescreen mode of my camera to take these shots of
Convict Lake.
The camera does a great job of capturing the beauty. The sight is astonishing!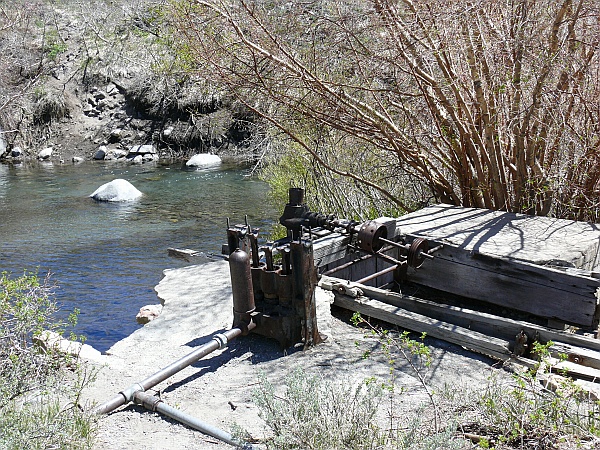 Pictured above is a derelict pump. Notice that the engine is inverted from the normal orientation in an automobile.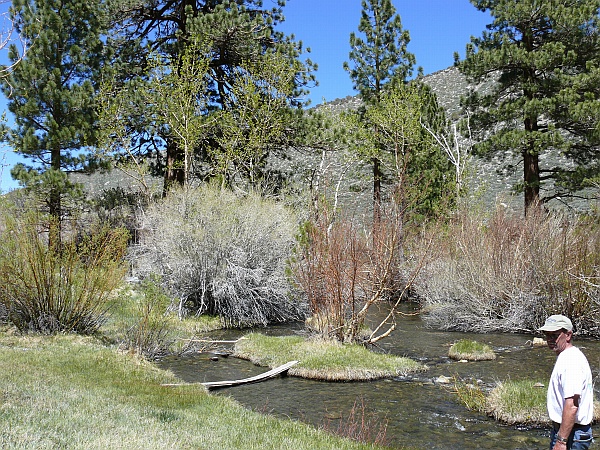 I photographed Greg near the tallest tree around, which he has named "picnic tree" because of the old grill near it.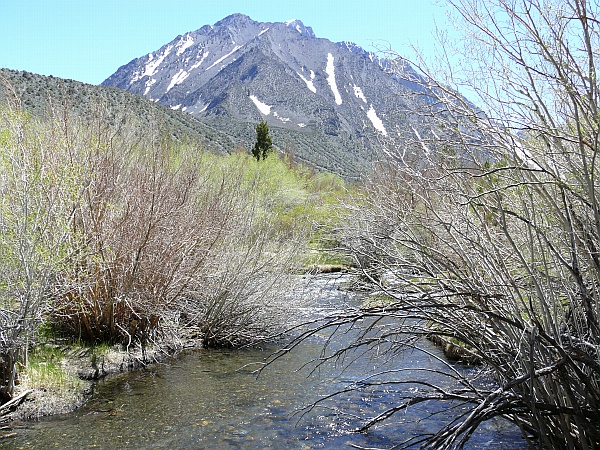 Here the camera couldn't capture the power of this scene. The rippling creek hemmed in by loose grass and dry brush, all set against a snowy mountain.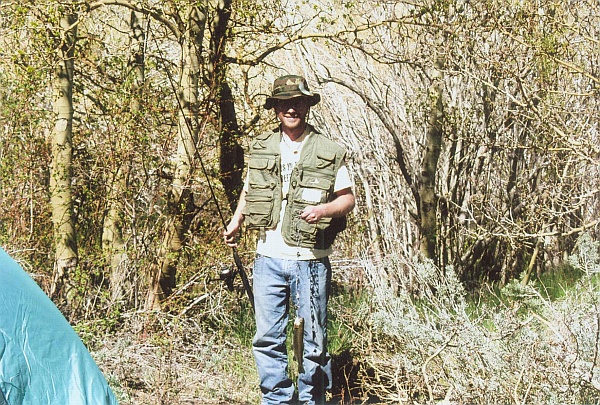 Greg taught me how to fish with a
Rapala
jiggling lure. It was funny because on my fourth cast while Greg trained me: there was suddenly a lot of splashing. I didn't know what was going on but I had snagged a fish, so Greg wound it in above the small waterfalls and gave it back to me to bring in the rest of the way. I had never caught a fish before.
Later the guys taught me how to clean a fish. It's not difficult and just makes a mess, if you're not careful. The others caught quite a few fish so I had lots of practice.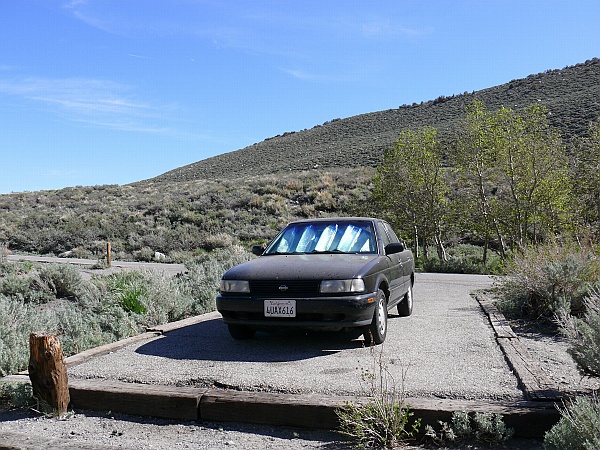 No trip page is complete without a photo of my transportation. Here's my little Sentra standing proudly at 7,000 feet.
Sunset at the campsite is cool.
One night I spent with two other co-workers at another site. They fed me very well and taught me to play Bupkis and "toss."
"Toss" is like horseshoes only with round discs that you aim to land in a hole in a homemade box. John (not the one I camped with) and I teamed up against Dave, but Dave still beat us in several games.
However, in Bupkis, I won four out of six games. Dave and John managed to win one game each. They were surprised. They also took care of my drinking needs and fed me beer, Jack Daniels, and wine.
A great trip in a beautiful spot with fun company!



Copyright © 2002 - 2018 Billsuniverse.com