I got to try out my new MP3 player on the flights to Buffalo. I splurged and bought a no nonsense
Creative Zen V Plus.
I enjoy the simple user interface, slim and sexy packaging (I won't write any more about that!), and the fairly expansive 8-gigabyte drive. The little critter also plays video! Coupled with a pair of Sennheiser noise-cancelling ear buds, I have a winning combination for air travel. Even a screaming child a row behind me can't drown out a good Jimi Hendrix or Audioslave tune!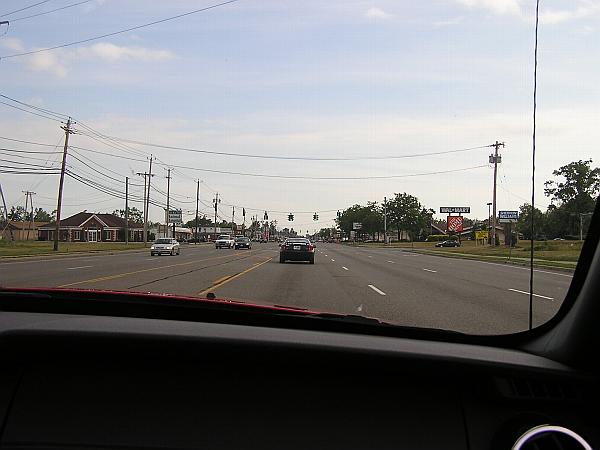 In Buffalo-Niagara International airport we found a lengthy line at the Budget car rental counter. Damn. A guy in line ahead of us said that they were out of cars and that reservations weren't actually guarantees for a car. Umm, so what is a reservation, then?
When we got to the counter the girl asked what type of car we had reserved. We told her that we were looking for a convertible so she told us that we lucked out and one would be ready shortly. This prompted a bit of an outrage from the guy in front of us. He said that the next car was supposed to be his. Sorry pal, but are you willing to pay $100 a day for a convertible. No? I didn't think so! Wait for you crappy compact car or--worse yet--minivan!
I'm glad that I persuaded Bob to reserve a Mustang convertible so we didn't have to wait for a compact car to show up. Out in the parking lot awaited our late-model, red Mustang convertible. I'm not a big fan of modern American cars but the current Mustang oozes cool and has a unique style.
After driving around Cheektowaga, Depew, and Williamsville we finally located our hotel in Amherst. The Mustang got a lot of stares from just about everybody. We had the top down of course. In fact, we only put it up when we parked the car at night. That was a smart move because the first night there were lots of people camping out in the parking lot. I guess the hotel was full up? The Mustang would have been a very tempting alternative to concrete.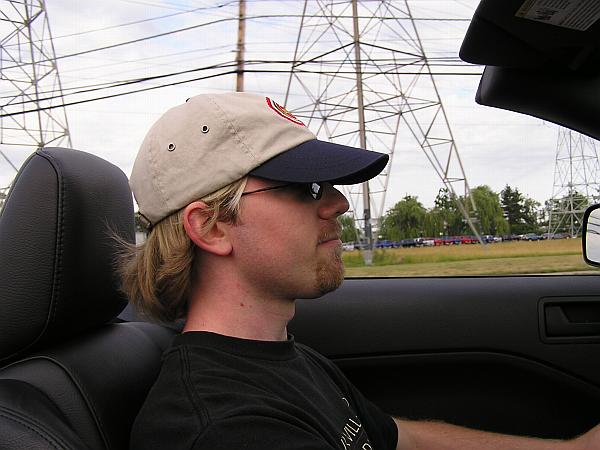 Yours truly trying to look cool in the driving seat of our Mustang.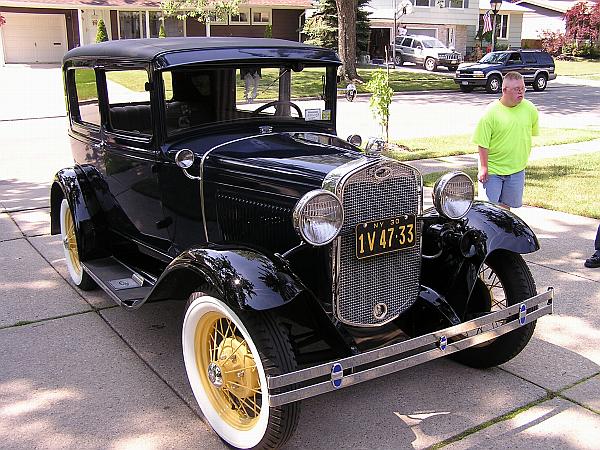 Our uncle owns a beautiful 1930 Ford Model A. They don't build them like that anymore! Those cars were built to last. Our cousin Tim has really grown since we last saw him. He really took to the Mustang and was very happy riding in the back seat. He usually saw fancy cars long before I did. He's an observant guy! Click for a larger photo.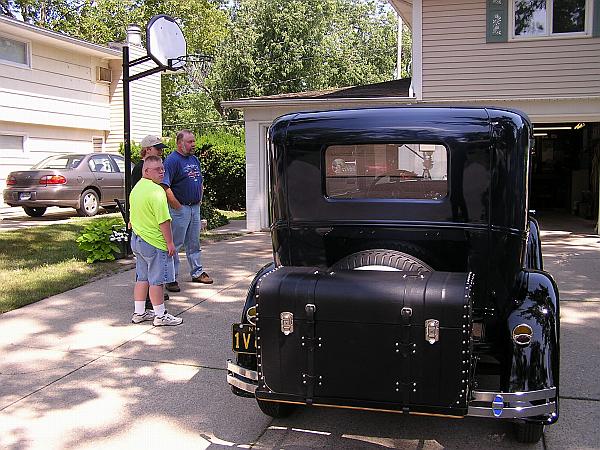 I like the real trunk on the back of this masterpiece! Notice that this machine has twin tail lamps. Randy said that originally they didn't come with two but he put another on to help other motorists. Also, you can see me chatting with our Uncle Randy.
Randy was kind of enough to let me drive this wonderful car! Can you imagine driving a 77-year-old car? I can't grasp the fact that I did! It has three forward gears and reverse. First gear is in the place where modern transmissions put second. Reverse is up and far right. The clutch and brake pedal action was normal but I had a bit of trouble getting used to the accelerator pedal because you have to push straight down, and hard! It reminded me of pressing a foot pedal for a rotating fireplace, like one in the Nazi castle in
Indiana Jones and the Last Crusade.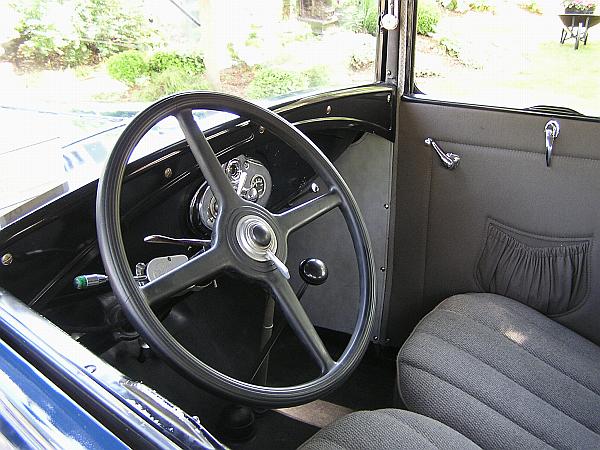 I couldn't get used to the non-synchronized gears. Randy made it look very easy, double clutching upshifts. I rarely have to double clutch downshifts, much less first to second gear changes! There's also a knob for carb mixture on the dash and ignition timing stalk on the column. This would be very useful when going up hills or cruising! It's a very fun car!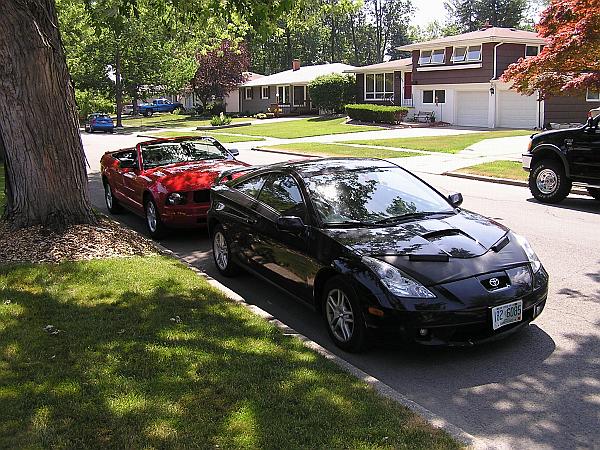 Our red Mustang behind Mom's dark blue Celica.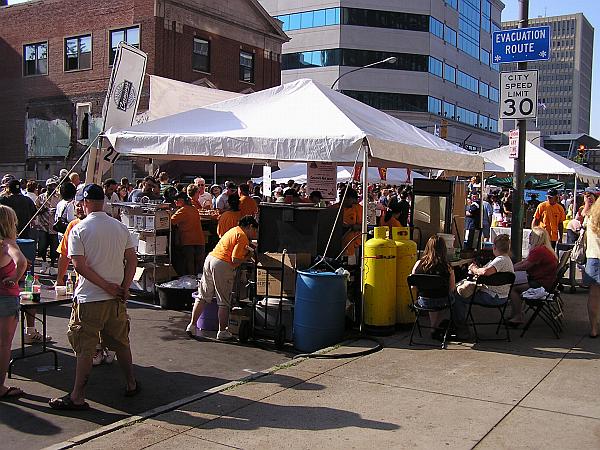 Outside the Statler Hotel in Buffalo (where the reception was) Bob and I walked around with our cousin Adam.
The Taste of Buffalo
was going on so we walked around that for a while.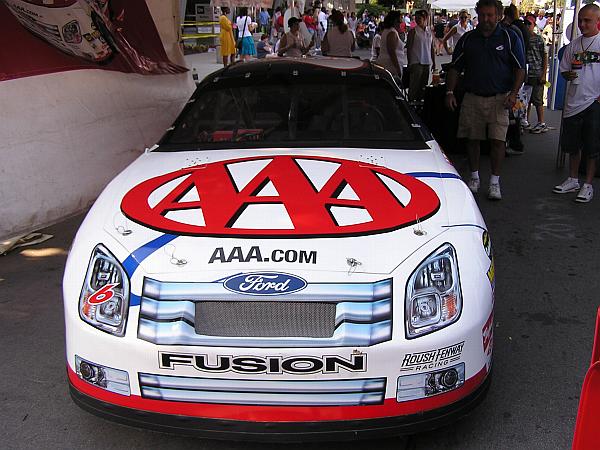 There was a NASCAR car running, too. It was a bit loud when revved up.



Copyright © 2002 - 2018 Billsuniverse.com