This time we had no trouble with the air flights. American Airlines is head and shoulders above United. It's no wonder that American is not bankrupt. The leg room was noticeably better and the stewardesses were organized and not rude.
Above you'll see the food we bought at the local grocery store. This store is about the size of a small supermarket in the States. The frozen section is a walk-in room instead of a bunch of freezer cabinets. The produce section was in its own room, too.
The store is named Bónus (pronounced BOW-nius), which is an obvious rip-off of the English word
bonus.
You know, as in
bargain.
You have to understand that Icelanders can speak English but just don't fully understand the language, so
bonus
to them is synonymous with
value
or
discount.
But the logo is the funniest part. It looks like a piggy bank. But not only that, the pig looks like it has 'had a few,' or is stoned!!

We had a good snicker at the "bonus pig" supermarkets as we named them. They're quite plentiful around the country. Back to the food...
Bob had heard about Skyr (pronounced SQUE-er, as far as I know) and we had to try some. The flavored ones taste like a thick yogurt. The unflavored one had no taste and seemed like we were eating paste. I think my taste for Elmer's glue went when I reached the double-digit age, so we chucked that stuff.
All the candy has at least a hint of licorice in it. I'm no big fan of licorice, and never cared for candy in general so Bob ate most of that stuff. The dried fish was different. It seemed like a flakey beef jerky except that it left your breath smelling like a fishery! Bob also says that it inhibits proper bowel movements.
Curiously the tortilla chips and salsa--which weren't half bad--were packaged in a bag littered with English. It struck me as very funny that Icelanders associate these tasty Mexican foods with English. They don't understand that just because many Americans who enjoy spicy food speak English as a first language doesn't make the food American. I say this because most of the other food was labelled in Icelandic with English as a secondary, if at all. Anything salsa should be marked in Spanish, but I don't recall any Spanish on the packages. Only English. This must make the Britons feel really good, seeing that a fried tomato is about as adventuresome as they get!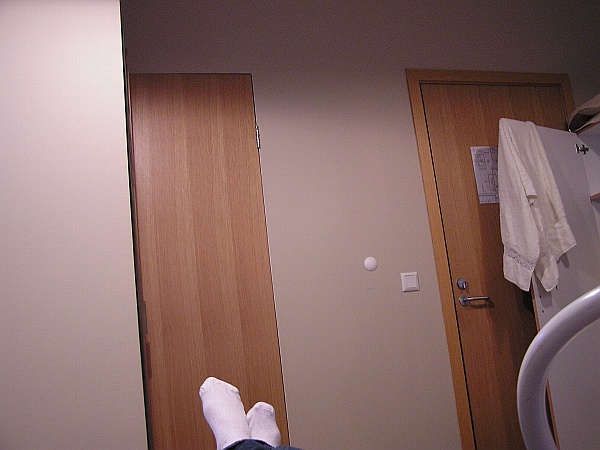 Our room in a guesthouse in Kópavogur (KOW-pah-vogur) was unusual. We had a room in--what was essentially a private house--and were on our own. The Expedia page boasted a breakfast. Yeah, do you want to buy the breakfast makings and cook it yourself? I wouldn't have minded if the "concierge" didn't exaggerate the amenities on Expedia. But you get what you pay for, so stay in a proper hotel!
Our room had an en-suite bathroom, which was a plus. The problem is that upon entering the 'house I noticed that it smelled like shit. I'm not being over-critical here. The water in Reykjavík is heated by hot springs so sulfur is always present. I suppose it doesn't help that the landlady was (probably) running the hot-water tap to maintain the stereotype just for our arrival!
Our room was well-appointed, in an IKEA way. The bathroom door was this awkward folding arrangement. This curious door is visible behind Bob's feet in the above photo. The door continued to the perpendicular wall, that's really not visible to the left of the main door. It was odd at first but got old very quickly because you really have to open both segments of the folding door to gain access to the bathroom.
---From now on you may view a larger version of the photo by left-clicking.---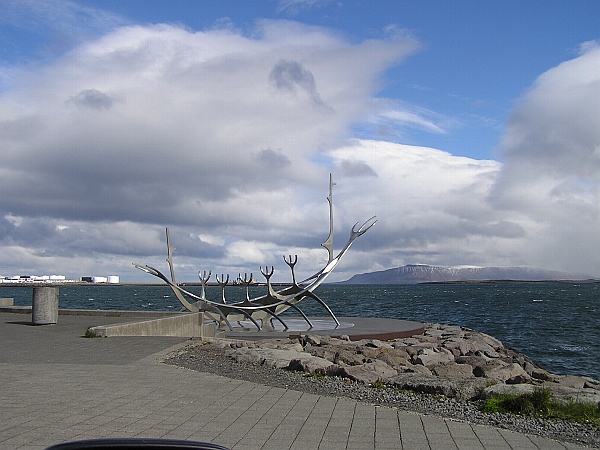 A statue that commemorates the Viking settlers of Iceland. Set against the dark, choppy waters this reminds us that the Norsemen were a very hardy people. Can you imagine taking a shallow-draft longboat across the north Atlantic? Wasn't this the same waters in which many of the passengers of the RMS Titanic froze to death? Beautiful but deadly.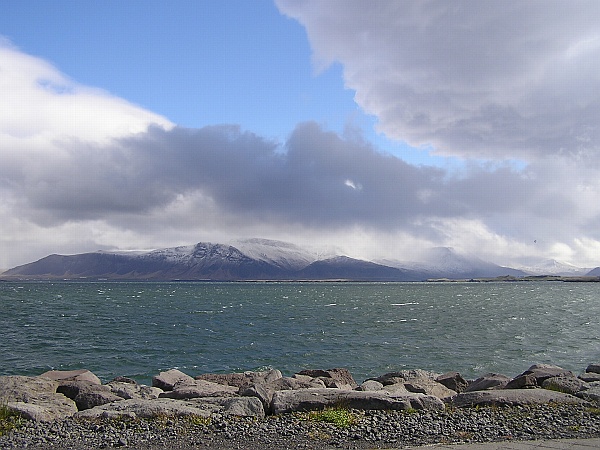 The fjord at Reykjavík is pretty.
Please be sure to properly pronounce the name of this the most northern capital city of the world. Hear the correct pronounciation
here.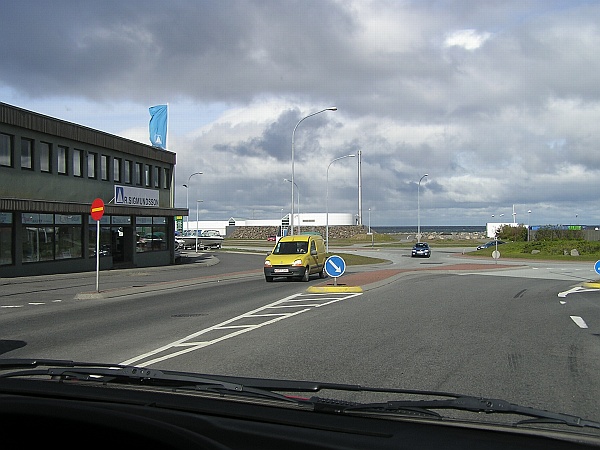 The automobile traffic and signs in Iceland are just like that of Europe. I have a soft spot for English roundabouts and Iceland did not disapppoint me.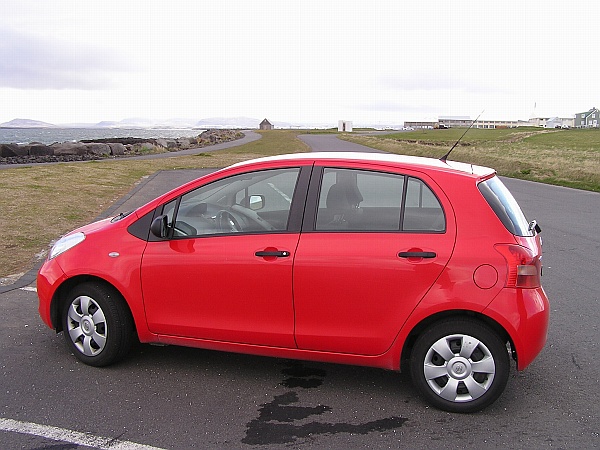 Our loyal steed as we explored this curious little country is a Toyota Yaris powered by a one-liter engine.
I am very partial to little engines because my little MG Midget originally was powered by a '59-horsepower' one-point-one-liter engine. Not too powerful but I had a lot of fun racing around and just raising hell in the roadways of northern New England.
Perhaps I just feel enjoy being like David against Goliath? So our little Yaris was okay with me, even if it is a bit ugly

Dare I say that I thought it was cute? Maybe all those comments from women about my little MG is causing me to view all small cars as they do (i.e. "as cute")?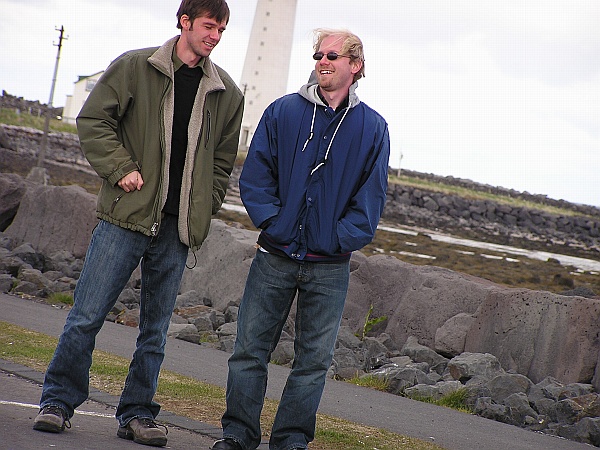 Yours truly with my brother Bob. The area near the lighthouse in the fjord in Reykjavík is cold and very windy. Maybe I've turn into a wimp by living in moderate southern California, but I doubt it. Iceland is a cold island no matter what they say about Gulf-stream currents!
In this photo you see my brother and I in front of a lighthouse at Õfirisey. It was quite cold. I was wearing three layers and wasn't comfortable. Mind you only a year and a half ago, I used to shovel snow in New England in a T-shirt! Iceland is a bit chilly.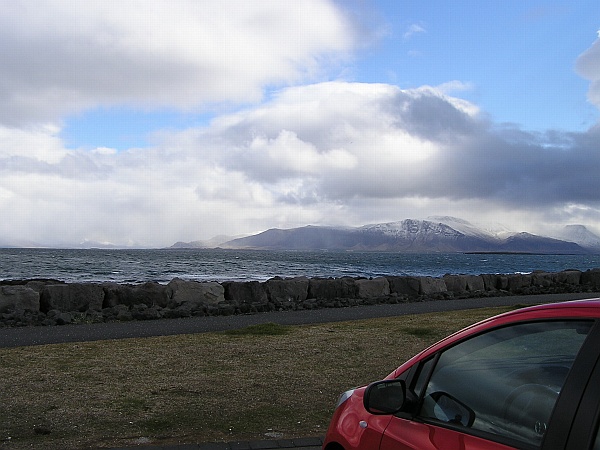 A cool shot as we got back in the car.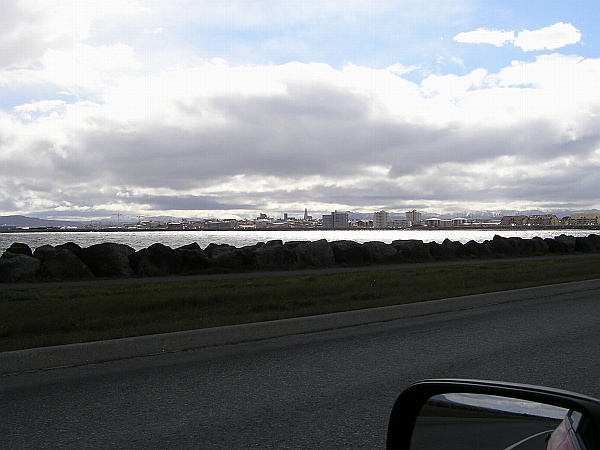 Reykjavék is a pretty city even if it's not what we expect from a city here in America. The city is just there. It doesn't need any special directions like Los Angeles or New York. It's a small city.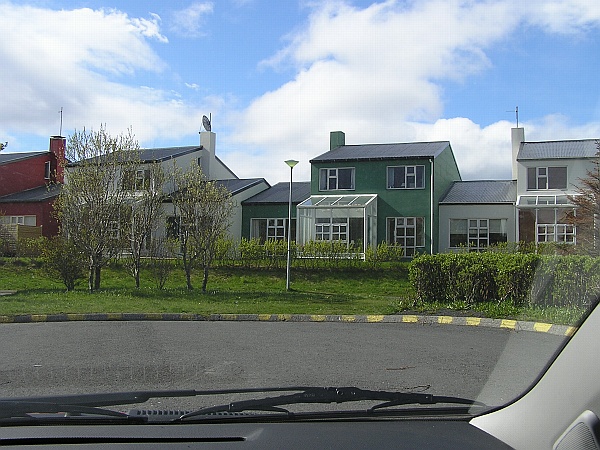 Colorful houses.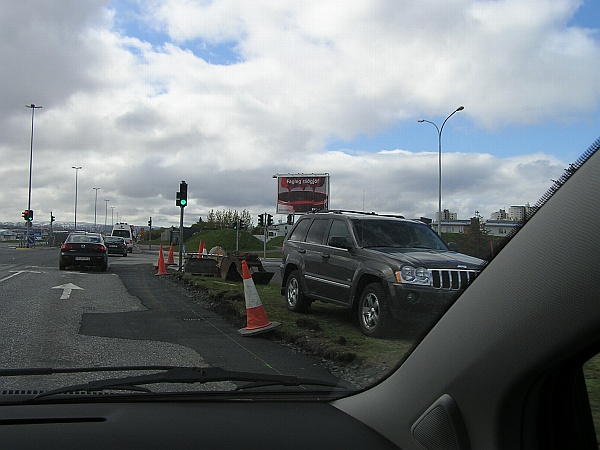 Fagleg?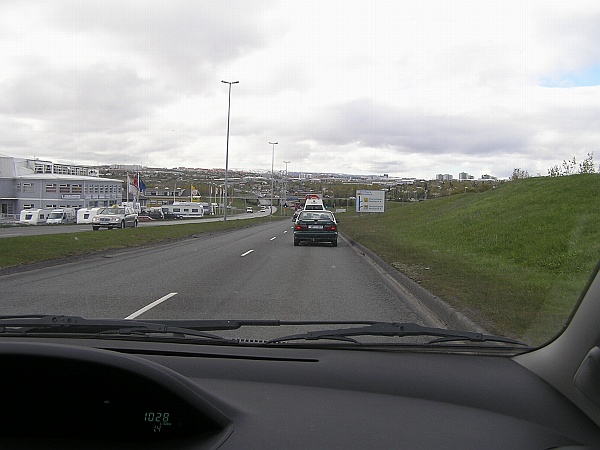 This is probably the largest highway interchange in Iceland.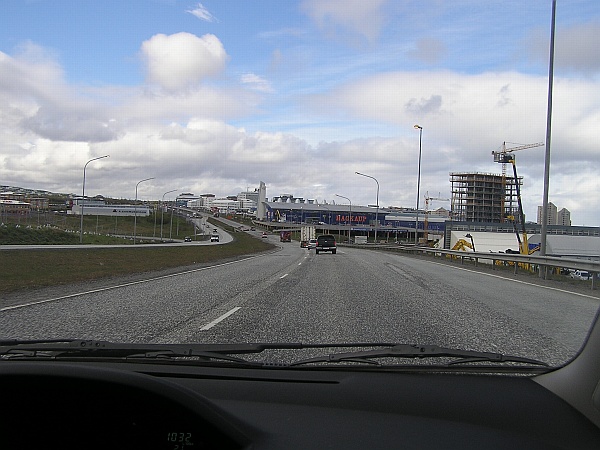 Hagkaup is a large department store/mall.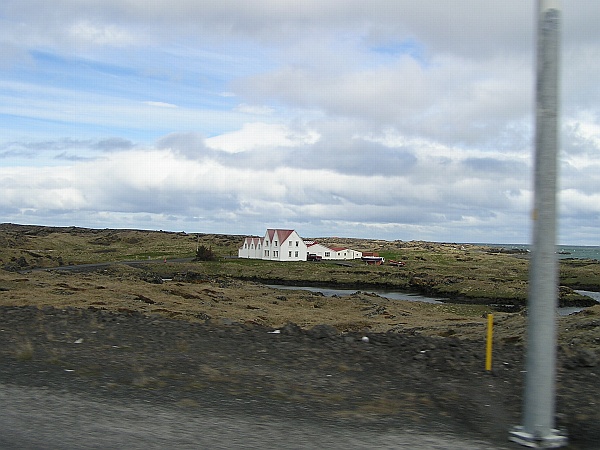 A house outside of the capital on the road to the Blue Lagoon.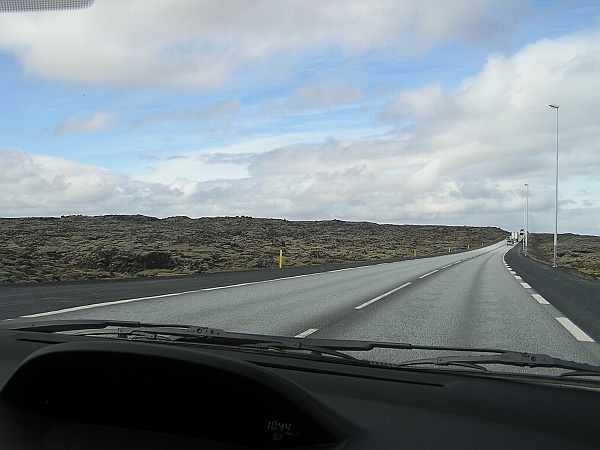 The terrain changed from green to brown as we left the city.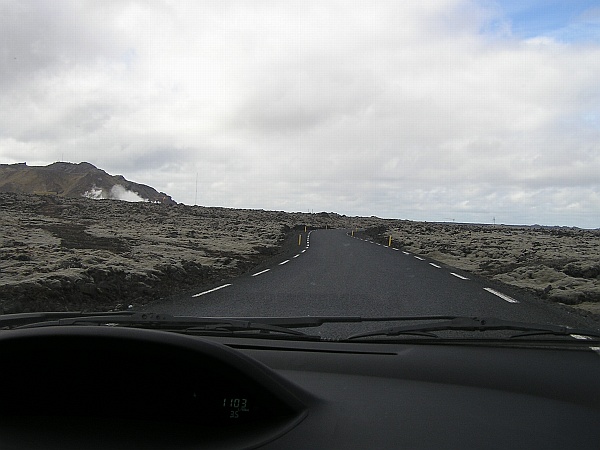 The terrain changed yet again as we approached the Lagoon.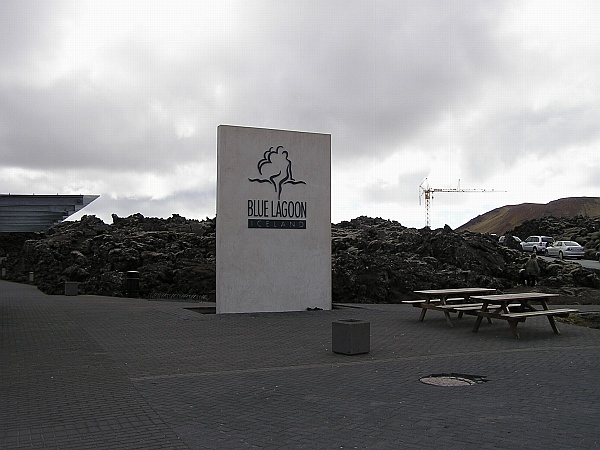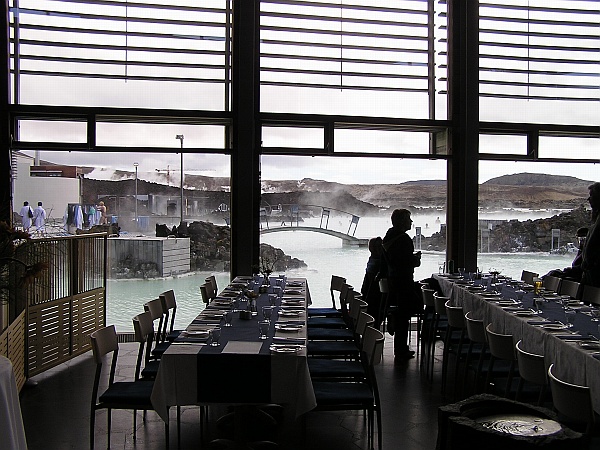 The Blue Lagoon is an expensive tourist trap and busy so we just took photos. Outside is the Lagoon, which is man-made.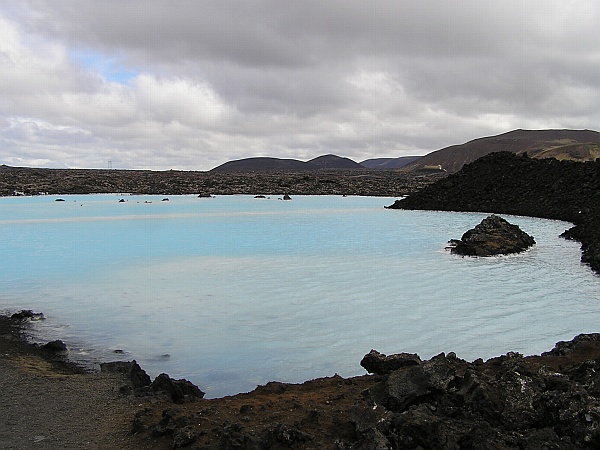 The water is really that shade of blue! It also leaves a chalky white deposit on the black rocks.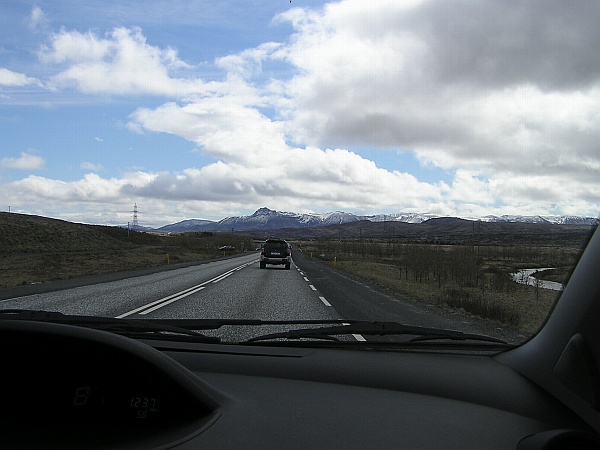 We then drove east out of Reykjavík.
An overlook on the way to Geysir.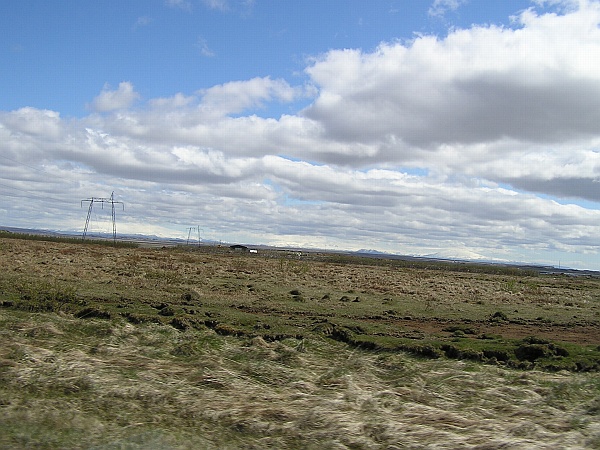 The terrain changed again after a few miles.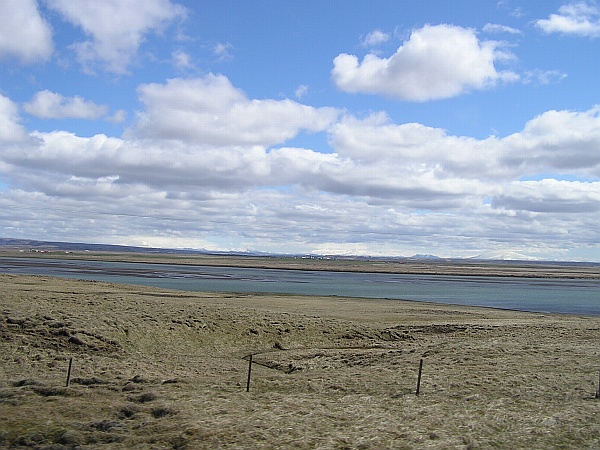 And again a few miles further!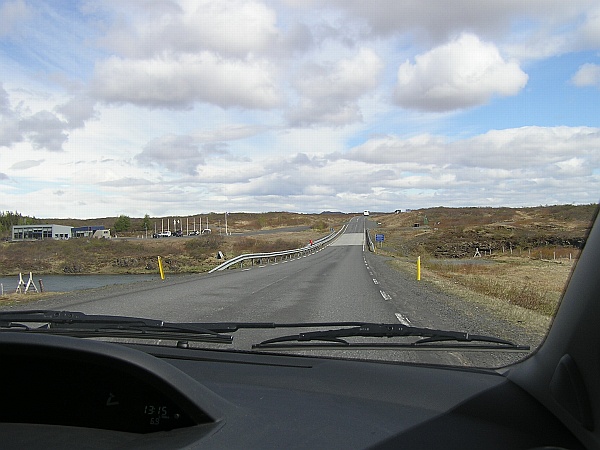 Most of the bridges outside the cities are one lane.
Bob and I pictured standing next to a miniature Viking outside the visitor center at Geysir.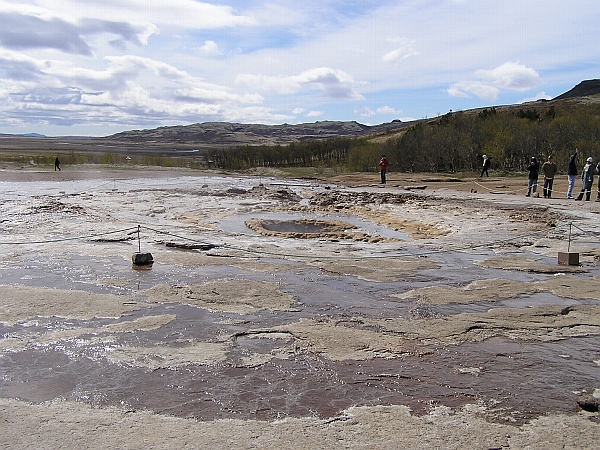 The Great Geysir hasn't erupted since the sixties (too much acid?) so this is nearby Strokkur.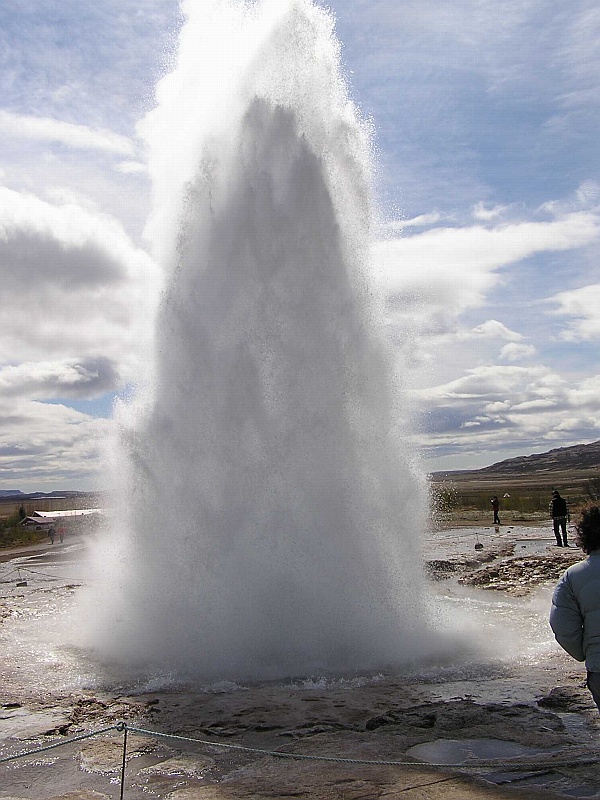 Erupting.
The mighty Gullfoss.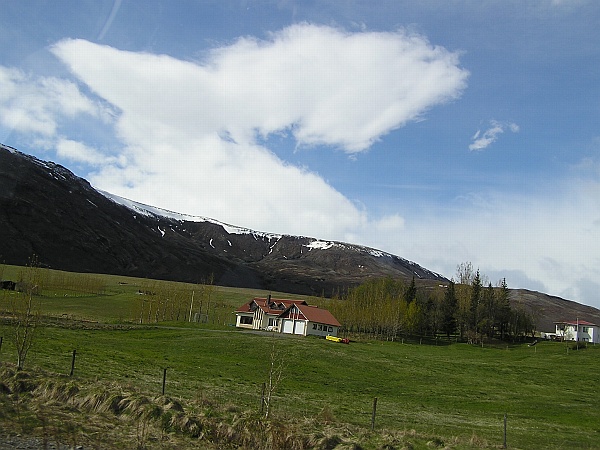 They have a good view.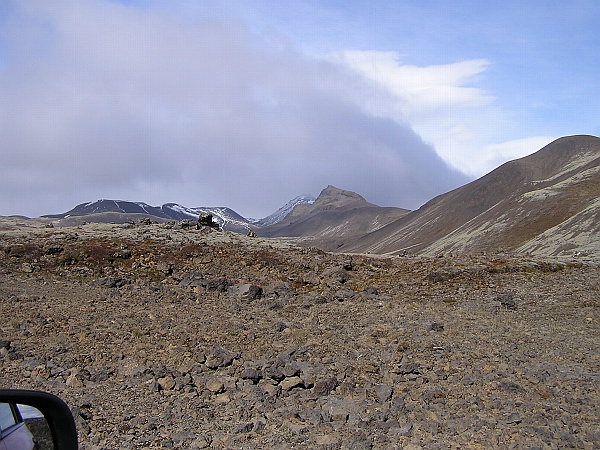 The view along a rocky road on the way to Þingvellir.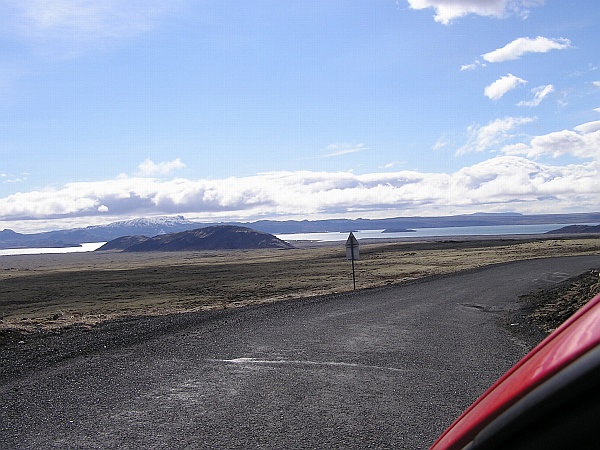 Þingvallavatn is Iceland's largest lake.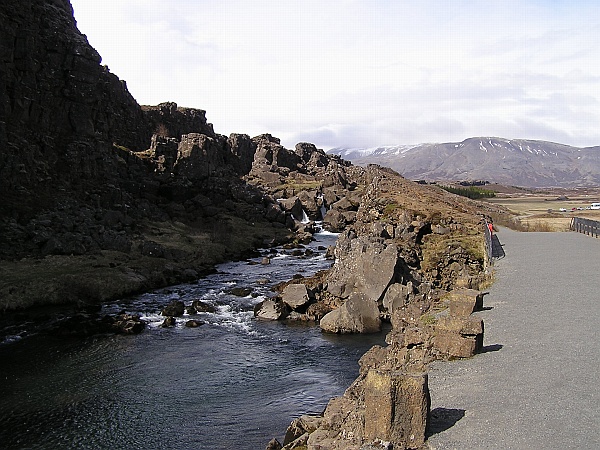 Water flowing next to the very windy walkway leading up to the Þingvellir overlook.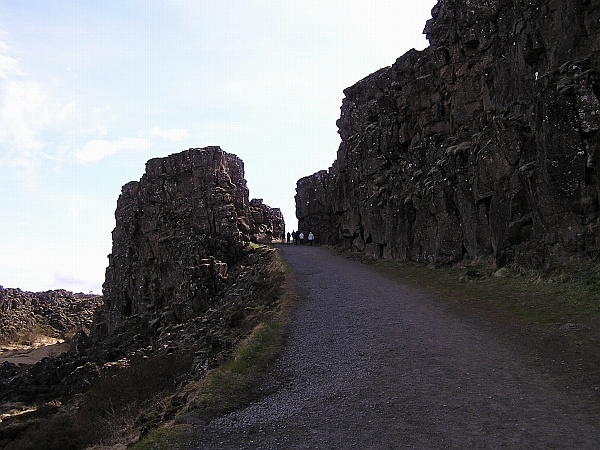 The walkway seemed cut through rock at parts.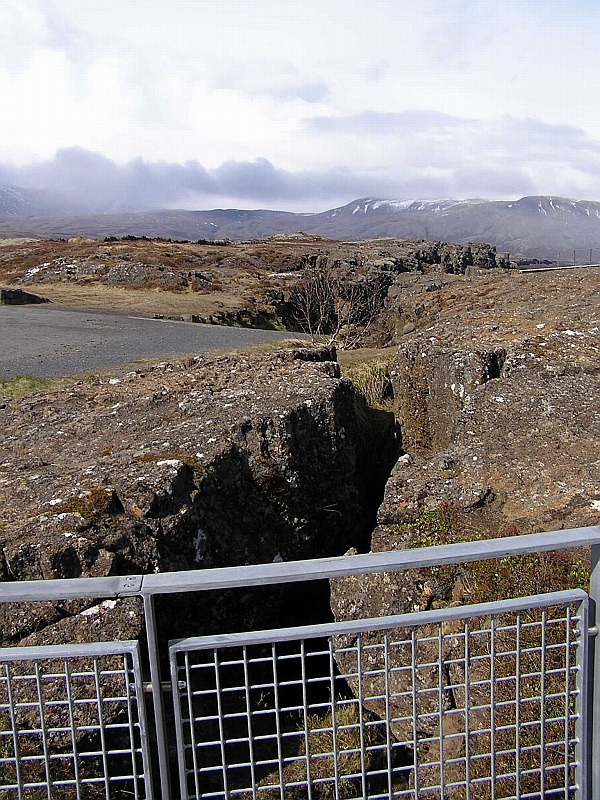 This is where the North American and European continental plates are separating. I expected to see lava or something!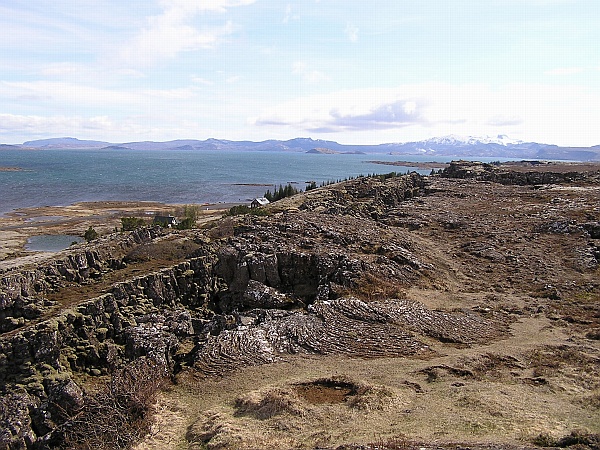 The lake from the overlook.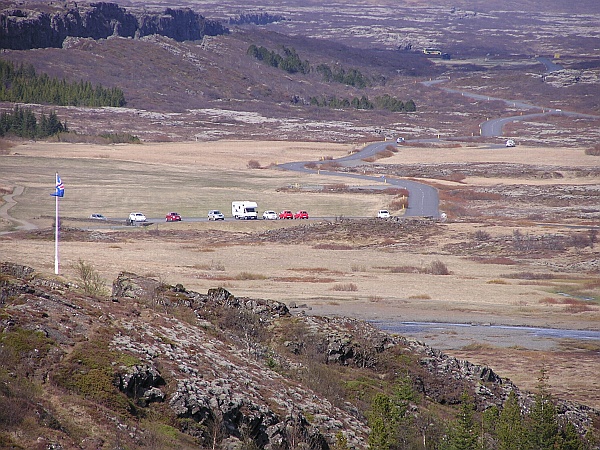 The road to the parking lot. We parked next to another red Yaris.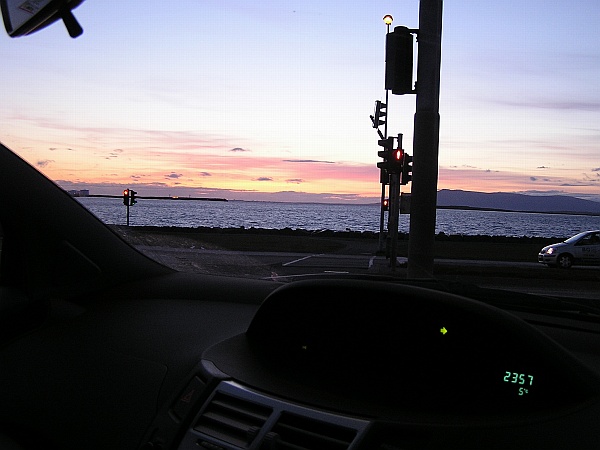 Back in Reykjavík I took this photo of the "sunset." You can see that it's nearly midnight in that photo.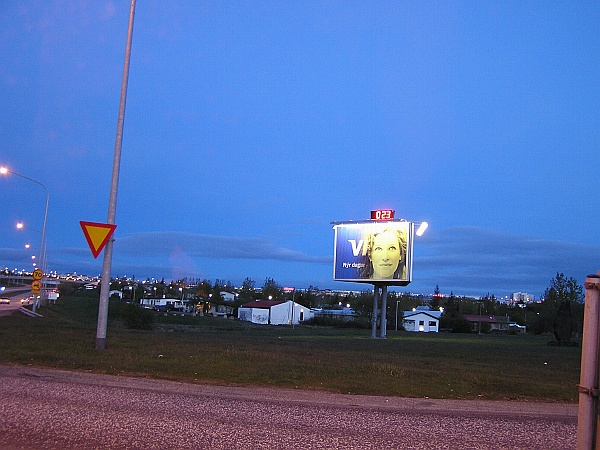 Spring nights in Iceland aren't very dark! The nightlife is essentially a bunch of guys walking around looking for that bar with that one woman and locals circling the downtown in their cars. Odd.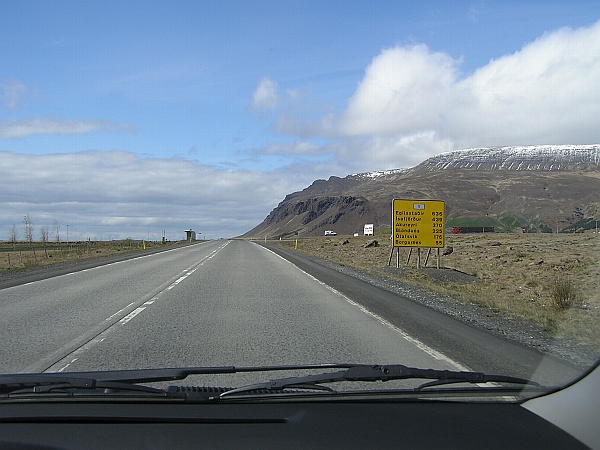 The next day we started north on Route 1, the Ring Road. Our goal was to reach Akureyri on the north coast.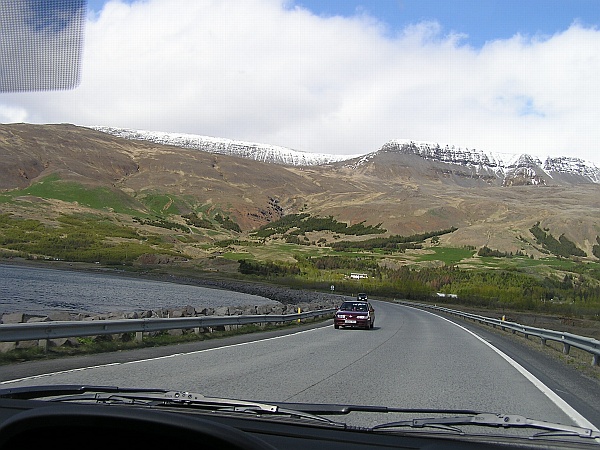 Following the fjord towards Akranes, we experienced yet another terrain!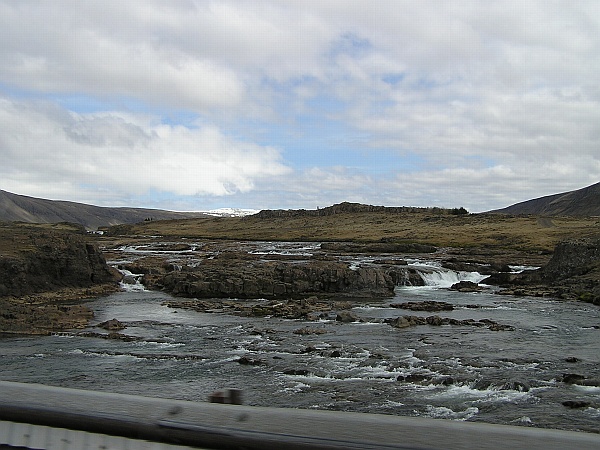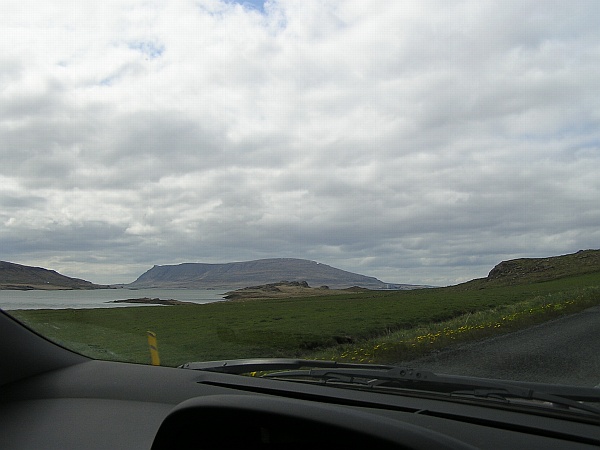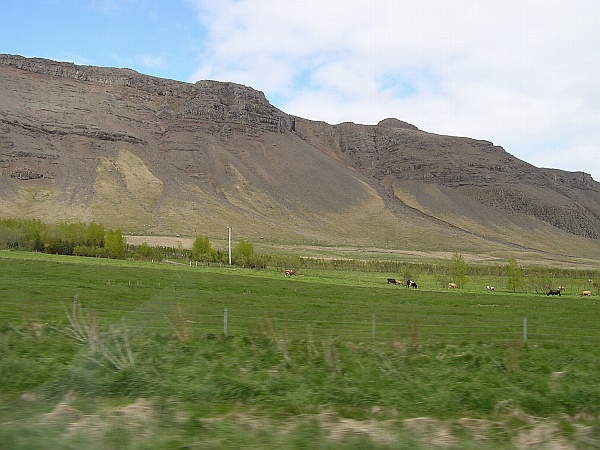 Continuing around same fjord it got even greener. The dandelions along the road and the cows make it look like farms in America.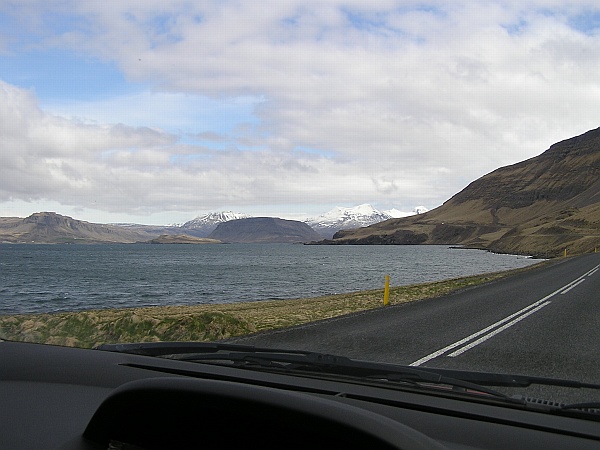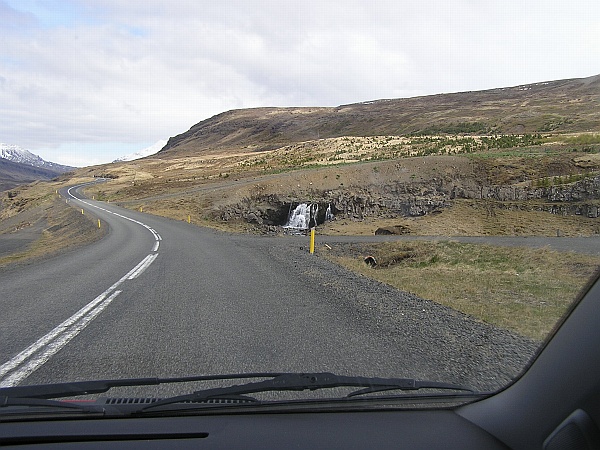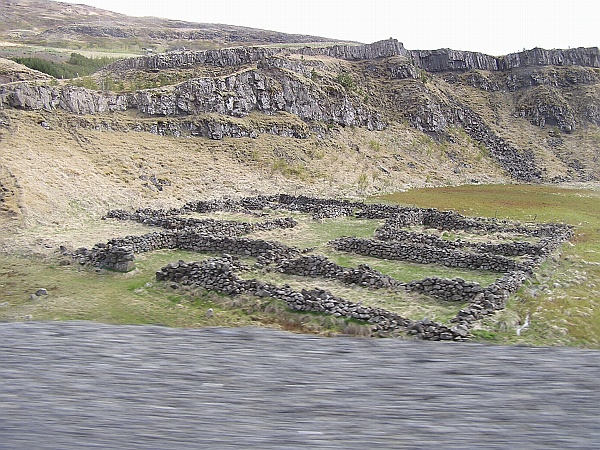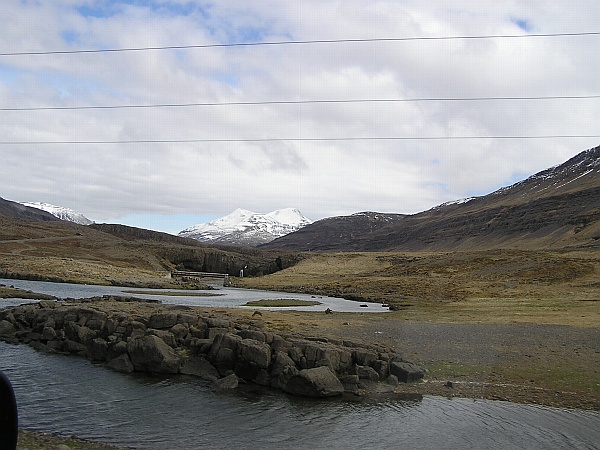 More great shots.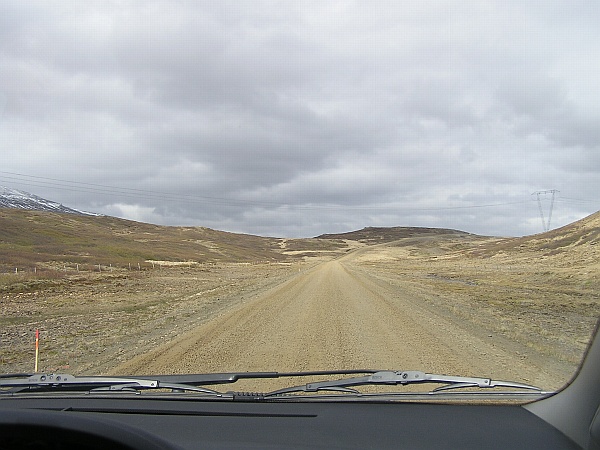 After stopping for gas and giving directions to a couple of tourists, we took this shortcut north. This was the first secondary road that we took. We called them "yellow roads" because that's how the map denoted them.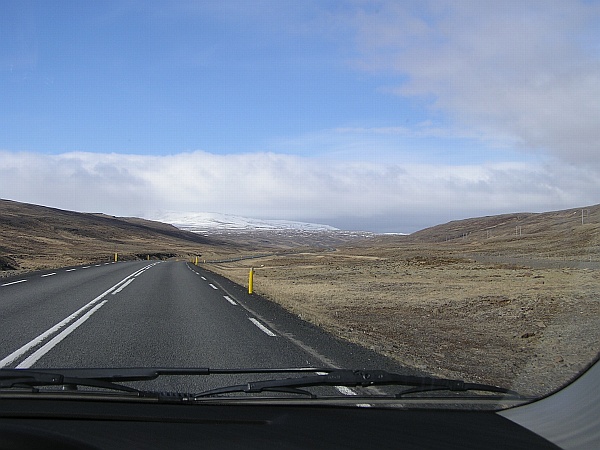 Back on the Ring Road after going past Borgarnes.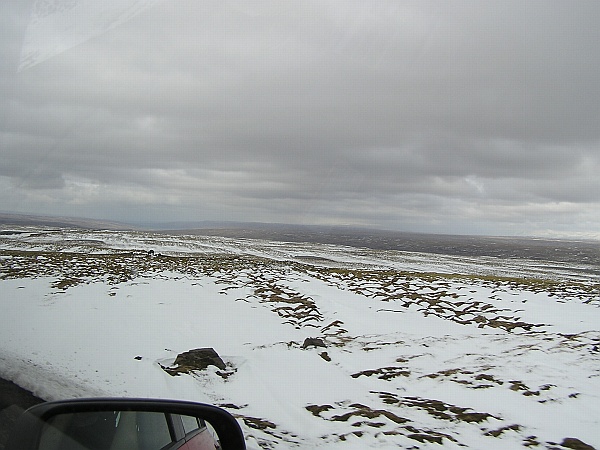 As we climbed in elevation we started to see snow.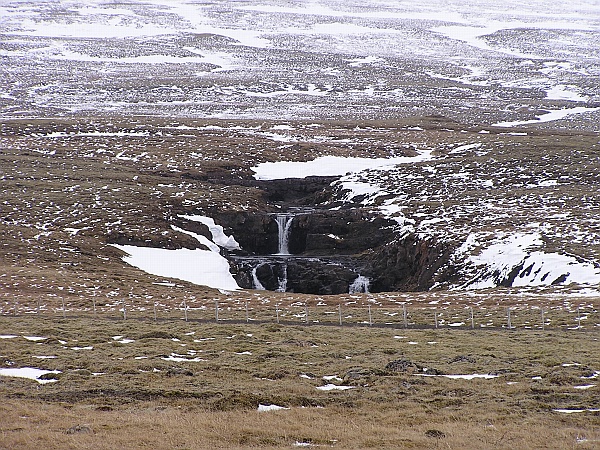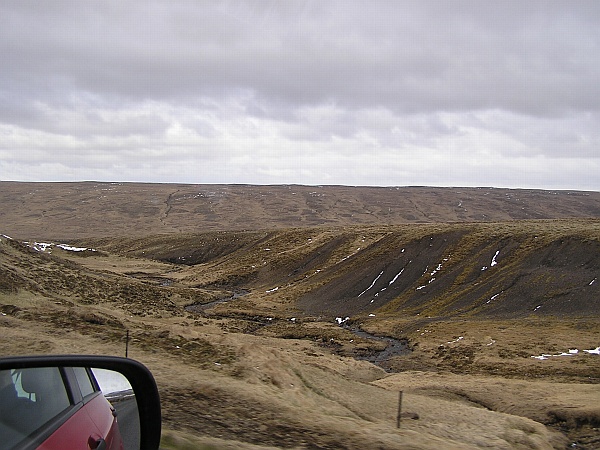 A small waterfalls and a creek.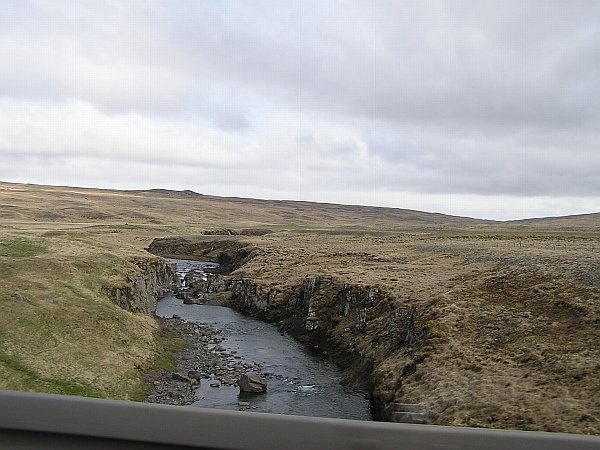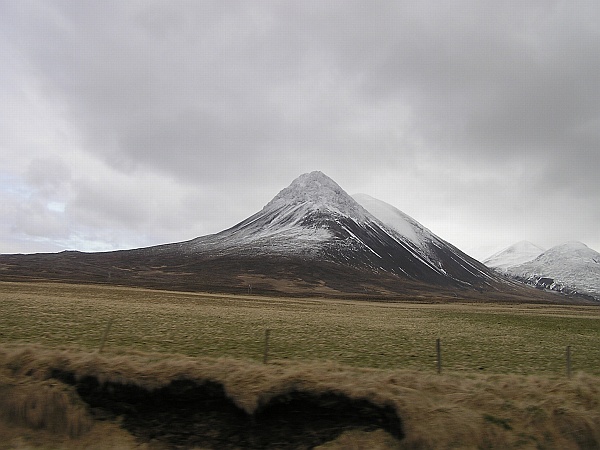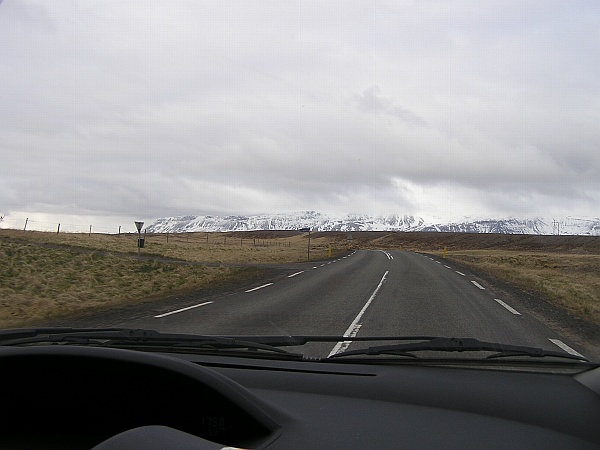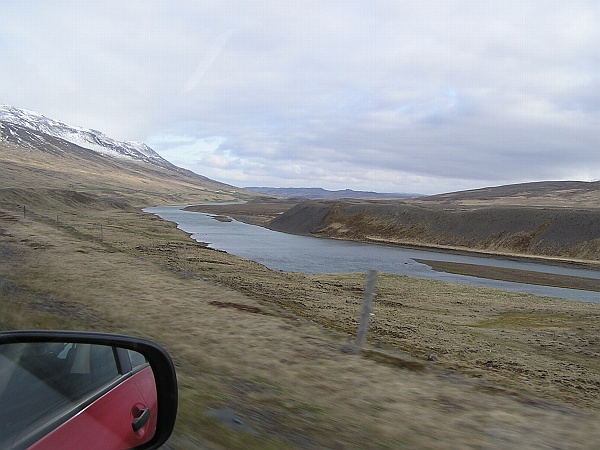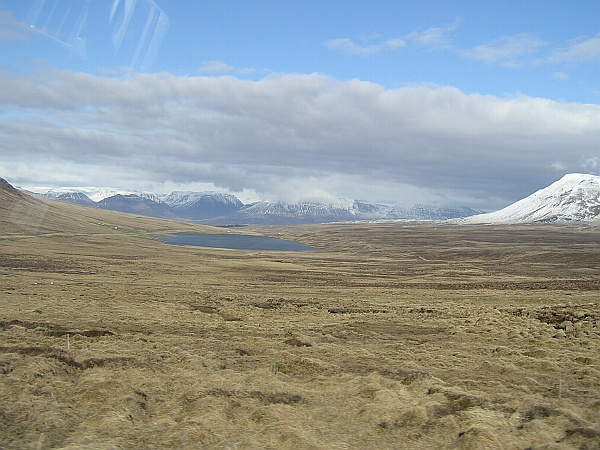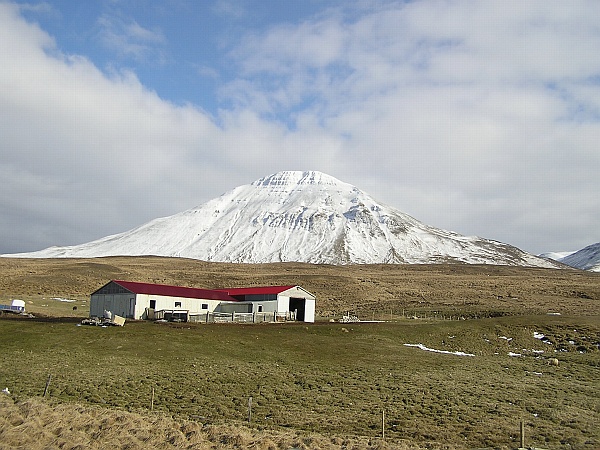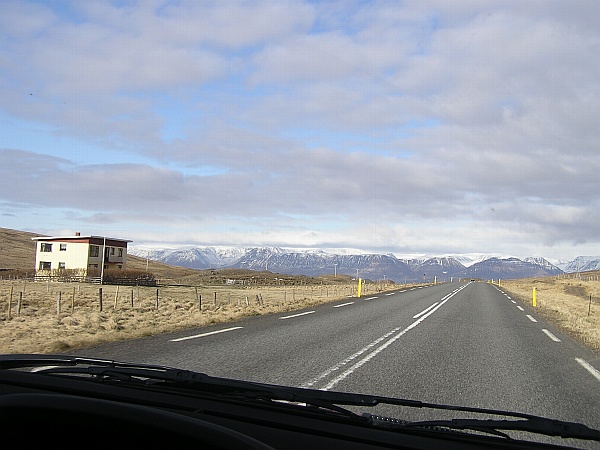 The mountains where we're heading.
A panoramic at a scenic overlook off the Ring Road in the middle of nowhere.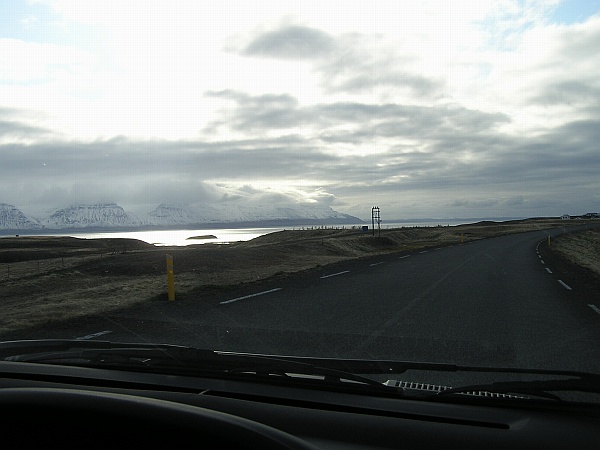 Our first view of the Arctic Sea.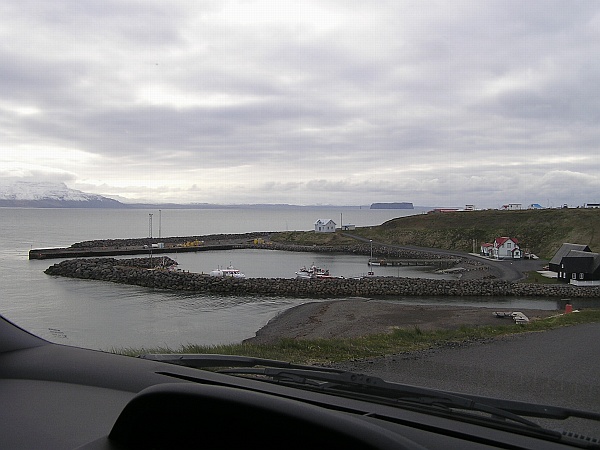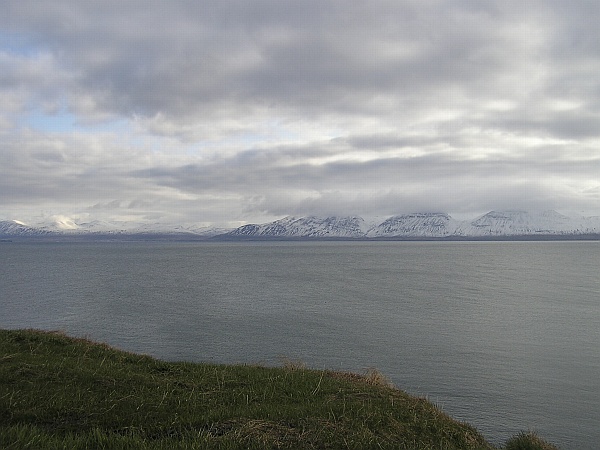 The little village of
Laugarbakki
is the home to fewer than 100 people and is heated by a geothermal spring. There was one gas station, a dozen houses, and a few public buildings (e.g. school, city hall). The view is amazing.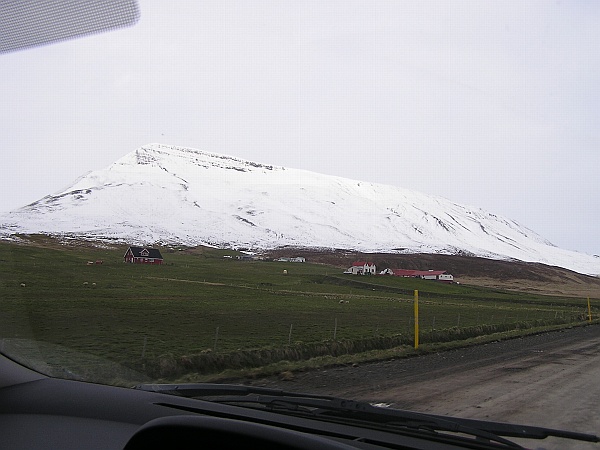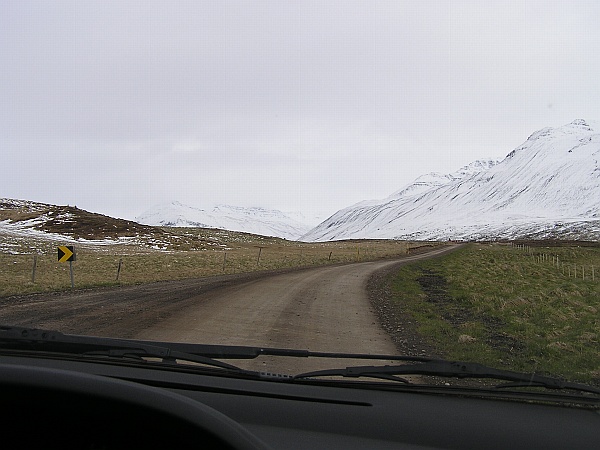 In an attempt to make it to Akureyri at a reasonable hour we took this yellow-road shortcut through the mountains.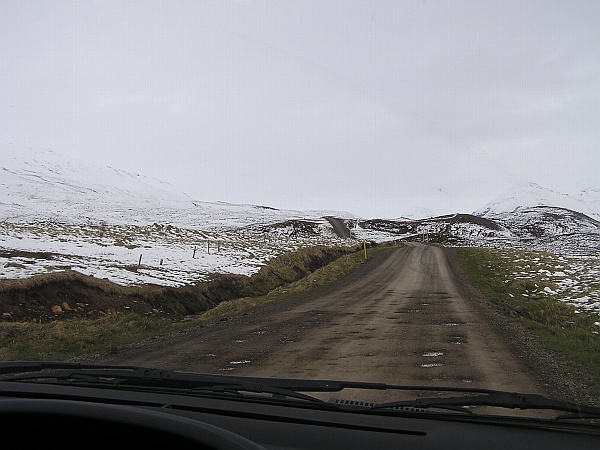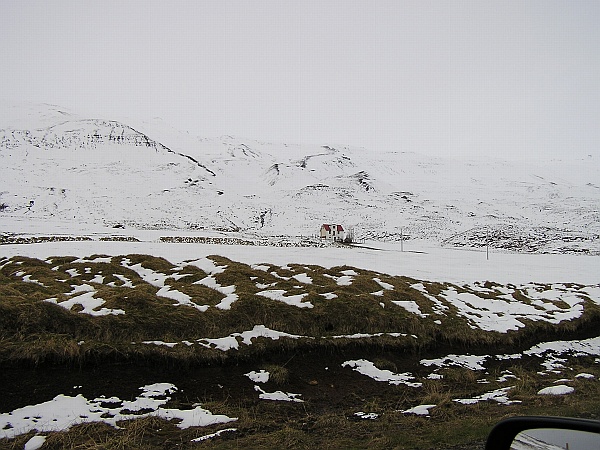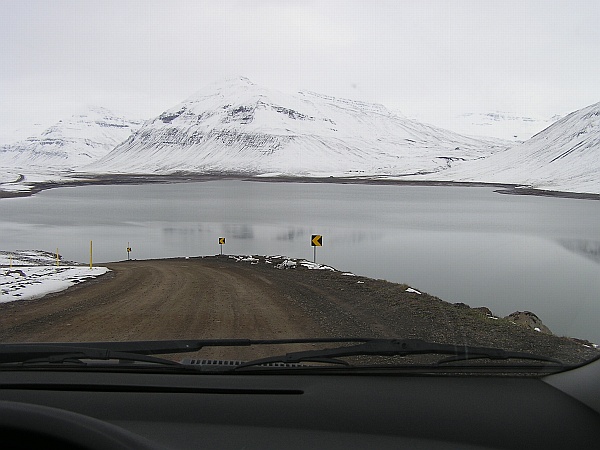 The road became more of a driveway and we saw several secluded houses. This little lake just appeared when we crested a hill. It was a good thing we weren't going very fast!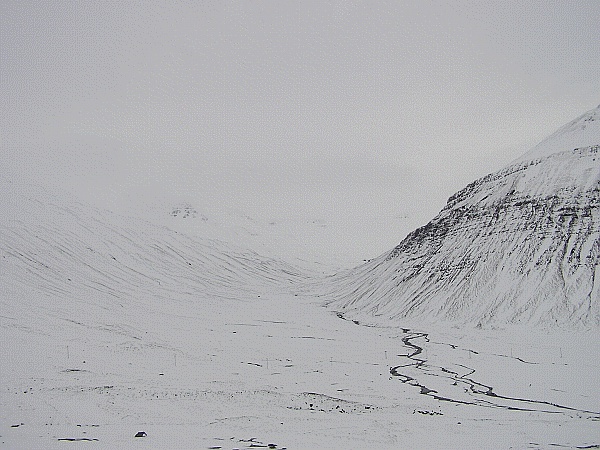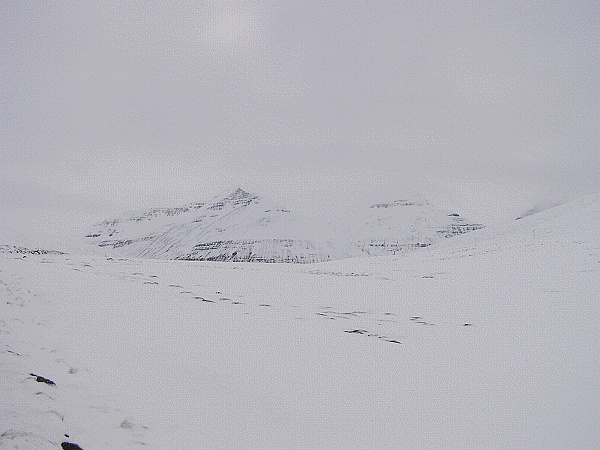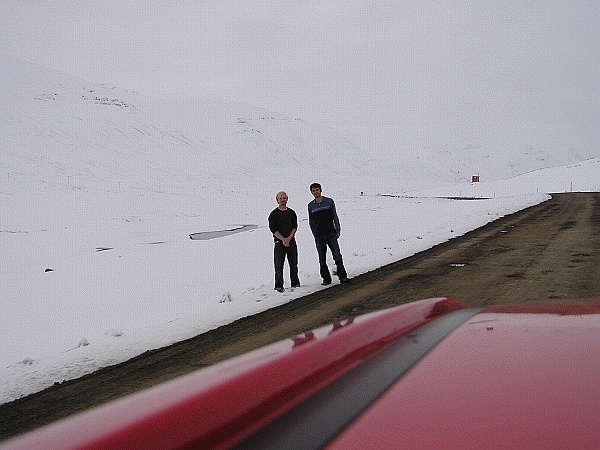 In this snow-covered valley there was no echo at all.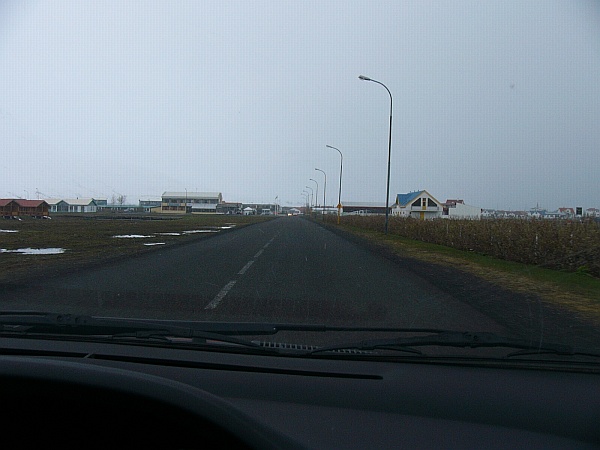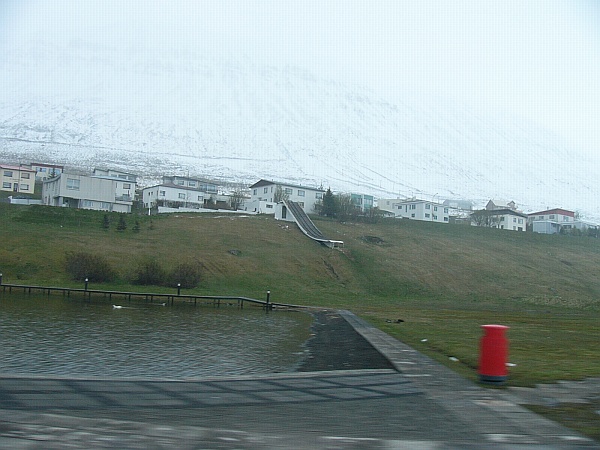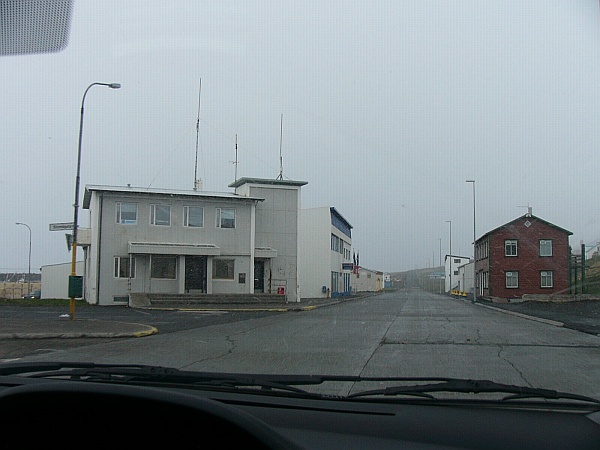 Ólafsfjörður is about as far north as we got. It's a quaint little fishing village.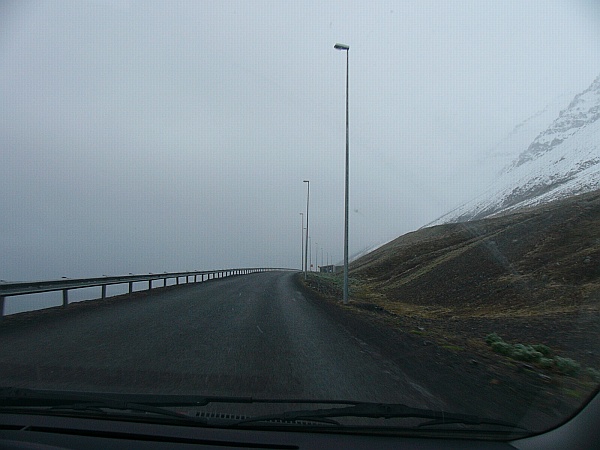 South of Ólafsfjörður is a 4 km tunnel. I took a video of us going through it. It took more than 3 minutes! It's single-lane with pull-offs on both sides every fifty feet.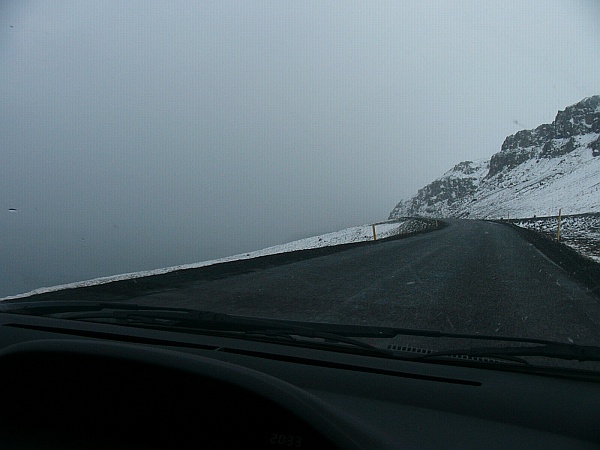 On the other side of the tunnel it was snowing and we had a good view of the fjord.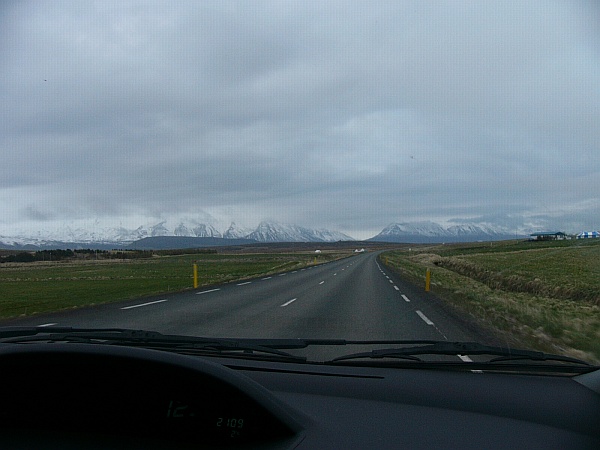 Past Dalvík on the way to Akureyri it greened up again.
Akureyri is the largest city in the northern part of the island. From the friendly concierge at our hotel we learned that the population is 16,000 but the hotels have capacity to allow that to quadruple. During the summer months cruise ships stop here.
They must have about thirty cars in the whole city and we saw most of them circling the downtown streets the entire night. It reminded us of the computer cars in
Test Drive 3
because the computer game had the cars circle around and around without going anywhere!
We grabbed a couple of Guinnesses in the only place that we could find. We stuck out and were stared at. Icelanders don't hide it either! I don't know about Bob but I felt like an insect under a microscope. Not very fun. We left and went back to the room and watched part of the horribly gruesome movie Dagon.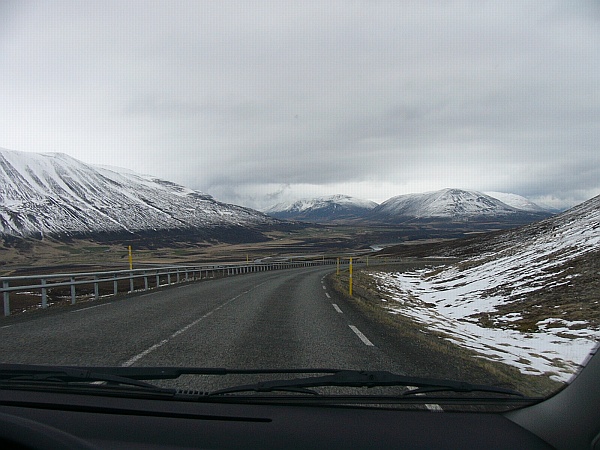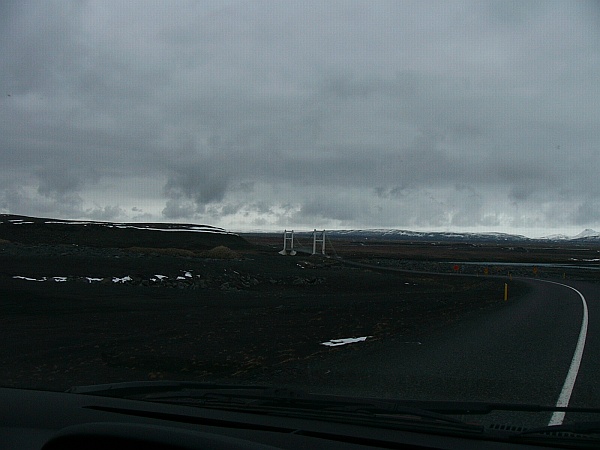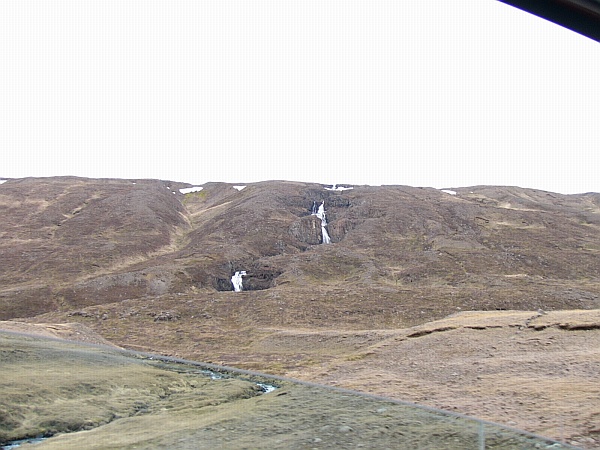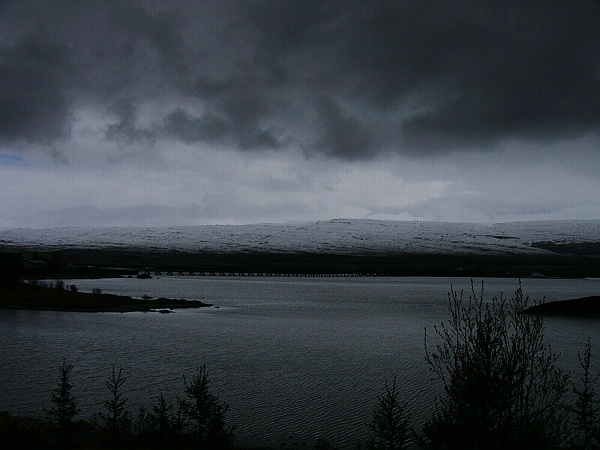 Photos of the road to the Mývatn, a lake in the central northern part of the island. I guess in clear weather it's quite the pretty fishing spot!
On a tricky "yellow road" leading down to a fjord on the east coast we came across this area of beauty. The photographs don't do it justice. It was probably one of my favorite parts of the trip.
At the coast back on the Ring Road we had to pull off and take these spectacular photos.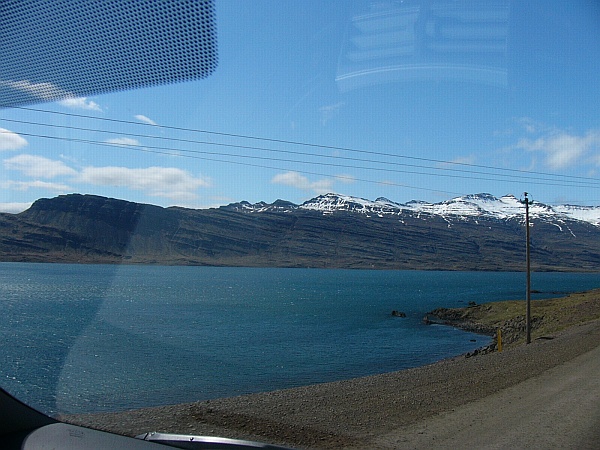 This fjord was exceptionally blue and the sun was shining brightly. You wouldn't think we were in Iceland. Yup, there's just ice here and nothing else. I don't know why we bothered to visit!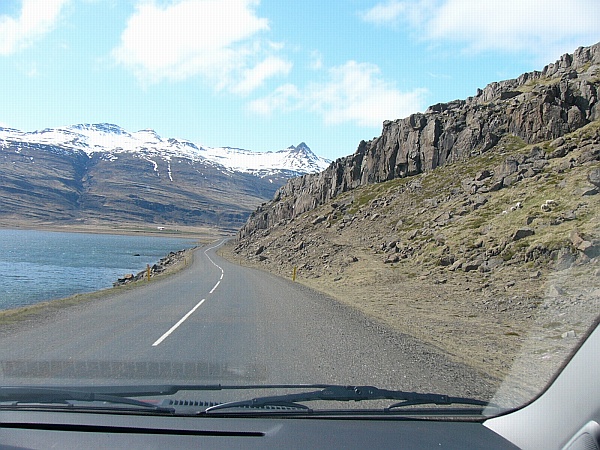 Back on paved road the scenery didn't change.
A black sand beach.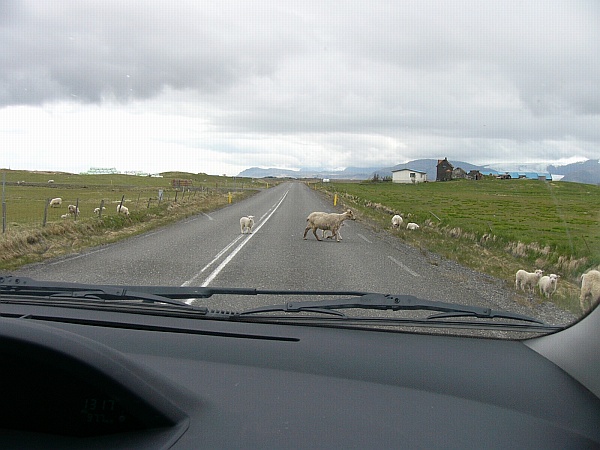 These little buggers made us stop. But any country where sheep have the right of way is alright with me! The lambs seem very curious. I don't think this area gets much traffic.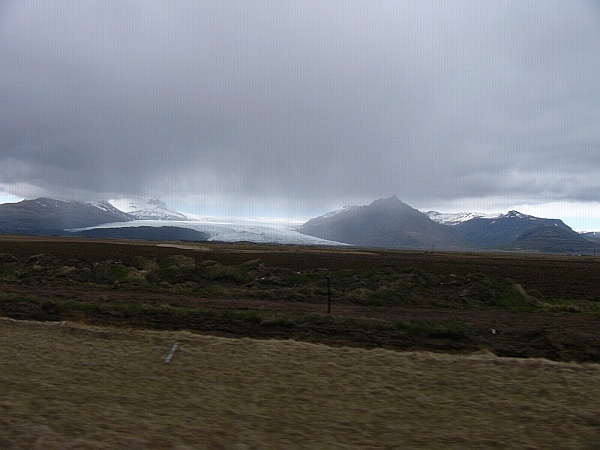 This is the tip of glacier Vatnajö kull, which is the largest in Iceland.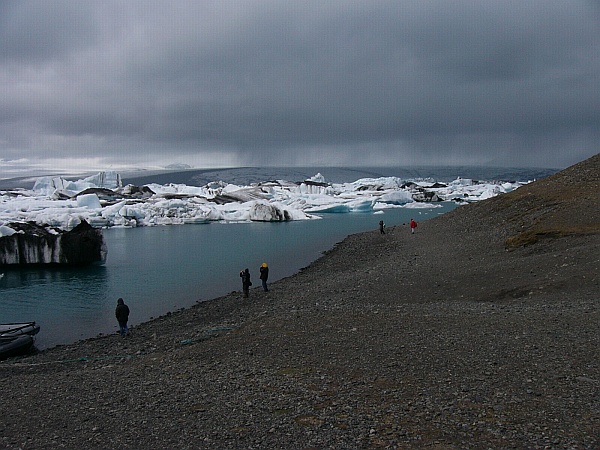 A popular tourist attraction is this iceberg lagoon. I forget the name. Here we bought some souvenirs.
We were the only ones not wearing full winter gear. We got used to colder temperatures in the North and were comfortable here in the warmer Southeast. The other tourists thought we were mad as we walked around in the drizzle while they shivered in gloves, hats, and parkas. Ha!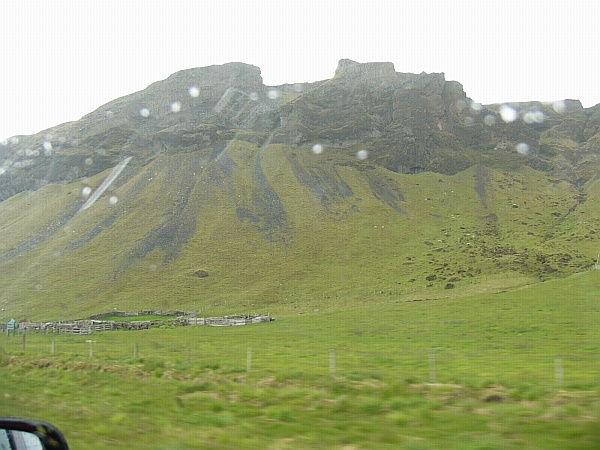 Continuing west we hit some good rain. It figures that as soon as I start driving for the day, it rains. Oh well. It didn't slow us down much. We made good time at 100-130 kph (60-80 mph). Earlier we found that the top speed of the car is regulated to about 155 kph (100 mph).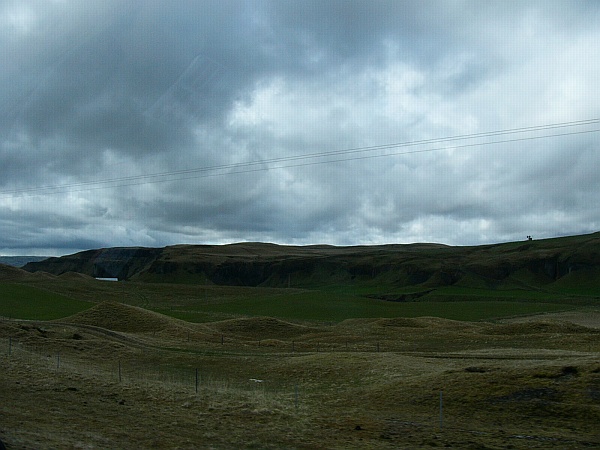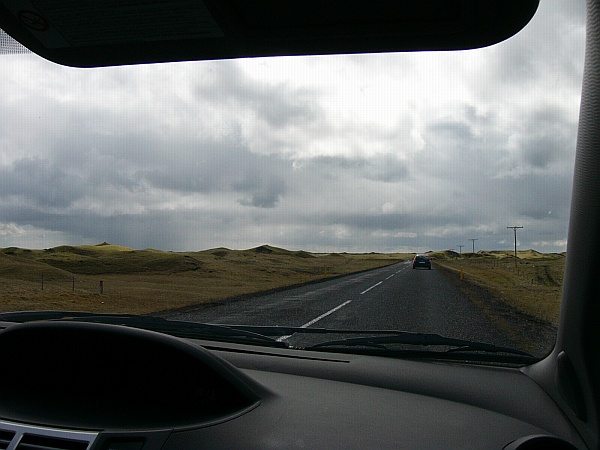 After the rain stopped the terrain started to change quickly. If I recall these three photos were taken over a distance of 20 miles!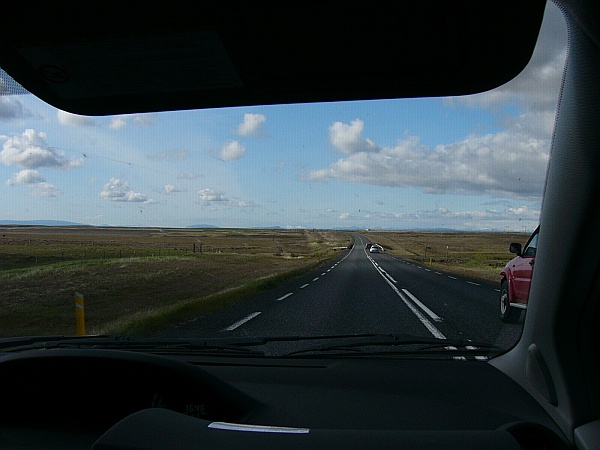 I'm caught overtaking as Bob snapped a photo of the grasslands. Yet again a different scene!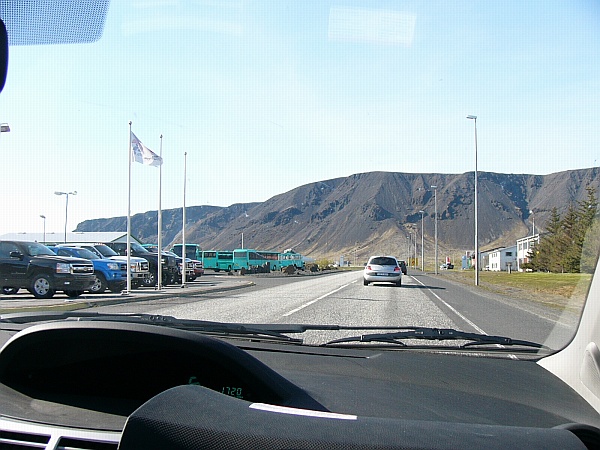 Vík has one big gas station. We were going to fill up there but I didn't feel like fighting for a pump with all the cars and aqua-colored tour buses.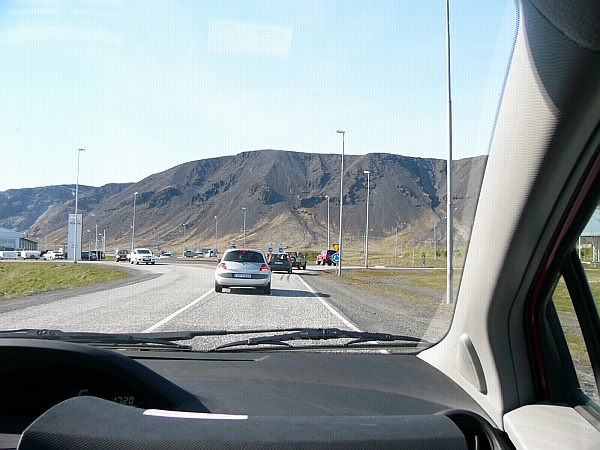 Oh no, "traffic!"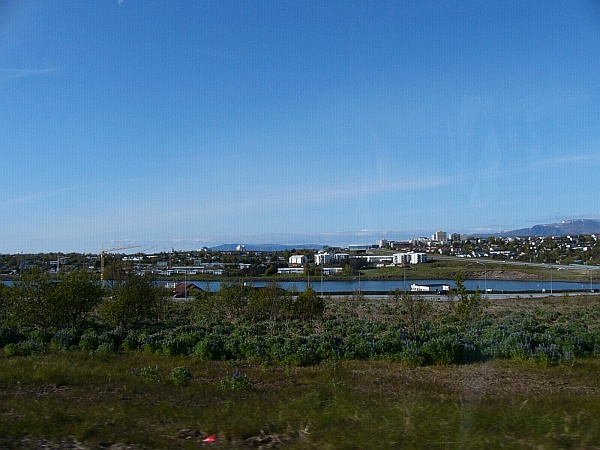 After sitting in a long line of traffic going into Rekyjavík, we finally returned back to our guesthouse.



Copyright © 2002 - 2018 Billsuniverse.com