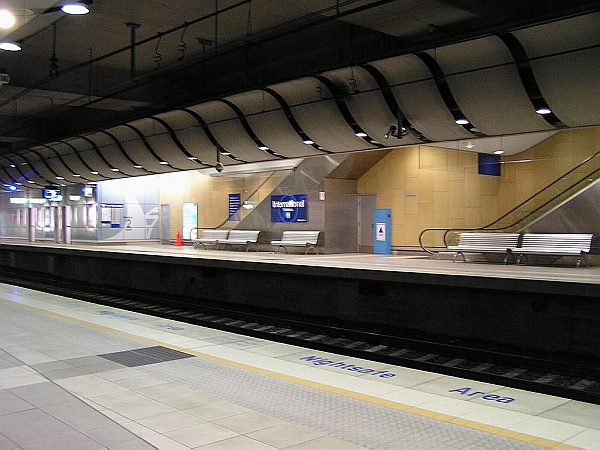 The air flight to Australia from Los Angeles in coach (or "cattle class" as I now name it) was rough. Being stuck in a confined space with rude people for 14 hours is bad enough without the stewardesses making it worse.
As seems to happen on about half of my flights, I bumped the stewardess call button and one came over and rudely asked if I had a problem and then switched the thing off. Strike one.
When they served the first meal Bob and I were drinking nips, which he purchased in a duty-free shop at LAX, a stewardess said she'd have to confiscate them. At first, I thought she was joking but when she proceeded to loudly say we were in violation of some Federal law--boo hoo--I knew she was not playing an early April Fool's joke on us. Personally I don't think US law should have much influence when we're above international waters on our way to a foreign nation, but then who am I? Certainly not an United Airline stewardess! Strike two.
I forget what our third offence was but fortunately we didn't have to ride on the wing as punishment. Finally we made it to Sydney airport and easily cleared customs, changed our money, and made our way to the CityRail station. We were impressed by the cleanliness of the station. It looked brand new and was meticuluously kept, as you can see above.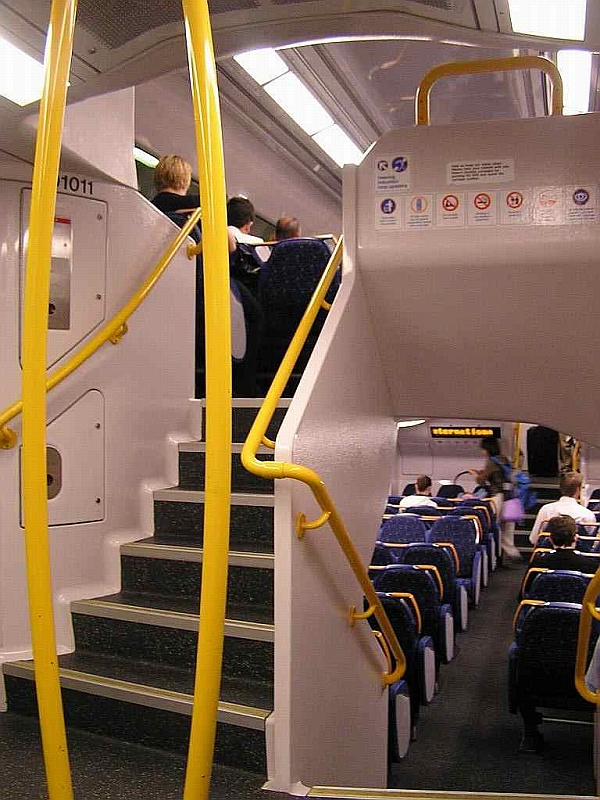 Sydney CityRail
has these clever double-decker cars. You may follow the bright yellow railing above where you have a commanding view of the stations, or below where you could possibly look up the skirts of women

There are also seats on the middle level on both ends of the cars that face the middle of the car, as was typical of Tube trains in
London.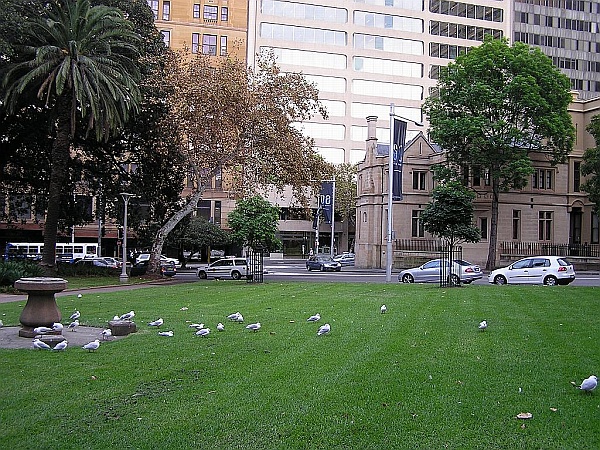 We took the Rail to the St James stop. We were destined for Potts Point to check in at the hotel but I goofed and mis-read the Rail map. But everything works out for the best because our first sight of the city was Hyde Park, which is really quite pretty.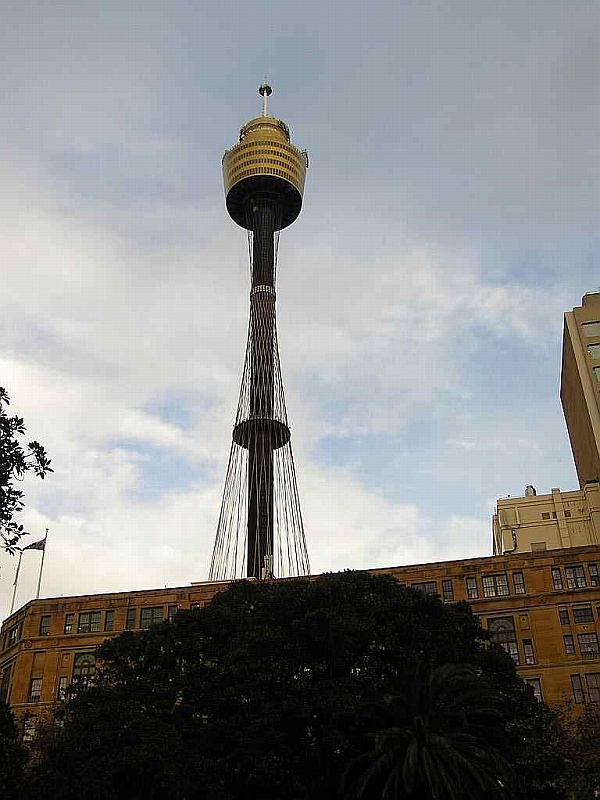 The Sydney Tower is a prominent landmark that's visible in many parts of the city. It reminded me of the BT Tower in London. But now it looks more like the photos I've seen of the Space Needle in Seattle.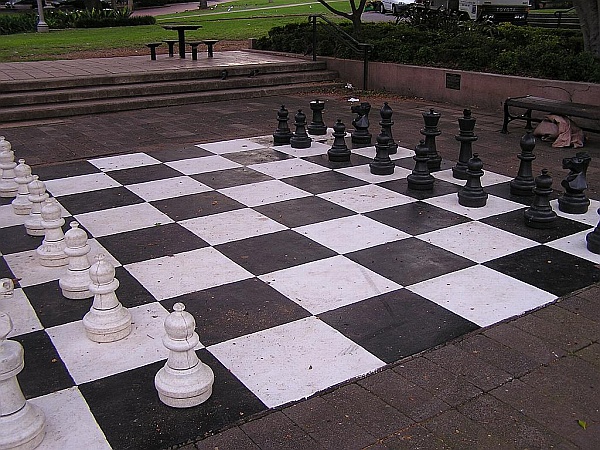 In Hyde Park is this very cool large chessboard! The pieces are plastic so they can be easily moved by even a child. They aren't chained down so it's refreshing to see that the Aussies respect their public places and don't steal something just because they can.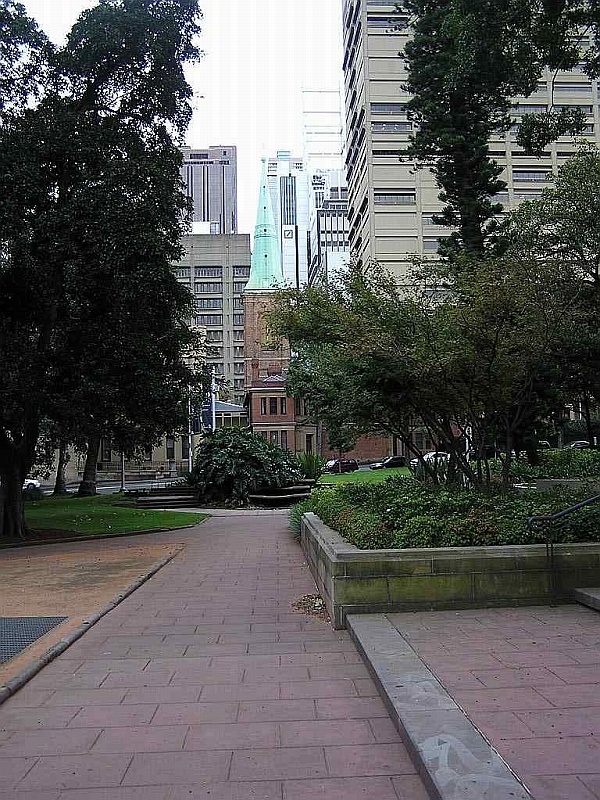 Sydney architecture is a casual mix of old and new. This reminded me a lot of Boston. It's great when new buildings can be built without ripping down old ones or ruining their appearance.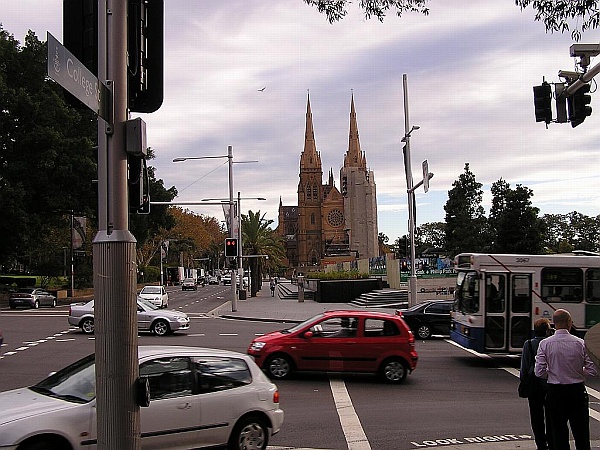 This is a pretty typical intersection in central Sydney. A steady flow of cars--not unlike those available in the States--moves over well-signed and marked roads. The traffic signals function like ours, instead of like the British ones. The roadway is marked at pedestrian crossings to remind foreign walkers. All in all, it didn't seem much different than Boston.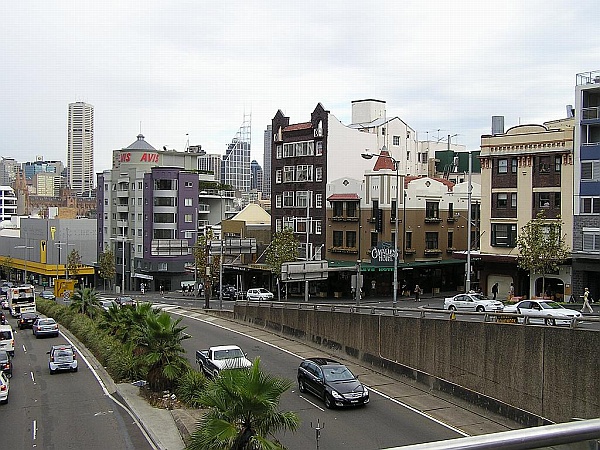 I bought a street map at a convenient store so I could get us to the hotel. We were asked by an Aussie where Hyde Park was. Mind you we were pulling baggage, but I did know the answer to that question and directed him.
There is a lot going on this photo so click for a larger image. In the center you see a place called O'Malleys Hotel. This is most probably a pub. Australians call pubs hotels and sometimes these hotels have rooms available, just like in England. The rest speaks for itself. That is the most traffic that I can recall seeing in Sydney. Surely, nothing compared to the volume on I-405 in Los Angeles!
We finally made it to the
De Vere Hotel
in Potts Point. We were very impressed by the size and quality of the room. It sported three beds--with plenty of room on the floor to sleep at least three more--a respectable efficiency kitchen, air conditioning, a TV (chained to the wall--they knew we're American), and a full bathroom.
We weren't expecting this level of quality because Expedia lists the hotel as "two stars." This is definitely not a two-star hotel and would probably be better than a three-star hotel. I stayed in a "one star" in London and it was a tiny room. You can see all of it
here.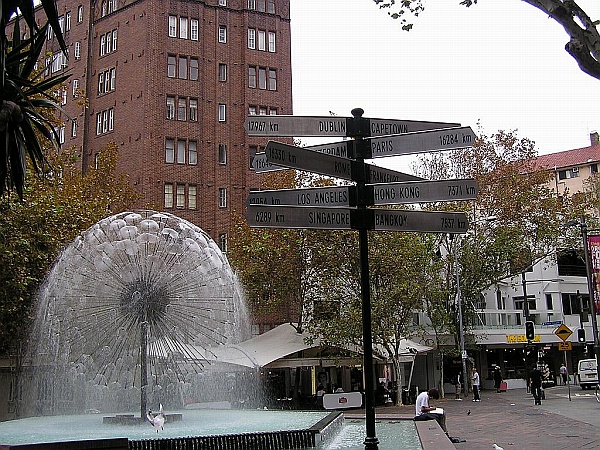 Even the next day our room was still large and well furnished, which shows that fatigue and cramped flying conditions didn't prejudice our judgement. I thought it possible that our exhaustion after a fourteen hour flight and a full work day had made us delusional.
Near our hotel is this cool water fountain. The sign in the foreground shows the distances to many of the major cities around the world. Los Angeles, not New York, represents America.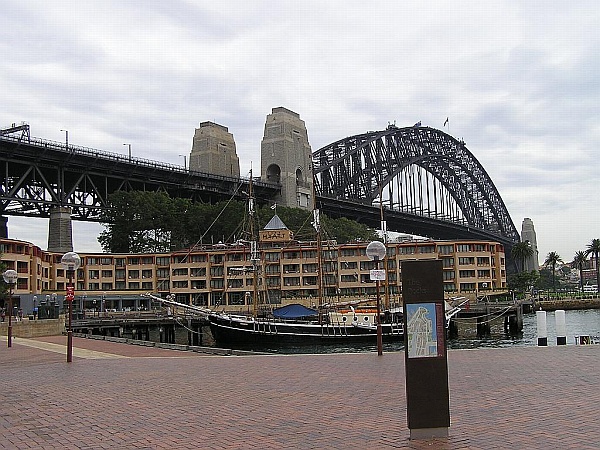 More clear-headed I discovered how the trains work and got us to Circular Quay (pronounced "circular key") where we got our first sight of the famous Harbour Bridge. One may climb to the top of the bridge and in this photo you can almost make out people on top of the bridge (click image for a larger version). We decided it wasn't worth the trouble. Little did we know that it costs more than a hundred dollars!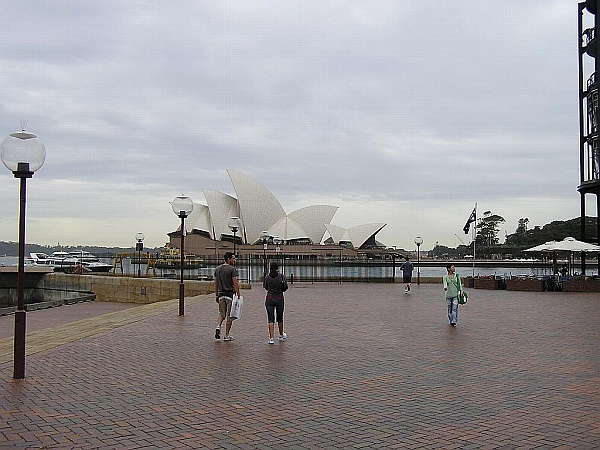 The Opera House. Click for a larger photo.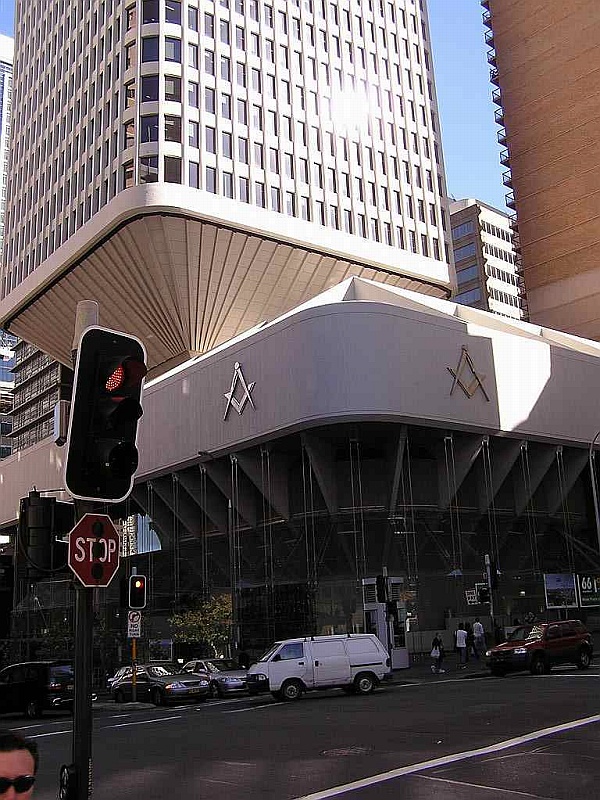 World Square Shopping Centre.
This is an entire city block that is just a fairly open air mall with shops and restaurants. We looked for a place to have breakfast here. Very expensive and quite yuppie, and you know how much I like yuppies...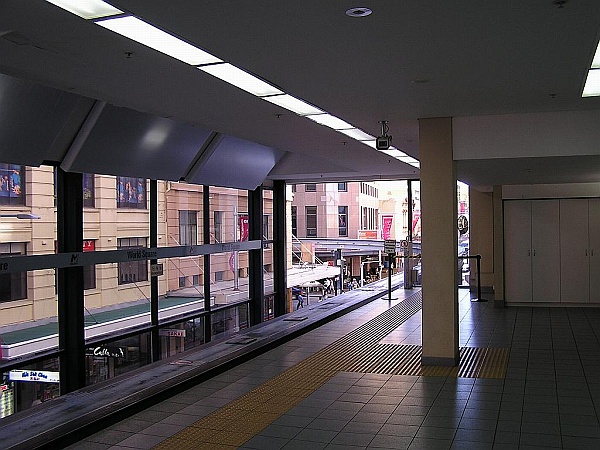 After breakfast at
Hungry Jack's,
which seems to be the Australia franchise system for Burger King, we looked for the nearby monorail station. We saw signs directing us to it and saw the elevated track but couldn't find the station.
As it turns out the stop is on the north face of the Square and one has to climb stairs that look like they go nowhere! I can't believe we had some trouble finding a train station! And we hadn't even started drinking. What gives? Am I getting old, blind, and dumb?!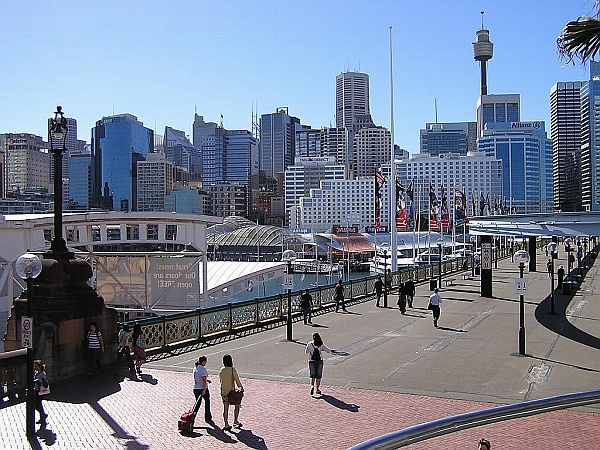 The monorail was like the station, totally empty, except for an Oriental girl who got on the stop after us. It did strike me as a bit odd that she chose our car when the others were most likely empty.
I haven't taken a monorail since I visited Disney World when I was seven years old. It felt odd not swaying or lurching back and forth. I didn't care for the monorail because it felt too luxurious. I like the feel of speed in a traditional train. Perhaps that's why the natives don't take it?
We reached Darling Harbour, which is a built-up tourist attraction. Click for a larger image for more detail.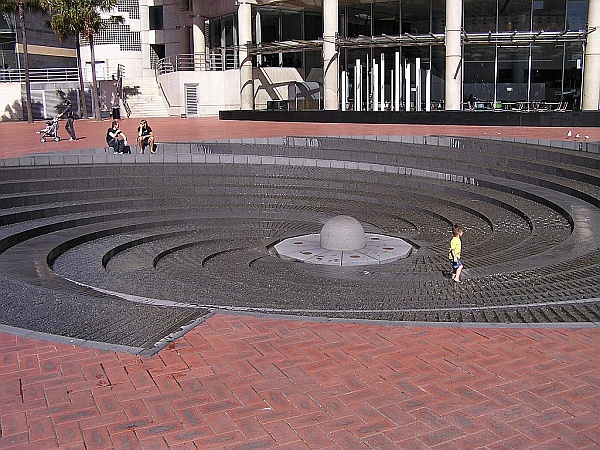 Sydney Convention Centre
is this interesting fountain. I believe the water is caught at the bottom and pumped back up to the top for the trickle down to the center again.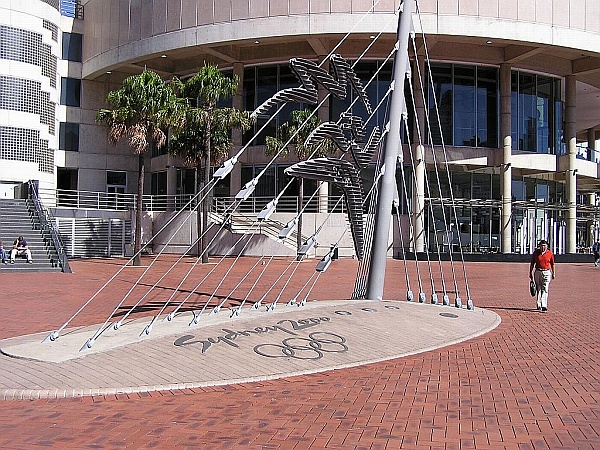 This convention center was employed for
the summer of 2000 Olympic games.
You can see how large this monument is using the man as a scale. The round building in the background is the convention center.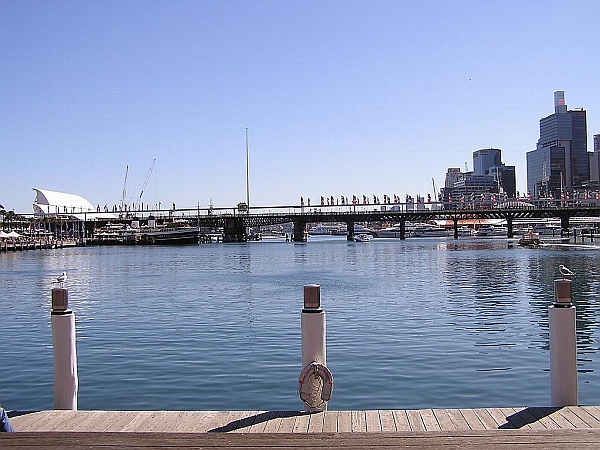 This is the view looking north, up Darling Harbour. Click for a larger image to see the detail.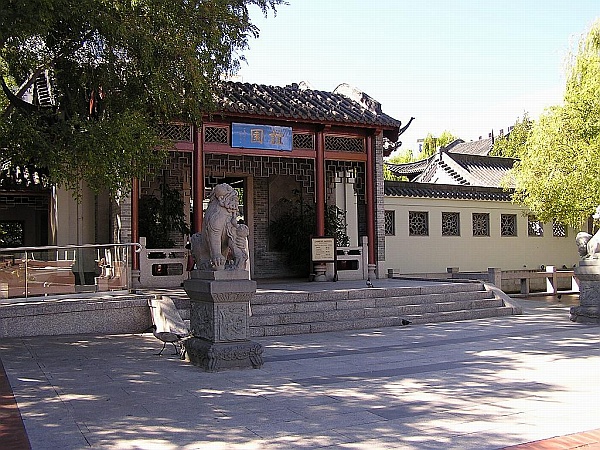 Continuing on we saw this chinese garden, but we decided there were better ways to spend $6 instead of looking at partially drowned plants!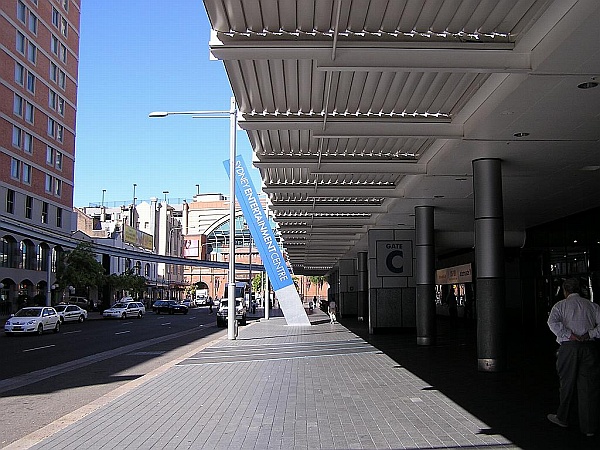 We stumbled upon the Sydney Entertainment Center. This is where you go for rock concerts and the like. Kind of neat but not worth more than a photo.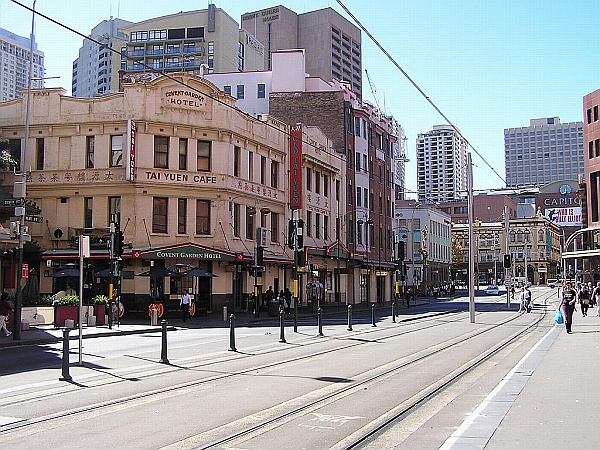 Near the boundary between Haymarket and Chinatown we saw street car tracks. To the right, out of the frame, is an indoor flea market. We walked through looking for new flip flops for me but didn't find any. They seemed to sell every other type of footwear and clothing!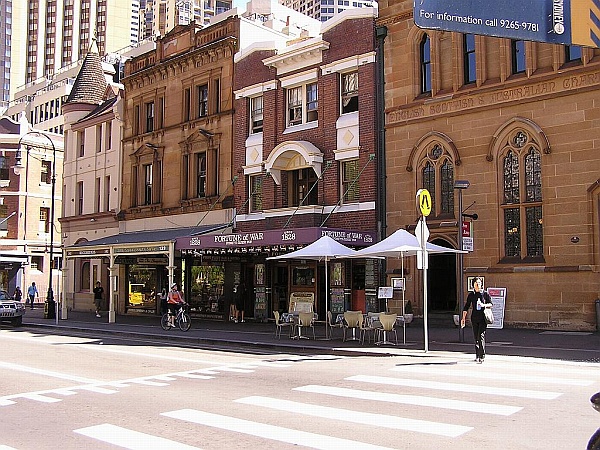 We then popped on the CityRail at Central Station and took to the Circular Quay and wandered into "The Rocks." This is the oldest section of city. We felt most at home here. It's a small district that at one time the city wanted to bulldoze under.
We stopped for a Guinness at the Fortune of War, the self-proclaimed oldest pub in Sydney. Guinness doesn't travel well. In the States it's alright but has a biting aftertaste. In England it's as smooth as chocolate milk. But in Australia it's got a kick like a mule. Almost unpalatable. It's no wonder the Aussies ignore the English and want to be American, we're the closest source for decent beer (i.e.
Samuel Adams)!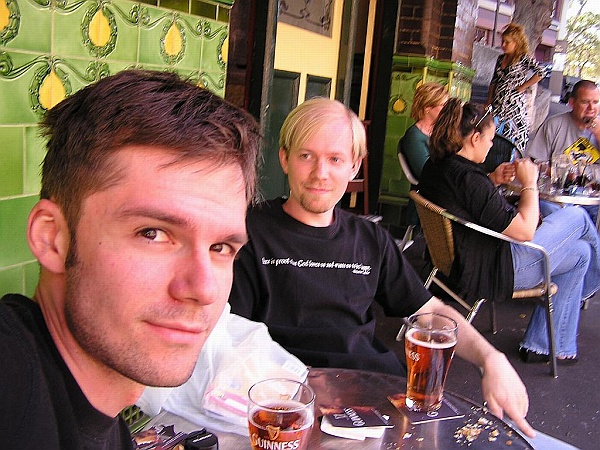 And Bob snapped a photo at the second pub we stopped at. Of course I wasn't looking into the lens. Doh!
By the second day we had seen everything that we wanted to in the city and decided to take a bus out to the infamous Bondi Beach (BOND-eye beach). All in all not a bad beach but didn't seem as good as the beaches in southern California.
The city crowds the sand, which is divided into three sections. The southern section visible in the right part of the photo is where the surfers and "loud" crowd go. Then, there's a space that's not patrolled by lifeguards where no one was. People that can actually read signs--amazing!
The northern half, or third section, is the quiet half. This is a topless beach and that's what makes it famous.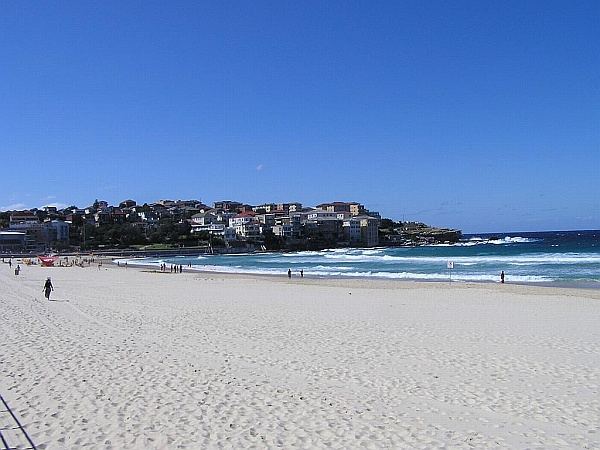 And a view of the topless half of the beach. There were a few decent-looking women sunbathing topless.
...
Sydney isn't a big city and we mistakenly wandered out of it and into the gay suburbs complete with banners for same sex dances on churches! Also, there was one playground with some decidedly odd structures in it. I couldn't see children playing on them. Who knows?
So, since we were bored, for our last afternoon and evening I planned out a pub crawl in the Wynyard area and The Rocks. To make it seem more professional, and less like a way to waste money and get drunk, I made brief reviews of the pubs/hotels. They are listed below with addresses in case you're off to Sydney and are looking for a good watering hole:
St Patrick's Tavern - 57 King St - Good.
Trump's Tavern - 50 King St - No good: slot machines.
CBD Hotel - 52 King St - No good. Looked inside--joke.
Forbes Hotel - 30 York St (King and York) - Good. Air music. Good atmosphere.
Jacksons on George - 176 George St - No good: trendy, modern.
Verandah Bar & Bistro - 65 Elizabeth St - No good: very modern and looked gay.
Wynyard Hotel - 109 Clarence St - No good. Closed.
Grand Hotel - 30 Hunter St - Good. Decent music. Good bar keeper. Good atmosphere.
Angel Hotel - 125 Pitt St - OK, but not great.
Uberbar - 18 Argyle St - Like drinking in a German barn except without the cute Teutonic--and stereotypical--farm girls. Modern and trendy. We didn't fit in well. Beer sucked.
...
The flight back was as much a nightmare as the ride there. The United stewardesses were characteristically rude and disorganized. I was jammed between the only person on the plane who drank more alcohol than me--she was quite nervous--and half the young-women's Brazilian soccer team. Normally I don't mind a girl sleeping on my shoulder--in fact it's encouraged--but this poor Brazilian girl must have been dealt at least a few whacks from the ugly stick...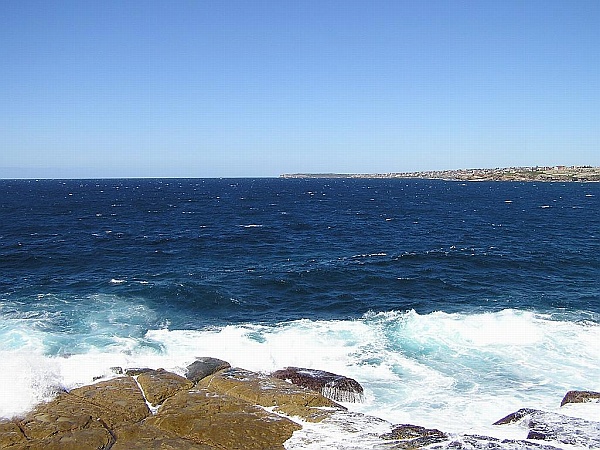 Back in Los Angeles we appreciated the clear skies and roads in Sydney. It's a fun cross between England and America with some of the goods and bads of each.



Copyright © 2002 - 2018 Billsuniverse.com