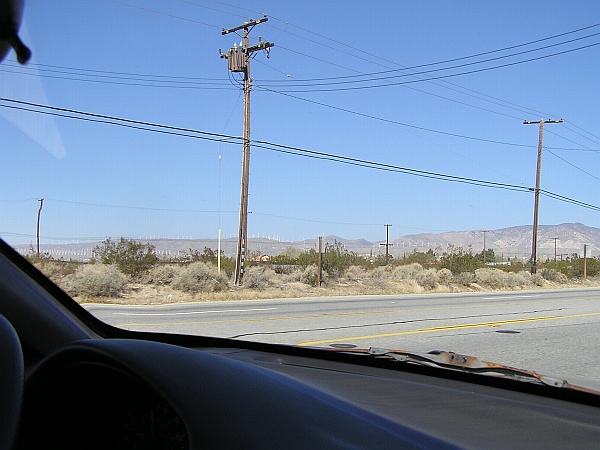 We left in the evening to help avoid hitting the city rush hour. We stayed in Mojave, a decidedly unusual town. But the room was clean and large. In the morning we started our trek up toward Route 395. We saw these wind turbines in the distance. You can just make them out in the photograph. I don't understand what people think is ugly about these sleek, beautifully simple machines.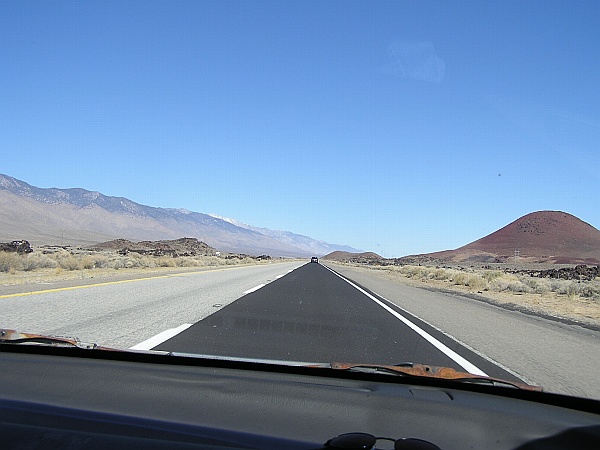 The unusual and breathtaking scenery reminds you that California is quite diverse. Just compare the different scenes we drive through in a couple hundred miles in this trip.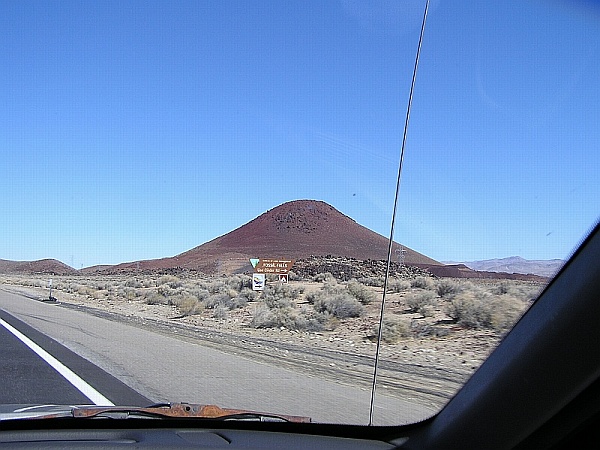 As is our custom we sped by this sign and Bob snapped a picture. At least there weren't any Oriental people standing in front of the sign this time!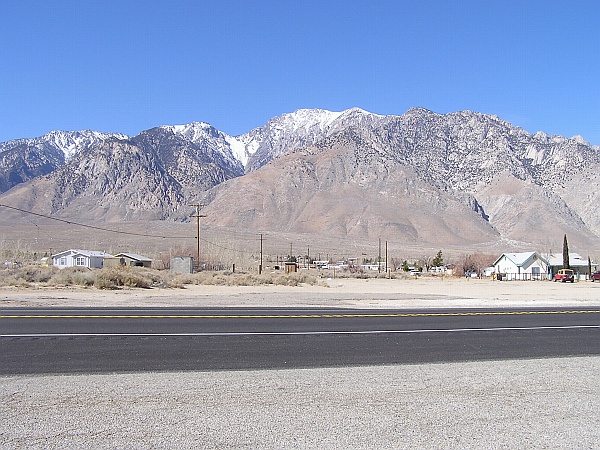 It still amazes me to see snow while standing in a desert. I guess I'm a flatlander, eh? Either way it's a pretty photo. Click for a larger version.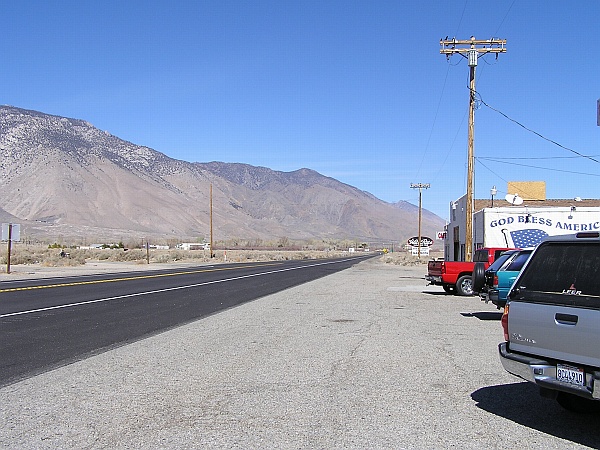 We stopped at place advertising "really good fresh jerky." The stuff is alright but very expensive. And the bottle of jalapeño peppers had a good layer of dust on it, not that it matters with picked peppers; it's good they don't advertise really fresh jalapeños!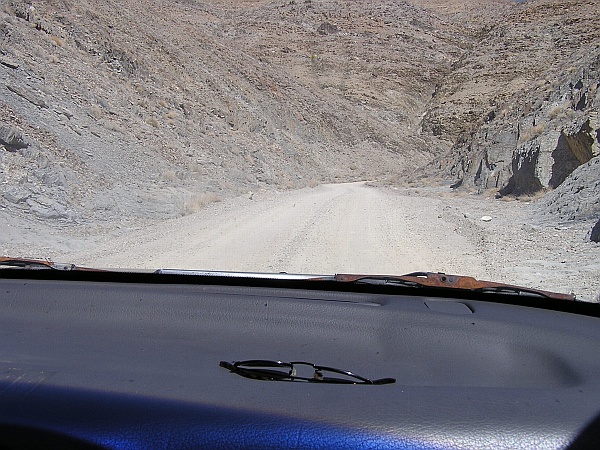 Just south of Lone Pine we ducked onto a crossroad and headed towards Cerro Gordo, which is located near Keller.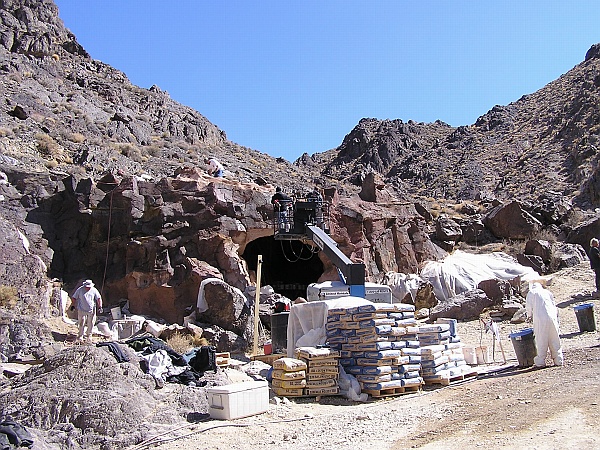 We were stopped by a pick-up truck blocking the rocky road. Bob asked if we could get by and they said that it would be a few minutes. They were assembling a set for the upcoming Iron Man movie. It's funny to run into Hollywood a hundred miles away from LA. Click for a larger version.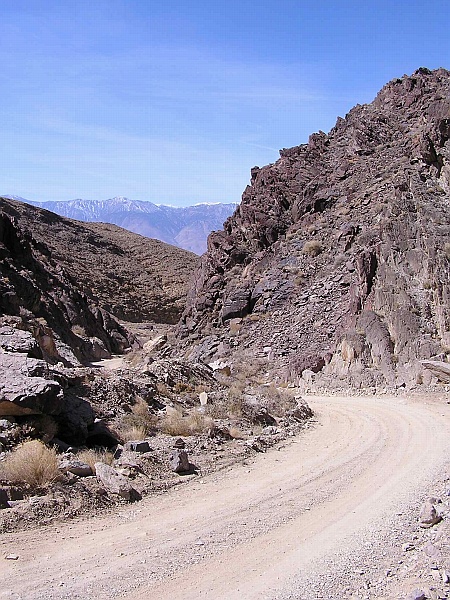 The stop allows us the opportunity to look where we'd been. Click for a larger version.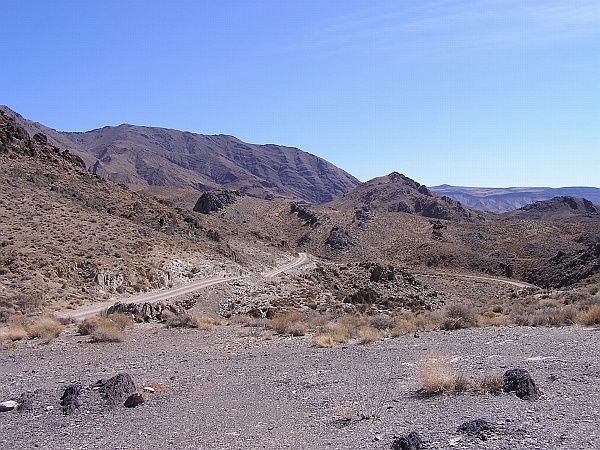 We continued up and the road was less worn down and we had to dodge sharp rocks and loose gravel.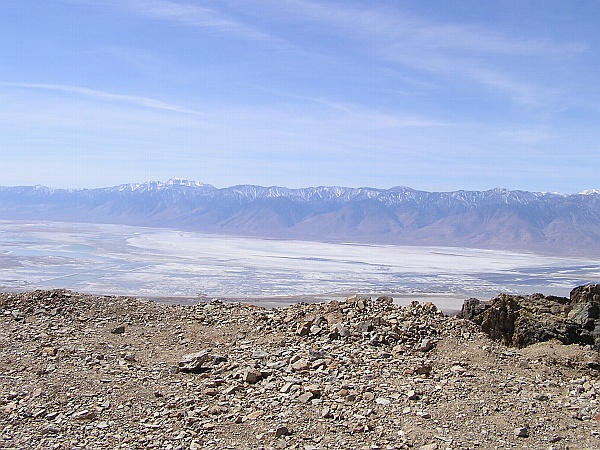 This is a view of the mostly dry Owens Lake, which lends its name to the valley 395 runs through. This lake has been drained to feed Los Angeles. (Watch the movie
Chinatown
if you're interested in the events behind taking the water from the Owens Valley.) Click for a larger version.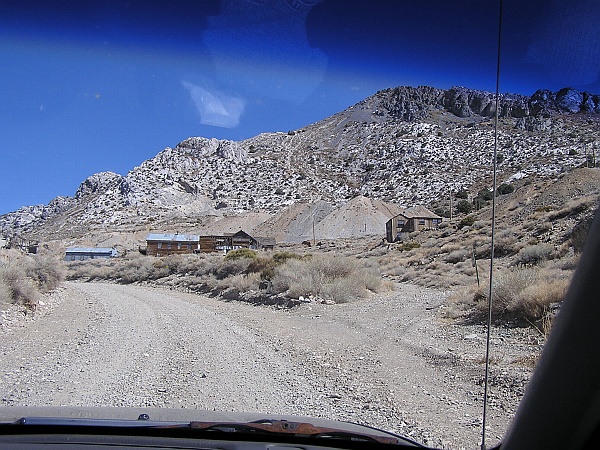 While making the rest of the trip to the ghost town, we were stopped by a guy in a cowboy hat and huge pick-up truck. I assume he was the owner, but he said we'd have to pay $20 to some guy at Cerro Gordo if we wanted to see the town.
We both said it would have to be pretty damn good for us to pay that much. When we got there we quickly decided we didn't care. Bob snapped a few photos and we turned around. The owner must have gotten greedy because the Paramount stuffies drove up to the town just before us. He had stopped them, too.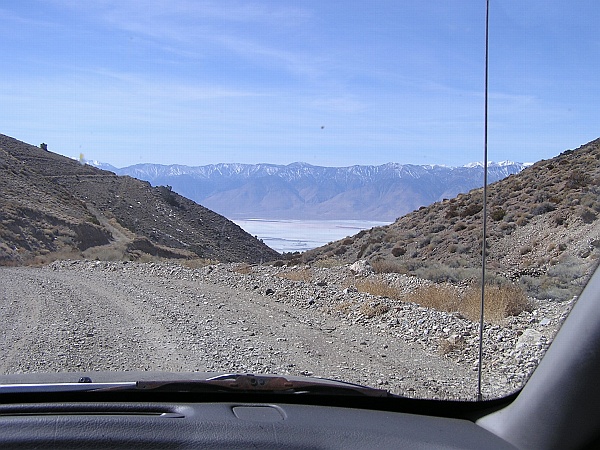 The ride down was a bit trickier but afforded us a lot of great views. After a while I got used to the road and was able to crank the speed up to 25 mph.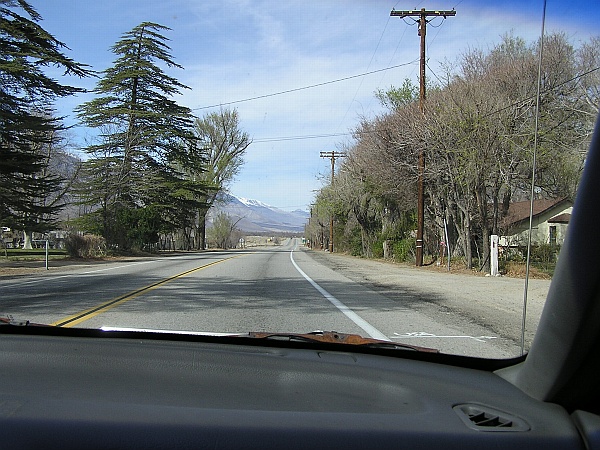 The view in Lone Pine is very impressive. Click for a larger version.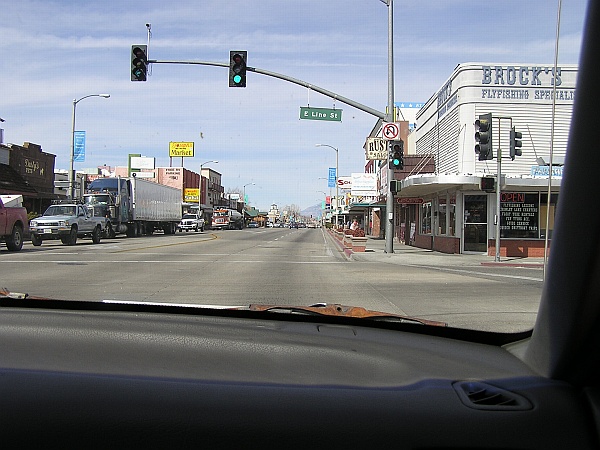 We continued on to Bishop. This is the largest town in the Owens Valley. It seemed a bit yuppie to me.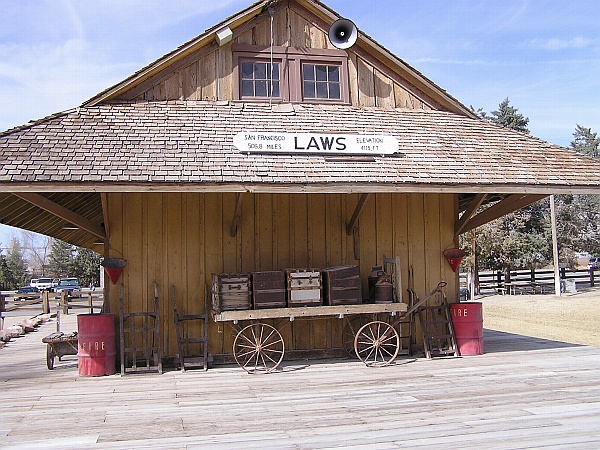 North of Bishop (in Laws) we visited a railroad museum dedicated to a nearby narrow gauge track. The original depot still stands alongside the tracks. Click for a larger version.
Number 9, the "Slim Princess," stands on the tracks just short of the station. This engine is like my MG Midget, a scaled down version of the larger, normal locomotives. Click for a larger version.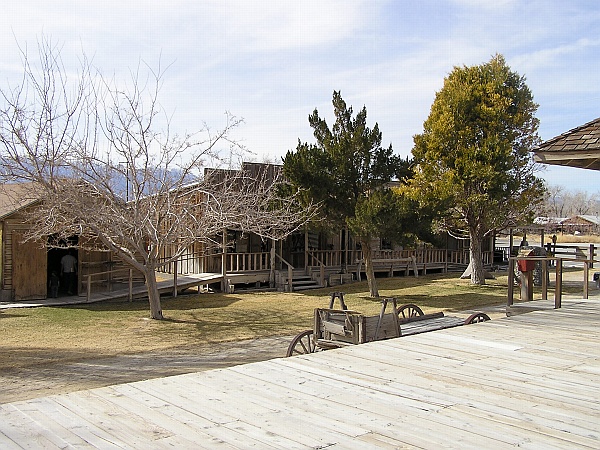 I can imagine a gunfight raging along the boardwalk...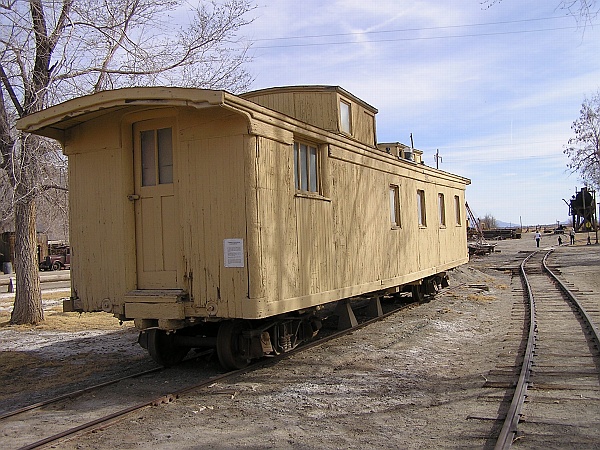 A caboose that isn't red...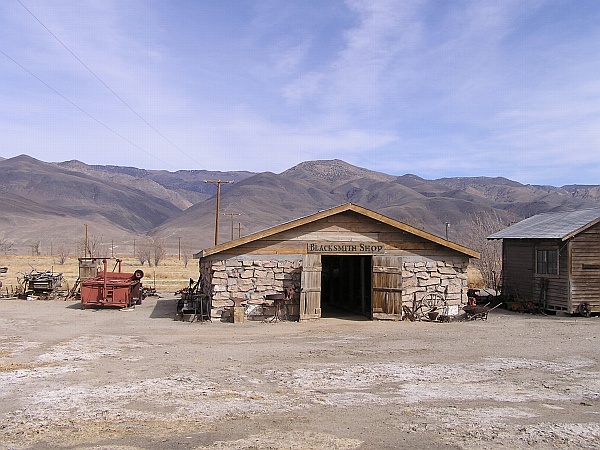 This is probably the shop that Bob and I would be hanging around if we lived in those days. And with that view we may even sleep there!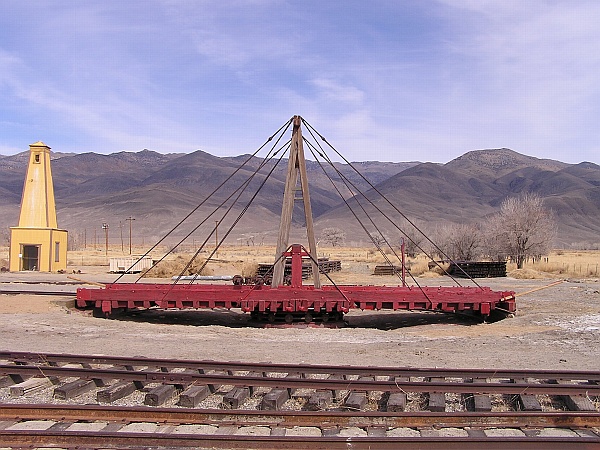 This turntable can be turned by two men pushing on the planks protruding from each end. You can see each plank at about waist height. The engine and tender fit on it.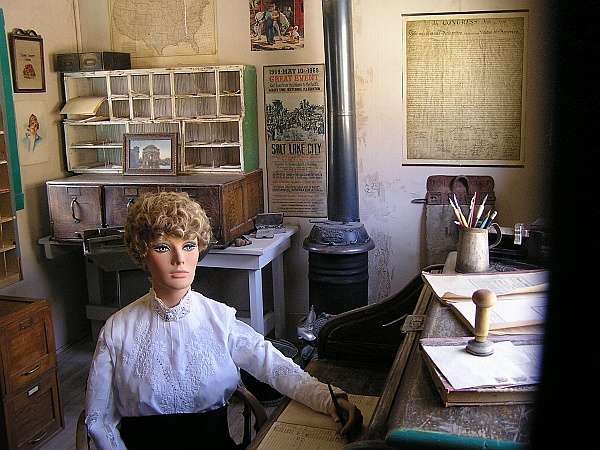 We then walked along the boardwalk and went into the various buildings. This mannekin in the post office caught both of by surprise because the window is small and this is the only mannekin in the place. We both thought it was a real lady!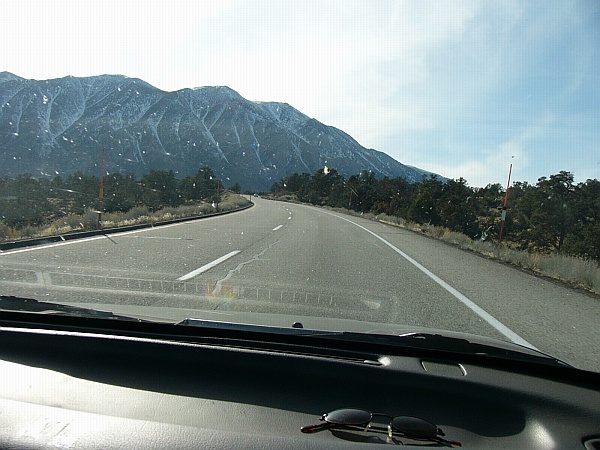 We left the museum and continued north. We decided we could make it to the infamous Bodie an hour before sunset.
As the Sentra climbed, the vegetation took advantage of the mountain moisture.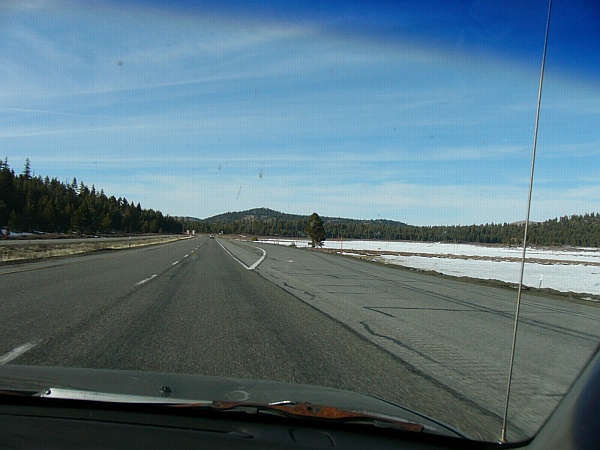 The diversity of California is quite amazing. Now we saw snow along the sides of the road! The air temperature was perfectly comfortable in short sleeves, too. It seemed absolutely bonkers!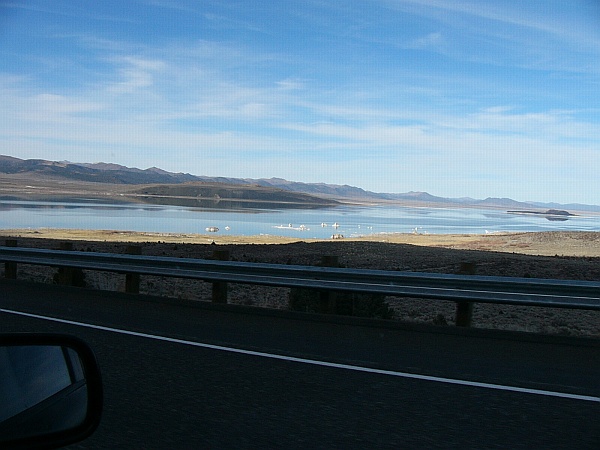 We drove past these unusual structures sticking out of Mono Lake (pronounced Mow-no). Tufas (too-fahs) are made of calcium carbonate that became exposed when the lake's level was reduced. LA, again, is the cause for the drop. Click for a larger version.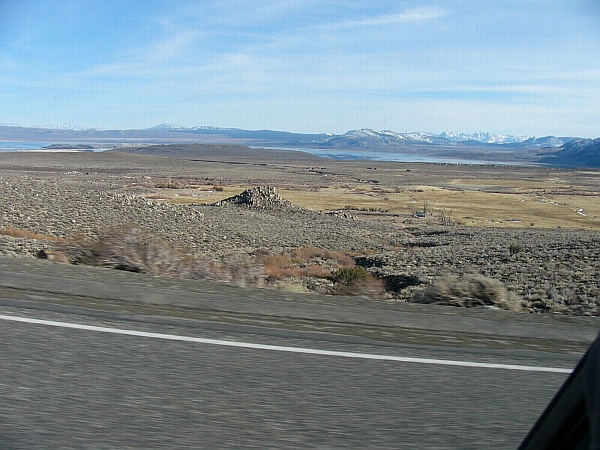 The lake is still large if shallow. Click for a larger version.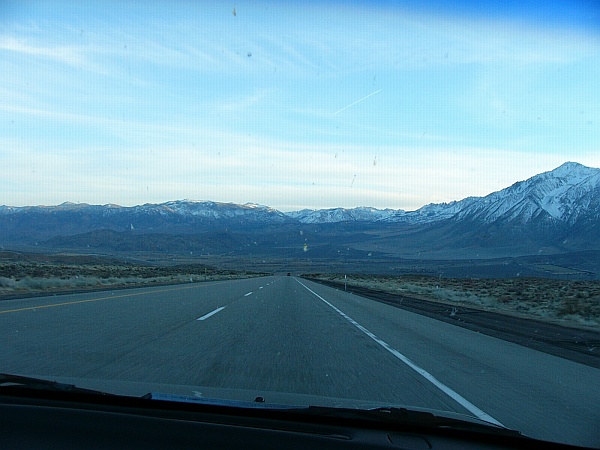 We didn't make it to Bodie before the state park closed. We'll get there next time. There's so much to see in the Owens Valley so we'll be back. Click for a larger version.



Copyright © 2002 - 2018 Billsuniverse.com