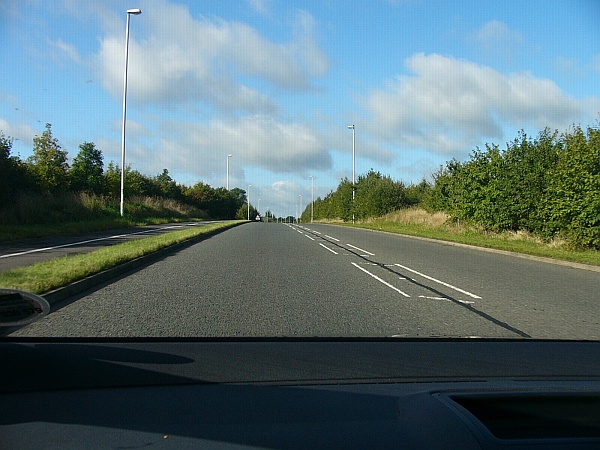 First things first, visit
this page
to view the cars that Bob photographed in London. I bet you haven't seen most of them. We have so few choices for road cars in America.
Cars of London:
if only Warren Zevon wasn't dead...
We took the Tube to Edgware in north London to rent a car. We wanted to get a Nissan Micra. I swear that the leggy girl had no influence on our choice :) But seriously, we were concerned about gas expenditures. Gas in England is about a pound sterling per liter. With the exchange rate that works out to more than $7 per gallon!
However, they were out of subcompact cars like the Micra. We had to settle for a Volkswagen Golf. And it didn't come with a cute girl. What is service coming to?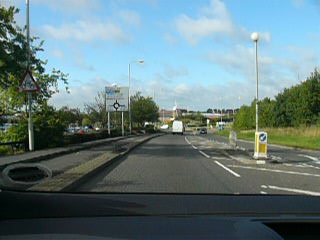 Bob did an excellent job driving on the wrong side of the road and we found the M1 motorway. We got off the motorway in the Midlands south of Hinckley and took an A-road to Hinckley.
English roads don't seem to have stop signs instead they have roundabouts. For those unfamiliar with roundabouts: they are traffic circles without lights where the cars entering must yield to cars in the circle.
Mostly each English roundabout only deals with two or three road intersections. Oh, and the travel around them is reversed from American rotaries because the English drive on the other side of the road.
Click for a
video
of us going through a roundabout.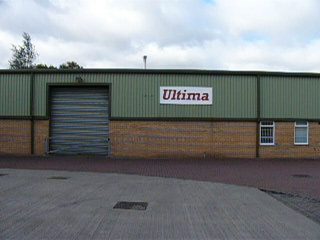 In Hinckley we visited the
Ultima factory.
They sell kit cars that are claimed to be the fastest road machines money can buy. And we both got rides in an American V8-powered (500-horsepower) model!
Needless to say it was the fastest car I have ever ridden in: it's very, very fast. Can you imagine accelerating from 30 mph to 100 mph in less than 10 seconds?
Click for a
video.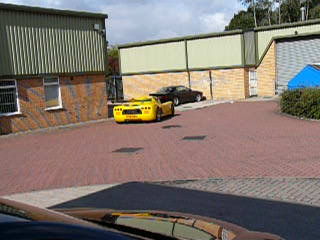 Another
video
of the GTR. This time I'm the passenger.
After we got a tour of the Ultima factory and spoke with Ted Marlow about the feasibility of a GTR in Los Angeles, we rented a room at the Comfort Inn in Earl Shilton. It was a surprisingly good place despite being in middle of nowhere.
We went north to Leicester to see if there was anything happening there. We drove around the ring road for a while and saw both universities--one of which is attended by a co-worker's English daughter. "So what does that make us: absolutely nothing." By the time we found a place to park (Leicester is set up strangely), it was late.
The English have strict schedules. We discovered this in London. It's not like America where food is served 24 hours a day. In England dinner is served until 8 or so and then only booze is served in pubs. In London there are quite a few restaurants that aren't hindered by tradition so we found places to eat.
But in Leicester the only place selling food at 10 PM was Pizza Hut! But Pizza Huts are fancier in England--almost upscale. And it was a teeny bopper hang-out so we got to see what the English countryside has to offer, which isn't much.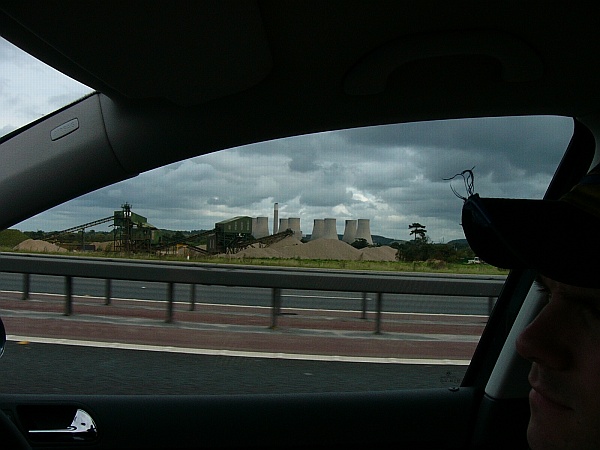 The next day we set out for the Yorkshire Dales. Travelling on the M1 isn't too bad but one has to remember that the right lane is the high speed lane. And they do go fast in it. We pushed it up to 100 mph and weren't passing too many people. The rental Volkswagen only had a 1.6 liter engine (large by English standards) but it would cruise at 80 mph and accelerate to 100 mph. Not bad.
We saw this nuclear power plant near Sheffield in north England. I am surprised by its close proximity to a good-sized city.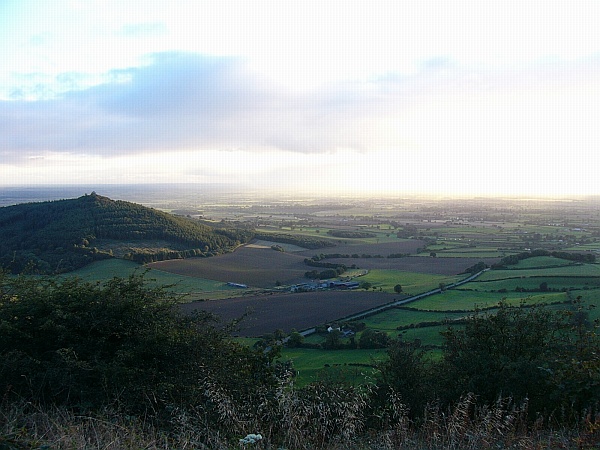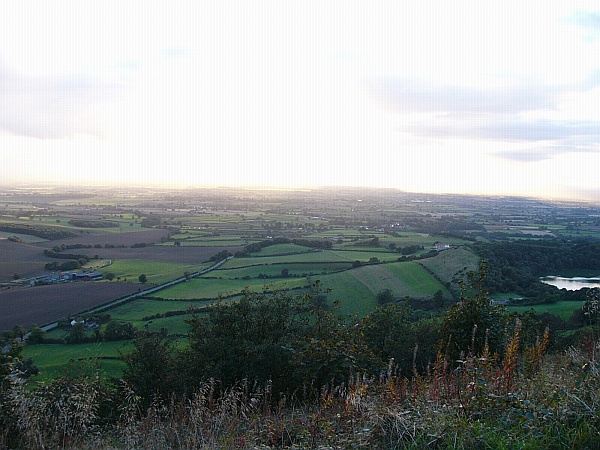 Welcome to the Yorkshire Dales. I wanted to visit this part of England because
one my favorite
TV programs is set here.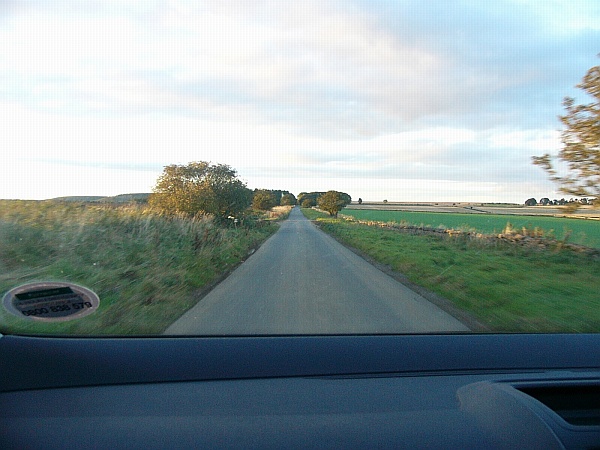 The roads in Yorkshire are much more open and narrow than in the south of England.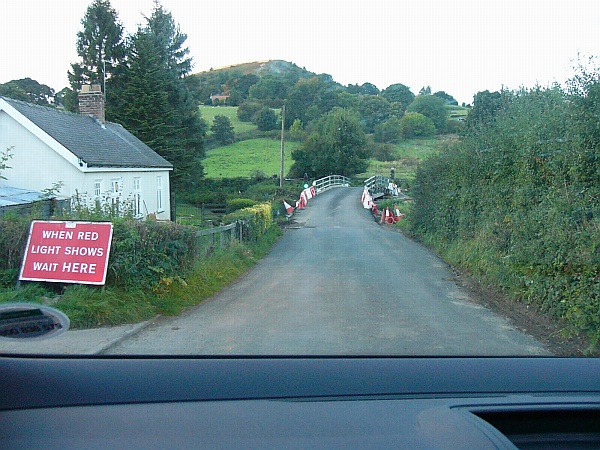 and the bridges are single lane.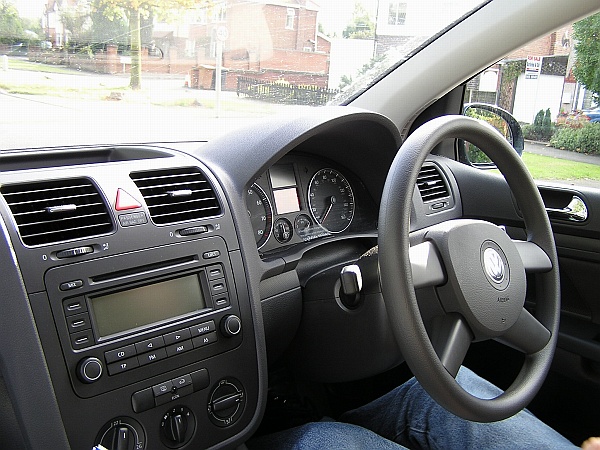 Who put that on the wrong side?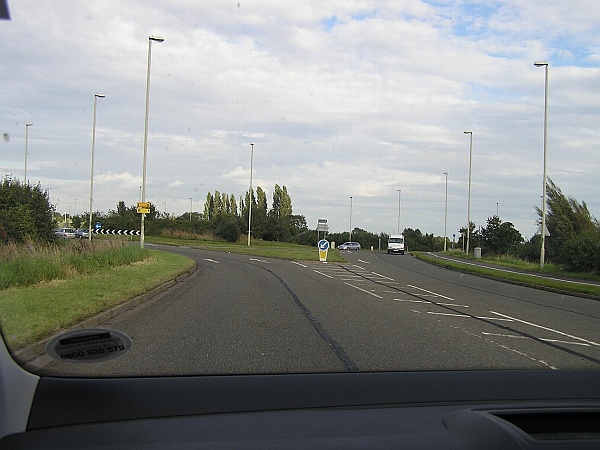 A photo from yesterday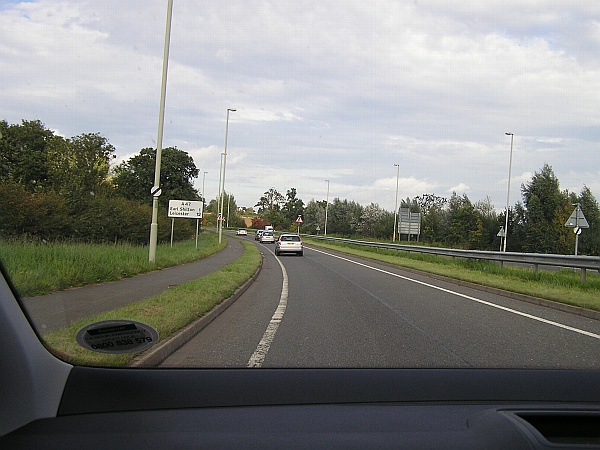 and another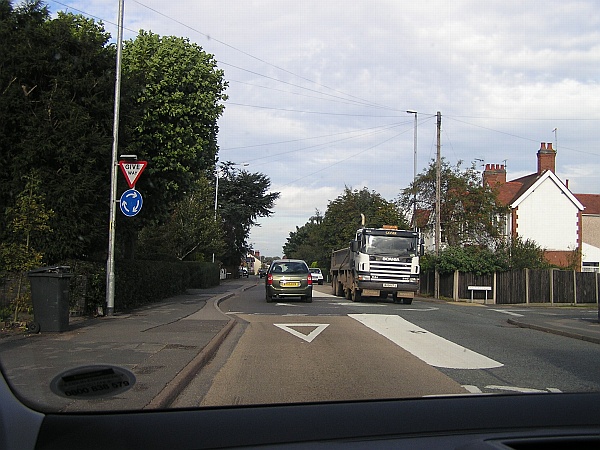 I have no idea what they call these silly little circles painted on the pavement at small intersections. We think that they are used to help guide motorists around turns. But why?

Familiar with
All Creatures Great & Small
or just interested in the pictures I took of James Herriot country? Click
here.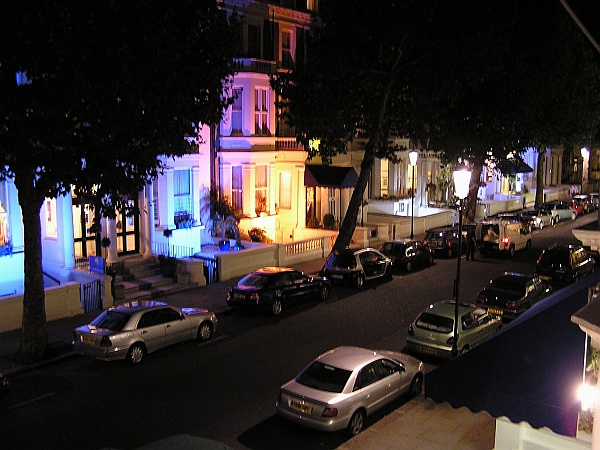 This is the view of Penywern Road from our hotel in Earl's Court. It was a pretty dumpy room but cheap by London standards!
Just about directly across the road is the Comfort Inn.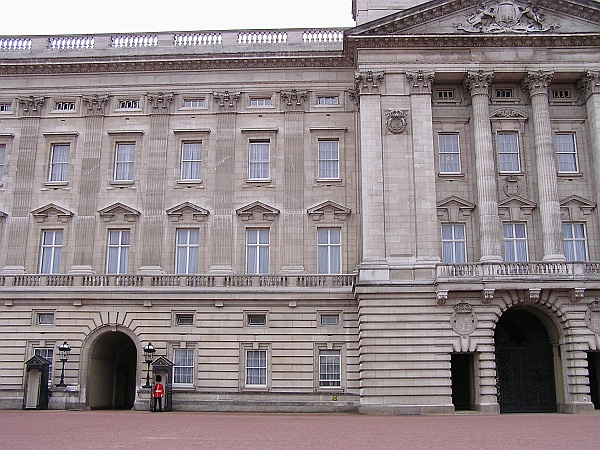 The left half of Buckingham Palace.
It's too bad that we can't get close enough to taunt the guard. Damn terrorism and the resultant security measures!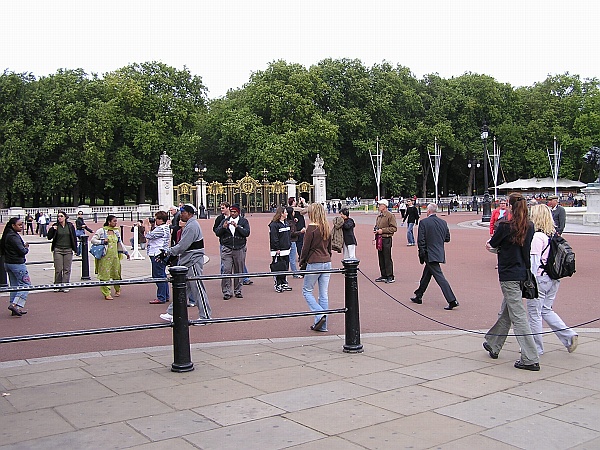 I wonder how many of these tourists are American?
In the background are the gates to Green Park.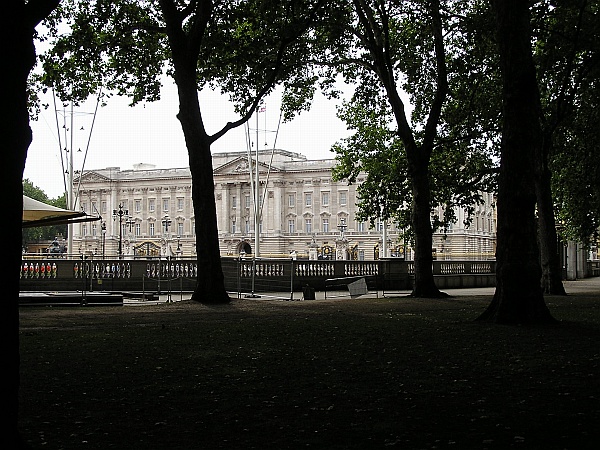 A good shot of Buckingham Palace from within Green Park.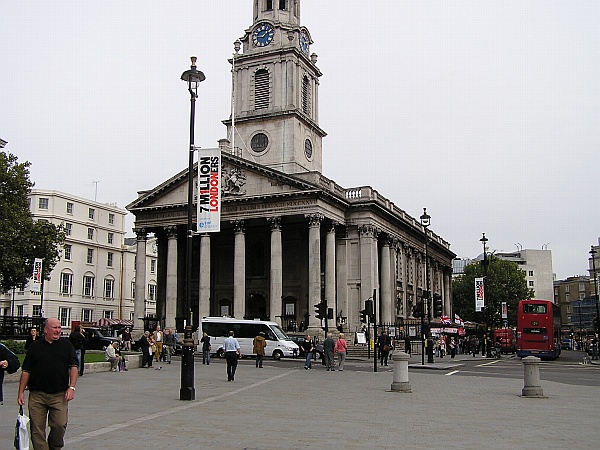 This is a prominent library on Trafalgar Square. I included this photo to show some of the "London is #1" banners that we saw around the city.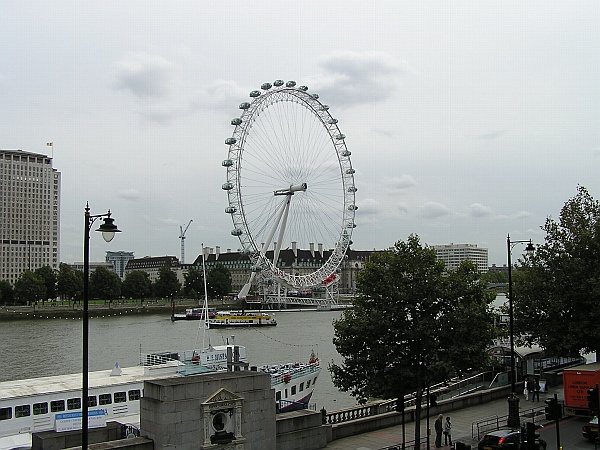 The London Eye on the Thames.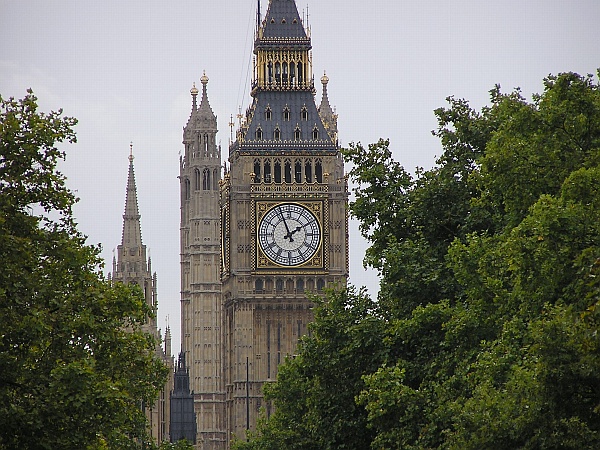 Big Ben photographed from the Millenium Bridge.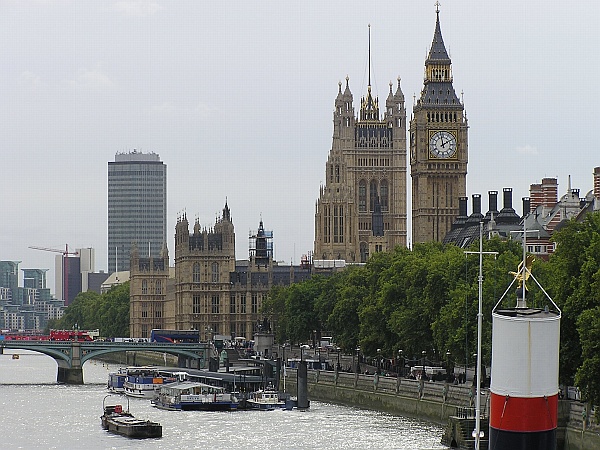 Houses of Parliament and Big Ben.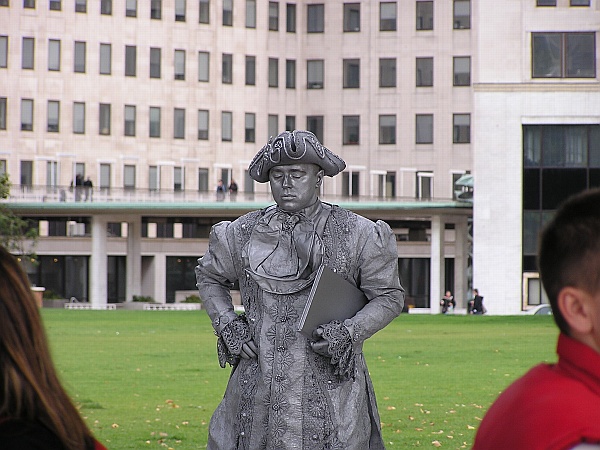 Along the Thames River walkway we saw a couple of these living statues.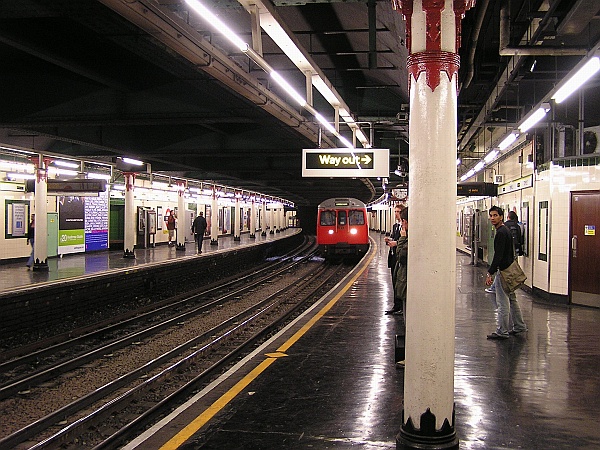 A typical central London Tube station.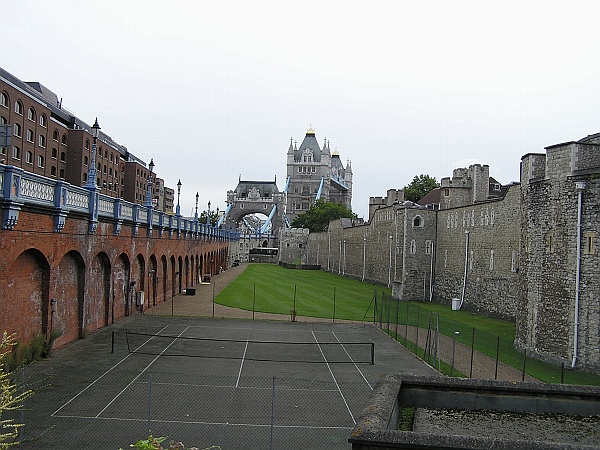 If only Henry VIII knew that a playground for children sat next to the Tower of London!
The Tower Bridge is visible in the background.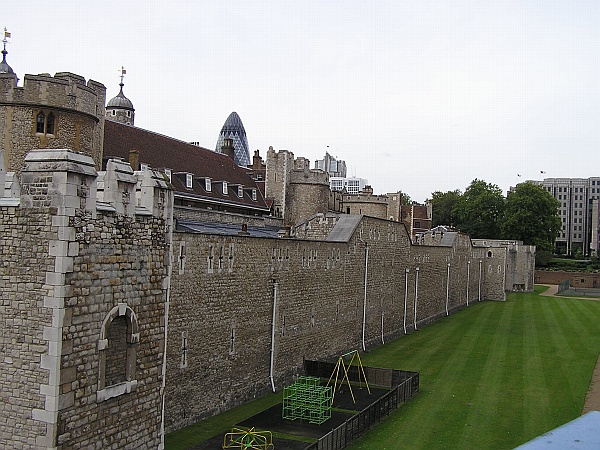 ...and still more!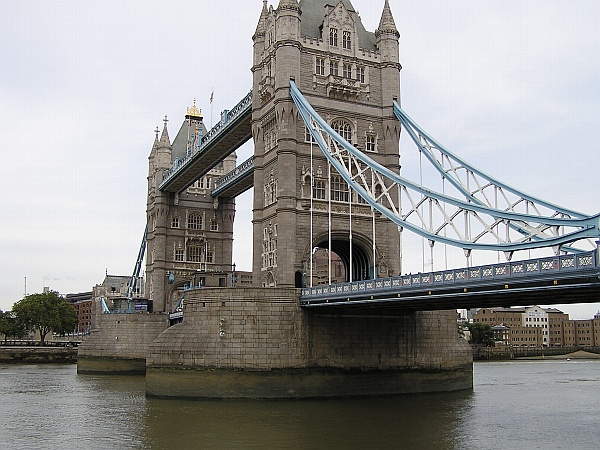 The Tower Bridge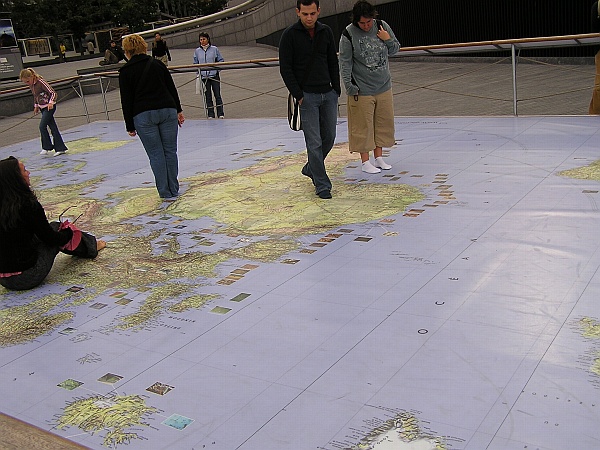 Tourists seemed fascinated by this map. I think it shows where photographs for a nearby exhibit were taken.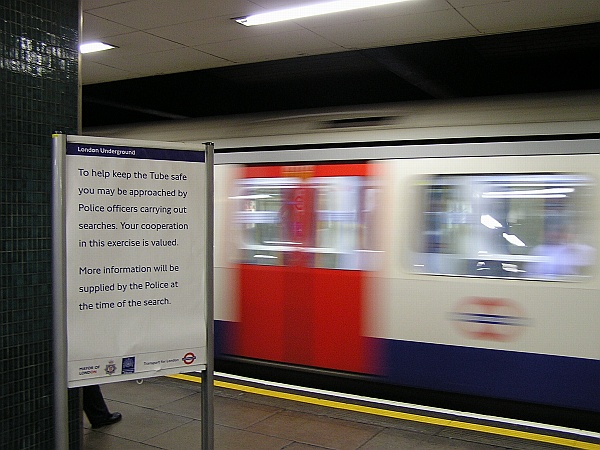 A modern problem with mass transit in a large city.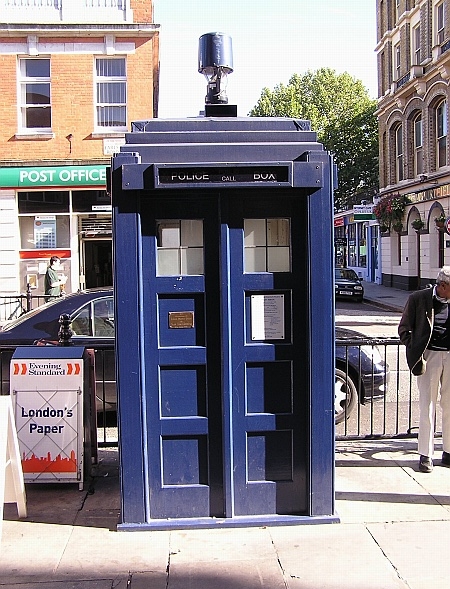 The police box outside the entrance to the Earl's Court Underground. Perhaps it is used for policing purposes and it is only coincidental that it appeared after the return of
Doctor Who
to TV? I saw no police boxes when
I was last in London,
before Doctor Who resumed. Hmm...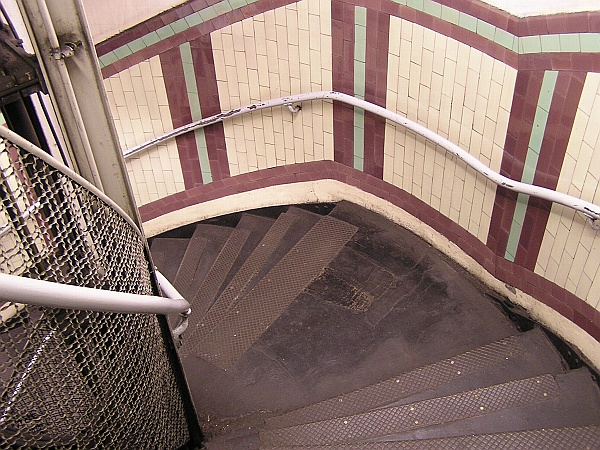 We took the stairs down to the Piccadilly Line a couple of times. It was humorous that they have a sign with the number of steps by the staircase!
This one has over 100 steps.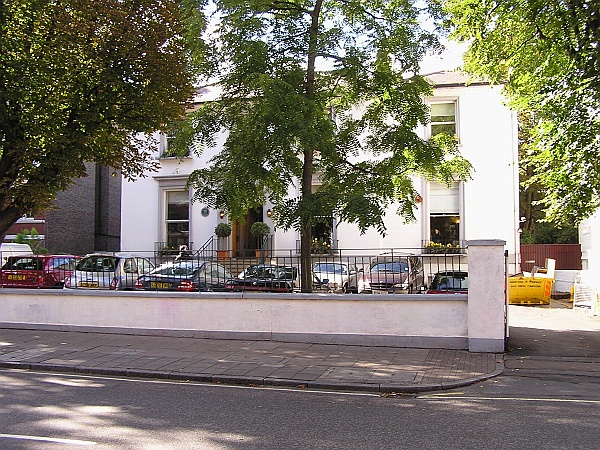 This is the
EMI Studios
on Abbey Road in St John's Wood.
The Beatles named an album for this road and the Studio became known as Abbey Road Studios.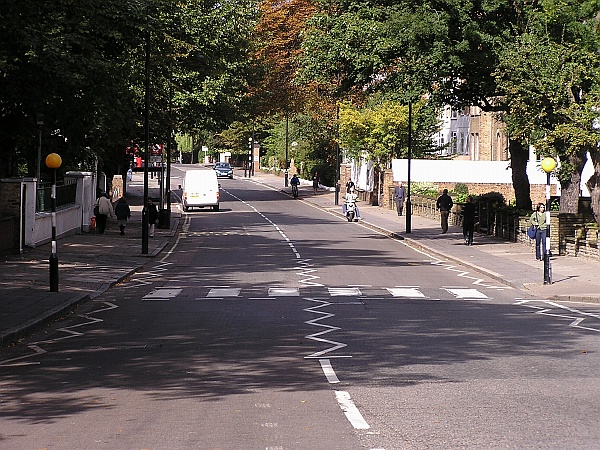 This is a modern photo of the famous zebra crossing that appeared on the
Beatles album cover.
The road hasn't changed too much except for more painted lines. The trees cover the road a lot more and, of course, the cars are different.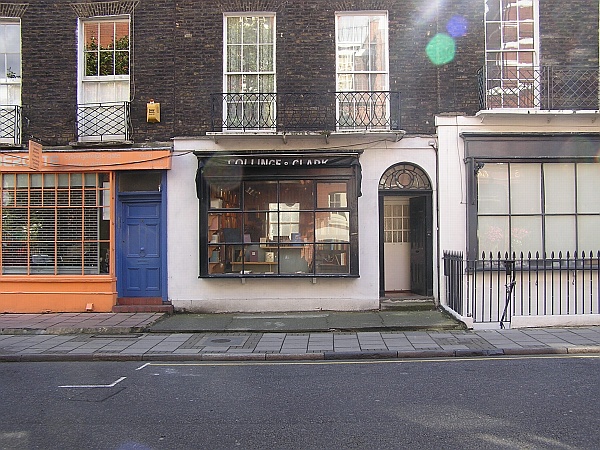 The Collinge and Clark bookshop on Leigh Street in St Pancras is the exterior model for Bernard's shop in
Black Books.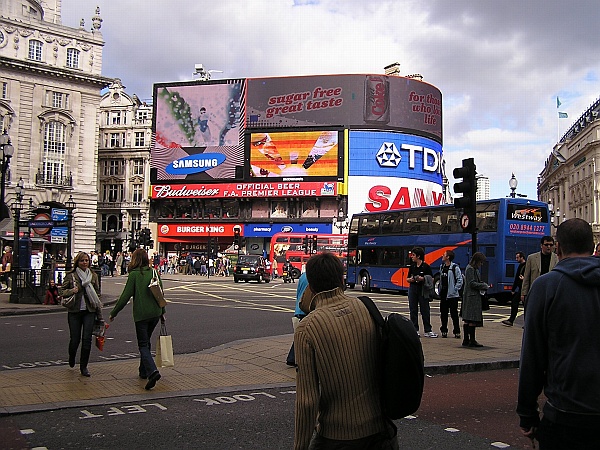 No page about London is complete without Piccadilly Circus.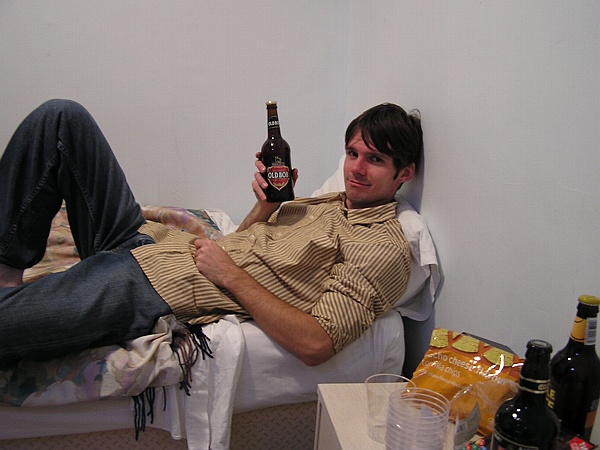 Bob relaxing after a long day walking around London. We bought a pack of
Ridley's
Old Bob and I just had to take a picture.



Copyright © 2002 - 2018 Billsuniverse.com